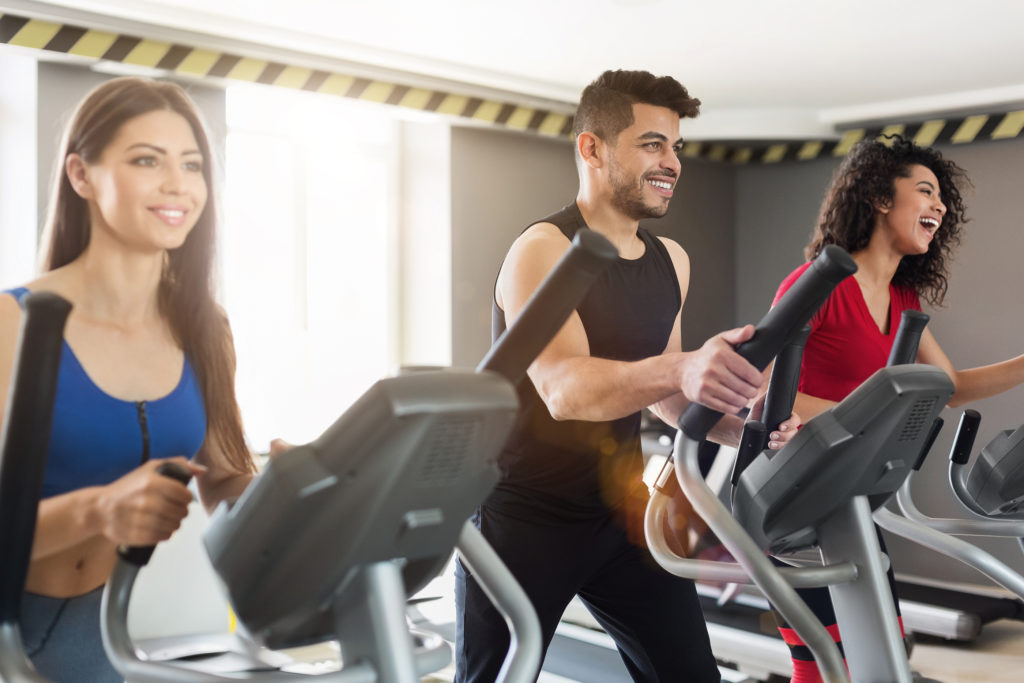 The Precor EFX 447 is a luxury home elliptical designed to offer the same quality experience as the ellipticals you'd find at your local gym. The only thing missing is the commercial price tag.
Highlights of this impressive model include a variable stride length, an adjustable power incline up to 40°, and 40 total workout options to choose from.
The EFX 447 is also backed by one of the most generous warranties in the industry (10 years on parts).
If you're looking for an easy-to-use, commercial grade elliptical, the EFX 447 might be a great fit- and that's exactly what this review is here to help you figure that out.
In this article, we'll take a close look at everything this machine has to offer, including areas where it may fall a little short. In the end, you'll know everything you need to about this elliptical.
Off we go.
The Precor EFX 447 Elliptical
Considering Precor invented the first elliptical machine in the '90s, it's only fitting that they're still providing some of the finest cross-trainers in the world.
You may recognize the Precor name- they're one of the most popular commercial fitness equipment brands and their products can be found in local gyms around the country.
But they also offer a residential lineup full of treadmills, ellipticals, and pretty much everything else fitness related.
They offer several different ellipticals, divided into 5 different series: 200, 400, 600, 700, and 800. The 200 and 400 models are designed for home use, while the 600, 700, and 800 models are all commercial grade.
The EFX 447 is the most advanced elliptical in the 400 series, making it the highest-end home model in their lineup.
Pros
21″-24″ variable stride length
Ergonomically correct stride pattern
Power adjustable cross ramp up to 40° incline
350 lb weight capacity
40 total workout programs
4 user profiles
Both moving and stationary handles
Lever controls for resistance and incline
Chest strap heart rate monitor included
Integrated tablet holder
Amazing warranty
Cons
Rather unsophisticated console
Stride Length
When comparing ellipticals, I encourage everyone to start with the stride length. I think this is the most important spec to consider because it's so directly related to your overall comfort level during your workouts.
Simply put- if the stride length is too small, you're going to have to shorten your stride (which will likely affect the comfort and quality of your workouts).
Finding the appropriate stride length depends on your height (and leg length), but most people can comfortably use an elliptical with a 20″ stride length.
For this reason, 20″ has become the gold standard for quality home ellipticals.
The Precor EFX 447 comes with a variable stride length of 21″-24″, depending on the angle of the cross ramp. At the lowest incline setting, the stride length is 21″ (and 24″ at the highest incline setting).
This is a little larger than most at the lowest setting and a lot larger than most at the highest incline setting.
Taller users will especially appreciate the extra room to stretch out on this model. I like that the stride length increases as you increase the cross ramp position- this will more closely replicate the feel of walking or running uphill.
It'll also force your glutes and hamstrings to kick in more.
The EFX 447 comes with a heavy-duty frame capable of holding users weighing up to 350 lb. This isn't as high as some of the other machines in this price range, but this elliptical isn't as bulky as other units either.
This elliptical only weighs 240 lb fully assembled, making it a lot easier to move around than other heavier models. I say "only" 240 lb because other luxury ellipticals (like the Life Fitness Platinum Club Series) weigh over 450 lb.
Overall, this elliptical scores very highly in the stride length department. The above average length will allow even taller users to stretch out fully and the variable length will improve comfort during hill work.
Flywheel
Flywheel weight is another important spec when it comes to home ellipticals. Most home units use a weighted flywheel (similar to a spin bike) to produce the resistance for you to pedal against.
In these machines, having a heavier flywheel is advantageous because the extra weight builds more momentum, which makes for smoother operation (less lag time between pedal strokes, the extra weight actually helps you between steps).
Heavier flywheels should also provide more resistance, especially from a dead start, because it'll take more energy to get it moving (although this also depends on the quality of the magnetic resistance system).
If heavier is better, how heavy is heavy enough?
Normally, I'd say look for an elliptical with at least a 20 lb flywheel to ensure smooth operation. In machines with weighted flywheels, this seems to be a pretty good line to draw in the sand.
But the EFX 447, like many commercial grade ellipticals, doesn't use a weighted flywheel system. So we can't judge it on the same criteria we'd use to judge other home models.
A Life Fitness rep once described it to me- basically, the design on these more expensive machines is a little more sophisticated.
Instead of weighted flywheels, they take advantage of different gear ratios (and some other stuff I didn't particularly understand) to provide the same smooth feel without the need for the flywheel.
I wasn't sure about this at first, but after looking a little deeper I found this to be true (a Precor rep told me the same thing when I was researching the EFX 447).
So don't worry about flywheel weight here.
This elliptical comes with 20 levels of magnetic resistance and 20 levels of power incline, giving you the opportunity to crank the intensity up as much as you can handle.
Speaking of incline, this machine can go a lot steeper than most- the EFX 447 can reach a top incline of 40°. And this is with Precor's patented power ramp system, which is the same you'll see in the commercial gyms.
I also like that Precor lists that this model can provide a max resistance of 625 watts- I know from my Peloton that that's a lot more output than I can sustain for any given time.
Overall, we can't compare this elliptical to the competition in terms of flywheel weight because it doesn't use a weighted flywheel. But it scores highly with the powerful resistance system and advanced power ramp incline system.
Features
The Precor EFX 447 comes with the following features:
40 workout programs- this includes 24 preprogrammed workouts and 16 custom workouts to choose from. With this much workout variety to work with, you shouldn't have to worry about getting bored with your routine any time soon.
7″ color LCD console- the display isn't as fancy as some, but it's large enough to see and easy to use. If you're not worried about all the fancy bells and whistles on the console, you'll appreciate this.
4 user profiles- you can save up to 4 user profiles on the console for faster starts to your workouts and more accurate data tracking.
Data tracking- this elliptical is compatible with Precor's fitness app, Preva, for tracking and storing your workout data. Unfortunately, this app isn't compatible with some of the other more popular apps like MyFitnessPal or Apple Health.
Moving and stationary handles- this elliptical comes with both stationary and moving handles, giving you the option of where you want to plant your hands during your workouts.
USB charging port- the built-in charging port allows you to charge your smart devices while getting your workout in.
Lever controls for resistance/incline- this elliptical has the same lever type resistance and incline controls as you'd see on the commercial units in the local gyms. Neat and convenient to use.
Chest strap heart rate monitor included- this machine is compatible with wireless chest strap monitors and Precor includes one with your purchase.
Music controls for Apple devices- you can control the volume and music play for your Apple devices from the console, a convenient feature for you iPod and iPhone users.
Integrated tablet holder- the tablet holder in conveniently located above the console, so you don't have to worry about blocking the view of your workout metrics if you choose to watch a little Netflix.
Built-in center storage compartment- there's a large storage compartment below the console, great for storing remotes, keys, phones, or anything else that may need storing within reach.
Water bottle holder- yup, a water bottle holder, good for holding your beverages securely
Assembly
Although putting this elliptical together yourself is possible, I would imagine a lot of folks are going to go with the professional assembly on this one.
This is a relatively large machine with a lot of assembly steps involved. The assembly manual is pretty straightforward, but the images are kinda small and it's a little hard to determine what they're talking about at times.
Like all other home ellipticals, it's really just a matter of bolting all the different components to the frame and hooking the wires together to the console. But we all know this tends to be easier said than done.
If you do decide to assemble yourself, having a friend of family member around to assist with the process is a good idea. Expect to spend a few hours getting the job done.
But considering the investment, I'd recommend paying the extra $199 and letting the professionals do it.
Warranty
The Precor EFX 447 comes with the following warranty:
Lifetime frame and welds
10 year parts and wear items
1 year labor
I think this is a fabulous warranty. You can't beat lifetime on the frame and welds and 10 years on parts and wear items is unbeatable.
No seriously, I don't think I've ever seen a longer parts guarantee (even in this price range).
One year on labor is a pretty standard, even for luxury ellipticals. Although there are a lot of less expensive ellipticals offering 2 and 3 years on labor these days.
Overall, Precor is offering a generous guarantee on this elliptical, a sign that they truly believe in its quality.
Final Thoughts
The Precor EFX 447 is a high-end home model that has the look and feel of a commercial grade elliptical. From the variable stride length to the sophisticated cross ramp design, this machine is a class-act from top to bottom.
The only real weakness I see is the rather simple console- folks looking for HD video and internet browsing will be disappointed.
The data tracking feature with the Preva app is also a little dated- doesn't sound like you can share with your other more popular apps (like MyFitnessPal or Apple Health).
But people looking for an elliptical that's easy to use will be pleased. This elliptical does make it easy to simply jump and and get started.
Overall, Precor's EFX 447 is easily one of the finest home ellipticals on the planet. If you're looking to bring the gym experience to your home (and don't mind the simple console), you can't go wrong here.