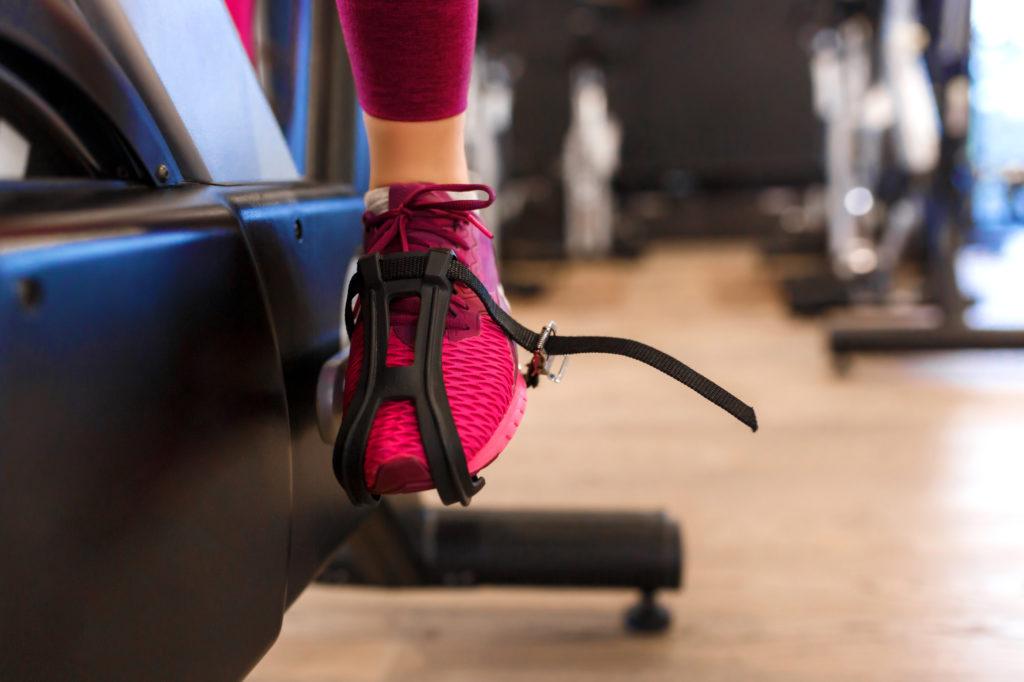 The L NOW Pro LD577 Indoor Cycle Trainer is a commercial-grade bike that offers superlative stability and comfortable designs for aggressive use.
It has a heavy-duty flywheel weight of 44 lb, with fully adjustable seat and handlebars, and a monitor that displays the vital metrics as you exercise.
Thanks to its affordability of roughly $800, you can take the LD577 to your home gym and stay fit on your schedule. 
But is the LD577 worth investing in despite the fact that it's not as expensive as other commercial models? This review shall give you an idea if the renowned L NOW Pro LD577 Indoor Cycle Trainer is worth taking home. 
Let's find out!
The L NOW Pro LD577 Indoor Cycle Trainer
Unless you're in the market for a Peloton or Keiser, you might want to consider cheaper options that offer heavy-duty, high performing indoor bikes.
Lucky for you, you can begin your search with L NOW.
The L NOW indoor cycling bikes have earned a name in the home fitness industry after being introduced to the public in 2016.
Their first batch of products was made up of high-quality spin bikes, which were desirable considering their affordable introductory prices. 
But how does the L NOW fare in this cutthroat fitness market?
The L NOW has competitive advantage in terms of their high-quality, budget-friendly bikes. However, they haven't introduced that many new models recently.
It would be nice if they built a better product range with more exciting features and value, to be on par with highly innovative brands like Nautilus and Schwinn.
Think about Nokia against Samsung and Apple.
The L NOW has high performing sturdy products but in terms of sophistication and more advanced features, they're still a bit far from more well-known brands. 
The LD577 is one of several spin bike models currently in their lineup. With a price of about $800, this bike finds itself in the moderate price range. 
Let's take a quick look at the L NOW Pro LD577 Indoor Cycle Trainer:
Pros
Heavy-duty 44 lb flywheel for more challenging workouts

High weight capacity of up to 350 lb

4-way fully adjustable seat

Larger and well-padded saddle

Multi-grip and adjustable handlebars

Contact pulse sensors

All-steel frame commercial construction

Fitness meter included

Rubberized mat included

Small footprint

Transport wheels for easy relocation
Cons
No magnetic resistance flywheel

No telemetry heart monitoring

Limited 1-year warranty
Flywheel
When you're buying an indoor cycle, one of the most important factors you need to consider is the flywheel. In case you're a beginner to spinning, the flywheel is the most prominent feature of an indoor cycle.
You know that large metal disc in the front of the bike, the one that spins when you pedal? That's the flywheel.
Its job is to replicate the same experience you get with outdoor bikes. The heavier the flywheel, the smoother the motion. Large and heavy flywheels store more energy than smaller and lighter ones. 
Heavier is usually considered better because the extra weight builds more momentum and reduces lag during pedal strokes, resulting in a smoother ride.
Some manufacturers are able to produce smooth bikes with lighter flywheels, but these days most users are going with heavier options.
Now getting back to the L NOW Pro LD577 Indoor Cycle Trainer. How heavy is its flywheel? 
If you're a cyclist who loves heavier flywheels, this bike can make you happy because it has a very heavy, 44 lb electroplated bidirectional flywheel. 
Such a heavy-duty flywheel can offer intense training sessions. It's made from solid premium steel, which is perfect for long and aggressive usage.
A flywheel weight of at least 30 lb usually gives an optimum experience for a smoother and more natural ride. Knowing that the LD577 offers a bit more, you can guarantee it gives a more fluid cycling motion.
It is also coupled with a belt drive system that will even out any irregularities, like friction from poor adjustment or wear. It also reduces noise during use when compared to a chain drive system.
The pedaling won't be jerky and won't add pressure to your joints. This helps make sure you're less susceptible to injury.
Overall, I was stoked to know that L NOW's LD577 model comes with a 44 lb flywheel. It's a step above its competition —  even generously so — as they put great consideration on one of the important assets of a cycle trainer.
However, it doesn't come with magnetic resistance, which is a big downfall. There could be more necessary maintenance with time, as the felt pads break down with extended use. 
Seat
Seats are often a dilemma in exercise bikes. Many of them seem to offer saddles that are slim and poorly padded, thereby causing discomfort or pain for users.
Luckily, the L NOW LD577 has an ergonomically designed seat that is 4-way fully adjustable in upward, downward, forward and backward positions. 
It highlights a thick layer of padding, a cushioned base that's filled with sponges for good air permeability, shock absorption, and heat dissipation.
It has a cutout in the middle to keep you cool. This feature makes the LD577 great for prolonged pedaling sessions while keeping you comfortable.
However, it still comes with a standard seat clamp size. So if you have a personal favorite seat, you can easily customize your saddle.
Users with heights between 5'0" to 6'5" can comfortably use the LD577. Although some taller users have complained that they weren't able to reach full leg extension.
Handlebars
Like the seat, the LD577's handlebars are also fully adjustable with a multi-grip design. 
Both seat and handlebars are equipped with large knobs to make every adjustment easy and convenient. It's a no-brainer to change the position and you can do so in under a minute.
The handles are ergonomic and offer tons of freedom to find the best cycle posture during a more intense workout.
It is also covered by a rubber foam material, which is great for both safety and comfort. It has a dual bottle holder to make hydration more accessible.
The LD577's handlebars have integrated stainless steel pulse sensors, which doesn't seem surprising. In fact, it should be a given, especially when you factor in its price. 
Almost all indoor bikes have a grip pulse monitoring system, so users can easily track their heart rate or monitor their training intensity as they exercise. But the LD577 doesn't have anything special going on here. 
Grip heart rate sensors have been a bit controversial, as many factors can easily contribute to its inaccuracy. One of which is the grip tension upon exercising.
Telemetry heart monitoring is always better, unfortunately the LD577 doesn't come with it. 
Frame
The L NOW Pro LD577 Indoor Cycle Trainer is made for commercial use. Meaning, it's made to be durable for multiple hours of daily use.
It just makes sense that this machine comes with a heavy-duty flywheel, comfortable parts, and all-steel frame construction.
The bases of its frame are welded, but you can expect the other cosmetic and protective parts to be bolted and screwed.
The LD577 is also one of the indoor cycle trainers with the highest user weight capacity. It can accommodate users weighing up to 350 lb, which is impressive for any machine.
Many bikes have a weight limit of up to 300 lb, so the LD577 carries some stark contrast in its competition.
With all its heavy-duty features, it has an assembled weight of 134.5 lb. For comparison, it's roughly 3x heavier than many road bikes.
But the upside about having an incredibly durable frame is that it can be very dependable and safe. Together with some rubberized and adjustable stabilizers and mat (that comes with the package), this machine won't wobble or slide over during intense training.
It might be heavy, but it only has dimensions of 21″ x 46″ x 52″. That's a smaller footprint compared to elliptical or treadmill machines. This makes the LD577 a good choice for those who want to exercise at home but lack floor space.
Unlike lighter bikes that are collapsible after use and are kept at a corner or in a closet, the LD577 has a frame that doesn't fold. However, it has 2 silicone wheels for ease of relocation.
Features
Like many typical spin bikes, the LD577 is a pretty simple machine- not a lot going on in the features department.
One of the features this bike does have is its 3.4" LCD monitor. It's sleek-looking and shows you 5 important metrics like time, speed, distance, heart rate, and RPM.
Its monitor needs a battery to perform, but you need to buy the batteries separately as they don't come with the package.
The LD577 also has aluminum alloy pedals with adjustable covers for the toe cage. It gives additional protection for your feet and avoids slipping as you pedal.
The LD577 lacks more media offerings like Bluetooth connectivity, medial shelf, speakers, and other amazing features we often find in other pieces of fitness equipment (like the affordable Nautilus U616).
This is a good area for improvement for L NOW. But aside from that, LD577 has the basic functional features you'll need for an indoor cycle trainer.
Assembly
The L NOW Pro LD577 Indoor Cycle Trainer is a commercial-grade bike that comes in one heavy box of approximately 140 lb. What you can expect upon unboxing is the pre-assembled body, mechanical parts, manual, and assembly tools.
Roughly 80% of the equipment is done for you, so you'll have to piece together some cosmetic and protective parts.
This includes the pedals, seat, handlebars, console, and leg stabilizers. It's relatively straight forward, but this process may take up to an hour to complete.
The hard part might just be the unboxing because of how heavy the LD577 is. I suggest you ask the carrier to deliver your parcel inside the house or let someone help you unbox, especially when taking the machine's body out from the package.
Warranty
The Ld577 has a lot going for it at first glance, I love its design, performance, durability, and specs. 
But there's one disappointing fact about the LD577 though. And that's its 1-year warranty.
The brand offers excellent stability with its frame and parts. But they don't stand behind their material or workmanship after several years of use.
I'd expect to see at least a 3-5 year guarantee on a bike in this price range.
Is the short warranty enough reason to pass on this indoor cycle? That's a personal question, but it if you ask me, you should definitely consider it.
Final Thoughts
The L NOW Pro LD577 Indoor Cycle Trainer is a heavy-duty stationary bike that's intentionally made for high-frequency use but can also be a good addition to your home gym.
For under $800, you can get a high performing machine built from robust components. It has a heavy 44 lb flywheel that gives an intense workout.
It also has customizable features, like its seat and handlebars, and offers lasting comfort and support for intense training. 
While its 1-year warranty and lack of magnetic resistance are disappointing, overall, the LD577 has the basics you need for a cycle trainer at home. 
But if you ask me, there are better options for the price. Check out our spin bike guide for more info.