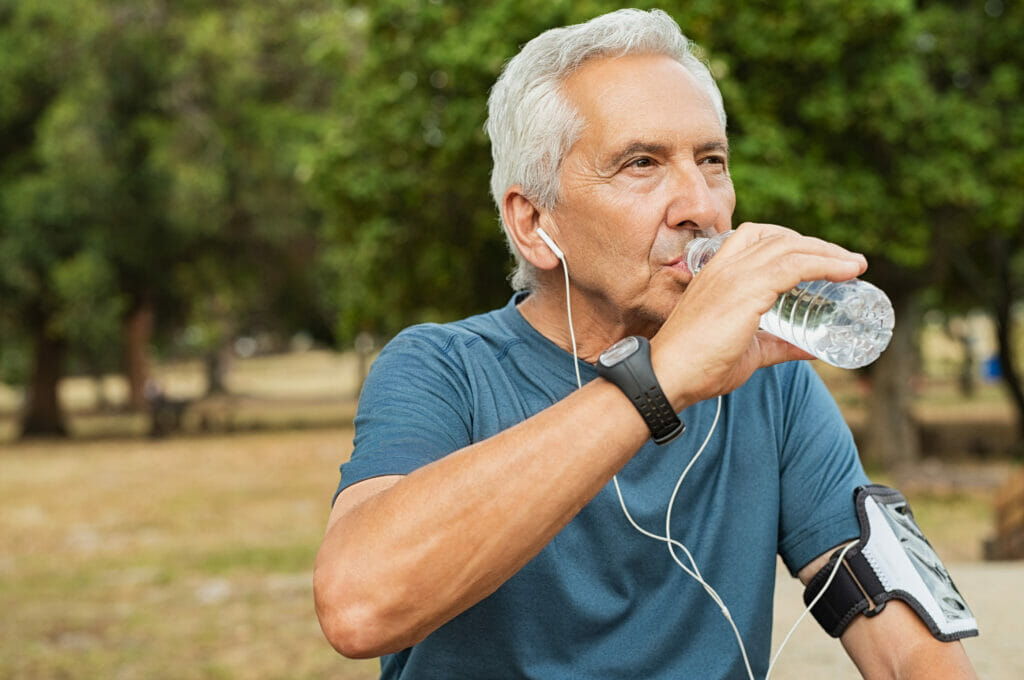 If you're looking to add an affordable recumbent cross trainer to your home, XTERRA Fitness's RSX1500 Seated Stepper is definitely worth considering.
With a low-impact motion that incorporates both arms and legs, the RSX1500 allows folks of any fitness level to achieve a comfortable, full-body workout.
Highlights of this model include a heavy-duty frame, a 13″ step length, and 24 built-in workout programs to choose from.
It also happens to be backed by a very generous warranty.
And with a sales price well under $1000, the RSX1500 is one of the most affordable recumbent trainers on the market.
In other words, this machine has a lot to offer.
But the real question is whether or not this is the right piece of equipment for your home gym- and that's exactly what I'm hoping to help you answer with this review.
In this article, I'll go over everything the RSX1500 has to offer. After reading, you'll know everything you need to in order to decide whether or not this is the right machine for your home.
The XTERRA RSX1500 Seated Stepper
I don't think XTERRA Fitness has the same brand recognition as a lot of the other popular home fitness brands, but I could see that changing.
XTERRA is a budget-friendly brand that has an extensive lineup of home cardio machines to choose from.
And for machines that are priced well under $1000 (most of them anyway), XTERRA products are more durable and come with more features than you'd expect.
They're also backed by a much better warranty than most budget brands can offer.
XTERRA is actually owned by the same company that owns Spirit (Dyaco)- which is excellent company to be in. I didn't know this, but Dyaco partners with Sole Fitness as well.
The RSX1500 is the only seated stepper (aka recumbent trainer) that XTERRA offers at the time of writing this.
Pros
22 lb flywheel
24 levels of magnetic resistance
24 built-in workout programs
13″ linear pedal motion
Comfortable, adjustable seat
Adjustable handles
Rotating handles
Self-balancing pedals
Low impact, full body workout
300 lb weight capacity
Great warranty
Cons
No wireless heart rate monitoring
Resistance
The RSX1500 utilizes a magnetic resistance system. This is the same type of system any decent exercise bike or elliptical would use and it has a few obvious advantages.
Oh, a magnetic resistance system means that there is a metal flywheel that spins as you pedal- there are magnets on either side of this flywheel and the resistance is adjusted by changing the distance between the magnets and said flywheel.
Bringing the magnets closer to the wheel increases resistance; bringing them farther away reduces resistance.
One notable advantage of using this type of system is that it provides a very quiet, smooth feel. After all, with magnets there is no friction, which makes for quiet operation.
And since the magnets don't have to touch the flywheel to produce resistance, it means there's less chance of breakdown.
As cool as the magnetic resistance system sounds, it's actually standard in pretty much all decent cardio machines these days.
What's worth pointing out though is that the RSX1500 uses a 22 lb flywheel, which is pretty impressive for a recumbent bike or trainer in this price range.
When it comes to weighted flywheels, heavier is usually considered better because they tend to provide a smoother feel than lighter counterparts (more weight means more momentum as it spins).
I consider anything weighing over 20 lb to be "heavy" when it comes to flywheels, so I would say that the RSX1500 comes with a heavy flywheel (which is a good thing).
This recumbent trainer comes with 24 resistance levels to work with, giving you a wide range of intensity levels to choose from.
I think having more resistance levels is a good thing too, because it means you can make smaller adjustments during your workouts, which gives you more control over the intensity of your workouts.
It also gives you more room to grow as you become more fit.
Overall, I think the RSX1500 scores highly in the resistance department. I like that it comes with a heavy flywheel and plenty of resistance levels to work with.
Pedal Motion
Seated steppers usually come with linear or more circular/elliptical pedal motions. One isn't necessarily better than the other, although if you have arthritic or achy hips and knees, you'll probably find the linear motion more comfortable.
And that's because the linear motion puts a little less stress through your joints- less torque and whatnot.
That's why commercial grade recumbent cross trainers, like the NuSteps that are designed for rehab use, come with linear pedal motions.
The RSX1500 comes with a very linear pedal motion.
If you watch the video above, you'll notice that the positioning of the seat and pedals puts you in a position where you're pushing each pedal down vertically as well as horizontally.
This makes for a very comfortable motion that kinda mimics doing a leg press each time you pedal.
Each pedal moves a maximum of 13″ with each step, which should also feel comfortable for most users. Even folks with arthritis should be able use a recumbent cross trainer like this fairly comfortably.
Overall, this machine utilizes a linear pedal motion, which makes for optimal comfort for folks dealing with achy joints.
Seat
I think it's important to consider the comfort level when choosing a recumbent trainer because most people who are looking at these are doing so because other types of fitness equipment might be uncomfortable to use (due to arthritis or other mobility issues).
And the quality of the seat is a key factor in how comfortable a trainer is going to be during your workouts.
When looking at the seats, it's a good idea to look at whether or not it can swivel. Having a swiveling seat can be a game changer for people with more severe mobility deficits, although it's rare to see this feature on a machine in this price range.
The seat on the RSX1500 can't swivel, but the contoured seat is large and padded and should be comfortable for most users to sit on for extended periods.
It's also easy to adjust for height (speaking of which, according to Xterra, this machine is best suited to fit people between 4'7″ – 6'2″).
The backrest is vented as well, which might help keep ya a little cooler during your workouts.
Features
The XTERRA RSX1500 comes with the following features:
24 workouts- this machine comes with a large variety of built-in workouts to choose from; a nice feature for those that get bored easily. 13 of these are preset, the others include heart rate workouts and custom workouts.
Handles- the handles on this trainer are length adjustable, allowing you to easily customize your fit for optimal comfort. The handles can also rotate, allowing them to move comfortably with your hand as you pedal along.
Pedals- the pedals themselves are kinda small, but I like that they're self-balancing (always oriented in the right position) and that they come with ratcheting straps for a snug fit.
Console- the console is very basic, nothing fancy going on here, but it's backlit and easy to see during workouts. The simplicity of the console makes it very easy to use.
Media rack- there's a small rack on the console that can hold a smart phone, tablet, or magazine.
Audio port- you can plug your mp3 player or smart phone into the audio port and hear whatever your watching or listening too through the built-in speaker.
Contact heart rate monitoring- there are built-in grip heart rate monitors on the side handles by the seat
300 lb weight capacity- seeing a weight limit this high on a budget machine is a great indicator of quality.
Assembly
Putting the RSX1500 together shouldn't be that difficult, assuming you or a family member is even a little handy. The main unit comes pre-assembled, you'll be responsible for attaching the mast, the seat, the pedals, and console.
The process itself is pretty straightforward- you're just bolting these different components to the frame.
That said, I think XTERRA could do a little better with their instructions. There are large images and written instructions for each step, but there's a lot going on in some of the steps.
I prefer more steps with less going on in each one- makes it a little easier to see what's going on with each step along the way.
Overall though, assembly on this trainer is very doable. I think most folks should be able to get the job done themselves without having to pay for professional assistance.
I'd expect to spend an hour or so getting the job done.
Warranty
XTERRA Fitness backs their RSX1500 up with the following warranty:
Lifetime frame
Lifetime brake
3 year parts
1 year labor
I think this is a fabulous warranty for this cardio machine. You can't beat a lifetime guarantee on the frame and brake, but even 3 years on the parts is quite generous for a sub-$1000 model.
A year on labor is pretty standard procedure for any quality home fitness machine.
Overall, I'm really impressed by the guarantee XTERRA offers on this trainer. It's about as good as you're gonna find in this price range (and it's much better than the warranty on the popular Teeter FreeStep).
Final Thoughts
That about does it for the RSX1500. After going through all the specs and features, I think it's pretty easy to say that this seated stepper has a lot to offer.
I like that it comes with such a heavy flywheel and that it comes with so many resistance levels to choose from. I also like that it utilizes a linear pedal motion, because this makes it more comfortable to use for folks with arthritis.
I'm also impressed by all of the workout programs it comes with.
The only thing I see missing is chest strap heart rate monitoring, but I don't consider that to be even remotely close to a deal breaker.
Especially when you consider that warranty.
Overall, I think XTERRA has a real winner with their RSX1500 Seated Stepper. Easily one of the best recumbent cross trainers in its price range. Highly recommended.