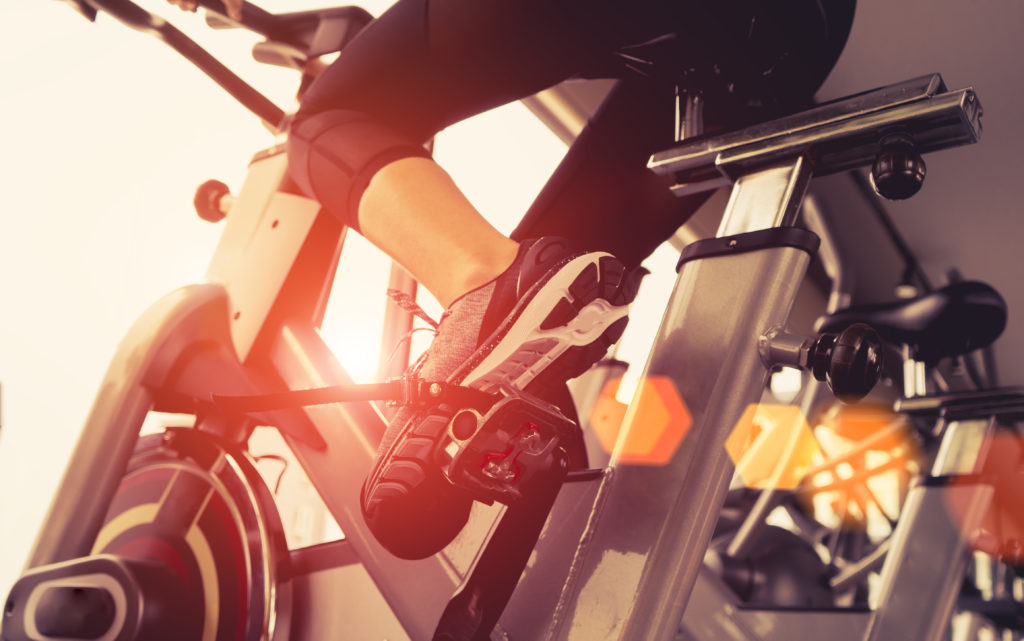 The SB700 exercise bike is one of two spin cycles currently being offered by Sole Fitness. With impressive specs and a highly respected name on its side, expectations are running high for this indoor cycle.
But in this price range, competition is fierce. With offerings from brands like Diamondback and L NOW lurking around, can the SB700 prevail?
Ok, I might have gotten a little dramatic there (I've been binge watching The Walking Dead recently, I do apologize). But there are a lot of great spin bikes available in this mid-range price range.
In order to determine whether or not this bike has what it takes to set itself apart from the rest of the competition, we need clear cut criteria to judge it on. Criteria we can use to compare this bike fairly to the rest.
After all, user experience is subjective, but the specs never lie.
Spin Bikes 101
Comparing spin cycles (aka spin bikes, indoor cycles, spinning bikes, etc) is a little different than comparing traditional upright or recumbent bikes.
Some specs, like warranty and weight capacity, are the same of course. But others a more unique to these machines. Here are a few key specs/features I suggest you use when comparing spin bikes:
Flywheel
Anytime you get into a discussion about spin bikes, flywheel weight is usually the first thing to come up. The flywheel is the wheel that spins as you pedal, creating the feel of riding a bike. It's also responsible for providing your resistance.
All exercise bikes have a flywheel, as do ellipticals, but they seem to become more important in spin cycles because these bikes are trying to mimic the feel of riding a road bike.
Most (although not all) folks believe heavier is better when it comes to flywheels. The general idea is that a heavier wheel provides a smoother ride due to the momentum that builds up as you pedal.
More closely resembles the feel and resistance felt when riding uphill.
Flywheel weights vary greatly in spin bikes, ranging anywhere from 20 lb to 55 lb.
Usually, the heavier the flywheel, the more the bike costs, but Sunny Health & Fitness has found a way around this paradigm and offers several budget bikes with 40 lb flywheels and heavier.
Seat
Here, I'm not taking the comfort of the seat into account. Unfortunately, it's a given that spin cycles (like road bikes) have really uncomfortable seats.
There's no getting around it, it is what it is. If you're not an experienced rider, with time you will get more used to it. If not, you can invest in a seat cushion or pair of those padded shorts cyclists use.
When comparing spin bikes to each other, the important aspect to consider is how adjustable the seat positioning is. For a truly customizable fit, you should be able to adjust the height of the seat (vertical) as well as the horizontal position (fore/aft).
Cheaper bikes may not offer the fore/aft adjustments, higher-end models will.
Having a comfortable fit is important because it makes you less likely to suffer a repetitive motion injury to your knees or hips. Being more comfortable will also allow you to ride longer, which will help you meet your fitness goals.
Handlebars
The handlebars are another important feature to consider. Yes, all spin bikes have handlebars, but I recommend you find one with multiple grip positions- preferably, at least 3.
This allows you to change your grip throughout your ride, which is important for comfort and balance depending on your position (seated vs standing).
It's also important that the handlebars be height adjustable. This is an easy one because even most budget bikes offer this, but some of the cheapest spin bikes don't.
Now that we know some of the key features to look for, let's examine the SB700 and see how it stacks up.
For a more detailed look at spin bikes, check out my spin bike buyer's guide– it goes into more detail and includes the top indoor cycles of the year.
The Sole Fitness SB700 Exercise Bike
Sole Fitness is a well known home exercise equipment brand that has earned a great reputation. They've been providing fitness equipment to hotels for years and have been gradually expanding their reach into the home market.
They're probably most known for their folding treadmills, which always seem to find their way on critics' "best of" lists.
Flywheel
Recall from above that flywheel weight is often regarded has one of the most important specs a spin bike can flaunt. Heavier is better.
The SB700 has a 48 lb flywheel which is on the heavier side of the norm for bikes in this price (well, bikes in any price range really).
The heavier flywheel is thought to provide a smoother experience, especially when mimicking hills. Users all seem to agree that the operation of the flywheel on this bike is exceptionally smooth and quiet.
In terms of the competition, the Diamondback 510Ic (which I personally own) is priced identically and comes with a 32 lb flywheel. Sunny has several spin bikes around the same price with flywheels in the 30-40 lb range as well.
Overall, when it comes to flywheel weight the SB700 offers one of the heaviest of the bunch. The resistance on this spin bike is adjusted by turning a dial.
Many spin bikes operate this way, although some (like the Diamondback) use resistance buttons on the monitor.
Seat
The SB700 does have a fully adjustable seat with height and fore/aft adjustments. The adjustments can be made easily between riders by simply releasing the handle- a nice feature if you have trouble turning the knobs due to joint pain.
Riders agree the seat itself is standard- ie, uncomfortable. A nice gel seat cushion can make a big difference, the link there is the one I purchased for my Diamondback, which has worked very well for me.
Handlebars
This spin bike comes with multi-grip handlebars that are fully adjustable. You can adjust the height and the fore/aft position of the handlebars, which is a nice touch we don't always see.
Having the ability to also adjust the horizontal position of the handles gives you a lot of control over your positioning, which should ensure you get a perfect fit.
Frame
The SB700 has a heavy-duty frame constructed out of 2-mm oval steel tubing. This exercise bike has a max weight capacity of 300 lb, making it suitable for most users out there.
When compared to other similar spin bikes, this weight limit is pretty standard for this price range.
The dimensions for this bike are as follows: 40″ (L) x 21″ (W) x 42″(H). Something to keep in mind is that the SB700 weighs 141 lb fully assembled.
There are transport wheels built in the front of the frame to help you move it, but with this weight it's still going to take some effort to get it moving. Might be a good idea to assemble this in the same location you plan on using it.
Speaking of assembly, most users agree assembly is pretty straightforward and the directions are easy to follow. Most can have it out of the box and up and running within an hour.
The most common complaint from users was that their bikes were delivered in busted up boxes, sometimes to the point where parts where warped or damaged.
This is a shipping issue that we shouldn't blame Sole for, but luckily Sole's customer service is awesome and will do anything necessary to replace the damaged parts and get your bike working properly.
Pedals
Some spin bike pedals are clipless (SPD), meaning you need a special pair of cleats to attach to them and use. Most in this price range aren't.
The pedals on the SB700 are standard, meaning you can't attach to them. Which is nice for casual and recreational riders because you can wear any sneakers you want.
More experienced riders or people who already have SPD compatible cleats can switch out the pedals on this bike pretty easily if they want to.
Monitor
Spin cycles aren't known for their monitors. That's because if they have one, it's usually very basic. Glorified stop watches really. Many don't even offer that much because they are being used for spin classes where they aren't needed.
Well, Sole did include a small monitor on their SB700. There aren't any fancy features here, but it will track distance, time, speed, calories, and RPM.
The monitor is backlit, which makes it usable in darker rooms. The display is battery operated, which means no power cord.
Yes, you will have to replace the batteries periodically, but you don't have to worry about placing the bike near an outlet- which can be a nice feature if you want to place your bike in front of a tv or by a scenic window.
The most impressive feature in terms of the monitor is the fact that this bike is compatible with Polar heart rate monitors. One isn't included, but you can use your own chest strap monitor to keep an eye on your heart rate during your workouts.
Some spin bikes in this price range do offer workout programs, some don't. I know my Diamondback does, however it isn't compatible with wireless heart rate monitors.
Definitely something to consider depending on how you plan on using your spin bike.
Warranty
The warranty department is one of the areas where the Sole SB700 really shines. It comes with the following warranty:
Lifetime frame
3-year parts and electronics
1-year labor
This is one of the best bike warranties I've come across, regardless of price range. A company's warranty says a lot about how much they trust their products- it's obvious Sole is confident in their spin bikes.
This warranty blows away the one offered on the Diamondback 510Ic (5 year frame, 3 year parts, 90 day wear items) and many of the Sunny bikes (only a year or so on the frame and 90 days on parts).
The SB700 also qualifies for a light-commercial warranty (less than 5 hrs / day of use) for environments like fire stations or apartment complexes.
Final Thoughts
We've come to expect the best from Sole over the years and I have a feeling this spin bike is just going to throw fuel on that expectation fire.
In a market full of mid-range priced spin bikes, the Sole SB700 stands out like a beacon.
With one of the heaviest flywheels around, fully adjustable handlebars and seat, and a frame backed by a lifetime warranty I can say with confidence this is one of the nicest spin bikes around.
I compared it against the Diamondback 510Ic frequently throughout the review because they are priced identically and it is also considered one of the best buys in this price range.
Head to head, the SB700 wins in every major spec and comes with a much better warranty. I kinda wish I had looked into this bike before purchasing the Diamondback.
Hindsight is always 20/20 I guess, but I can't complain, I've been happy with my purchase.
Regardless, if you are looking for a heavy-duty spin bike that is built to last and likely to please, the SB700 is a smart buy.