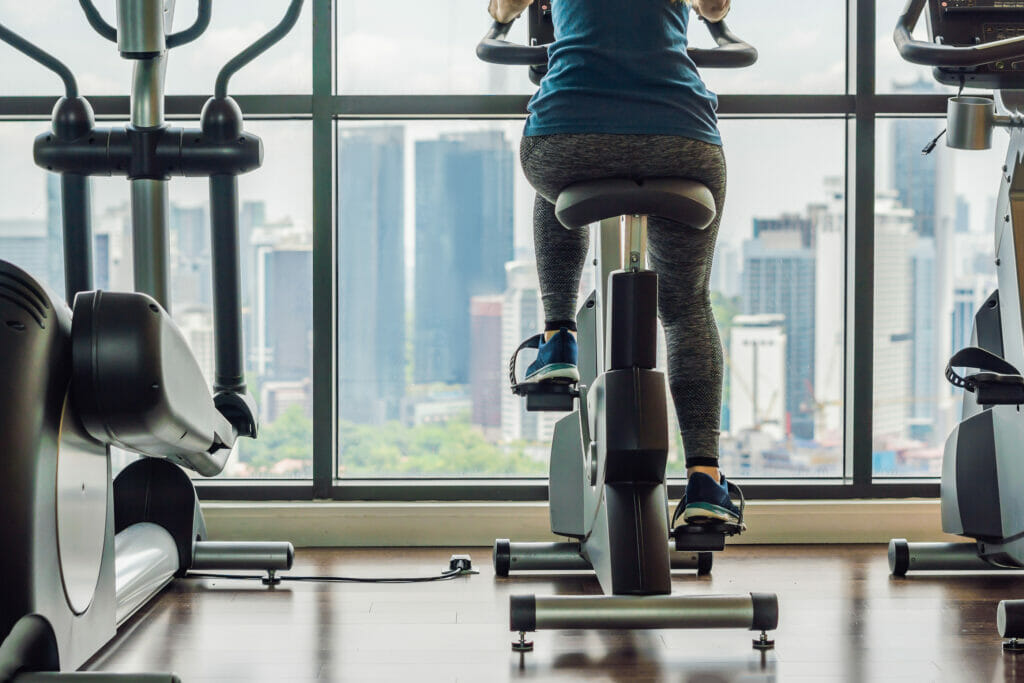 Even though Diamondback Fitness is most recognized for their elite spin cycles (and rightly so), they do offer other types of cardio equipment, like their 1260ub upright exercise bike.
Being more of a traditional upright model, the 1260ub is more appropriate for people looking for a more comfortable workout experience.
But comfort aside, this is still Diamondback we're talking about here, so you shouldn't be too surprised to hear that the 1260ub is a heavy-duty, well-built fitness machine.
Highlights include a heavy-duty frame, a 25 lb flywheel, an over-sized seat, and a walk-through frame for easy access.
If you're in the market for an upright exercise bike and you want one that'll feel a lot like the ones you've used at the gym, the 1260ub is a great choice.
But before you decide, I encourage you to read this review in full.
Here, we'll discuss all the in's and out's that make the 1260ub what it is.
After reading, you'll know everything you need to in order to decide whether or not this is the right exercise bike for your home gym.
Off we go.
The Diamondback 1260ub Upright Magnetic Exercise Bike
I'm a fan of Diamondback. I said it. I'm still going to be completely objective in the review that follows, but I just wanted to admit that I like this brand and I have for a few years now.
I think I first came across 'em when I was searching for my first spin bike.
After a lot of research, I ended up going with their 510ic (not only is it very well reviewed, but I liked that it came with built in workouts and that you can control the resistance from the console).
I've had that bike for a few years now and it still works great- although now that I own a Peloton, I have to admit it doesn't get as much use as it used to (every once and awhile I can get my wife to ride with me though).
Something all Diamondbacks have in common, my 510ic included, is that they all come with solid, heavy-duty frames and components- these things are built to last.
When it comes to console tech, Diamondback tends to keep things pretty simple.
It's true their monitors are a bit dated, but personally, I don't mind because I'd rather have a bike that can perform (says the guy who owns a Peloton, but hey- the Peloton can perform too!)
The 1260ub is the only traditional upright bike this brand offers at the moment. With a sales price of roughly $1300, it's a moderately priced option.
Pros
25 lb flywheel
32 levels of magnetic resistance
15 workout programs
4 user profiles
USB charging port
Fully adjustable seat
Step-through frame
350 lb weight capacity
Built-in elbow pads
Bluetooth speakers
Wireless chest strap heart rate monitor compatible
Good warranty
Cons
Chest strap heart rate monitor not included
Flywheel
Even though we don't normally associate upright bikes with heavy flywheels the same we do with spin cycles, I still think it's an important spec to consider.
By the way, heavy flywheels are preferred on spin bikes (most anyway) because they make for smoother operation and they more closely mimic the feel of riding a road bike (which is the point of spin bikes in the first place).
But just because upright bikes aren't usually used for intense workouts like spin cycle are, doesn't mean you can't benefit from having a heavy flywheel on an upright bike.
Heavier flywheels are going to provide a smoother feel on an upright bike too.
And I consider anything weighing over 20 lb to be considered a "heavy" flywheel.
With all that in mind, consider that Diamondback's 1260ub comes with a 25 lb flywheel.
For an upright model, this is pretty heavy. Especially when compared to the 10-13 lb flywheels that are found on most of the popular, more affordable models.
Diamondback pairs this heavy flywheel with a magnetic resistance system that comes with 32 levels of intensity.
This is a lot of resistance levels and I think having more levels is a good thing- it gives you the opportunity to make smaller incremental changes throughout your workout.
You know, fine tune your intensity (instead of having to make larger, more abrupt changes between intensity levels).
Overall, the 1260ub is packing a heavier flywheel than most upright bikes and I like that it comes with so many resistance levels to work with.
So far, so good.
Seat
The most obvious advantage of getting a traditional upright over a spin cycle is the seat- uprights come with larger, more comfortable seats.
Or they should.
Spin cycles come with standard road bike seats and there's no getting over the fact that they're pretty uncomfortable, especially for longer workouts.
Upright bikes with their larger seats tend to be a lot more comfortable and easier to sit on for longer periods.
The seat on the 1260ub is no different- it's large and cushioned, so comfort shouldn't be an issue.
More importantly, the seat on this bike is fully adjustable, meaning you can adjust both the height and the horizontal (fore/aft) position.
You don't always see fully adjustable seats on traditional upright bikes and I think it's a great feature to have. Being able to adjust the fore/aft position is going to ensure you find the most comfortable riding position possible.
And with the height adjustments available, the 1260ub should be able to comfortable sit folks who are between 5'3″ and 6'7″ tall.
Handlebars
The handlebars might not be quite as crucial on an upright as they are on a spin bike, but they're still worth looking at before making a final decision.
The handlebars on the 1260ub offer a few different hand grips, so if you did decide to stand and climb some hills, you would have the proper wide hand position available.
Some bikes offer height and/or fore/aft adjustments for the handlebars- the 1260ub doesn't offer either.
These handles are fixed in place, but they do come with an extra little comfort feature that most bikes don't come with: built-in elbow pads.
You'll also see a hand grip heart rate monitor on each handle as well as the ability to increase or decrease the resistance from the handles.
Otherwise, not a lot else to say here.
Frame
A bike's frame is important. If you go with a bike that has a really light-weight, flimsy frame, you're going to feel it during your workouts.
Unwanted rocking and wobbling can be an issue with flimsy frames. Heavy-duty frames will feel more stable, regardless of how fast or hard you're pedaling.
Looking at the total machine weight is a great place to start when trying to figure out how sturdy a frame is- and heavier is better in my book.
The 1260ub comes with an assembled weight of 106 lb, which is great for an upright bike (for the sake of comparison, Schwinn's 170 only weighs 58 lb).
So this bike is heavier than your average upright, which is great, but it also comes with a 350 lb weight capacity, which is also indicative of superior frame strength.
Seeing a higher weight limit is always a great sign of overall quality.
The frame on the 1260ub is heavy and durable, but it's also step-through.
Looking at the image above, you'll notice all the open space between the seat and the console- this means you don't have to step over the body of the bike to get on.
This makes accessing this bike a lot easier, especially for people with mobility issues that might make it difficult for them to elevate their leg high enough to get on a traditional bike.
Overall, the 1260ub scores very highly in the frame department.
Features
The Diamondback 1260ub comes with the following features:
15 workout programs- this bike comes with plenty of workout variety to choose from. Most of these workouts are pretty standard, with the resistance automatically changing based on the difficulty and profile of the workout. There's also heart rate and watt guided workouts to choose from.
Wireless heart rate monitor compatible- this bike has a Polar compatible (non-coded) heart rate receiver built-in, however a chest strap isn't included.
4 user profiles- you can save up to 4 user profiles, making it easy to save all your demographic info for faster and more accurate metric tracking.
Bluetooth speakers- you can use the built-in speakers to hear your favorite jams wirelessly during your workouts.
Resistance dial- you can use the large, easy to use resistance dial to conveniently make all your adjustments.
Tablet holder- the console can hold a tablet, magazine, book, or anything else you'd like to watch or read to make your workouts more enjoyable.
USB charger- this feature allows you to keep your device fully charged during your workouts.
Water bottle holder- a great place to, uh, hold your water bottle.
Assembly
Putting this bike together should be pretty easy for most folks. Diamondback provides an easy to read manual and all the necessary tools to get the job done.
The images in the manual are large, making it easy to see what hardware goes where and there are written instructions to go with each step.
The main body of the bike comes pre-assembled. You'll be responsible for attaching the stabilizers, the seat, the front post, and the console.
The hardest part of assembling bikes like this is usually connecting the wires before attaching the console- you just have to make sure not to pinch 'em (it would suck to get everything in place to find out the console isn't getting power).
Overall, this is a straightforward process. I'd expect to spend an hour or so getting it unpacked and assembled.
Warranty
The Diamondback 1260ub comes with the following warranty:
5 year frame
3 year brake and parts
1 year labor
I'd like to see a lifetime frame warranty on this bike, but to be fair, most brands don't offer this (although Sole does). Five years is pretty standard believe it or not.
(Something Diamondback does that I don't care for is refer to their frame warranty as a "lifetime" guarantee, but then they say that they consider 5 years to be the expected lifetime of the bike).
Three years on parts is pretty good and a year on labor is pretty standard.
All things considered, I think this is a pretty good warranty.
Final Thoughts
Diamondback is a well-respected brand with a lot of experience when it comes to exercise bikes. And even though they've earned their reputation based on their awesome spin cycles, I think the 1260ub is of equal quality.
I like that this bike comes with such a heavy flywheel. It's a great sign of quality and it's going to make for a smoother, more substantial feel during your workouts.
I also like the heavy-duty frame and the step-through design, which is going to make it easier and more comfortable to get on and ride.
The console on this bike even comes with bluetooth speakers, which is a bit surprising for Diamondback.
Overall, I really don't have much to complain about here. Nothing is perfect, but when it comes to uprights, the 1260ub is pretty darn close.
In other words, I think the 1260ub is a fantastic home upright bike that could easily compete with a lot of bikes that cost 2x as much. Highly recommended.