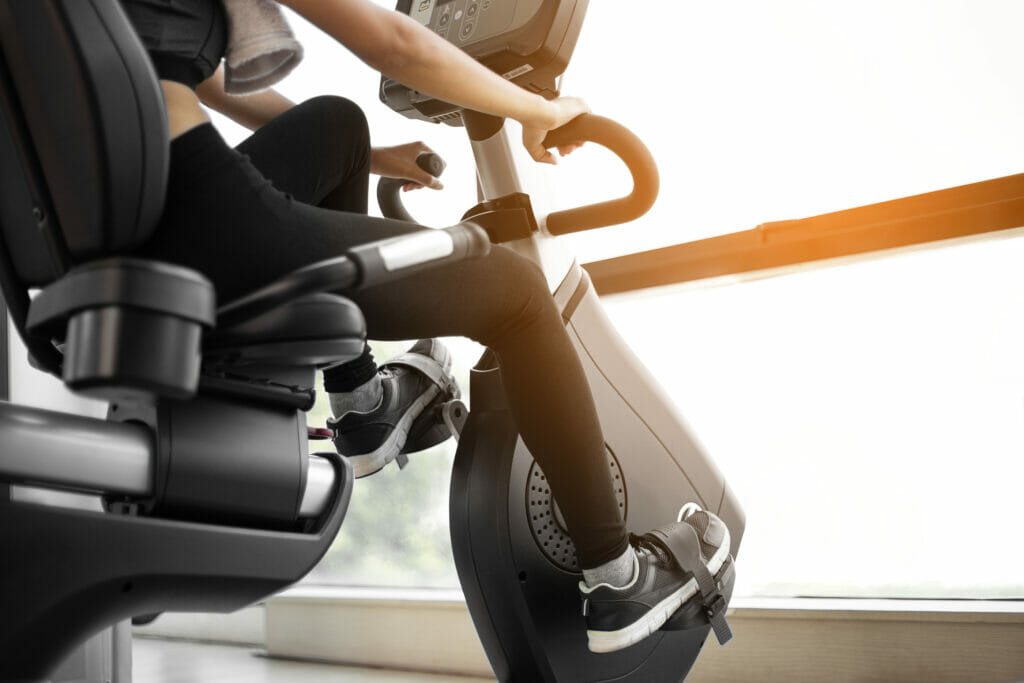 The 1260sr is Diamondback's most advanced recumbent bike to date and not surprisingly, it's packing some heat. This heavy-duty bike is designed to hold folks of all sizes comfortably, while providing a low impact cardio workout.
Highlights of the 1260sr include a 25 lb flywheel, 32 levels of smooth magnetic resistance, and 15 built-in workout programs.
But there's also the bluetooth compatibility, wireless heart rate receiver, and convenient step-through design that make this bike a top contender in its class.
If you're looking for a moderately priced recumbent that could pass for a light commercial bike, Diamondback's 1260sr is a smart choice.
But is this the right bike for your home gym?
Well, that's what this review is here to help you figure out.
In this article, I'll go over everything this bike has to offer. After reading, you'll have a better ideas as to whether or not it's worth investing in.
The Diamondback 1260sr Recumbent Bike
Diamondback Fitness has become a popular go-to brand for quality exercise bikes because they offer well-built products that are easy to use.
They do offer a couple of ellipticals as well, but it's their exercise bikes (especially their spin cycles) that they're known for.
When it comes to recumbent bikes, Diamondback currently offers 2 models: the 1260sr and the 910sr (well, 3 if you count the older 510sr which is no longer available directly).
The 1260sr is the highest-end recumbent currently in their lineup and comes with the most advanced features.
This recumbent will cost ya roughly $1500 on sale, which puts this bike in the moderately priced category (which is a sweet spot for home fitness equipment- nicer than the super budget friendly models, but a lot cheaper than the legit commercial grade units).
Pros
25 lb flywheel
32 levels of magnetic resistance
15 built-in workout programs
Large, comfortable seat
Step-through frame
350 lb weight capacity
Compatible with fitness apps
Bluetooth speakers
USB charging port
Polar chest strap compatible
Good warranty
Cons
Simple console
Polar chest strap not included
Flywheel
Some people might not think flywheel weights are that important when talking recumbent bikes, but I disagree- if you're looking for a smooth ride, you better consider the weight of that flywheel.
Most home exercise bikes are designed so that having a heavier flywheel is beneficial- the extra weight builds more momentum as you pedal, which reduces any unwanted lag between strokes.
You see a lot of talk about heavy flywheels when it comes to spin cycles because these bikes are designed for intense, road bike mimicking workouts.
But just because recumbent bikes aren't usually used for HIIT workouts doesn't mean they can't benefit from a heavy flywheel as well.
Personally, I think anything heavier than 20 lb counts as a "heavy" flywheel (but you'll see 40 lb and heavier flywheels on a lot of spin bikes these days).
With this in mind, I'd like to point out that the 1260sr comes with a 25 lb flywheel.
Not only is 25 lb more than heavy enough to provide a smooth, consistent feel while exercising, but it's also a lot heavier than a lot of popular home recumbents (Schwinn's 270 uses a 13 lb flywheel for example).
Diamondback pairs this heavy flywheel with 32 levels of magnetic resistance, giving you a wide range of workout intensities to choose from.
You can select your resistance using the large dial in the center of the console or by using the conveniently located buttons on each seat handle.
I'd also like to point out that having a heavier flywheel usually means the bike can provide more overall resistance as well, which comes in handy if you're looking for a bike that can provide more intense workouts when you want them.
Overall, the 1260sr scores highly with a 25 lb flywheel and a ton of resistance levels to choose from. This bike should be more than cable of challenging users of all skill levels.
Seat
Recumbent bikes are known for their large seats that are positioned horizontally from the pedals- this is what makes these bikes "recumbent" after all.
And it's this large seat with a backrest that makes these bikes a lot more comfortable than traditional upright bikes and spin cycles.
This is why you see recumbent bikes in most therapy clinics and rehab facilities- most people can comfortably use one of these machines.
Like all elite recumbent bikes, the 1260sr comes with a large, cushioned seat as well as a backrest that has built-in lumbar support.
You can't adjust the angle of the backrest (some recumbents let you), but you can easily adjust the position of the seat using the quick release handle.
According to Diamondback, the 1260sr should be able to comfortably fit most people who are between 5'3″ – 6'7″ tall.
This bike also comes with a max weight capacity of 350 lb, allowing it to safely hold larger users as well as small. Seeing a high weight limit like this is also indicative of overall frame strength.
This bike also has a step-through frame, making it easy to access without having to step over the body of the bike to get on/off- a great feature for folks with mobility issues.
Features
The Diamondback 1260sr comes with the following features:
15 workout programs- these include 12 standard workout profiles, as well as a heart rate program, a watt program, and the ability to create custom user workouts.
Bluetooth compatible with apps- the console on this bike is pretty simple, but it does have bluetooth capabilities. The 1260sr can sync up with fitness apps like Zwift (and others) for data tracking and all that jazz.
Bluetooth speakers- you can also use bluetooth to connect your phone and listen to your workout jams through the built-in speaker wirelessly.
Wireless heart rate receiver- you can track your heart rate wirelessly with a Polar chest strap (non-coded) for more accurate, uninterrupted readings, although one isn't included with purchase. You can always use the grip heart rate monitors on the handles if you don't want to use a chest strap.
Body fat function- there's a function on the console that gives you an estimate of your body fat percentage. You hit the body fat button, grab the contact heart rate monitors, and the console will give ya a reading (as well as a small icon representing your result). It also provides an estimate of your BMI.
USB charger- this allows you to plug your phone or tablet in while you workout, making sure you don't drain your battery while listening to music or watching Netflix.
Tablet holder- you can easily watch your tablet or read a book while riding.
Water bottle holders- there are 2 large water bottle holders on each side of the seat for convenient hydration during your workouts.
Assembly
It's funny- if you look at the FAQ section on Diamondback there's always a question regarding whether or not this bike requires assembly.
Diamondback's professional answer is that it does require some "light assembly".
I'm not saying the assembly process is overly complicated or anything, but "light assembly" might be a little a bit of an understatement.
There are plenty of steps to go through to get this bike assembled- the main frame comes pre-assembled, so you're basically just attaching stuff to it (like the pedals, seat, console) as well as making a few wire connections to ensure the console is powered.
But keep in mind that the 1260sr weighs almost 150 lb fully assembled, so it's probably a good idea to have a second person around to help hold things in place while you attach.
All of the necessary tools are included and Diamondback does a pretty good job making their instructions easy to follow.
Overall, if you're the least bit handy you should be able to get the job done without hiring professional assistance, but I'd expect to spend an hour or so getting the job done.
Warranty
Diamondback offers the following warranty on the 1260sr Recumbent Bike:
5 year frame
3 year parts and electronics
1 year labor
90 day wear items
All things considered, the warranty on this bike is pretty solid. Given the price, I'd like to see a lifetime guarantee on the frame, but that's not very common, even for high-end models such as this one.
Speaking of lifetime, don't be confused- Diamondback writes up their warranty as a "limited lifetime" frame guarantee, but they go on to say that they consider 5 years to be the natural lifetime of the bike.
Personally, I'd expect this bike to last a lot longer than 5 years.
Three years on parts and electronics is pretty par for the course in this price range, as is a year on labor.
Overall, a decent warranty here.
Final Thoughts
The 1260sr fits nicely into Diamondback's lineup. Like all of their other bikes, it's built solid with heavy-duty components and it's not overly complicated to use.
I like that it comes with a heavy flywheel and lots of resistance levels to choose from and that it also comes with a generous selection of built-in workout programs.
The biggest downside is probably the console, which is very basic and a bit out dated looking, but if you're looking for a bike that's easy to use, this might actually be a pro.
All things considered, I think the 1260sr is a very nice recumbent bike, but when you compare it to their 910sr (which comes with a heavier flywheel and more workouts to choose from), you have to think to yourself how much bluetooth is worth.
If you don't care about syncing with apps or using the built-in speaker, you can save yourself some cash and go with the 910sr, just saying.