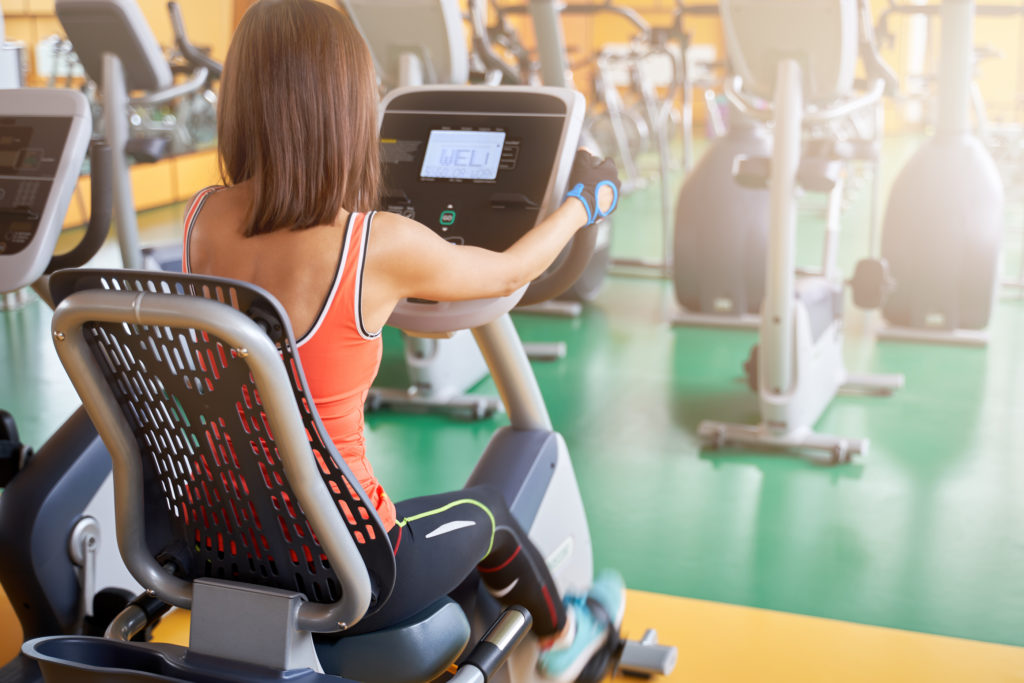 The 510SR is Diamondback's most affordable recumbent bike, but you'd be hard pressed to tell by looking at it. That's because this surprisingly affordable exercise machine has the look and feel of a bike well outside it's pay grade.
For starters, this simple to use machine comes with a heavy-duty frame, a generous selection of workout programs, and an adjustable back rest for added comfort.
It's also backed by a great warranty.
If you can't tell, I'm a fan. I think the Diamondback 510SR is a nice model for the price and a great option for folks looking for a sturdy, easy to use recumbent bike.
But it's not perfect- it's lacking in some of the higher-tech features you may be looking for in your home fitness equipment.
This review is here to help you decide whether or not the Diamondback 510SR is what you're looking for. In this article, we'll take a close look at all the important specs and features this bike has to offer.
I'll also provide my two cents on who I think would be happiest with a bike like this.
But before we get ahead of ourselves, let's start with a quick intro on the Diamondback brand.
Who Is Diamondback Fitness?
Diamondback Fitness hasn't been around as long as some of the heavy hitters in the exercise bike game (Schwinn's been in the game for over 100 years), but they're rapidly making a name for themselves.
If you're already familiar with the brand, it's likely because of the Diamondback 510IC– a popular indoor cycle that regularly finds itself on "best of" lists in its class.
I'm a proud owner of a 510IC and can personally attest to its quality.
Even though Diamondback specializes in exercise bikes, they've also gained a lot of accolades for their home elliptical, which has been also been named a "best buy" in its class for the last 8 years running.
Diamondback's mission statement is to provide durable home fitness equipment that is easy to use. I think it's fair to say they worry more about the function of their equipment than the fancy features it has on it.
Their equipment is usually more down to Earth. And by that, I mean they don't add a lot of fancy features that don't add to the performance of the machine.
They use high-quality, heavy-duty materials to create their bikes and ellipticals.
They also back their products with great warranties- a tell-tale sign of a great brand.
Overall, I'm generally a fan of Diamondback products. Their bikes and ellipticals are some of the best around and most of them are pretty budget friendly.
Speaking of budget friendly, let's get to the review.
The Diamondback 510Sr Recumbent Bike
Diamondback currently offers 2 recumbent models: the 510Sr and the 910Sr. The former is the more affordable of the two and will cost you roughly $600 or so.
The latter is an upgraded version of the former and comes with more workout programs, more resistance levels, and a heavier-duty frame.
Pros
Solid, step-thru frame
300 lb weight capacity
Adjustable height backrest
Adjustable handle bar angle
20 workout programs
16 levels of magnetic resistance
Built-in speakers
Adjustable speed cooling fan
USB charging port
Great warranty
Cons
No bluetooth
No wireless chest strap compatibility
Subpar assembly instructions
Frame
The 510Sr comes with a sleek black and gray color scheme and an opening in the frame under the seat that gives it a touch of modern flare.
The step-thru frame is a must for a recumbent bike because it makes it easy to access the seat without having to step over a bulky obstacle. This comes in especially handy for folks with joint or mobility issues.
Even though the frame on the 510Sr has a minimalist design to it, it's built solid. Solid enough to hold users who weight up to 300 lb.
I pay a lot of attention to weight capacities because it gives us a good idea of how sturdy and well-built a product is. Higher is better, indicating a stronger frame.
A weight limit of 300 lb is pretty standard for bikes in this price range (well, quality bikes anyway).
The 510Sr uses a 14 lb flywheel to provide your resistance. This is pretty common for home recumbents, especially in the price range.
If you've been doing your research, you may have noticed that flywheels on recumbents are usually a lot lighter than they are on spin cycles.
My theory is that this is because recumbent bikes usually aren't used for high intensity training. Most people looking for a recumbent bike are probably doing so because they want a comfortable mode of exercise.
Maybe they have achy joints or some limitation that makes using other equipment undoable.
Recumbent bikes are perfect in these situations because they are more comfortable to sit on and use. But again, in these scenarios, you don't really need heavy duty flywheels to get the job done.
Most home recumbents use flywheels in the 13-15 lb range, some higher-end models go heavier. Either way, the magnetic resistance system will provide a quiet, smooth experience.
Seat
The seat on this bike is interesting because it gives you the ability to adjust the height of the backrest. You don't see this on many recumbents, but I think it's a good feature.
I like it because it gives you the ability to adjust the position of the lumbar support. The backrest is designed with a little built-in lumbar support. Being able to move the backrest vertically lets you place that support where you need it.
I think this would come in especially handy for the taller users.
Besides the height adjustable backrest, the rest of the seat is fairly standard.
Another neat feature I want to point out (although it technically isn't related to the seat) is that the console/handlebar position can be adjusted too. Just another customization option thrown in to make your fit as comfortable as possible.
I do want to point out that this bike is designed to comfortably fit users with heights ranging from 5'4″ to 6'4″. If you fall outside of this range, you may want to consider another option.
Features
The Diamondback 510Sr comes with the following features:
20 workout programs- this is a generous selection of workouts to choose from. I think this amount falls right in the sweet spot where you have plenty of variety, but not a distracting amount of options to choose from.
16 levels of resistance- this gives you plenty of control over the intensity of your workouts. The resistance is magnetic and adjusted electronically through the console.
Quickset program keys- with the touch of a button, you can instantly start your favorite workout program without having to manually scroll through endless menus.
Mp3 port with speakers- connect your smart phone up to the console and you can listen to your favorite workout mix through the built-in speakers.
Cooling fan- the adjustable speed fan will help keep your workouts more comfortable.
Grip heart rate sensors- the grip heart rate sensors are comfortably built into the handles by the seat. Your heart rate can be used to guide certain workouts.
USB charging port- plug your smart phone into the USB port and charge it while you workout. A nice feature, because it sucks to completely drain your phone battery listening to music (been there done that).
Assembly
The assembly instructions included with the 510Sr could use a little work. They look old school…and not in that cool, retro way which everybody likes these days.
The images are small and there's too much going on in each one. It makes it hard to figure out which hardware is being used to attach each piece.
Luckily, there are written directions too, because you really have to rely on the text to figure out which bolts and washers to use for each component.
And I hate it when they only provide the identification number for each bolt and you have to look back at another page to figure out which one it is.
It would be nice if they provided a separate, clear image of each piece for each step.
But the good news is, putting recumbent bikes together is pretty straightforward. The meat and potatoes of these bikes come pre-assembled. You just have to figure out which bolt to use for each piece.
Even though the instructions kinda suck, I think most users will still be able to get this job done themselves in an hour or so.
Warranty
Diamondback backs the 510Sr with the following warranty:
Lifetime frame
3 year parts
1 year labor
90 day wear items
I think this is a pretty solid warranty for a $600 exercise bike. Lifetime frame is as good as it gets in that department and 3 years on parts is good too. Higher-end models may offer upwards of 5 years on parts, but many won't even give you 3.
A year on labor is standard procedure. It's rare to see any longer regardless of price range.
Overall, a great guarantee.
Final Thoughts
Diamondback doesn't mess around. With their fitness equipment, what you see is what you get. No gimmicks, no thrills, just good ol' fashioned equipment that works great and gets the job done.
I think that's the best way to describe the 510Sr.
This bike is built-solid and it's packing some respectable specs. I like the height-adjustable backrest because it's different and I think it really could increase the comfort factor for some people.
I also think 20 workout programs and 16 resistance levels is a good combination for people who don't need a ton of options to play with. These are the people who just want to get on, select a workout, and get moving.
This bike is lacking some of the more advanced features like bluetooth and wireless heart rate monitoring- if you're into fitness tracking this isn't the right bike for ya.
But if you're looking for a comfortable, easy-to-use bike, the Diamondback 510Sr is a good choice (I actually think it's one of the best recumbent bikes around for the price).
I think this bike would work especially well for people at the beginning to intermediate levels of fitness or for seniors looking for a dependable exercise machine. Overall, a smart buy.