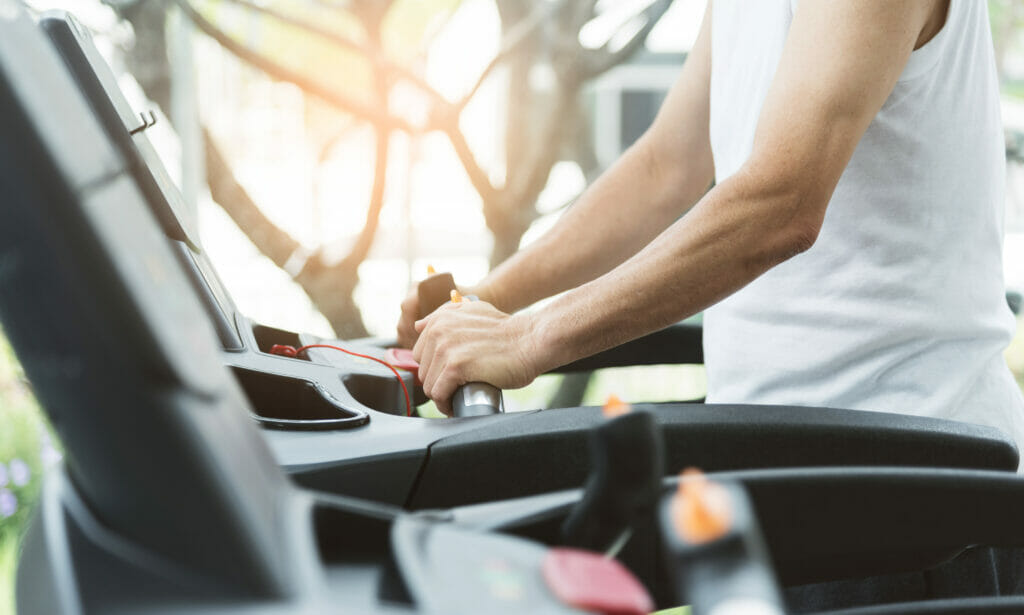 Bowflex's Treadmill 7 offers folks a more affordable option when it comes to streaming workouts.
As the name likely implies, this treadmill comes with a 7″ HD touchscreen that's compatible with Bowflex's JRNY platform.
At only 7″, the console on this model is really small compared to some, but with an asking price well under $2k, it's a lot more affordable too.
And not only does JRNY give you access to instructor-led workouts, virtual coaching, and metric tracking, but the Treadmill 7's console also gives you access to built-in entertainment apps.
And with a 20″ x 60″ running surface and a remarkably heavy-duty frame, this treadmill would appear to be well-equipped for some legit workouts too.
Bowflex even backs the 7 with a generous warranty too, which is always a plus.
Overall, the biggest downside I see is that the motor is a little weak for a treadmill in this price range, but otherwise I could see the Treadmill 7 making sense for folks interested in joining the streaming craze.
But I'm getting ahead of myself.
In this review, I'll be going over everything this treadmill does and doesn't have going for it.
After reading, you'll be able to decide for yourself whether or not it's worth investing in.
Off we go.
The Bowflex Treadmill 7
Bowflex has been around for a long time now and it all started with their unique home gym systems.
Yes, they look kinda funky with their power rods and what not, but they actually work really well.
Bowflex made a name for themselves with their innovative products (keep in mind this is the same company that brought us SelectTech Dumbbells, TreadClimbers, and the VeloCore Bike), but their more traditional products have always been pretty awesome too.
I've been a fan of their treadmills for some time and was disappointed when they discontinued their BXT216 because I thought it was one of the better options in its price range.
Anyway, these days Bowflex, like pretty much every other fitness brand on the planet, is focusing on making sure all of their cardio equipment is streaming friendly.
Bowflex's lineup nowadays includes the Treadmill 22, the Treadmill 10, and the Treadmill 7 we're here to discuss now.
And I have to say, I appreciate Bowflex's no-BS names for their models – just straight to the point.
There was a time when you could only purchase the Treadmill 7 through retail stores, but as I write this now, this treadmill is available through Bowflex directly as well (and is going for around $1500).
Pros
20″ x 60″ running surface
7″ HD touchscreen console
Access to JRNY workouts
Built-in entertainment apps (JRNY membership required)
Really heavy-duty frame
375 lb weight limit
Top speed of 12 mph
Top incline of 15%
Built-in cooling fan
Built-in speakers
Quick-touch speed/incline buttons
Armband heart rate monitor included
Folding frame
Great warranty
Cons
Motor appears to be a little weak for this price range
Unknown roller size
Running Surface
A treadmill's running surface is easily one of the most important specs to think about because this number tells you how much room you're gonna have during your workouts.
And regardless of your size, I think having more room is always a good thing.
Most treadmills in this price range will come with at least a 20″ x 60″ running surface because at this size, most folks will be able to use it comfortably without having to shorten their stride.
Some treadmills these days are going with an even wider, 22″ width as well, although few go longer than 60″.
Well, the Treadmill 7 does come with a 20″ x 60″ running surface, so no issues there.
A running surface of this size should be expected from a treadmill in this price range, although that doesn't mean all brands deliver.
What's more surprising though, is how heavy-duty this treadmill really is.
And when I say "heavy-duty", I mean it literally – this thing weighs a lot – 280 lb to be exact.
You might think seeing an assembled weight this high is a bad thing because it means it'll be harder to move this treadmill around – and that's true, it will be more difficult to move a treadmill this big.
But that's a good thing when you think about it.
This extra bulk is going to make the Treadmill 7 feel rock solid during workouts, meaning you won't have to worry about it wobbling around or feeling flimsy.
The 7 also comes with an impressive 375 lb weight limit, allowing folks of all sizes the ability to use it safely.
Overall, the running surface on this treadmill is large enough to make for a spacious feel during workouts, but what really stands out to me is how robust this machine is.
Motor
Talking about the running surface is all fine and good and all, but let's be real – it's kinda boring too.
Talking about horsepower and motor strength and all that jazz is a lot more interesting, so without further ado, let's get to it.
Generally speaking, having a stronger treadmill motor is a good thing because a stronger motor should be able to provide a smoother experience than a weaker one.
Even though most treadmills top out at the same max speed (and/or incline), a stronger motor won't have to work quite as hard to keep up those faster speeds.
Also, a stronger motor will be able to accelerate to reach those faster speeds faster than a weaker one – something that could come in handy when doing interval workouts.
Most home treadmills come with a motor somewhere in the 2 – 4 HP range and if you plan on running regularly, it's good practice to go with one packing at least 3 HP under the hood.
That said, you have to take treadmill motor ratings with a grain of salt because they aren't always that accurate.
A lot of brands report the max horsepower the motor was able to achieve during testing, but this isn't necessarily the top horsepower your treadmill will be functioning at in your home.
Regardless, all that said, Bowflex actually doesn't disclose the horsepower rating for the motor in their Treadmill 7.
I know, not cool.
The fact that they don't tell us up front how many ponies its motor is packing isn't a great sign.
I checked around with a few retailers that sell the 7 and according to Dick's Sporting Goods, the Treadmill 7 uses a 2.5 HP motor.
If this is accurate, this would be a little weaker than I'd expect from an elite treadmill in this price range.
For the sake of comparison, Sole's F65 is almost identically priced and it comes with a 3.25 HP motor (of course that treadmill doesn't have an HD screen).
My point is, based on motor strength alone, the 7 probably isn't the best option for serious runners, but it'll probably do just fine for more casual walking and jogging.
And users seem to generally agree that the Treadmill 7 functions well.
Oh, it has a max speed of 12 mph and a top incline of 15% too, so you have a lot of options when it comes to the intensity of your workouts.
Bowflex doesn't disclose the roller size for this treadmill either, so I can't comment on that, although historically Bowflex usually use pretty large rollers.
And having large rollers is always a good thing when it comes to performance.
Overall, it looks like the motor on the Treadmill 7 is a little on the weak side compared to other comps in this price range, but with a top speed of 12 mph and a max incline of 15%, it still has what it takes to offer a challenging workout.
Features
The Treadmill 7 comes with the following included features:
7″ touchscreen- the 7″ HD touchscreen makes it easy to make all selections and view all workouts on this treadmill. It's a bit small compared to the large screens seen on some models these days, but it's still big enough to get the job done.
JRNY compatible- JRNY is Bowflex's streaming platform and the 7 is designed to pair with this service. Through JRNY, you get access to instructor-led workouts, virtual coaching, metric tracking, scenic routes, and all that good stuff. You might be able to get a free 12 month trial if you play your cards right, but after that it's around $20/month I believe.
Entertainment apps- oh, one of the more interesting things about JRNY is that you can access your entertainment apps (Netflix, Hulu, Prime, etc) directly through the console, but you have to have your own membership of course. This feature is only available with a JRNY membership though.
Heart rate armband- Bowflex includes an armband heart rate monitor with purchase too, which is a nice touch.
Media shelf- there's a place to put your phone or tablet in case you don't want to use the JRNY membership or included touchscreen console.
Quick touch buttons- you can quickly adjust your speed and/or incline with a push of a button using the quick touch buttons.
Cooling fan- there's a built-in fan to help keep you comfortable during those more strenuous workouts.
Folding deck- I forgot to mention this earlier, but the Treadmill 7 is a folding treadmill, so you can fold it vertically out of the way when not in use.
Water bottle holders- yup, you got space to hold your beverages.
Assembly
If you decide to purchase the Treadmill 7 and assemble yourself, you can rest easy because it's a pretty straightforward task.
Just make sure you decide on a final spot for this treadmill before you start assembling because this thing is heavy and will be tough to move afterwards (remember that 280 lb assembled weight?)
Otherwise, Bowflex does a nice job with their assembly manual and the process itself isn't that complicated.
The main deck comes preassembled, so you'll basically just have to attach the uprights, the console, and handlebars, and a few covers to it.
All the necessary hardware/tools are included.
It's always a good idea to have a second pair of hands too because that makes the job a lot easier – especially when it comes to attaching the cables and connecting the console.
Overall though, I think putting this treadmill together is very doable without professional assistance.
Warranty
Bowflex backs their Treadmill 7 with the following residential warranty:
15 year frame/motor
5 year parts
2 year labor
15 years on the frame and motor is really good.
I prefer to see a "lifetime" frame/motor guarantee, but realistically, is anyone going to be disappointed if their motor "only" lasts 15 years?
Five years on parts is awesome too, especially considering a lot of brands in this price range only offer 2-3 years.
Two years on labor is also more generous than the 1 year labor guarantee offered by most.
Overall, I think Bowflex has a great warranty here, easily one of the best guarantees you'll see in this price range (this warranty even out does what Sole offers on their F65).
Final Thoughts
Ok, I guess that about does it.
All things considered, I like the Treadmill 7 and I think it has a lot to offer.
Like all Bowflex machines, it's well-built and heavier duty than most in its class and it's backed by a great warranty.
The motor is a little weaker than some in this price range, but realistically, it should still be strong enough to handle what most home gymers are throwing at it.
That said, I do think more serious runners should consider a treadmill with a little more muscle under the hood (like Sole's F65).
The real star of the show here though, is that 7″ HD touchscreen console and the ability to access JRNY.
There aren't many treadmills in this price range that offer HD consoles with streaming capabilities, so if that's what you're looking for, I think the Treadmill 7 makes a lot of sense.
I'm not sure how much longer this treadmill will be available, Bowflex does tend to cycle out older models to make room for new stuff.