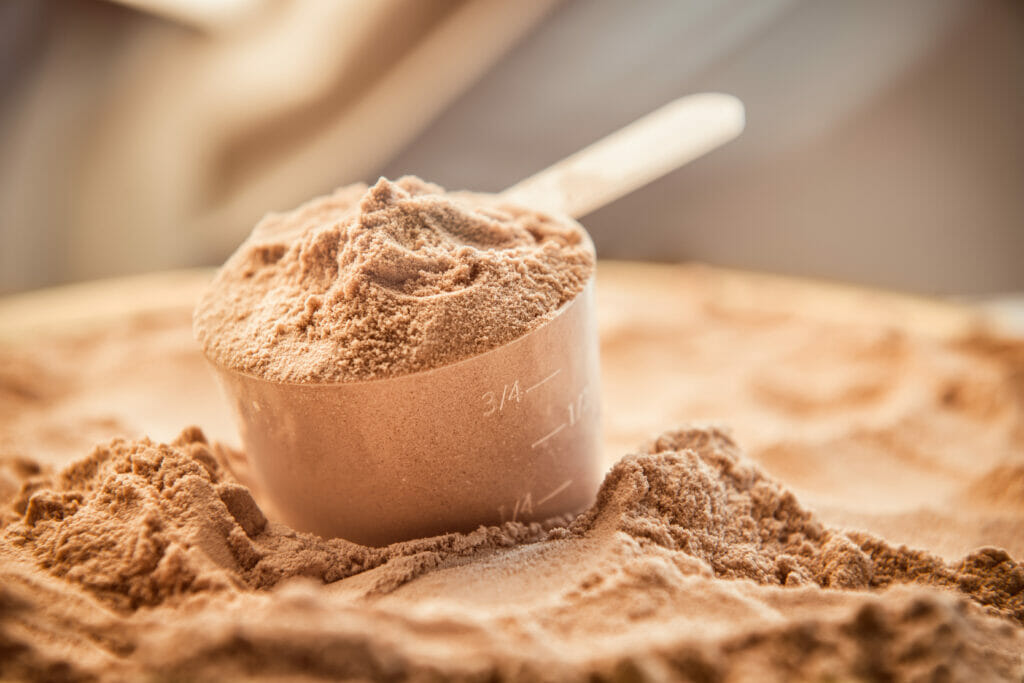 Meal replacement shakes come in helpful when you're looking for a quick, nutritious meal, while protein shakes can be used to supplement your protein intake or as a healthy snack.
And these days, we've got a ton of plant based options to choose from for both.
Using plant based meal replacement and/or protein shakes can be a great way to boost your daily nutrition and you don't have to be vegan to appreciate the benefits they offer.
We could all use more plants in our diet and these tasty shakes make it easy to do just that.
But as I mentioned, there are a lot more options on the market now than there used to be, so it can be hard to choose which one to try.
But I'm here to help.
I've had the pleasure of trying a lot of plant based protein shakes and meal replacement drinks and in this guide, I'll be going over my top picks.
After reading, you'll have a better idea as to which shake is right for you.
Ok, let's get to it.
Form
Protein
Nutrition
Cost
#1 Ka'Chava
Powder
sacha inchi, yellow pea, brown rice, amaranth, quinoa
240 calories
25 g protein
7 g fat
24 g carbs
$4.66/serving
#2 LyfeFuel Recovery Shake
Powder
yellow pea, brown rice, quinoa
140 calories
25 g protein
3 g fat
6 g carbs
$2.08/serving
#3 Soylent Meal Replacement
Shake
soy
400 calories
20 g protein
24 g fat
37 g carbs
$4.00/serving
#4 Orgain SuperFoods
Powder
pea, brown rice, chia
170 calories
21 g protein
5 g fat
20 g carbs
$1.67/serving
#5 Huel Black Edition
Powder
pea, flax seed, brown rice
400 calories
40 g protein
18 g fat
25 g carbs
$3.29/serving
Choosing A Plant Based Shake
There's no right or wrong way of going about this because it all really depends on what you're looking for.
That said, I'm gonna assume most of us are looking for a meal replacement or protein shake that's healthy, full of nutritious stuff, and tastes good.
If this is the case, I suggest you check out the following info when comparing these shakes:
Powder vs Pre-made Shake
The first thing you should probably decide is whether you want a powder or a pre-made shake.
Pre-made shakes are super convenient because all the work has already been done for ya – you just grab one out of the fridge and go about your day.
Powders require a little more work on your part, but you get to customize your shakes as you see fit.
I like to mix protein shakes using almond butter, vanilla almond milk, ice, and my plant based protein shake of choice – it takes a little longer to prepare, but it tastes great and is a little more filling.
Either way, there are a lot of options for both powders and shakes and some brands offer both.
Source of Protein
We're here to talk about plant based shakes, meaning there aren't any animal products in these drinks. This means the protein (and everything else for that matter), has to come from plants as well.
When it comes to plant protein sources, there are a few commonly used options you'll see in these shakes and these include:
Soy
Pea protein
Brown rice protein
Quinoa
Chia seeds
Various beans
The type of plant protein used might not be of much concern to ya, but if you have allergies, sensitivities, or are following a low carb diet, you'll want to pay closer attention to where the protein is coming from.
Soy and pea protein are both plant based sources of all the essential amino acids, so they're both popular options, but a lot of drinks these days use multiple plant based sources to also ensure they include all the essential acids.
Amount of Protein
This is especially important if you're trying to bulk up, but any quality meal replacement or protein shake should have a generous portion of protein in it.
Personally, I like to see at least 20 g of protein per serving for both meal replacements and protein shakes.
And in the case of protein shakes, seeing closer to 30 g is even preferred, but a lot of plant based shakes stop at around 20 g per serving.
If you're trying to add mass, make sure you compare protein content between shakes to find one that'll help you reach your goals.
Calories/Nutrition
Calories is another big one to look for, especially if you're trying to drop a few pounds.
And the caloric content for these shakes will vary greatly.
Meal replacement shakes will usually pack more calories because they're meant to replace a full meal, while protein shakes tend to be a little lighter, since they're usually used more as a snack.
Although protein shakes can be used to replace meals too and their lower calorie content can be helpful for reducing overall daily intakes.
Most of these plant based meal replacements will contain somewhere between 200 – 400 calories, while most straight up protein shakes will contain 150 – 300 calories.
And for the powders, keep in mind calorie content is for the powder only – adding plant based milk or other ingredients will increase the total calories for the shake.
Calories are important, but it's also a good idea to check for where these calories are coming from.
This means looking at the fat content and carbohydrates as well.
Meal replacement shakes usually have more fat, but the best shakes will use healthier, unsaturated sources for optimal health.
Vitamins/Minerals
Any self-respecting plant based shake will include a generous serving of vitamins and minerals as well.
Most include more or less the same vitamin content you'd see in your average multi-vitamin, but some shakes include more than others.
Some shakes emphasis the energy component and will include a higher percentage of the B-vitamins, others may emphasis the antioxidants.
I've also noticed that a lot of these shakes are good sources of iron too, which is nice.
Anyway, depending on what you're looking for, it's a good idea to keep an eye on the vitamin profile these shakes include.
Extra Goodies
If you're looking for straight up protein shakes, you might not see many other additional ingredients, but meal replacements tend to come with additional goodies.
The adaptogens have become a hot topic lately – we're seeing these included in a lot of different drinks, shakes, and coffee alternatives.
And by "adaptogens", I'm really talking about a group of mushrooms that are supposed to help your body adapt to stressors.
My brother in law told me years ago that mushrooms were gonna save the world and it looks like it might've been on to something…
Anyway, there are other additional healthy stuff being added to these shakes, including:
Fiber
Pre-/probiotics
Superfood blends
Caffeine
Digestive enzymes
When comparing shakes, make sure to check out the full list of ingredients/nutritional info to see what exactly is going in 'em.
Taste
And of course we want a shake that tastes good because that makes it a whole lot easier to drink these things.
Taste is subjective and we all like different things, so there's no real easy way to judge this without trying one for yourself.
But when reading user reviews, look out for common themes, like tasting gritty, not mixing well, too heavy, chalky, etc.
Ok, I think that'll work as a quick rundown on stuff to look for when comparing protein shakes and meal replacements, so let's get to the good stuff already.
The 5 Best Plant Based Meal Replacement/Protein Shakes
#1 Ka'Chava Whole Body Meal
I had seen Ka'Chava ads here and there and it looked interesting, but it wasn't until one of my patients swore by it that I decided to give it a try.
And wow, I'm glad I did.
I've tried dozens of protein shakes over the years, both plant based and whey, and I don't think I'm exaggerating when I say that Ka'Chava is the best tasting powder I've come across thus far.
This stuff tastes great.
Ka'Chava comes in powder form and even though it's labeled as a meal replacement, at 240 calories per serving, it could easily be used as an after workout protein shake as well.
Ka'Chava includes over 85 different plant based ingredients and nutrients, which is way more than I can list here, but these include a protein blend, adaptogen blend, antioxidant blend, fiber blend, vegetable blend, and a digestive blend.
Each serving contains 25 g of protein, 6 g of fiber, and only 24 g of total carbs, which is great for such a delicious shake.
The only downside to Ka'Chava is the price – at over $4 a serving, this stuff is expensive.
Speaking of servings, each serving is 60 g (or 2 scoops), which is a lot more powder than most other protein shakes. Each bag gives you 15 servings.
The extra powder is likely what makes this stuff taste so great, but it also means the bag disappears a lot faster too.
This stuff comes in 5 flavors, but the chocolate I tried was so good I'm not sure I'd be willing to try any of the others.
It tastes surprisingly good when simply blended with water and ice, but if you blend it with almond milk and a tablespoon of almond butter it's next level.
Overall, Ka'Chava isn't cheap, but if you want the best tasting plant based protein powder no the market, this is it. See full review.

#2 LyfeFuel Recovery Shake
If you're looking for a lighter, lower-cal protein shake, you should definitely check out LyfeFuel.
LyfeFuel is another powder, so you have to be cool with mixing up your own shakes, but this is another very tasty product with some great ingredients.
Speaking of flavor, it comes in chocolate or vanilla, but I tried the chocolate and loved it.
It's more subtle and not overly chocolatey or sweet, but if you like stuff that isn't overly sweet, you'll probably appreciate LyfeFuel's flavor profile.
LyfeFuel is a vegan, whole food based protein shake with some pretty legit nutritional stats.
When it comes to protein, this shake is packing 25 g of it, sourced from yellow peas, sprouted brown rice, and quinoa – so if you have soy allergies, LyfeFuel should still work.
Other highlights include only 3 g of total fat, 6 g of total carbs, and 4.5 g of BCAA's in each serving.
And since a serving of LyfeFuel is only 37 g (1 scoop), you get more servings in each bag.
Oh, and each serving is only 140 calories too, making LyfeFuel one of the lowest calorie protein shakes I've come across (especially considering it's packing 25 g).
LyfeFuel is also reasonably priced – you can get 24 servings for $50, making it just over $2/serving.
Overall, if you're looking for a great tasting plant based protein shake that won't break the budget, LyfeFuel is a fantastic choice. See full review.

#3 Soylent Meal Replacement Shake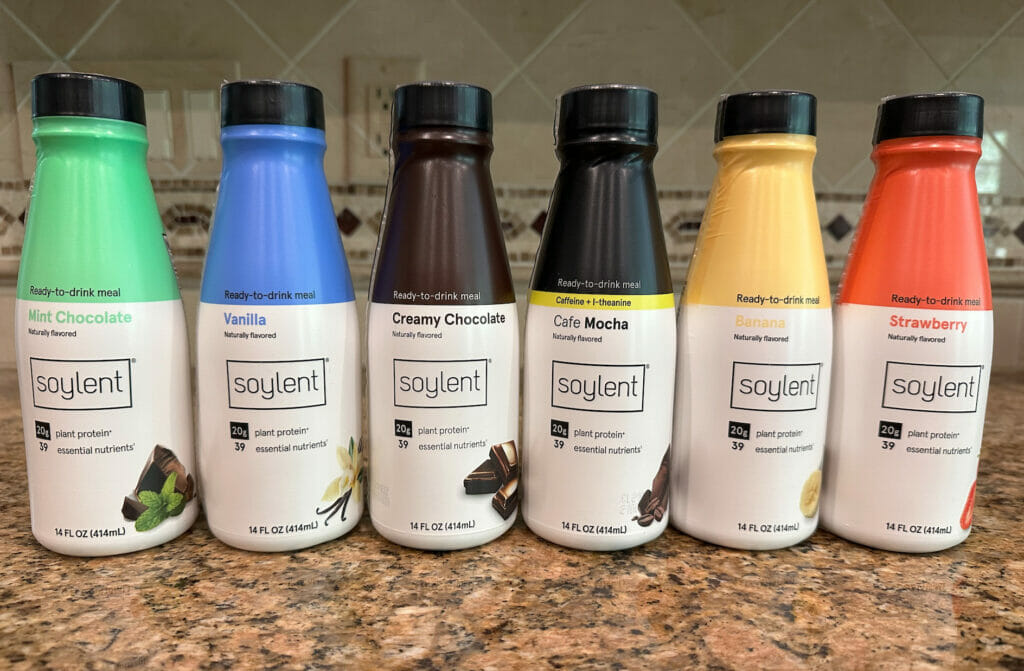 Don't worry all you soy lovers out there, I got ya covered too. If you're looking for a soy-based meal replacement shake, Soylent should be on your short list.
As the clever name implies (it's based on the old Charlton Heston movie), the protein in this shake comes 100% from soy isolate.
To be honest, I don't usually like the taste of soy based beverages, but Soylent's shakes are some of the most delicious protein shakes I've ever tried – plant based or whey.
These shakes are designed to be used as meal replacements and at 400 calories a pop, Soylent is packing more calories than I'd want to use as a snack.
But to each their own.
Soylent comes in 6 different flavors (mint chocolate was my personal favorite) and the shakes are pre-made, so you don't have to worry about pulling out the blender.
When it comes to nutrition, the specifics may vary a little based on which flavor you go with, but here are the broad strokes:
20 g of protein
24 g total fat
37 g total carbs
3 g of fiber
Each serving is a 14 oz bottle and with that much fat, I actually found Soylent to be more filling than most.
Soylent also includes a long list of vitamins and minerals in each bottle, but what really surprised me the most about these shakes is how creamy they taste.
Ice cold, these things taste a lot like milkshakes made with ice cream – and of course I mean that in the best way possible.
You can get a variety pack of Soylent for $48, which includes 12 bottles ($4/serving), giving you 2 of each flavor to sample.
All things considered, Soylent is a tasty soy-based meal replacement shake with several flavors to choose from. See full review.

#4 Orgain SuperFoods Powder
The Orgain SuperFoods mix was the first plant based protein shake I ever tried – I used to get it from Costco every once in awhile, mostly around New Years when I was trying to clean my act up after all the debauchery that went on around the holidays.
I remember being pleasantly surprised by the flavor and even got to the point where I was looking forward to my morning shake.
Anyway, Orgain's still going strong and their SuperFood powders are still a great deal if you ask me.
This is a powder, so you'll want to use your blender to mix it up right and this is one where I encourage you to think about using a plant based milk for added creaminess.
Orgain SuperFoods comes in 2 lb tubs which holds 18 servings (each serving 51 g or 2 scoops) and depending on where you buy it, a tub will likely cost ya around $30.
That puts each serving at around $1.67, which is a great price.
Each serving of the SuperFoods powder is only 170 calories and includes 21 g of protein (from pea, brown rice, and chia seed), 5 g of fat, and 20 g total carbs.
And as the name implies, there are like 50 different organic super food ingredients included in the mix as well as probiotics for digestive health.
This powder comes in vanilla and chocolate, but I've only ever tried the vanilla.
I think it's pretty good, but I would mix it with almond milk and a little almond butter for additional flavor.
Overall, if you're looking for an affordable plant based protein shake, Orgain is a great one to try.

#5 Huel Black Edition
If you're looking for a plant based meal replacement with more protein than most, you might want to check out Huel's Black Edition.
This meal replacement comes in powder form and is packing 40 g of protein in each 90 g serving.
The protein in Huel Black comes from peas, ground flaxseed, and brown rice and each serving is around 400 calories, so it's definitely best used as a meal replacement.
I say that, although if you were trying to bulk up, I could see using this as an after workout shake or even a snack.
Regardless, besides being high in protein, Huel Black is also loaded with 27 vitamins and minerals and 8 g of fiber per serving and it's gluten free too.
There are also no artificial sweeteners in it and there's a health dose of omega-3s and omega-6s per serving.
I haven't had the pleasure of trying Huel Black Edition yet, but it comes in 8 or so different flavors, including an unflavored option as well (which could come in handy for baking purposes).
Users seem to be pretty divided when it comes to taste – some folks love it, some hate it.
But keep in mind, you can usually save foul tasting protein powders by mixing them with other ingredients.
As I'm writing this, Huel is selling for about $56 for a 17 serving bag, putting each serving at around $3.29.
This isn't the most affordable meal replacement, but if you're looking for some serious protein content, it could be worth the extra cash.

Final Thoughts
One thing I've learned, is that plant based protein shakes and meal replacements can taste just as good as whey based products.
And in the case of some of the shakes mentioned above, I'd even say they taste better.
I'm not a vegan (far from it actually), but I do prefer plant based protein shakes because it's just an easy way to get more plants in my diet.
Regardless of your diet, I bet we can all agree that including more plants is always a good thing.
Anyway, I hope you found this guide helpful – I know I enjoyed trying the shakes I was able to get my hands on when researching this article.
And if you know of any awesome plant based shakes or powders that deserve a shout out on this list, leave 'em below and I'll get back to you shortly.