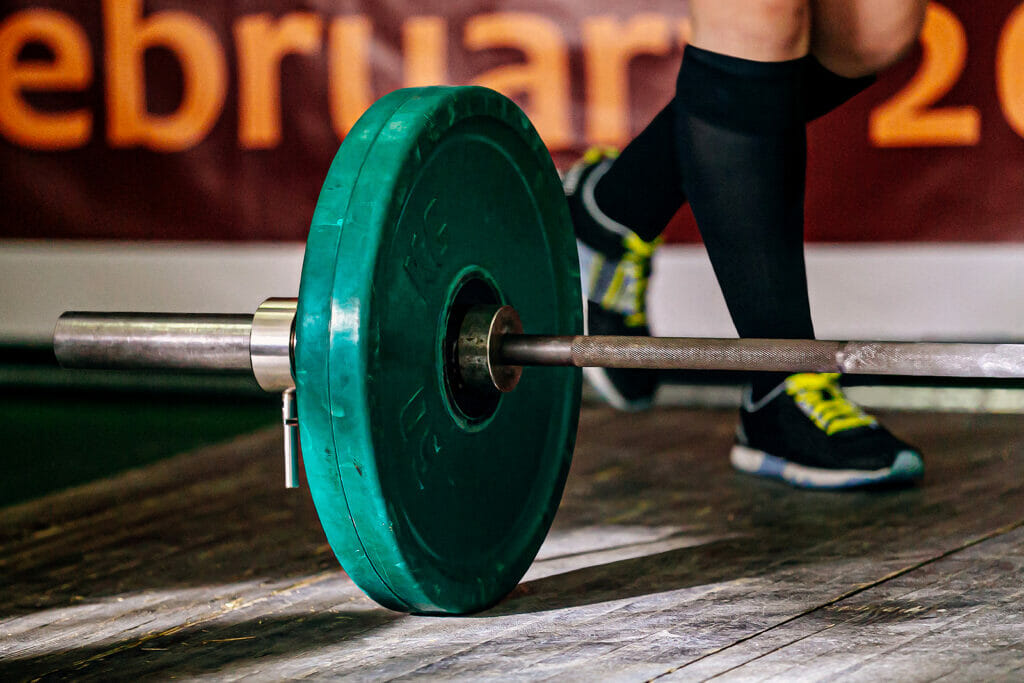 Having a quality barbell is a must for any self-respecting home-gymer because this versatile tool allows you to perform all the classic strength training moves out there.
Squats, deadlifts, presses of all varieties… you name it and odds are your barbell can provide it.
And as simple a device as your classic barbell seems to be, it's remarkable how many different variations and options we have to choose from these days.
Sometimes the differences between bars are subtle, other times the differences are quite noticeable – especially when talking about speciality bars and Olympic-grade power training options.
With so many bars and options to choose from, it can be easy to get lost in the process, but I think I can help.
In this guide, I'll go over the most important specs most of us home-gymers should be looking at when comparing different bars.
I'll also offer my top picks for the best home gym barbells available now based on this data.
After reading, you'll know everything you need to in order to pick the right barbell for your home gym.
But first things first…
How To Choose A Barbell
With so many bars out there, comparing all the options can get overwhelming fast, so it's a good idea to have a game plan or blueprint if you will, to use as a guide.
This way you can have a method for comparing all options equally, making it easier to try and spot the real differences between similar looking bars.
When comparing barbells for home use, I encourage you to focus on the following:
Standard vs Olympic
The first thing you should really decide is whether you want a standard or Olympic size bar.
Standard and Olympic bars are different sizes and they use different sized plates, so figuring this one out first will help guide you throughout your search.
And honestly, this is an easy one – you're gonna wanna go with an Olympic bar.
Olympic bars are the gold standard in any commercial gym now because they're stronger, more durable, and they can safely hold a lot more weight.
I'm not even sure people are still making standard sized bars, but if they are, do yourself a favor and go with an Olympic bar anyway.
Olympic bars will cost a bit more upfront, but they'll last longer and hold up to regular use much better than the smaller standard sized barbells.
Your average Olympic barbell is about 7′ long, weighs 45 lb, and has a 2″ end diameter.

Standard bars come in various sizes, usually weigh 25 lb or so, and have a 1″ end diameter.
The different end sizes is a big one because standard weight plates won't fit on an Olympic bar, so if you have a bunch of old plates are invest in a new Olympic bar, you'll need new plates too.
Usage
There are a lot of different speciality bars out there that are designed for specific uses (deadlift bars, row bars, camber bars, etc.), but most home-gymers are gonna want to start with a traditional, multi-purpose barbell.
These are the classic, straight bars that don't have any other additional grips or add-ons.
Going with one of these multi-purpose bars is a smart place to start because you can do a little bit of everything with 'em.
A quality barbell can be used for any strength training exercise you'd wanna do, while holding up against years of regular use.
So, for your average workout from home individual, going with one of these bars makes the most sense, but if you're specifically looking for a bar for powerlifting or more dynamic Olympic moves, you might want a more specialized bar.
Powerlifting bars are a little thicker and they come with less spin and whip, while bars designed for snatches and clean and jerks usually have more whip and spin.
If you aren't familiar with these terms, you probably don't need to worry about them (but if you're interested, check my barbell guide for more info).
Just know that most quality multi-purpose bars come with standard amounts of both spin and whip, making them comfortable to use for any lift.
Tensile Strength
Barbell strength is usually measured by the bar's tensile strength, measured in pounds per square inch (PSI).
The tensile strength tells you how much load the bar can handle before it breaks and it can be used as a good overall indicator of "how tough" the bar is.
Most reputable brands will offer their bars' tensile strengths in the specs section and it's smart to compare these when comparing bars.
Home barbells come with tensile strengths ranging in the 120,000 PSI – 200,000+ PSI, but anything over 180,000 PSI is considered pretty good for normal use.
Seeing higher tensile strength ratings shows that the bar should hold up better over time with repeated use.
You can compare weight capacities of the bars as well, but most Olympic bars can hold upwards of 1,000 lb, so unless you're setting world records, the weight capacities might not be as important here.
Knurl Level
Something else worth looking for is the amount of knurl the bar comes with because some bars come with more aggressive knurls than others.
The knurl refers to the rough patches on the bar and these are helpful for getting a good grip while lifting, but having too much can be painful.
Some bars come with aggressive knurls, meaning the pattern is etched deeper into the bar, making the grip more pronounced.
It's really a matter of preference, but having a really aggressive knurl can become painful in a hurry when deadlifts and bench presses with substantial weight.
Most of us will likely prefer a moderate or standard amount of knurl, but again, to each their own.
How Much Should I Spend On A Barbell?
This is a personal choice of course, you can totally spend as much as you like for your barbell, but I've got a few pointers for ya.
Bars come in all shapes and sizes and their prices can vary greatly depending on quality – you can go really affordable and get an Olympic bar for ~$100, but don't be surprised when it starts deforming after a few months.
You can also drop $1k+ on an official weightlifting competition bar – this will be a great bar, but do you really need a IWF certified bar?
Unless you're planning on competing, the answer is probably no.
The best bang-for-your buck barbells usually cost around $300 – at this price point, you can get a durable bar that should more or less last a lifetime.
Factors that will cause that price to go up include:
Speciality bars
Higher-end finishes
Ball bearings/bushings for better spin
Higher-end knurling
Higher tensile strengths
Brand recognition
But again, if you're not a professional lifter and you're just looking for a great, all around barbell for your home gym, you're probably looking at spending around $300.
The 7 Best Barbells For Home Gyms
#1 Force USA Gunner Barbell
Force USA's Gunner is a classic multi-purpose barbell that'll work great for any strength training move you throw at it and with a cost under $300, it's priced to move.
I actually have this barbell in my gym as we speak and I couldn't be happier with it.
The Gunner is an Olympic bar with all the standard size specs you'd expect as such and in terms of performance, it comes with an impressive tensile strength of 235,000 PSI and a static weight limit of 1,500 lb.
This barbell comes with a 28 mm shaft and a standard level of knurl, making for a comfortable grip regardless of which exercise I'm doing.
Speaking of knurl, there isn't any center knurl, but there are 2 knurl marks on each side of the bar, making it easy to find the right grip.
There are also bearings in each sleeve for smooth movement, although to be honest, I've never really noticed one way or the other.
I also think the Gunner looks great – the bar itself is black zinc and you can choose between black or bright zinc for the sleeves.
I went with the black on black for optimal sleekness, but I think both options look great.
Overall, I haven't come across any barbells in this price range that match the Gunner's specs or look as good. Simply an awesome barbell.

#2 Rogue's Ohio Bar Cerakote
No barbell guide would be complete without mentioning the Ohio Bar, Rogue's famous multi-purpose barbell.
The Ohio Bar comes in a lot different varieties, so you can choose depending on what kind of finish you like, but for the money, I like their cerakote option.
By the way, cerakote is a ceramic based coating that adds an extra layer of durability to the bar, but I think its biggest benefit is cosmetic.
With the cerakote finishes, you can choose between a bunch of cool color combinations – I got my wife their pink bar and she's been thrilled with it.
Having a great looking bar is fun, but more importantly, the Ohio Bar is built to last.
This Olympic barbell comes with a tensile strength of 190,000 PSI, a diameter of 28.5 mm, and bushings in the ends to allow for spin.
The Ohio Bar doesn't come with a center knurl, but it does come with a standard level of knurl on the ends and dual knurl marks on each side.
The price of the Ohio Bar will vary a little depending on which finish you go with, but the cerakote version here usually goes for around $350.
This is a little more, but the Rogue name (and its lifetime warranty) certainly adds peace of mind.
Overall, if you're looking for a great looking barbell that'll last a lifetime, the Ohio Bar is a great choice.

#3 REP Gladiator Olympic Bar
REP Fitness is another home fitness brand with a solid reputation (get it, "rep"utation…eh, I tried) and they've got some legit strength training products to choose from.
The Gladiator Bar (great name by the way) is one of several barbells they offer and it's another great example of what a multi-purpose barbell should be.
The Gladiator comes with a 28 mm diameter for an easy grip and a standard knurl level that won't destroy your hands.
This Olympic bar does come with a center knurl, so if you like having that extra little grip during squats, you'll appreciate this feature.
The Gladiator also comes with an impressive tensile strength of 200,000 PSI and a static weight capacity of 1,500 lb, so it should be able to handle any lift you throw at it.
REP offers this barbell in both 15 kg and 20 kg options and you can choose between chrome and stainless steel finishes.
This bar also comes with needle bearings for smooth rotation at the ends, which is never a bad thing.
The Gladiator bar is a little on the expensive side, but it's still a great looking bar with great performance specs.

#4 Force USA Pro Series Barbell
The Pro Series is another barbell in Force USA's lineup and it's very similar to the Gunner mentioned above, but there are a few differences worth mentioning.
For starters, the Pro Series (at the time of writing this anyway), is priced a little higher, costing closer to $400.
The Pro Series is also an Olympic bar, but it's diameter is a little thicker at 28.5 mm – half a mm isn't a big difference, but with a wider grip, the Pro Series bar may be better suited for powerlifting.
The ends on this bar also come with bushings vs the ball bearings found in the Gunner, meaning the Pro Series shouldn't offer quite as much spin.
This would technically make this a better option for powerlifting moves, but moderate level lifters probably wouldn't notice a lot of difference.
Otherwise, this bar comes with a black zinc coating on the shaft and a bright zinc coating on the ends and it comes with a tensile strength of 190,000 PSI.
There is no knurling in the center and you can expect standard knurling with dual marks on each end.
Overall, this is another great barbell, but it would be better suited for folks looking for a little thicker bar to grip.

#5 Fringe Sports Midas' Revenge Bar
Ok, I'm gonna be real – I kinda just put this bar in this list because I think the gold colored ends look really cool, but the bar's specs are legit too.
Plus the name is really cool too – "Midas' Revenge"… I love it.
And no, the ends aren't made of real gold, it's gold colored titanium, but real gold would be way too soft to work anyway.
The gold on black color scheme looks great, but with a tensile strength of 190,000 PSI and a weight limit of 1,500 lb, Midas' Revenge is built tough as well.
This Olympic bar comes with a moderate-aggressive level of knurling on the ends, no center knurl, and dual knurl marks making it easy to find your grip.
The bar is 28.5 mm in diameter and comes with bushings in the ends for average spin.
And with an asking price around $300 and a lifetime warranty, I think Midas' Revenge could be a cool addition to any home gym.

#6 Titan Series Power Bar
Titan is a budget-friendlier fitness brand that comes with a mixed reputation – some folks hate 'em, others swear they're the best budget brand around.
The truth is likely somewhere in the middle, but I do think they offer some decent products for their prices.
Anyway, their Titan Series Power Bar isn't going to be for everyone, but I think it has a lot to offer depending on what you're looking for.
This is another Olympic size bar that comes in black zinc, so there's nothing too crazy going on in the cosmetic department.
And with a tensile strength of 200,000 PSI and a static weight limit of 2,000 lb, it's unlikely you're going to damage this bar during your daily lifting.
The grip is a little thicker at 28.5 mm, but what really stands out about this bar though, is the aggressive diamond knurling pattern it has on both ends and in the center.
This intense knurling can certainly help give you a better grip, but it can also get painful when trying to hold on to heavier loads.
Some users have even mentioned that they've had to wear down the knurl on purpose to bring it down a notch, but if aggressive knurls is what you're looking for, Titan has got ya covered.

#7 CAP Barbell "The Beast"
I wanna finish things off here with an affordable Olympic sized barbell with a great name – I'm not sure how accurate that name is, but I appreciate the effort.
This Olympic barbell only comes with a tensile strength of 110,000 PSI, but at roughly $100, it's about as good as we can expect in this price range.
The Beast comes in black with chrome ends and is 30 mm in diameter, making it pretty thick for a multi-purpose bar.
It comes with a medium level of knurl on the ends and doesn't have any center knurl; there's a single knurl mark on each end to help you find your grip.
There isn't anything fancy going on with this bar, but users seem to be overwhelmingly pleased with how it performs.
The Beast comes with a lower tensile strength than most, so I wouldn't want to be dropping it while loaded, but if you're simply looking for an affordable bar that should work fine for standard use, The Beast could be a smart buy.

Final Thoughts
After literally going years without using a barbell, I was thrilled when we moved to our new home and I had the space for a proper rack, barbell, plates, and all the accessories one needs.
When it comes to good ol' fashioned weight lifting, nothing beats grabbing a barbell, lauding it up, and going to work.
These days, we have tons of options to choose from when it comes to bars, so whatever you're looking for, you'll likely be able to find it.
When comparing bars, I encourage you to compare those PSI ratings and check those knurl levels to make sure you get a quality bar that's comfortable to use.
And again, I see no reason to go with a standard bar these days.
Anyway, I guess that about does it.
There's nothing left to do now except go find a bar and start loading it up.