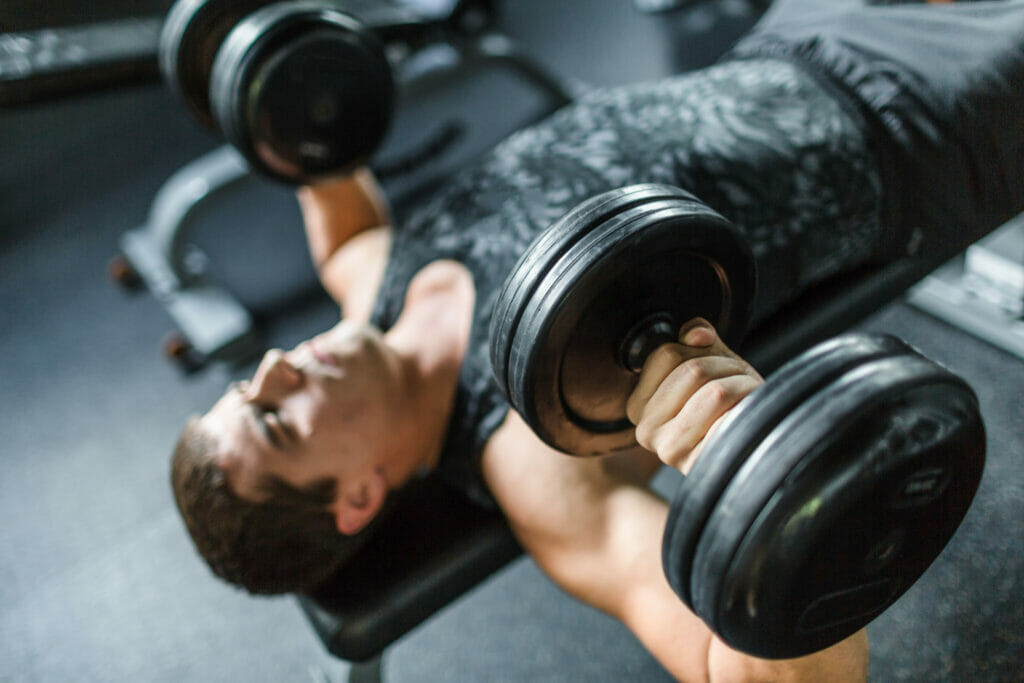 An adjustable weight bench is a crucial piece of equipment for most home gyms because there's just so much you can do with it.
Sure, it comes in handy for exercises like bench and incline presses at various angles, but there's a lot more it can do too.
Shoulder presses, skull crushers, incline rows, incline bicep curls, flys, dips, reverse crunches… the list goes on.
One could probably make the argument that a quality weight bench is the single most important piece of equipment in any home gym – but I'm not going to go quite that far.
Either way, if you've found yourself here, you probably already appreciate the value a nice adjustable bench brings to the table, so I can stop the sales pitch.
Adjustable benches are awesome, but they aren't all created equal – some are notably better than others.
And in order to find the best bench to meet your needs, you need to know what to look for when comparing options.
You know, having a game plan is the best way to avoid disappointment.
Well, in this guide, I'll be going over the different specs and features we should be looking for when comparing adjustable benches.
I'll also offer my top picks based on the specs/features we go over.
After reading, you'll be ready to find the best adjustable bench for your home gym.
Let's do this.
A Quick Word On Adjustable Benches
Before we really get rolling here though, I want to make sure we're all talking about the same thing.
Because weight benches come in a lot of different varieties and I'm not trying to waste anyone's time here.
All of the benches mentioned in this guide are of the adjustable variety, meaning you can adjust the angle of the backrest and seat.
This is opposed to a flat bench, that doesn't have an adjustable angle backrest.
Personally, for most home gyms, I think an adjustable bench makes a lot more sense because you essentially get the function of multiple benches in the space saving design of a single piece of equipment.
Which is great for home gyms that don't have room for multiple benches.
That said, a flat bench will often offer a little more stability, which could come in handy, for example, when doing heavier bench presses.
But with a flat bench, you'd need additional benches if you wanted to do exercises like incline bench and seated shoulder press.
So again, I think adjustable benches will be the way to go for most home-gymers, but ultimately it all depends on what you're looking for out of your bench.
Choosing An Adjustable Weight Bench
When it comes to adjustable benches, they come in several varieties.
Your classic adjustable bench comes with a backrest that can adjust to various incline angles, but there are plenty of benches that offer decline angles as well.
Which brings me to the first spec/feature you should probably consider when searching for a new adjustable bench…
Available Angles
The first thing you should consider when comparing these benches is the range of available angles they offer.
And this includes whether you want a bench that can and incline and decline or simply incline.
If you're looking for a bench that can go both ways, that's no problem, there are plenty of these around, just know that getting a bench that declines will likely immediately bump the price up a little.
Regardless of whether the bench declines or not though, you should think about the number of positions the bench comes with.
Most respectable adjustable benches will come with at least 5 backrest positions and others will come with quite a few more, allowing you to really fine tune your incline presses.
Just make sure whatever bench you go offers 30° and 45° because these have been shown to be the best angle for optimal incline benching.
Weight Capacity
Having a nice range of available angles is important, but you also need to make sure your bench can safely support you and the weight you plan on lifting.
This is where the bench's weight capacity comes in.
Believe it or not, different benches are designed to be able to hold different amounts of weight – and if you load a bench with more weight than it can handle, it could lead to disastrous results.
Cheaper benches usually come with lower weight limits and higher-end benches usually come with higher limits, but a quality bench should be able to safely hold at least 500 lb.
I know that sounds like a lot, but a 250 lb person benching 250 lb is all it takes.
Luckily, most of the nicer benches can handle loads upwards of 1,000 lb, allowing enough room for some serious lifting.
Assembled Weight
The weight capacity of a bench tells you a lot about its quality, but I still like to look for the assembled weight spec too.
For me, I like to see a heavier bench because it just gives me added peace of mind that it'll feel solid and secure while using it.
An adjustable bench should weigh in somewhere at least around 50 lb in order to provide a nice secure base, but most of the top benches will weigh quite a bit more than this.
The heavier benches will be more challenging to move around, but most should come with built-in transport wheels to make it easier.
Pad Gap
The pad gap refers to the distance between the 2 pads and this is another feature to consider when comparing options.
Basically, having a smaller pad gap is preferred because it makes for a more comfortable experience.
The goal for most would be to find a bench with little to know gap, but unfortunately, not all providers give us this info, so it can be hard to find.
Sometimes you can get an idea by looking at photos or searching user reviews.
Smaller folks will usually be bothered more by wider pad gaps than larger folks will, but going with a smaller pad gap is usually the goal for all users.
For the sake of reference, any gap smaller than 2″ is usually pretty comfortable.
Alright, let's get to the good stuff already…
The Best Adjustable Weight Benches (For Home Gyms)
#1 Rogue Adjustable Bench 3.0
Rogue's kinda the gold standard when it comes to elite home lifting gear, so it only makes sense they'd offer some of the nicest adjustable benches out there.
You'll find several adjustable benches in their lineup, but I think their Adjustable Bench 3.0 offers the most bang for your buck and will likely make the most sense for most home gyms.
There's nothing especially fancy going on with this bench, but it's really heavy-duty and comes with a few nice features that I think set it apart from other benches.
For starters, this bench's frame is made with 3″ x 3″, 11-gauge steel tubing and weighs in at a robust 125 lb.
With this much mass under ya, you aren't going to have to worry about it wiggling or shifting on ya during a heavy press.
And all this bulk allows this bench to safely hold 1,00o lb, so even larger lifters should be able to max out without fear or this bench failing.
These specs are great, but this bench comes with a few fine touches too that add to its appeal.
Like the built-in handle at the front post and labeled seat/backrest positions so you know exactly which angle you're lifting at.
Speaking of angles, this bench comes with 10 back pad positions (0 – 85°) and 3 seat positions (0 – 30°), giving you plenty of options when it comes to your lifting angle.
And with only a 1″ pad gap, you won't have to worry about getting stuck while flat benching either.
This bench looks great too, but if you're really trying to spoil yourself, you can go with the upgraded stainless steel look.
Overall, if you're looking for a heavy-duty adjustable bench, it's gonna be hard to find a finer specimen in this price range.

#2 Force USA Pro Series FID Bench
If you're looking for a heavy-duty bench that can decline, Force USA's Pro Series FID Bench is worth checking out (fyi, 'FID' stands for 'flat, incline, decline').
This bench is priced similarly to the 3.0 mentioned above and even look a little like it too, but there are several differences between 'em.
Rogue's bench is quite a bit heavier, but the FID Bench is pretty heavy-duty in its own right, coming with an assembled weight of around 84 lb and the ability to safely hold 992 lb.
I mentioned that this bench can decline (down to -10º), but it comes with 7 other backrest positions too (up to 75°), as well as 5 seat adjustment positions.
This bench also comes with a built-in handle near the front post and a thick foam padding for added comfort.
Force doesn't disclose their pad gap length, but I'll say that benches that decline usually come with a slightly larger gap.
Force also backs this bench with a lifetime frame guarantee, so you won't have to worry about any structural damage while owning this bench.
The biggest downside I see to this bench is that it only goes up to 75°, so seated military press might be a little difficult to perform.
But otherwise, it's another great example of a heavy-duty adjustable bench that's priced reasonably for home use.

#3 Bells of Steel Buzz Saw Heavy-Duty Adjustable Bench
Bells of Steel is a Canadian brand and they've got more to offer than just a cool name. This brand has a great selection of heavy-duty lifting equipment to choose from.
Case in point, their Buzz Saw Adjustable Bench.
Like the 2 benches mentioned above, there aren't really a lot of flashy features on this bench.
Nope, it's just another solid bench that's built tough enough to handle anything you feel like throwing at it.
The Buzz Saw (I love that name) weighs in at just under 95 lb and comes with a weight capacity of 1,000 lb, so you won't have to worry about out growing this bench.
It comes with 8 backrest angles (including flat, 6 incline settings, and 1 decline setting) and 3 seat angle settings, giving you plenty of control over your positioning.
It also comes with a lifetime frame warranty and is compatible with additional attachments, including a leg developer and a sit-up post for your legs.
Oh, and it can be stored vertically too, which is always nice for home gyms with limited floor space.
The biggest downside I see is that Bells of Steel doesn't disclose the specific angles this bench can reach (or the pad gap), but it would appear it can go up pretty close to 90°.
Overall though, the Buzz Saw is a heavy-duty bench with impressive stats.

#4 REP AB-3100 Adjustable Weight Bench
REP Fitness is a great brand and they have several high quality benches to choose from.
And even though the AB-3100 is actually their entry-level bench, I included it on this list because it offers a great bang for your buck.
We actually have this bench in our home right now and we're very happy with it.
Weighing in at 70 lb, the AB-3100 has a solid feel, but isn't miserable to roll around and with a weight limit of 700 lb, it can easily handle the loads most of us home-gymers will be throwing at it.
As a 200 lb guy, I can safely say I'll never be lifting more than 500 lb.
Otherwise, the AB-3100 comes with 6 backrest positions (0 – 90º) and 3 seat pad angles (0 – 20°), making it easy to find the right position for any lift.
The pad gap is pretty standard too – at 1.7″, my wife and I both find it comfortable in a flat position.
The only downside I've noticed is that the single post in the front is a bit narrow, so you have to be careful when leaning over to grab a dumbbell from the floor because the bench can tilt with ya.
Otherwise, I think the AB-3100 is a great bench for the price.

#5 Titan Single Post Adjustable FID Bench
Titan's a budget-friendlier brand with a mixed reputation, but I still think they've got some pretty decent equipment for their price range.
And their FID Bench isn't anything especially different, but given the price, it's pretty heavy-duty.
More specifically, this bench weighs in at around 71 lb and according to Titan, has a weight capacity of 1,500 lb.
This weight limit seems a bit far fetched, but I can't imagine anyone really trying to lift anything close to this anyway… especially in their home gym.
Regardless, it would seem this bench can safely handle any weight you're up to lifting.
This FID Bench comes with 7 adjustable back angles, including 1 decline setting (-16 – 86°) as well as 4 seat positions.
You'll also notice the built-in leg rollers to help keep your legs anchored while in the decline position.
There's a built-in transport handle located with the front post, making it a little more convenient to roll around.
And unfortunately, Titan doesn't disclose the pad gap length, but given this is a declining bench, I'd guess it's somewhere around 2″, but I could be off.
Overall, this is a pretty solid bench for under $300.

#6 CAP Deluxe Utility Weight Bench
Rounding out my list is an affordable weight bench that'll work great for folks who don't need quite as heavy a duty bench.
This is the first adjustable weight bench I purchased when I started working out in my attic and I used it without any issues for about 8 years.
Hell, there was nothing wrong with it when we got rid of it, we just felt it was time for an upgrade.
Anyway, this bench weighs in at around 47 lb and only comes with a 500 lb weight limit, but it feels surprisingly secure for such an affordable bench (under $200 at time of writing this).
This little guy comes with 7 different back pad positions and 3 different seat positions to choose from.
It doesn't offer any decline angles, but it does incline all the way up to 90° for comfortable shoulder pressing.
Additional features include a built-in handle and resistance band pegs that can be used when working with resistance bands.
CAP doesn't disclose the pad gap on this bench, but I can tell you from experience that it's pretty large – I'd guess at least 2.5″.
I was fine with it, but my wife didn't find it particularly comfortable to use in the flat position (another reason we ultimately ended up upgrading).
On the plus side, I really liked having a nice wide front support because you never had to worry about the bench rocking on ya when leaning over to grab a dumbbell.
But if you're cool with a larger pad gap and looking for an affordable bench, this is a good one to consider.

Final Thoughts
Alright, that'll about do it.
There are a lot of nice adjustable weight benches out there, so you shouldn't have too much trouble finding one that'll meet your needs.
When comparing options, I encourage you to look at those assembled weights and weight limits because these specs will tell you how stable you can expect the benches to feel.
It's also a good idea to look for how many different angles they offer, especially if you're looking for one with decline capabilities.
Otherwise, it's all about finding one in your budget that comes with the most impressive specs.
I hope you found this guide helpful (and at least a little entertaining) and as always, if you know of any adjustable benches that deserve a shout out please let me know.
Leave a comment below and I'll get back to you shortly.