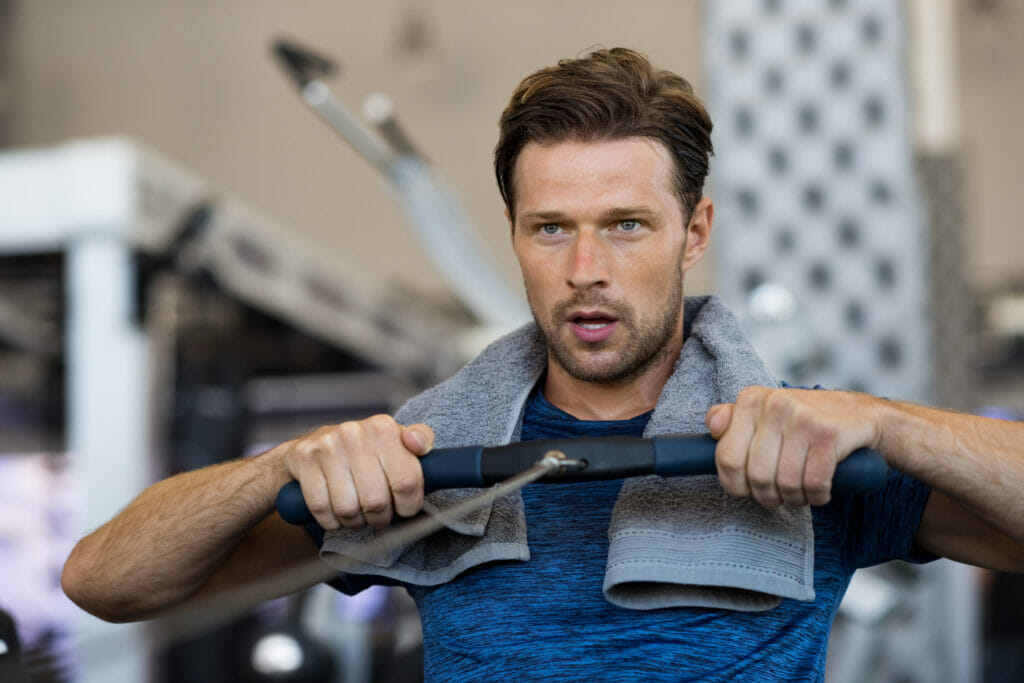 The Hydrow is the OG when it comes to streaming rowing machines, but it's not the only game in town anymore.
These days, we've got several options to choose from when it comes to hi-tech rowers, but I think the new Aviron Impact Series Rower is one of the most exciting.
With a platform that combines game-themed and instructor-led workouts with built-in entertainment streaming, the Aviron Rower seems like the one stop shop that can satisfy anyone's streaming needs.
But can it really stand up to the Hydrow, one of the most technologically advanced rowers on the market?
Well, that's what we're here to figure out.
In this head-to-head comparison, we'll take a look at all the performance specs and streaming features these 2 advanced rowing machines have to offer.
I'll also go over all the key differences between the Hydrow and the Aviron and discuss which rower is better suited for which type of rower.
After reading, you'll know which rowing machine makes the most sense for your home gym.
Let's begin.
Aviron Impact Rower
The Hydrow
Resistance
Magnetic/Air combo
16 resistance levels
Computer-controlled magnetic system
Frame
97 lb assembled weight
397 lb weight limit
145 lb assembled weight
375 lb weight limit
Folding
Yes
No
Warranty
10 year frame
1 year parts
5 year frame
1 year parts
1 year labor
Streaming Features
Tons of games
Guided workouts
Races
Coaching programs
Pros vs Joes
Virtual destinations
Entertainment apps
Instructor-led workouts
Filmed on water
Live and on-demand options
Non-rowing workouts
1:1 personal coaching
Cost
~$2199
$29/month membership
~$2495
$39/month membership
Aviron vs The Hydrow
When comparing 2 or more rowers like this, I think it's important to consider both the hardware (the rower itself) and the software/streaming experience.
I know it's easy to get caught up in the excitement of what streaming possibilities each machine may offer, but you still want to invest in a rower that's going to perform.
And preferably last for the long run.
So, when thinking about how to organize this article, I decided it would make the most sense to start with the performance side of things for each rower.
Then we'll move on and talk about the tech features and streaming experiences and whatnot.
Hopefully this'll all make sense by the end.
Resistance
The fastest way to describe or categorize a rower is by the type of resistance it uses and there are generally 4 main kinds of resistance to choose from: hydraulic, magnetic, air, or water.
Each has its advantages and disadvantages and if you're interested in reading about 'em, check out my full rowing machine guide for more info.
But with this in mind, the Hydrow and Aviron rowers do use different types of resistances.
The Hydrow is technically a magnetic rower, but instead of the usual set your resistance level and go along your way routine, the Hydrow's magnetic resistance works totally different.
It actually works more like a water or air based system.
Hydrow basically created their own computer-controlled drag system to mimic the sensation of rowing on water.
Most magnetic rowers provide a consistent resistance regardless of how hard/fast you pull, however the Hydrow's resistance reacts depending on how hard you pull.
So, if you want more resistance, you simply start rowing harder; want less resistance, slow down – the resistance will adjust based on your performance.
This is how it works when rowing a real boat (or when rowing with a water or air rower).
There are no resistance levels on the Hydrow, although you can adjust the drag to fine tune the feeling of your workouts.
The drag level can be set between 0-300, with higher numbers indicating a "heavier boat" feel – although Hydrow recommends starting at a level of 104 and adjusting from there.
So, with the Hydrow, you get the advantage of a magnetic rower's quiet and smooth operation, but you also get the reactive resistance that a water rower provides.
Very cool.
The Aviron Rowers use a more common technology that combines traditional magnetic and air resistances into a single system.
A lot of rowers are doing this now because combing magnetic and air resistance systems basically gives you the benefits of both.
Although that said, it's been my experience that most combo resistance systems rely more heavily on the magnetic system than the air.
With these combo rowers, you set your base resistance level (magnetic) – this will be the consistent resistance you feel at all times.
However, as you start rowing faster and harder, the air resistance will kick in to supplement that baseline magnetic resistance.
So, with the Aviron you have 16 resistance levels to choose from.
You can manually select your resistance level via the touchscreen, or you can let the Aviron's AI system adjust it automatically for you based on your performance.
Something worth noting here, is that Aviron reports that at level 16 you're pulling 100 lb worth of resistance.
I've never seen another brand report a pound-resistance equivalent before, but that sounds like a ton of resistance to me.
Aviron does this, though, because this rower is designed to be used for other strength training exercises too – think bicep curls, tricep extensions, etc.
So having the ability to really crank up that resistance is a good thing.
But long-story-short: the Hydrow uses a patented computer-controlled magnetic system that mimics rowing on water; the Aviron uses a more traditional magnetic/air combo system, but is capable of providing a lot of resistance.
Frame
These 2 rowers differ significantly in their frames as well.
At the time of writing this, there are actually 2 different Aviron rowers to choose from – the Impact Series and the Tough Series.
Both rowers use the same touchscreen and software, but the Tough Series Rower comes with a reinforced frame, a lower rail height, and a much higher weight limit.
Here's a table that shows the biggest differences between the Impact and the Tough Series:
| | Aviron Impact Series | Aviron Tough Series |
| --- | --- | --- |
| Assembled weight | 97 lb | 125 lb |
| Weight capacity | 397 lb | 597 lb |
| Folding | Yes | No |
| Back support compatible | No | Yes |
The Tough Series also comes with a feature where you can adjust the width of the foot plates, but basically, the Tough Series is just a heavier-duty, non-folding version of the Impact.
That said, the Aviron Impact is no slouch.
With a 397 lb weight limit, this rower is easily capable of handling most users, while still being able to fold away for storage.
The Impact is just over 8′ long unfolded, so it's a full size rower and should be capable of fitting folks who are up to 6'7″.
The frame itself is made out of steel and aluminum, which gives it strength, while still remaining fairly light weight.
The Hydrow on the other hand, comes with a single piece frame, also made out of steel/aluminum.
Having the rail and frame constructed out of a single piece like this makes for a sleek as hell look, but it does mean the Hydrow can't fold up for storage.
It can be stored vertically, although you have to purchase a vertical storage kit separately.
The Hydrow is quite heavy-duty, coming with an assembled weight of 145 lb and a max weight limit of 375 lb, allowing it to also accommodate most rowers safely.
The Hydrow is a little shorter than the Aviron Impact, taking up just over 7′ of floor space, but folks with up to a 36″ inseam should still be able to use it comfortably (6'6″ or so).
Oh, something else worth knowing is that both Aviron rowers come with seat heights that are 20″ off the floor, making them a bit higher than most standard rower seats.
The Hydrow's seat is 16″ off the floor, so several inches lower.
If you have mobility issues or are worried about getting on/off your rower, this could be something to consider.
Warranty
The Hydrow comes with the following residential warranty:
5 year frame
1 year parts
1 year labor
And the Aviron Impact/Tough Series Rowers come with this residential warranty:
10 year frame
1 year parts
Ok, it's pretty easy to spot the big difference here.
Aviron backs their rowers with a frame guarantee that's 2x as long as Hydrow's.
To be fair to Hydrow, the Ergatta also only comes with a 5 year frame warranty, but they do offer 3 years on parts…
Anyway, Aviron's frame guarantee is much better than Hydrow's, but both brands offer the same, pretty short parts warranty.
And Aviron doesn't mention anything about a labor guarantee at all.
Oh, Aviron also offers a commercial warranty of the same length for both their rowers, which is pretty impressive.
Streaming Experience
That about does it for the performance side of things, so let's get to the good stuff – streaming.
These are both streaming rowers obviously, but they go about it in very different ways.
Aviron rowers come with a 22″ HD, Android-based touchscreen console that comes with built-in speakers, bluetooth compatibility, wifi, and all that tech stuff.
But more importantly, the Aviron pretty much has it all when it comes to streaming options.
With this rower, you get access to a ton of game-themed workouts, where you're racing cars or running from zombies and fall stuff like that.
But you also get access to guided programs, which are developed by professional trainers and instructors, that tell you exactly what to do throughout your workouts.
Aviron offers a few instructor-led workouts too through their "coached programs" feature, although at the time of writing this, it's a little limited (but I could see that changing in the near future).
What's really cool about the Aviron is they offer a lot of opportunities to race fellow users, which could be fun for you competitive folks out there.
They even have a "Pros vs Joes" feature where you can race against elite athletes from across the world – most of these races are short, sprint-style races, but still very cool.
And to make things even more interesting, Aviron now offers built-in entertainment apps, including Netflix, Hulu, Amazon Prime, Disney+, and YouTube.
You can watch your favorite material while still viewing your workout metrics on the bottom of the screen – and, the rower still saves your metric data without interrupting your show.
I know I've kinda skimmed over these streaming features here, but the Aviron offers a ton of material to choose from.
Most of their material is gaming inspired, but they've got a lot of guided workouts programs to choose from too.
And now that they offer some instructor-led workouts and entertainment streaming, they've kinda got it all.
At the time of writing this, Aviron's membership costs around $29/month (or a little cheaper if purchased annually), but you can still access manual mode and all your metrics without a membership.
Ok, now to the Hydrow.
The Hydrow also comes with a 22″ HD touchscreen console with all the bells and whistles, but its streaming experience is a bit easier to explain.
The Hydrow is all about instructor-led workouts – there are no games or streaming apps or anything like that.
But what's unique about their workouts is that they're all filmed on the water with real boats, giving you the sensation of being right there beside your instructor.
Hydrow offers live workouts and thousands of on-demand workouts to choose from.
They also have a growing library of non-rowing workouts to choose from, like strengthening and stretching routines from the mat.
One of their newer features is a 1:1 coaching option, where you can purchase personal training sessions with instructors, giving you the option to focus on form or reaching personal goals.
Overall, when it comes to the streaming experiences, Aviron has a lot more options in terms of games and entertainment, where Hydrow has instructor-led workouts on the water.
Cost
Before we wrap things up, I want to go over price a little.
At the time of writing this, these rowers cost the following:
Aviron Impact Series Rower: $2199
Aviron Tough Series Rower: $2499
The Hydrow: $2495
So, the Hydrow is a couple hundred bucks more than the Aviron Impact, but these rowers are still in the same ballpark.
They're all also competitively priced against some of the other elite streaming rowers out there, like the Ergatta and the CityRow Max Rower.
Oh, I forgot to mention the Hydrow's streaming fee above, it's $39/month, making it about $10/month more than Aviron's.
Based on these prices, I think it's fair to say both rowers are luxury items.
Final Thoughts
Ok, that about does it for the Hydrow and the Aviron rowers.
Even though these are both streaming rowing machines, there are actually quite a few differences between them.
From the size and style of the frames to the resistance systems they use, these rowers differ quite a bit in how they perform.
And there's obviously a huge difference in the streaming experience each offers.
When choosing between these rowers, I think it's really going to boil down to whether or not you're interested in the gaming aspect.
If you think you'll get bored with your rower easily, I think it makes more sense to go with an Aviron rower because all the games and entertainment options will help keep things interesting.
If you're more interested in instructor-led workouts and getting the sensation of rowing a real boat, you should probably go with the Hydrow.
If you're new to rowing, the Aviron might be a better bet.
If you're a more experienced rower, Hydrow is probably a better bet.
When it comes to the rowers themselves, I would say the Hydrow is the higher-end, more advanced rower.
But, regardless of which rower you decide to invest in, I doubt you'll be disappointed.