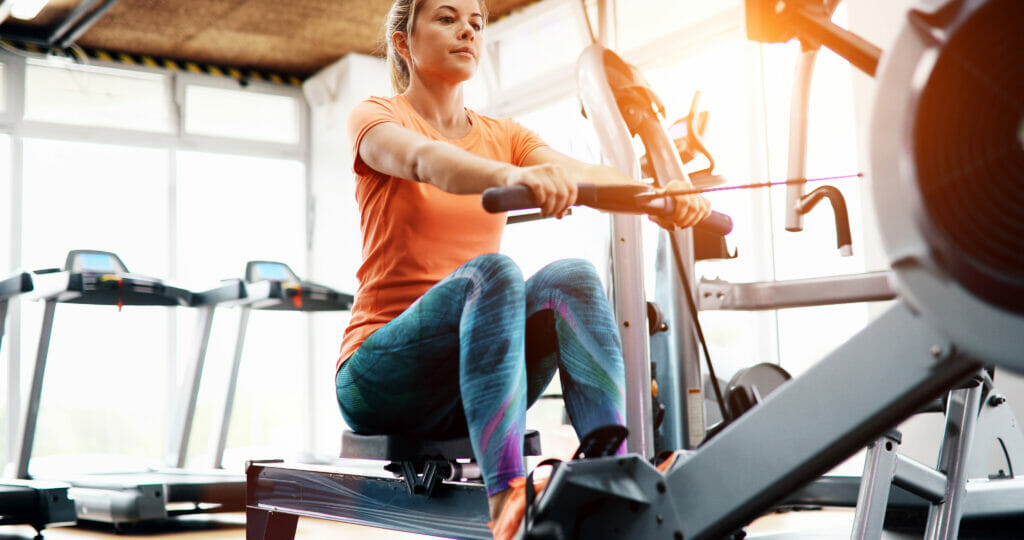 When it comes to streaming rowers, the Ergatta was in a league in its own for a long time – there just weren't any other options offering game-inspired workouts.
But that's all changed now with the arrival of the Aviron Interactive Rowers.
Like the Ergatta, the Aviron also offers game-themed workouts (lots of 'em), but it's got a lot of other workout modes to choose from too.
We're talking stuff like coached programs, game/guided workout combos, virtual rowing, and competitive races.
Oh, the Aviron rowers also come with built-in access to popular entertainment apps too, including Netflix, Hulu, and Disney+.
Long-story-short, if you're looking for a new streaming rower, you've got some thinking to do.
And if you're stuck deciding between the Ergatta and the Aviron, it's very understandable – these are 2 awesome rowers.
But I think I can help.
In this article, I'll be comparing these 2 elite rowers head-to-head with regards to all their key performance specs and streaming features.
After reading, you'll know once and for all which rower is the better fit for your home gym.
Let's do this.
Aviron (Impact)
The Ergatta
Resistance
Magnetic/air combo
16 resistance levels
Water
Frame
Steel/aluminum
Assembled weight: 97 lb
Weight limit: 397 lb
American cherry wood
Assembled weight: 76.5 lb (103 lb with water)
Weight limit: 500 lb
Folding
Yes
No, but vertical storage
Warranty
10 year frame
1 year parts
5 year frame
3 year parts
1 year labor
Streaming Features
Tons of games
Entertainment apps (Netflix, etc)
Coached programs
Competitions
Pros vs Joes
Virtual destinations
Tons of social features
Game-inspired
Goal oriented
Intervals
Races
Scenic rowing
Group challenges
Adjusts based on performance
Cost
$2199
$25 or $29/month streaming fee
$2199
$29/month streaming fee
Aviron vs The Ergatta
Ergatta's been around for a few years now, but it seems like they really got popular during the pandemic when tons of gym-goers were forced to find at-home alternatives.
And when it comes to streaming rowers, there haven't been that many options to choose from, although that's changing now.
The Hydrow was the first rower I'm aware of to include streaming workouts, but now with Ergatta, NordicTrack's RW900, and the Aviron Rowers, we've certainly got more options.
And amongst these different streaming rowers, we're seeing differences in the types of rowing machine used and the types of streaming services provided, which is great because it gives us more opportunity to find the best streaming experience to fit our needs.
Anyway, Aviron's actually been around for a few years now too, but they started off targeting gyms and light commercial settings before deciding to go directly to home users.
These days, they offer 2 home rowers to choose from – the Impact Series Rower and the Tough Series Rower.
The Tough Series Rower is just a heavier-duty version of the Impact, although it also comes with a lower rail height, but the streaming services is identical.
I'll be focusing on Aviron's Impact Rower for the sake of this comparison because I think that model will be better suited for most homes.
Resistance
One of the fastest ways to categorize rowing machines is by the type of resistance they use.
There are really 4 types of rower based on their resistance and these include hydraulic, magnetic, water, and air (well, 5 if you count air/magnetic combos).
Each type of resistance has its own advantages and disadvantages and if you'd like to read more about these, you should check out my full rowing machine guide.
Anyway, the Aviron and the Ergatta differ in the types of resistance they use.
The Aviron utilizes a combination of magnetic and air resistances, while the Ergatta is a classic water rower.
I hate to generalize, but I feel like most magnetic/air combo rowers tend to rely more on the magnetic resistance than the air, not that that's a bad thing.
With a combo rower though, you kinda get the benefit of both types of resistance and the disadvantages of neither.
In the Aviron's case, you get 16 levels of magnetic resistance to choose from and when you choose your level, this is your baseline resistance – you'll always feel at least this much resistance during your workout.
By the way, users report the Aviron can provide a ton of resistance on the higher levels.
According to Aviron, levels 11-16 are designed for strength training exercises, like bicep curls, tricep extensions, rows (duh)…
Anyway, the magnetic resistance acts as your baseline, consistent resistance, but if you really amp up your rowing rate, you'll get supplemental resistance from the fan.
And, since Aviron doesn't rely solely on the fan for resistance, it's quieter than most traditional air rowers (puts out only 60 decibels of sound during use).
The Ergatta, on the other hand, is a good ol' fashioned water rower, meaning it uses a fan turning in a tank of water to create your resistance.
Water rowers work a lot like air rowers, in that your resistance is directly related to how hard/fast you row.
There are no resistance levels to set – row faster and you feel more resistance, slower and less.
Water rowers more closely mimic the feel of rowing a boat on a real body of water, so if that's something you're looking for, it's worth considering.
With water rowers, you also get that soothing water slushing sound during your workout.
This makes them a little noisier than magnetic rowers, but personally, I like the sound.
So, right off the bat, we've got a pretty big difference between the Aviron rowers and the Ergatta in the kinds of resistances they use – if you know you want to use one type of rower over the other, this could be all you need to make your decision.
Frame
I always like to consider the frame and how heavy-duty a rower is too though.
I think we all like the idea of having a stable, robust rower that's going to feel solid during workouts – luckily, I don't think you'll have to worry about that with either one of these rowers.
The Aviron Impact Rower comes with an assembled weight of 93 lb and a max weight capacity of 397 lb (the Tough Series is quite a bit heavier-duty, weighing in at 125 lb and being able to hold folks up to 507 lb).
These are impressive stats for any rower and seeing numbers this high tells us that the Aviron rowers are well-constructed.
The Aviron Impact model takes up a floor space of roughly 97″ x 21″ during use, but can fold away for storage afterwards, which is nice for rooms with limited space.
The seat height on the both Aviron rowers is also a bit higher than most traditional rowing machines too.
At 20″, getting on/off the Aviron's is a bit easier on the joints.
The Ergatta also scores highly when it comes to frame construction.
The good people at Ergatta chose wisely when they decided to pair their software with WaterRower's hardwood rowers – WaterRower's known around the world for making some of the finest rowing machines on the planet.
The WaterRower used with the Ergatta is constructed out of American cherry wood, making for a gorgeous, durable frame.
The Ergatta comes with an assembled weigh of 76.5 lb without water (103 lb wight) and a weight capacity of 500 lb.
You might notice that the Ergatta's designed with a double rail system too, for an extra layer of stability.
The Ergatta is rock-solid as a rower, but it can't fold in half for storage – although it can be stored vertically.
During use, the Ergatta will take up roughly 80″ x 23″ of floor space, making it quite a bit shorter than the Aviron, although it can still accommodate folks with up to a 40″ inseam (6'8″ ish).
Overall, the Aviron and Ergatta are both well-built, heavy-duty rowing machines, but they differ greatly in their look and materials.
The Aviron looks more like a traditional rower, where the Ergatta looks more like a luxury piece of furniture (or art) with its cherry wood frame.
Warranty
The Aviron Rowers come with the following residential warranty:
10 year frame
1 year parts
And the Ergatta is covered by this residential warranty:
5 year frame
3 year parts
1 year labor
Ok, so Aviron offers a much longer frame guarantee, but Ergatta's parts warranty is quite a bit better.
And considering the Ergatta's frame is solid cherry wood, I doubt there's much to worry about with it failing.
Something worth knowing, is that you have to register your Ergatta within the first year to get the above warranty – if you don't, you only get a year on parts.
Oh, both the Aviron and the Ergatta are also covered by the above warranties in commercial settings too.
Overall, both rowers come with good warranties, but there are some differences.
Streaming Experience
Ok, time to get to the good stuff.
The Aviron and Ergatta rowers both utilize gaming-inspired workouts, but they go about it in different ways.
The Ergatta comes with a 17.3″, HD touchscreen console that's used to select and view all workouts and data. Its console is compatible with bluetooth heart rate monitors and headphones.
With the Ergatta, you start off by doing an assessment workout, which gives the software an idea as to what your skill level is.
The Ergatta tailors your workout intensities based on your skill level.
Speaking of workouts, there are basically 4 different ways to get your row on with the Ergatta:
Push programs – these are workouts designed specifically to help you reach a certain goal
Interval workouts – these are HIIT and endurance inspired workouts selected based on time, distance, or difficulty
Races – with the Ergatta, you get to race head-to-head against other Ergatta users of similar skill levels. Most of these aren't live, but Ergatta is now offering some live races.
Scenic rows – you can row at your own leisure while enjoying different scenic locations around the world
Ergatta puts out new workouts weekly and also offers plenty of group challenges and competitions to keep things interesting.
And since all workouts are tailored personally around your skill level and goals, the Ergatta does a good job of ensuring you get the most out of each workout.
You'll notice that Ergatta doesn't offer any instructor-led workouts, so if that's something you're interested in, this could be a red flag.
The Aviron rowers come with larger, 22″ HD touchscreen displays that are loaded with all the tech specs you'd expect.
Aviron also uses more game-themed workouts, but their games are a lot more video-gamey, if that makes sense.
And by that, I mean they have games where zombies are chasing your, or you're running for a giant squid, silly stuff like that.
But Aviron really offers 8 different ways to use their streaming material:
Games – as I just mentioned, these are straight up video games, most of which rely on you trying to escape from something chasing you, but there are cool shooter games and block games too.
Entertainment streaming – you can watch Netflix, Hulu, Disney+, Prime, or YouTube from your rower and see your workout metrics simultaneously.
Power play – this mode combines guided workouts with games, as you work toward reaching goals.
Coached programs – this is the closest thing Aviron has to instructor-led workouts, as trainer Austin leads you through different workout programs based on goals.
Competitions – you can race and compete with other Aviron users
Guided workouts – these are trainer developed workouts geared around helping you reach specific goals, includes both rowing and non-rowing workouts
Pros vs Joes – this is one of their cooler features, as it lets you race against elite athletes from all sports around the world (not in real time).
Virtual rowing – you can row free style while seeing scenic water ways across the world
The Aviron software also comes with a lot of social media aspects too, where you can add and follow friends, participate in community challenges, see global leaderboards, and even use their matchmaking service.
Overall, the Aviron takes the streaming experience to a whole new level, offering tons of different entertaining ways to get your workout on.
And personally, I think it was brilliant to include an entertainment streaming option.
Cost
Before we wrap things up here, I want to discuss how much these rowers cost.
Keep in mind, these prices may vary a little bit by the time you read this, but at the time of writing this, these rowers cost the following:
The Ergatta: $2199
Aviron Impact Rower: $2199 (or $1999 if you sign up for their newsletter)
Aviron Tough Series Rower: $2399
So, the Ergatta and the Aviron Impact are priced pretty identically, although at the time of writing this Aviron will give ya a $200 discount if you sign up for their newsletter.
Not a bad deal.
And the Aviron Tough Series is about $200 more than the Ergatta.
But I'd still say these rowers are in the same price range.
When thinking about cost though, you also have to make sure you take into account the monthly streaming fees.
To access all of Ergatta's software features, it'll cost ya $29/month; Aviron's membership is also $29/month (or $25/month if billed annually).
So, the membership costs are pretty identical between these rowers.
By the way, you can use both rowers without memberships, but you basically just get access to the manual rowing mode (but you can still see metrics in real time).
That said, I don't see why anyone would purchase either one of these rowers if they don't plan on using the streaming services – that's kinda the point of both of these machines.
Final Thoughts
Well, there ya have it.
The Ergatta and the Aviron are both high-end, streaming rowing machines, but that's about where the similarities end.
These rowers use different types of resistance, they come with different frame styles/designs, and their streaming features are significantly different.
When trying to decide between these 2 rowers, I recommend thinking about the resistance systems first.
If you know for certain that you want a water rower or magnetic rower, this alone might be enough to help you decide.
If not, you'll have to think about the streaming services themselves.
If you're worried about getting bored really easily with your rowing workouts, you're probably better off with Aviron because it offers so many different ways to work out.
And worst case, you could just row while watching movies on Netflix.
But, if you're a more experienced rower and not as worried about getting bored, you might be better off with the Ergatta because I feel like their software is more centered around helping you reach personal goals.
If you're still unsure, don't fret too much – I doubt you'll be disappointed with either rower.