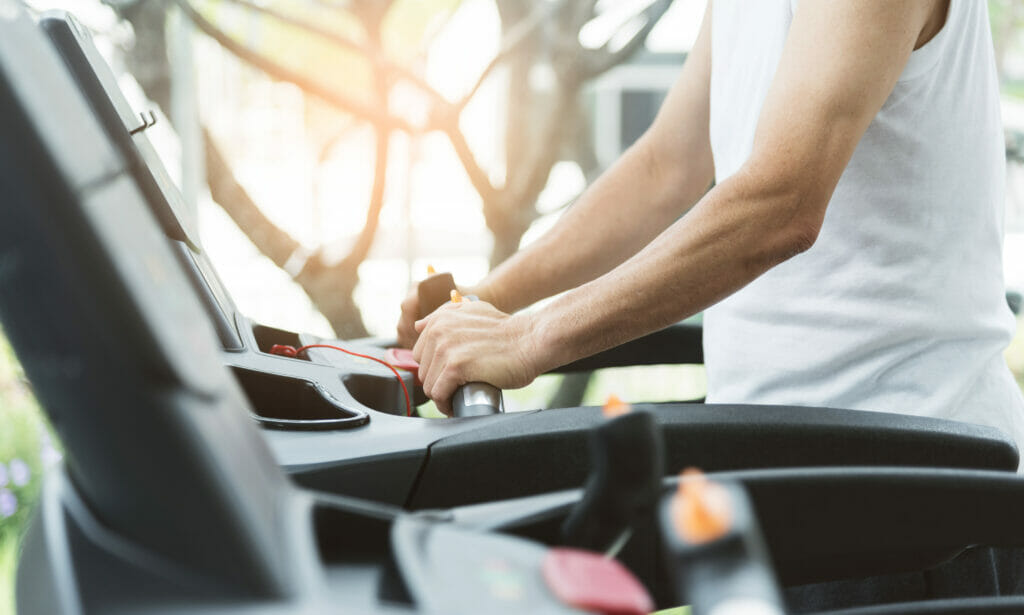 The TR6.6 is one of XTERRA's highest-end treadmills and as such, it has a lot to be proud of- especially considering the price. Highlights of this affordable treadmill include a 20″x60″ running surface, a 3.0 CHP motor, and a 350 lb weight capacity.
The TR6.6 also comes with 15 levels of incline, an included chest strap heart rate monitor, and is backed by a generous warranty.
And with a sales price just shy of $1000, this versatile fitness machine won't break the bank either.
Overall, if you're looking for a budget-friendly treadmill to add to your home gym, the XTERRA TR6.6 is a pretty wise choice. But before you decide, it's a good idea to do your homework.
And that's where this review comes in.
In this article, I'll provide an in-depth look at everything this treadmill has to offer. We're talking specs, features, and everything else in between.
After reading, you should know everything you need to in order to decide whether or not the XTERRA TR6.6 is the right treadmill for your home.
Well, let's get to it shall we…
The XTERRA TR6.6 Treadmill
If you're not familiar with the XTERRA brand, that's ok. I wasn't particularly familiar with them either until earlier this year. I know I've never seen any tv commercials or any other marketing for them before.
And they certainly don't have the brand recognition that other big names in the industry have (like NordicTrack or ProForm).
That said, they're easily one of the top names in budget fitness equipment.
They remind me a little of Sunny Health & Fitness (a good brand by the way), but a little higher-end and with much better warranties.
XTERRA has a huge inventory of cardio machines to choose from, with several models of treadmills, ellipticals, bikes, and rowers to choose from (they even have a seated stepper that's great for the price).
The TR6.6 is one of this brand's most advanced treadmills. At the time of writing this, it has a sales price of roughly $1000, qualifying it as affordable in the world of home treadmills.
Pros
20″ x 60″ running surface
3.0 CHP motor
350 lb weight capacity
2.36″ rollers
0 – 12 mph
7 preset workouts
7.5″ backlit LCD monitor
Folding frame
Chest strap heart rate monitor included
Quick touch speed/incline buttons
Easy assembly
Great warranty
Great customer service
Cons
No bluetooth compatibility with fitness apps
No bluetooth speakers
Running Surface
I like to start my treadmill reviews with a discussion on the running surface. As the term implies, a treadmill's running surface is basically how much room you have available for walking and running.
You might see this same spec referred to as "belt size" and they both mean the same thing.
The running surface of a treadmill is measured in inches and usually written as "width x length".
When talking treadmill running surfaces, bigger is always better. Even if you don't need the extra room, it's going to make your workouts more comfortable. After all, who ever complained that they had too much room to exercise?
When it comes to home treadmills, the gold standard for nice models is a running surface of 20″ x 60″.
At this size, a treadmill is able to comfortably accommodate most users, regardless of how fast they're walking or running.
Depending on your height, a lot of folks can definitely get away with smaller running surfaces, but if you're 6′ tall or taller, I highly recommend going for at least a 20″ x 60″ running surface to make sure you don't have to shorten your stride when sprinting.
With all of that background info in mind, the TR6.6 comes with a 20″ x 60″ running surface. This is perfect for a machine in the price range and should be spacious enough to handle the majority of users.
Not only is the running surface spacious enough for running at faster speeds, but the deck comes with XTERRA's XTRASoft cushioning system to help reduce impact forces during use.
The frame itself on this treadmill is also surprisingly heavy-duty.
I hate to be classist, but sometimes treadmills in this price range are a little skimpy when it comes to the deck- after all, there are reasons affordable treadmills are affordable to begin with.
But not the TR6.6.
This treadmills comes with a 350 lb weight capacity, which is really high for treadmills in this price range. This allows this treadmill to hold larger users that a lot of other similarly priced models can't.
I'd also like to point out that this treadmill has an assembled weight of 265 lb. This is just another indicator of how sturdy and well-built this machine is.
The extra weight sucks when it comes to moving this thing, but you'll appreciate how heavy it is during use because it'll feel more substantial than lighter machines.
The TR6.6 can also fold away for storage. The hydraulic lift system makes it easy to fold the deck vertically when not in use, saving a good chunk of floor space in the meantime.
Overall, this treadmill scores highly in the running surface/deck department. It comes with a spacious running surface, heavy-duty frame, and a very generous weight capacity.
Motor
It's always a good idea to consider the motor any treadmill comes with because it's one of the most important components. I mean it's the heart of the machine when you think about it.
I'm of the opinion that stronger is always better, because a stronger motor isn't going to have to work as hard to provide the same output as a weaker one will.
This usually makes for smoother operation, quieter workouts, and an extended lifespan for the treadmill in general.
If you're planning on running, I think it's a good idea to go with at least a 3.0 CHP motor. If you only plan on walking or doing light jogging, you can get away with slightly weaker motors.
The TR6.6 comes with a 3.0 CHP motor, which I think is strong enough to support regular running at higher speeds.
Speaking of speeds, this treadmill can reach a top speed of 12 mph, which is pretty standard for higher-end home models. The TR6.6 also comes with 15 levels of incline, giving you the ability to add a lot of intensity and variety to your workouts.
When talking motors, I usually bring up rollers too because they're also an important indicator of overall treadmill quality.
The rollers on a treadmill are what propels the belt along the deck- larger rollers are preferred to smaller ones because the increased contact area makes for smoother operation and puts less strain on both the belt and rollers.
Most high-end home treadmills come with rollers in the 2-3″ range.
The TR6.6 comes with 2.36″ rollers, which is easily in the right ballpark for what we should be looking for.
Overall, I'm impressed with this treadmills performance specs. The 3.0 CHP motor is strong enough to handle most runners and the rollers are large enough to provide smooth, consistent operation.
Features
The XTERRA TR6.6 comes with the following features:
7 preset workout programs- this isn't a ton to choose from, but it's enough to get the job done. On top of the 7 preset programs, you also get 2 custom workouts and 2 heart rate guided workouts to choose from.
7.5″ LCD monitor- the monitor is pretty simple, no HD touchscreens or anything like that, but it's large enough to see clearly during your workouts. It's also blue backlit to make it more visible in any lighting condition.
Included chest strap heart rate monitor- XTERRA includes a free chest strap with your purchase, giving you the option to monitor your heart rate and use the heart rate workouts from day one (you can also use the grip monitors on the handles is you like).
Quick touch speed/incline buttons- these buttons allow you to instantly set the speed and incline to preset settings without having to scroll through- a very convenient features, especially for interval workouts.
Remote speed/incline controls- the quick touch buttons are located on the console, but there are also manual speed and incline controls on the handlebars, giving you more convenient control during workouts.
Audio jack- you can plug a smart phone, tablet, or mp3 player into the console and listen to whatever you're listening to through the built-in speakers.
Tablet holder- you can sit a tablet or book on the media rack, but it may block your view of the monitor.
Cooling fan- the built-in fan may help keep ya a little more comfortable during those more strenuous workouts.
Water bottle holders- there are 2 water bottle holders, one on each side of the console, making it easy to stay hydrated during your workouts.
Assembly
Putting the TR6.6 together should be a very straightforward process. There are only 6 steps and the included assembly manual is easy to follow.
XTERRA provides both large images and well-written instructions for each step along the way.
The deck comes pre-assembled. Basically all you have to do is bolt each upright to the deck and then attach the console to the uprights.
Speaking of which, it's a really good idea to have a second person available when it comes time to attach the console- you have to make a few wire connections before you bolt it down and it's hard to hold it and do this by yourself.
Otherwise, I'm confident most able bodied individuals will be able to get this job done fairly easily. I'd expect to spend 30-45 min getting this treadmill unpacked and assembled.
Oh, keep in mind how heavy this thing is too- definitely a good idea to have a second person around.
Warranty
XTERRA Fitness provides the following warranty on the TR6.6:
Lifetime frame
Lifetime motor
5 year deck
2 year parts
1 year labor
Overall, I love this warranty- this is one of the most generous guarantees you're going to find in this price range.
You can't beat a lifetime warranty for the frame and motor, that's as good as that gets. 5 years on the deck and 2 years on parts is also pretty good considering the price.
1 year on labor is standard operating procedure regardless of price range.
Again, great warranty on this treadmill.
Final Thoughts
XTERRA's TR6.6 is legit.
When you look at the performance specs and included features, I think it's fair to say this treadmill has a lot to offer considering its asking price.
I like that it comes with a powerful motor and a spacious running surface- easily the 2 most important features for a quality treadmill.
I also love how heavy-duty the frame is and that it comes with such a high weight capacity.
And then there's that fabulous warranty.
The only things I see missing are bluetooth speakers and bluetooth compatibility with fitness apps. But given the price range we're talking here, I don't think either of these features should really be expected.
Overall, I think the TR6.6 would make a great option for folks looking for an easy-to-use, affordable home treadmill (especially with so many popular home models being unavailable these days). Highly recommended.