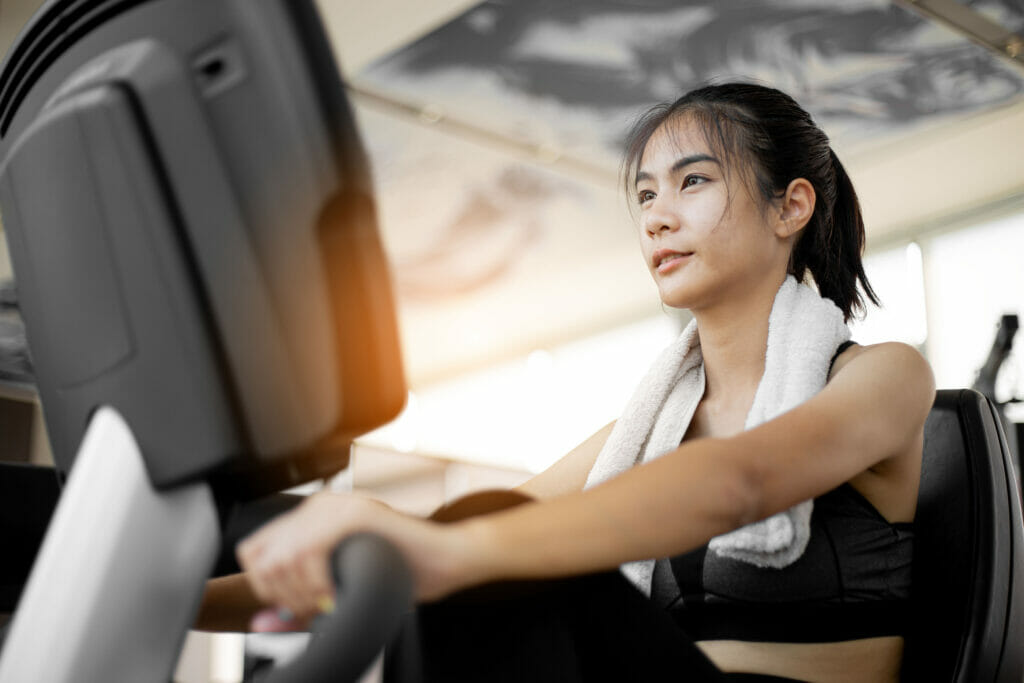 XTERRA's SB2.5r is a very affordable home recumbent bike that's surprisingly advanced. And I say "surprisingly" because most bikes in this price range are, well, a bit lacking in the performance category.
Highlights of the SB2.5r include a 22 lb flywheel, 24 workout programs, and a chest strap compatible console.
This recumbent also comes with a solid frame and a 300 lb weight capacity, allowing it to accommodate larger users.
The biggest downside is the relatively short warranty, although when compared to many bikes in this price range, it's about average.
If you're in the market for a budget friendly recumbent bike, XTERRA's SB2.5r is a great choice, but you shouldn't just take my word for it (although I must say, I'm a pretty trustworthy guy).
No, instead you should do your own homework- you know, learn everything this bike does and doesn't have going for it, weight the pros and cons, and all that jazz.
Luckily, I can help with this.
In this review, I'll go over everything you should know about the SB2.5r before you decide to purchase. After reading, you'll be well equipped to make the right call regarding this bike.
The XTERRA SB2.5r Recumbent Bike
XTERRA specializes in affordable home fitness equipment. And when I say affordable, I mean the majority of their products cost under $1000.
And they have a lot of products to choose from.
They specialize in cardio equipment and they've got a generous selection of treadmills, bikes, ellipticals, and rowers to choose from.
I like XTERRA because their products tend to be a little heavier-duty and higher-end than other budget brands.
And they're very generous with the warranties they back their equipment with (which is rare for such an affordable brand).
The SB2.5r (odd name by the way, I have no idea what it refers to) is one of XTERRA's higher-end recumbent bikes. With a sales price of roughly $600, only their SB500 costs more.
Pros
22 lb flywheel
24 levels of magnetic resistance
Heavy-duty frame
300 lb weight capacity
24 workout programs
Large, self-leveling pedals
Chest strap compatible
Great price
Cons
Warranty could be longer
Assembly manual could be easier to read
Frame
One of the most obvious signs of a budget recumbent bike is the skinny, flimsy frame most of them come with.
You probably know what I'm talking about- a lot of 'em look like the manufacturer just connected a pedaler to a seat with some metal tubing.
Not only do these lightweight frames look less cosmetically pleasing, but they don't provide the same level of comfort during use either.
No one wants to feel their bike wobbling or shaking during a workout.
Fortunately, this shouldn't be an issue on the SB2.5r.
Unlike most bikes in its price range, this recumbent comes with a heavier-duty frame.
At first glance, the SB2.5r certainly looks more substantial (it actually looks like a more expensive bike than it is), but looks can be deceiving.
It can be hard to tell how "heavy-duty" a bike is without actually hopping on and going for a test drive. But the next best thing is to look at 2 specs- the weight capacity and the assembled weight.
Higher values for both of these specs will indicate a heavier-duty, more stable bike.
The SB2.5r comes with a 300 lb weight capacity, which is great for a bike in this price range, and an assembled weight of 108 lb, which is also heavier than most in this price range.
For the sake of comparison, Schwinn's popular 270 (which is also a good bike for the price by the way) only weighs about 87 lb.
Having more weight is beneficial because it makes for a more stable base, which makes it less likely to wobble or shimmy during use.
When talking frames, it's also a good idea to consider the flywheel weight.
You'll hear a lot of talk about flywheel weights when discussing spin bikes, but this spec is important to consider for any home exercise bike (and elliptical too).
Having a heavier flywheel is beneficial because it makes for a smoother feel during your workouts. It also makes for a more substantial workout when you crank that resistance level up.
I consider any flywheel over 20 lb to be "heavy", especially considering that many budget recumbents come with flywheels in the 10-13 lb range.
With all of this in mind, consider that the SB2.5r comes with a 22 lb flywheel.
This is massive for a $600 recumbent bike and it's easily heavy enough to provide a smoother experience than you'd expect for such an affordable model.
XTERRA also pairs this heavy flywheel with 24 levels of magnetic resistance, giving you a lot of control over the intensity of your workouts.
Overall, the SB2.5r scores very highly in this department. I think the combination of the heavy frame and heavy flywheel is what makes this bike particularly special.
Seat
Recumbent bikes are a popular choice for home gyms because they come with a larger, more comfortable seat than any other exercise bike.
This added comfort level makes recumbents approachable for folks that may not be able to use other exercise machines due to arthritis or achy backs.
The horizontal positioning of a recumbent bike puts a lot less stress on your knees and hips too.
The seat on the SB2.5r is pretty standard for a recumbent bike. It's large and padded, which is to be expected, and its contoured a little to make for a more comfortable fit.
You can easily adjust the height position (horizontal position for a recumbent bike) by loosening the dial and moving the seat to your desired position.
Some recumbent bikes allow you to adjust the angle of the backrest, however the SB2.5r does not- this is a feature found on more expensive models.
Overall though, most users should find the seat on the SB2.5r to be fairly comfortable.
Features
XTERRA's SB2.5r Recumbent Bike comes with the following features:
5.5″ LCD console- the console is pretty basic, but it's backlit and dual colored to make it easily visible during use in any lighting situation. There aren't any touchscreen functions or anything like that it, but it's straightforward to operate.
24 workout programs- this bike comes loaded with a ton of workout programs to choose from. This includes a manual mode, 12 preset profiles, a watt profile, a body fat profile, a target heart rate profile, 4 heart rate guided workouts, and 4 custom workouts. If you like the idea of having a lot of workout variety, this will be a definite plus.
Self-leveling pedals- the pedals are large, adjustable, and weighted so that they've always facing the right direction to place your feet in them.
Chest strap heart rate monitor compatible- the console with this bike is compatible with chest strap monitors, although one isn't included with purchase. You can always use the grip heart rate monitors on the sides of the seat if you don't want to use a chest strap.
Audio jack- you can plug your phone or mp3 player into the console and listen to your favorite workout jams through the built-in speaker.
Assembly
The assembly process for the SB2.5r is pretty straightforward. That said, I think XTERRA could do a better job with their assembly manual.
The images are kinda small and there's a lot going on in each step.
Having larger images and more steps would be beneficial because it would be easier to see what's going on with each task.
But again, it shouldn't be that difficult even with the manual XTERRA provides.
You'll be responsible for attaching the front and main frames together, as well as attaching the console and mast to the front frame.
Then it's just a matter of connecting the seat, pedals, and handles.
As always, make sure you don't pinch any wires when attaching the console, because something won't work correctly if wires get pinched.
Overall, I think most folks should be able to get the SB2.5r assembled themselves without having to pay for professional assistance.
I'd expect to spend 45-60 minutes getting the job done.
Warranty
XTERRA provides the following residential warranty for their SB2.5r:
5 year frame
1 year brake
1 year parts
This warranty holds up pretty well when compared to other recumbents in this price range, but I'm still a little disappointed XTERRA doesn't offer a lifetime guarantee on the frame (which they do on their SB500).
Especially considering Schwinn and Nautilus are offering 10 year frame guarantees on their similarly priced recumbents.
One year on parts is a little short compared to the 2-3 years offered by Schwinn and Nautilus, but it's pretty in line with what other budget brands are offering.
Overall, this warranty is pretty average for an affordable recumbent in this price range- could be better, could be worse.
Final Thoughts
Overall, I think XTERRA has a nice product here.
It's superior to most other recumbents in this price range when it comes to the frame and flywheel- few will be able to compete with the 22 lb flywheel and 108 lb frame this bike is packing.
I also like that it comes with so many workout programs to choose from and that it's compatible with chest strap heart rate monitors.
The warranty could certainly be longer, but I don't think its short to the point where it negates the benefit of the heavy flywheel.
All things considered, I think the SB2.5r is easily one of the best recumbent bikes under $1000. And almost certainly the best recumbent $600 can get ya. Recommended.