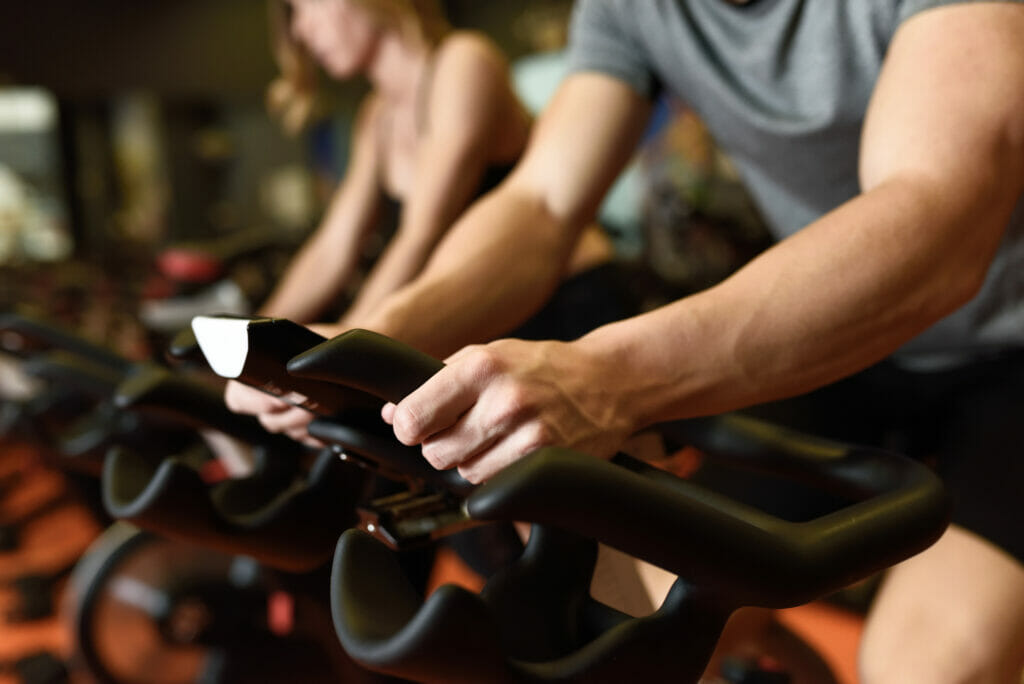 The MBX2500 is a very affordable indoor cycle from XTERRA Fitness, one of the best budget brands in the business.
These days there are a ton of budget friendly spin cycles on the market, and honestly, it's hard to tell the difference between most of them.
Most (the MBX2500 included) are offering heavy flywheels and fairly solid frames, as well as fully-adjustable seats and decent weight capacities.
But, the one thing the MBX2500 has over any other cycle in this price range is XTERRA's generous warranty.
So, to cut to the chase- if you're looking for a budget spin cycle, XTERRA's MBX2500 is a pretty safe bet- it certainly comes with a longer guarantee than most.
But this cycle definitely has its flaws.
In this review, I'll go over everything this bike does and doesn't have going for it.
After reading, you'll know everything you need to in order to decide whether or not this is the right indoor cycle for your home gym.
The XTERRA Fitness MBX2500 Indoor Cycle
XTERRA Fitness is rapidly becoming my favorite budget brand. Like I mentioned in the intro above, it's their warranties that really set them apart, but their products are high-quality too.
Especially for the price range.
Speaking of price, most of XTERRA's products cost under $1000.
And when it comes to selection, few brands offer as many different models to choose from.
XTERRA offers a little bit of everything cardio related. We're talking bikes and treadmills to ellipticals and rowing machines.
They even have a recumbent cross trainer, the RSX1500, which is one of the most affordable of its kind.
When it comes to indoor cycles, XTERRA has 2 to choose from- the MBX2500 and the MB550.
Both cycles are very similar in terms of features and price (the MB550 costs $100 more). The biggest difference (other than the location of the flywheel) is that the MB550 has a micro adjustable resistance system.
Pros
Fully adjustable seat
Fully adjustable handlebars
Heavy-duty frame
300 lb weight limit
Adjustable toe cage pedals
Heart rate monitor compatible
Great warranty
Cons
Friction brake resistance system
Limited workout programs
Resistance
When it comes to spin cycles, it's all about the flywheel. Or how heavy the flywheel is, to be more exact.
Most home cycles are designed so that having a heavier flywheel is advantageous. This is because the extra weight in the flywheel produces more momentum as it spins.
This momentum actually helps the flywheel continue spinning once it's started, which reduces any unwanted lag between pedal strokes.
The result is a smoother, more fluid feel during workouts.
When it comes to flywheel weight, the MBX2500 scores very highly. With a 48.5 lb flywheel, this cycle has one of the heaviest you're gonna find in this price range (although Sunny has some cycles that can definitely match it).
This extra heavy flywheel is great, and it should definitely help create smooth, substantial workouts, but XTERRA pairs it with a leather pad brake resistance system.
And personally, I think this is the biggest downside of this cycle.
I'm not a fan of friction brake systems.
Friction brakes work by making actual contact with the flywheel as it spins. You increase the resistance by increasing how much contact the brakes makes with the flywheel and vice versa for decreasing resistance.
These resistance systems can work fairly well, but they're never as smooth as magnetic systems and that brake pad will eventually break down and have to be replaced.
And realistically, all spin bikes in this price range use felt or leather brake pads because they're cheaper than magnetic systems.
So I guess I shouldn't hold this against the MBX2500.
Another bummer is that this cycle only comes with 8 resistance levels to choose from.
This doesn't mean the total resistance it can provide is any less, it just means there are larger jumps in resistance between the levels (giving you less control to fine tune your intensity levels).
On the plus side, having 8 clearly marked levels to choose from makes it easy to reproduce workout conditions.
But most other friction brake systems use a knob to change the resistance, giving you basically unlimited resistance levels to work with.
Overall, I'm not a fan of these friction resistance systems to begin with, but that's to be expected in this price range. Kudos to the massive flywheel though.
Seat
Pretty much all spin bikes come with the same, standard bike saddle that you'd find on any road bike. This is because these cycles are designed to mimic the feel of riding a bike outside.
These seats can be uncomfortable to folks who aren't used to cycling, but it doesn't take that long to get your bum accustomed.
The MBX2500 is no different- it comes with a standard seat, but most users seem to think it's comfortable to sit on.
What's really worth mentioning though, is that the seat is fully adjustable, meaning you can adjust both the vertical and horizontal (fore/aft) positions.
This is great, because it makes it a lot more likely that everyone in your home will be able to find a comfortable riding position.
And not only does that make it more likely that you'll actually continue using it, but it'll also reduce chances of any unwanted aches or pains from poor positioning.
And according to XTERRA, the MBX2500 should be able to comfortably fit folks up to 6'6″ tall, which is great for a bike in this price range.
Handlebars
Not only is the seat fully adjustable, but the handlebars are too.
You can easily adjust the height and fore/aft position of the handles for even more customization of your ride.
The handles are multi-grip, allowing for all the most common hand positions you'll need during your rides (narrow, standard, and wide).
I don't think having fully adjustable handles are quite as essential as having a fully adjustable seat, but it never hurts to have more adjustable features.
It's also surprising how many luxury bikes don't offer this feature (Peloton included).
Frame
The last thing you want is to get your new spin bike and find that it's flimsy and wobbly during your workouts. That would certainly be a buzz kill.
And that's a real concern when shopping for budget bikes- after all, there are reasons these bikes cost less than others.
Luckily, you won't have to worry about that with the MBX2500.
This cycle comes with a sturdy frame that can hold folks weighing up to 300 lb, which is pretty good for a bike in this price range (where some models max out at 250 lb).
I also like to look at the total assembled weight too, as an indicator of overall "heavy-dutiness", with heavier being better because it means a sturdier bike that's less likely to wobble during use.
The MBX2500 comes with an assembled weight of 110 lb, which is great (and 10 lb heavier than Schwinn's popular IC3 cycle).
Users confirm this, reporting that the MBX2500 feels stable during workouts, even when standing up and climbing hills on heavier resistance levels.
Overall, this cycle scores highly with a high weight capacity and a heavy assembled weight.
Pedals
Home spin cycles usually come with pedals that are designed to be used with sneakers (toe cages) or cleats (usually SPD compatible).
Each has their advantages, depending on what your goals are.
The MBX2500 comes with toe cage pedals, so you can wear sneakers or any other shoe you'd like during your workouts.
There are adjustable straps to help ensure a secure fit, regardless of your shoe size.
These pedals will be great for people who don't want to worry about getting riding cleats, but if you already have some or want to purchase some, you can easily swap out the pedals.
Console
This cycle comes with a small, very simple console, but it displays all the basic workout metrics you'd expect. These include time, speed, distance, calories, RPM, and heart rate.
The display is only 3.8″ diagonally and it isn't backlit, so don't expect to see much in poor lighting, but I do like the speedometer display for the RPM.
Technically, I guess you could say that this console comes with 4 workout programs, but they're just the countdown modes for time, distance, calories, or pulse.
Yes, this console is heart rate monitor compatible, but a chest strap isn't included.
Overall, the console on this bike is very simple, but it can track all the basic info you'll need for your workouts. And the fact that it can tract heart rate is an added bonus.
Warranty
XTERRA Fitness backs the MBX2500 Indoor Cycle with the following residential warranty:
Lifetime frame
1 year brake/parts
1 year labor
This is actually a really good warranty for a budget spin cycle. Believe it or not, few cycles offer a lifetime guarantee on the frame (luxury models included).
For the sake of comparison, Schwinn's IC3 offers 5 years on their frame (as well as 2 years on parts and 1 year on labor).
And a year on parts is pretty good for this price range, where some (like Sunny) only offers 6 months.
A year on labor is pretty standard for any price range.
Overall, a great guarantee on this cycle.
Final Thoughts
That's about all she wrote when it comes to the MBX2500.
I think it's important to have realistic expectations when comparing products in different price ranges. There's nothing wrong with getting a budget bike, after all, we have to work with what our budgets allow.
And as long as you know what to expect, the chances of being disappointed are significantly reduced.
I sometimes have to tell myself this when reviewing budget friendly products.
The biggest downside I see to the MBX2500 is the friction brake resistance system, although I know most bikes in this price range are going to come with the same type of resistance.
I also prefer a rotating resistance knob, which allows more control over your resistance to the 8 pre-set levels this bike comes with.
Otherwise, I think the MBX2500 has a lot to offer.
It's awesome that it comes with a fully adjustable seat and handlebars and you can't beat the lifetime frame warranty.
If you're cool with the friction brake, I think the MBX2500 is a good buy. But if you're like me and prefer magnetic resistance, you should check out Sunny's Evolution Pro (SF-B1714)– on sale it only costs $30 more and comes with a magnetic system.