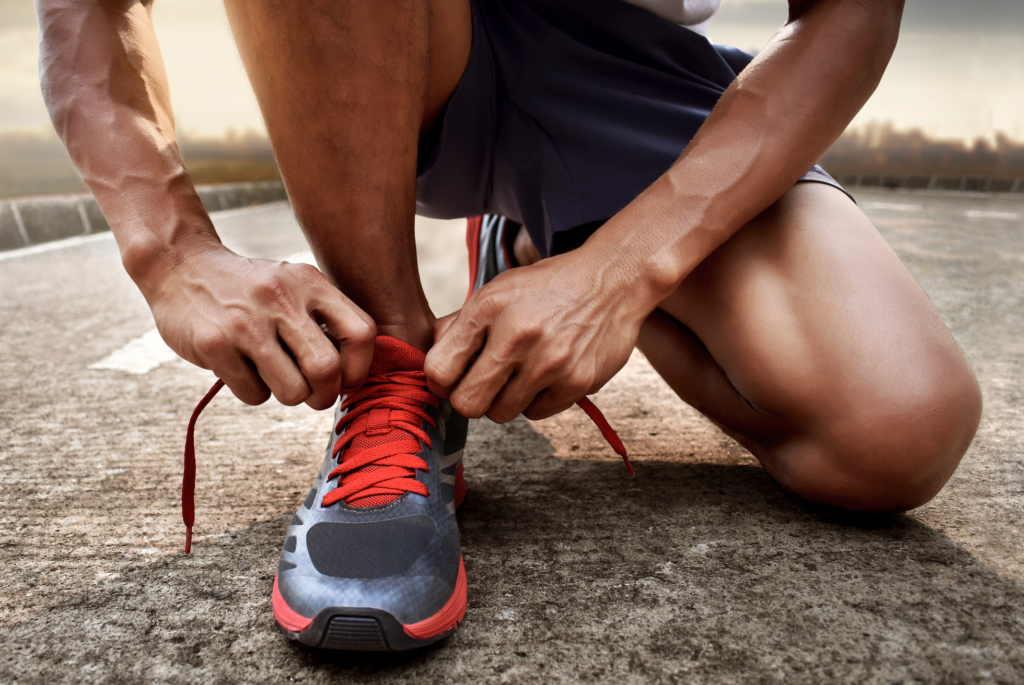 The TrueForm Trainer is a high-end, curved manual treadmill designed to help improve your running form as you use it. And even though it's a lighter version of the brand's famous "Runner" treadmill, it's still heavier-duty than most of the competition.
Highlights of the Trainer include a shallow curve that improves control, 112 steel ball bearings for smooth operation, and a high-end rubber slatted tread that more closely mimics the feel of running outside.
If you're looking for a lighter-weight, more affordable curved manual treadmill, TrueForm's Trainer is a great choice.
But instead of just taking my word for it (despite my trustworthiness), keep reading. In this comprehensive review, we'll take a close look at this treadmill and everything it does and doesn't have going for it.
After finishing this article, you'll have a better understanding as to whether or not this is the right treadmill for you.
The TrueForm Trainer
TrueForm only provides curved manual treadmills (CMTs). And really only 2 of those- well, technically 3 I guess if you take into account their "Office Cruiser", but that's just a Runner with an open handrail system (to fit under a walking desk).
So, TrueForm- it's safe to say they specialize in these CMTs.
By the way, curved treadmills really seem to be "in" these days, especially with the CrossFit folks. But unlike most fads, these treadmills are legit and I think they're here to stay.
Unlike the old manual treadmills that you can still find for about $100 online, CMTs (at least the ones built by TrueForm) are heavy-duty and rugged. They're also built for running, something most traditional manual treadmills can't claim.
There are several companies producing curved treadmills these days, but I think TrueForm is at the top of the pack- I consider the TrueForm Runner to be the best CMT currently on the market.
And their Trainer is just a lighter version.
That said, the Trainer is still heavy-duty enough for most mortals. Compared to the Runner, it comes with a lighter frame, lighter belt, and shorter warranty.
It also comes with a smaller price tag (usually $1500-$2000 less depending on sales).
Pros
Subtle curve for more natural feel
Solid steel frame
400 lb weight capacity
High-end slatted rubber tread
No max speed
Set your own pace without pushing console buttons
Burn more calories than a motorized treadmill
Help improve your running form
No electricity necessary
Easy assembly
Cons
Simple console
Short warranty
Smaller running surface
Running Surface
It's hard to compare CMTs to motorized treadmills because they are completely different. That said, I still like to organize my curved treadmill reviews like I do my non-curved ones because it helps me organize my thoughts.
That means we're starting with the running surface.
I think the size of the running surface is easily the most important spec to consider when looking at a motorized treadmill because it gives you an idea as to how comfortable it's going to be to use.
With bigger, more spacious running surfaces being preferred to smaller ones.
Even though curved treadmills are different, it's still a good idea to take a look at the running surface dimensions. Again, more space is always better because you'll have more wiggle room (which should equate to a more comfortable feel).
Motorized treadmills come with a pretty large range of where the running surface size can fall. This doesn't seem to be as much the case when it comes to CMTs.
All CMTs that I've come across have the same, 17″ wide belt (Trainer included).
This seems to be the standard size for curved treadmills, so there's really not a lot of need to compare this spec amongst different models (unless you find one that is narrower, and in that case, I'd probably consider that a deal breaker).
Which is interesting, because a 17″ wide tread is pretty small. Especially considering most high-end motorized treadmills come with at least a 20″ wide belt.
I'm guessing the belts on these manual treadmills are more narrow because it makes it easier to keep the belts moving smoothly.
But CMTs will vary when it comes to the length. The Trainer comes with a running surface length of roughly 54″ (the same as the Runner's) and a total length of 64″.
The curved shape of the deck might mean this measurement isn't quite as concrete as that of a non-curved deck, you know, it curves up so you might get a little extra space here or there depending on how your foot hits the tread.
But a running surface of 54″ (give or take an inch) is a bit smaller than a lot of the treadmills we're used to seeing. Especially when compared to Assault's AirRunner that comes with a running surface that is 62″ long (with a total deck length of roughly 70″).
The shorter deck on the Trainer will come in handy if your workout space is limited, but it might mean taller folks will have to shorten their stride a little when running at faster paces.
You also have to keep in mind that the shape of this curved deck is designed to help you propel the belt (remember there's no motor here) as well as promote proper running form (which includes more glutei involvement as you push your feet down into the ground).
TrueForm's treadmills are designed so that if you don't run with proper form, you're going to feel it because it's going to make it more difficult to propel the belt (and feel less natural).
When it comes to the frame, the Trainer is well stocked. The frame on this model is made out of solid steel and it comes with a max weight capacity of 400 lb.
The tread is made out of a high-end molded rubber and slatted. This design makes for a durable belt that will feel more like running outside on the road.
It's kinda amazing that the Trainer is a lighter version of the Runner. This says more for the Runner than anything else. The Trainer weighs about 70 lb less than the Runner and comes with lighter components (including frame and belt).
The lighter belt isn't quite as tough, but it makes it easier to get it moving during your workouts. One other big difference is that the Runner is made here in the USA with hand welded, 7-gauge steel while the Trainer is produced in Korea.
Overall, the Trainer comes with a fairly small running surface, but the frame is heavy-duty. The lighter components (as compared to the Runner) make it easier to move and easier to operate.
Motor (less)
Yes, the TrueForm Runner is a manual treadmill. This means there is no motor. The only thing working to keep that belt moving is you- so technically, I guess you are the motor.
Manual treadmills were frowned upon for years because, well, let's be real- they kinda sucked.
They were small, cheap, and hard to use. Most were designed with a fixed incline setting to help get the belt moving. This works, but it means you're always walking uphill (which isn't cool for a lot of users).
Luckily, we have manual treadmills of the curved variety now. The curved shape of the deck eliminates the need for a fixed incline setting because the force of your foot hitting near the curve is enough to propel the belt down the deck.
In the case of the Trainer, the 112 included steel ball bearings help keep the belt moving once it starts, making for a much smoother operation than the old crappy manual treadmills could ever dream of.
The curve at the end of the deck is helpful too. It gives you more control to slow the belt down anytime you want. Which brings me to one of the biggest perks of a CMT- since there is no motor, there is no max speed limit.
The Trainer can go as fast as you can make it go.
These motionless treadmills are also great when it comes to pacing yourself. Instead of having to deal with speed buttons on the console, you simply run.
If you want to run faster, run faster. Want to slow down? Great, run slower. The Trainer goes at whatever speed you go at.
Experienced runners will probably appreciate this because it mimics running outside.
But if you're like me, and you kinda hate running, but do it sometimes because it's such a great form of exercise, and you rely on the treadmill to force you to keep a certain pace- well, then you probably won't appreciate this.
Something else to consider though, is that since you are exerting all the energy to keep the belt moving, you end up burning more calories on a treadmill like the Trainer than you would on a traditional motorized unit.
TrueForm claims you burn 44% more calories, I've seen other brands claim 30% or so. Regardless, it makes sense that CMTs would burn more calories because you're working harder.
Long-story-short: on the Trainer, you're the motor. This is good because you can easily pace yourself and you end up burning more calories, but if you depend on a motor to keep pace for you, then you may have trouble on this treadmill.
Features
The TrueForm Trainer comes with the following features:
LCD monitor- the included monitor is very simple, but it displays all the necessary workout metrics you'll need during your runs: pace, speed, distance, time, and heart rate. No workout programs, no speakers, no fans, just the basics here.
Polar heart rate monitor compatible- the monitor is compatible with Polar chest straps for monitoring your heart rate during your workouts (good thing, cause there aren't any grip heart rate monitors).
Transport wheels/handle- there are built-in transport wheels and handles to make moving the Trainer around a little easier. Just lift from the handles and roll on the included wheels.
Assembly
There's isn't much assembly necessary for the Trainer (or the Runner), which is good because these treadmills are really heavy and it could be quite daunting if you had to piece these things together.
The only thing you have to do is attach the LCD monitor to the handlebars and you're ready to roll.
Just keep in mind this treadmill weighs almost 300 lb. The transports wheels are helpful, but depending on your size and abilities, you may need some help getting this machine to its final destination.
Otherwise, there really isn't any assembly necessary.
Warranty
The TrueForm Trainer comes with the following warranty:
3 year frame
3 year parts and components
1 year labor
I have to say I'm a little surprised that this treadmill only comes with a 3 year frame guarantee. I know it's not as heavy-duty as the Runner, but it's still constructed out of solid steel.
For a treadmill of this caliber (and price), this is a very short frame warranty. I think the parts and components warranty is short too- for this price range, I'd expect 5 years or more.
A year on labor is standard.
Overall, I think the warranty department is definitely an area for improvement for this treadmill.
Final Thoughts
That about does it. When you think about it, the Trainer is really a pretty simple device. There aren't any fancy motors or hi-tech console features to discuss. It really is all about performance here.
The Trainer is another high-end curved manual treadmill from the same producers of the world-class Runner treadmill.
Although the Trainer is a lighter weight, less durable version of the Runner, it still has many of the same qualities that make the Runner one of the best CMTs in the world (high-end, smooth operating belt).
My biggest complaint is that the warranty on this treadmill should be longer- I mean we are talking about a $4000 machine here (more or less).
Overall, if you like the Runner, but are looking to save a little cash, the Trainer is a great alternative.
It's still one of the best manual treadmills around. And for less experienced runners, the lighter belt will actually make it a little easier to use.