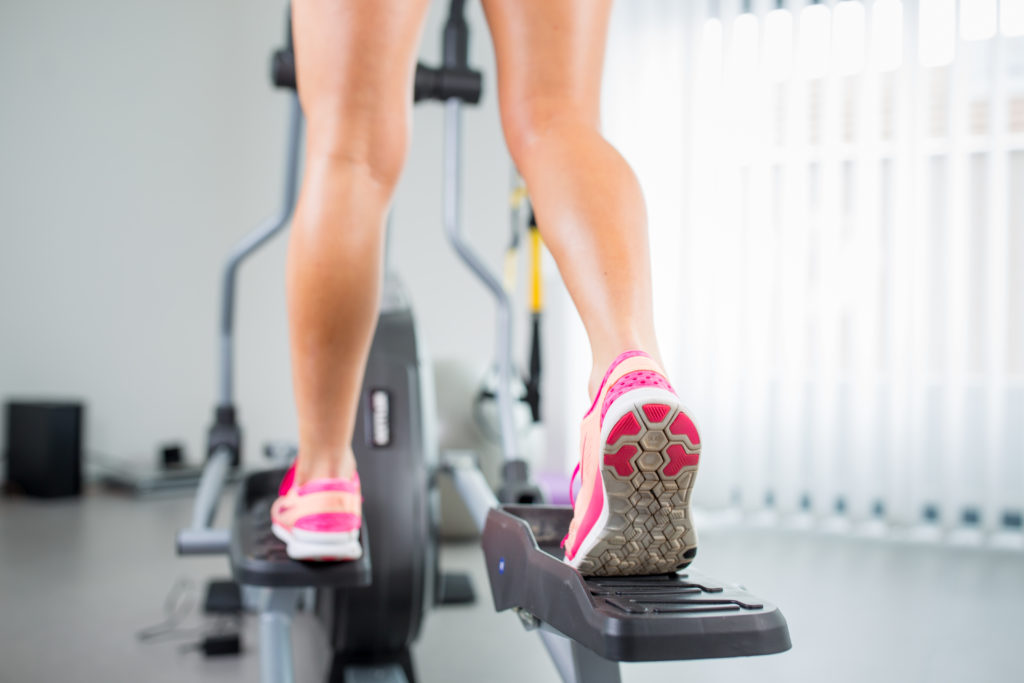 NordicTrack's SpaceSaver SE9i is a moderately priced home elliptical that comes with an impressive selection of workouts, a large touchscreen display, and power incline.
Oh yea, it also folds, which is pretty awesome for an elliptical.
As the name implies the SE9i is designed to save you space when not being used. It does this by folding in half and being stored vertically.
Not only does this look cool, but it cuts its footprint in half.
This space saving design is crucial if your home gym is a little lacking in floor space, but the SE9i would be a pretty solid home elliptical without the folding feature too.
Overall, if you're looking for a quality machine that won't take up as much floor space as a typical model, the SE9i is a pretty safe bet.
But to help you decide whether or not this is the right option for ya, this review will show you everything this elliptical has to offer.
Let's start with a few words on NordicTrack.
An Intro To NordicTrack
NordicTrack is one of the most recognizable brands in home fitness. You may remember their iconic cross country skiers that started it all.
Looking back, those things may've been a little goofy looking, but they really did work.
You could get a heck of workout on those machines and they were built to last. I actually saw a patient not too long ago that still had one of the original skiers in his home. He wasn't using it anymore, but he claimed it still worked.
P.S.- they still offer the Pro Skier.
Well, NordicTrack got all famous and started branching out.
Now they offer a little bit of everything home fitness related. They're probably most well known for their treadmills and ellipticals, but their bikes are nice too.
NordicTrack still has a great reputation and their products are still amongst some of the most popular in pretty much every category.
Nowadays though, they're part of the ICON Health & Fitness family, along with other popular brands like ProForm and Gold's.
Overall, I tend to like NordicTrack products.
There for awhile their warranties kinda sucked, but it looks like they're starting to do a little better (the warranty on the SE9i is a good example).
The NordicTrack SpaceSaver SE9i Elliptical
The SpaceSaver SE9i (which I will refer to as simply the SE9i from now on) is NordicTrack's highest-end model in their SpaceSaver series, which also includes their SE7i.
Both models are rear drive, folding ellipticals
When compared to front drive machines, rear drive ellipticals tend to have a flatter pattern (front drives tend to feel a little more like a stepper).
The rear drive design must also make it easier to add a folding feature because most folding ellipticals tend to be rear drive.
Although the Horizon Evolve 5 is a folding front drive elliptical, so it must be possible.
Prices can vary a little, but at the time of writing this, the SE9i is going for around $1700 on NordicTrack.
Pros
Folding frame, can store vertically
24 digital resistance levels
Power incline up to 10%
Quick touch buttons for resistance and incline
Handles controls for resistance and incline
30 built-in workout programs
14″ HD touchscreen display
Free 30 day iFit membership
Automatic trainer control (through iFit)
Access to unlimited workouts (iFit)
Easy assembly
Good warranty
325 lb weight capacity
Cons
Only an 18″ stride length
Only an 18 lb flywheel
Stride Length
I think stride length is probably the single most important spec to consider when looking for a new elliptical.
This is because if the stride length doesn't fit you well, you're going to be uncomfortable using it.
Regardless of how heavy the flywheel is or how many fancy features it comes with, if the stride length is too small, you probably aren't gonna want to use it.
And it would be a shame to waste all that money on a brand new elliptical and then have it sit in the corner collecting dust.
That said, the stride length on the SE9i is 18 inches.
This is a little on the small side, considering a 20″ stride length is the gold standard for high-quality home ellipticals.
But att 18″, the feel of this elliptical won't be awful, especially if you're under 6′ tall.
But taller users are definitely going to notice that they aren't able to stretch out as far as they may want to (but it really all depends on what you prefer).
I have a feeling making the stride length a little smaller makes it easier to keep the SE9i more compact and easier to fold up.
After all, if cutting a few inches off the stride length means you can save a ton of floor space, so it might be worth it.
Considering that the frame on this machine is designed to fold, it's pretty impressive that it still has a max weight capacity of 325 lb.
This is due to the commercial grade solid steel frame NordicTrack gave it.
And with an in-box weight of 218 lb, we shouldn't have to worry about this elliptical feeling flimsy or lightweight during use.
(I wish NordicTrack would offer us the actual assembled weights, but that's not how they roll).
Overall though, the stride length is a little shorter on this elliptical, but it scores highly with a strong frame and high weight capacity.
Flywheel
When it comes to ellipticals, the flywheel is another big thing to consider.
Similar to the stride length, having a bigger flywheel is usually preferred. Heavier flywheels are supposed to provide smoother rides because the extra weight builds more momentum as it spins.
The SE9i is packing an 18 lb flywheel, which is a little light for an elliptical in this price range.
Most comparable ellipticals in this price range have a 20 lb flywheel or heavier. But, to be fair, most ellipticals in this price range don't fold either.
Again, I'm wondering if NordicTrack designed this elliptical with a smaller flywheel to make it easier to fold and move around.
That reasoning makes sense to me, but who knows.
Either way, with an 18 lb flywheel, the SE9i should be capable of providing a decent ride, but heavier would be better for folks looking for really strenuous workouts.
On the plus side, this elliptical comes with 24 resistance levels to help you control that flywheel.
This gives you a lot of control to fine tune the intensity of each workout, which is a good thing when you want to gradually increase or decrease the resistance.
The SE9i also comes with a max power incline 0f 10% that can help you crank up the intensity of your workouts if you so choose.
Power incline is a nice feature because it also gives you the opportunity to target specific muscles.
Plenty of ellipticals offer higher incline levels, but I think the fact that this machine folds (and has a rear drive) limited what NordicTrack could do here.
I don't mean to keep making excuses for the SE9i, but this elliptical was designed to fold and save space. In order to do this, I'm sure they had to give up a little.
I like that this model has quick touch buttons for both the resistance and incline settings though.
This makes it really easy to instantly set your intensity levels, which is really helpful when doing interval training.
Overall, the flywheel is a little light, but the SE9i scores highly with a ton of resistance levels and quick touch buttons for the resistance and incline settings.
Features
The NordicTrack SpaceSaver SE9i comes with the following features:
Folding frame- one of the most notable features of this elliptical is the fact that it can fold in half and be stored vertically, significantly cutting down on the amount of floorspace it takes up.
30 preset workout programs- yeah, this is a ton of workout variety. With this many options to choose from, getting bored with your exercise routine really shouldn't be an excuse.
14″ Smart HD touchscreen display- this screen is large enough to view the iFit workout videos clearly and the touchscreen makes it really easy to make your selections. This console is designed to pair with iFit, their streaming service, but with so many built-in workouts included, you could still get by without the monthly membership if you wanted to.
30 day iFit membership- iFit is ICON's fitness app and all of their brands tend to be iFit compatible. The SE9i comes with a 30 day subscription, but after that it'll cost ya about $39/month if you want to continue. You don't have to continue if you don't want to, but iFit gives you unlimited selection of trainer led workouts, automatic trainer control during workouts, scenic routes, metric tracking, and all that cool stuff.
Adjustable pedals- with the adjustable position pedals, you can custom your ride to make sure it fits as comfortably as possible.
Integrated tablet holder- the conveniently located tablet holder makes it easy to watch Netflix or use a fitness app without blocking the display screen.
Bluetooth compatible- you can listen to your workout jams wirelessly with bluetooth headphones.
Handle controls- not only do you have quick touch buttons for the resistance and incline, but you can also control both manually through the handle controls. This makes it super easy to control your workout without having to interrupt your workout.
Workout fan- nothing too fancy here, but it'll help keep you comfortable during your workouts.
Assembly
Putting the SE9i together couldn't be much easier.
NordicTrack did a great job of making this elliptical almost completely preassembled and ready right out of the box.
There's only a few assembly steps involved: attaching the front and rear stabilizers, attaching each handle, and connecting the console.
That's about it.
The instructions are easy to follow and make sense. I suspect most folks should have this elliptical up and ready to use within 15 min or so.
Warranty
The SE9i comes with the following warranty from NordicTrack:
10 year frame
2 year parts
1 year labor
Overall, this warranty is pretty good.
Yes, it would be nice to see a lifetime guarantee on the frame, but 10 years for an elliptical in this price range is pretty solid.
Two years on parts is pretty standard for a machine in this price range too. Sole offers 5 years for parts on their higher-end ellipticals, but still, not bad here.
And a year on labor is pretty standard for all price ranges.
All things considered, a pretty good warranty here.
Final Thoughts
The SE9i is designed to save space and the folding feature is definitely effective at doing just this.
But looking past the compact folded frame, this elliptical actually has a lot of other good stuff going for it too.
This elliptical is loaded with workout programs, has a large touchscreen display, and is really easy to put together. It's also loaded with resistance levels, has power incline, and is iFit compatible.
Oh, and it's backed by a good warranty.
The SE9i isn't perfect by any means- NordicTrack obviously had to give-up a little in the stride length and flywheel departments to make this elliptical foldable and as compact as it is.
But given the price (and the fact that it does fold for easy storage), I think the NordicTrack SpaceSaver SE9i is a really solid elliptical.
If you're looking for a folding elliptical with some fun hi-tech features, this is a very smart buy.