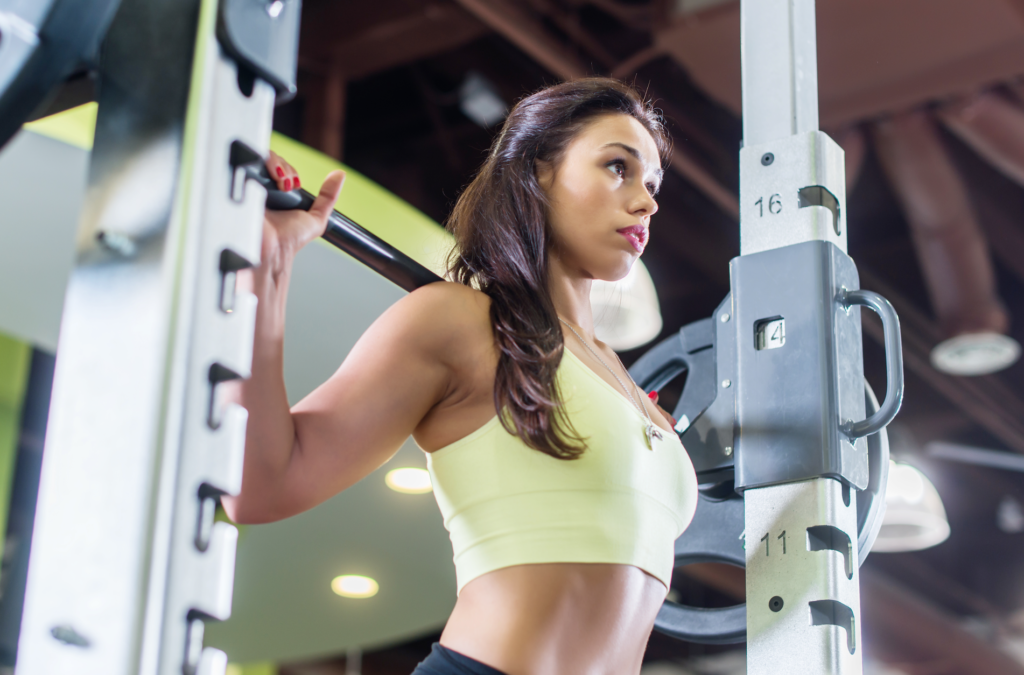 There's no doubt power racks, or cages, can make a great addition to any home gym. The problem is they are big, bulky, and take up a ton of space. Fortunately, the Marcy Pro Folding Cage System may have a solution for us.
Marcy created this cage to offer all the benefits of a traditional power rack, but with a space-saving design that makes it more approachable by many of us home-gymers.
If you're looking for power rack that doesn't take up the entire garage, keep reading. This may just be what your home gym has been looking for.
A Quick Word On Power Racks
I'm going to use the terms "power rack" and "cage system" interchangeably in this review. Because they're the same thing. A power rack (or cage) is a large weight lifting system that consists of 4 vertical posts with at least 2 horizontal bars going across the posts.
The term "cage" works well for these systems because the bars form a cage around you. Power racks are usually used for power lifting moves like squats and deadlifts, but you can really do any barbell exercise you want.
Their versatility is their biggest asset. If you like to lift with barbells and plates, a cage is a smart way to go…if you have the room for it.
Check out my article on power racks for more general info about these systems and how they compare to squat racks.
The Marcy Pro Folding Cage System
The Marcy brand is part of the IMPEX family, which has been producing home fitness equipment since the early '80s. Marcy has made a name for themselves with their affordable home gym systems and weight stacks. Several of their models made it onto my best home gyms of the year list.
Pros
Folding frame saves space
Multi-grip pull up bar
Dual pulley system
Folding bench included
Budget friendly
Ton of exercise variety
Cons
Warranty
Low weight capacity
Foldable
The biggest thing that sets this system apart from the rest is the fact that it folds for storage. This can be a game-changer for the folks out there that want a power rack but don't think they have the room for it.
It's true this system does fold, but make sure you take a close look at the numbers below. Even folded, this system takes up a fair amount of floor space:
Unfolded dimensions: 61″ (L) x 71.75″ (W) x 86.75″ (H)

Folded dimensions: 32″(L) x 65″ (W) x 86.75″ (H)
As I write this, I'm confusing my "length" and "width" on this product because it's a little tricky. Basically, when you fold this system up, your saving "depth" space. Maybe I should've labeled the first value above as "D" instead of "L", sorry.
Anyway, if you're facing the system, your width isn't going to change much when you fold it. And the height obviously isn't going to change. But you will save about 30 inches of depth when this system is folded up (about 2.5 ft).
This is pretty substantial, especially if every inch counts.
I also want to point out how much ceiling space you'll need here. To fold this system, you have to unhook the pull up bar and fold it down- it has to go up a few inches so you can swing it out and down. If you have a ceiling any lower than 8 ft, this is probably going to be tight (not to mention hitting your hit on the ceiling during pull ups).
Users agree the folding mechanism works pretty well. All you have to do is loosen a few bolts and the pull up bar swings down and then each side of the cage folds in.
Features
As a full power rack, the Marcy cage system comes with 4 vertical posts and 2 adjustable horizontal bar catches. The bar catches are a great safety feature by the way, they act as a built-in spotter: in case you lose control of the bar and drop it, they will catch the bar before it crushes you.
It also comes with 6 sliding weight posts that are used in pairs to hold the barbell in place as well as 6 plate storage posts.
The above features alone make this a fully functioning cage system, but Marcy added a few extras to improve exercise versatility.
Pull Up Bar
Marcy included a multi-grip pull up bar going across the top of this power rack. With multiple hand positions available, you'll have plenty of options here. With the curved design, neutral grip pull ups may be the most comfortable.
Some users reported they would prefer a straight pull up bar to the curved design here. I consider the pull up bar a bonus (and not a huge motivating factor for purchasing), so even if it's not perfect, it's probably better than nothing.
It also gives you a nice place to attach resistance bands (or a TRX) if you'r so inclined.
Pulley System
Traditional power racks don't include any pulley systems, but when you're trying to include as many exercise options as possible into your compact home gym it can come in handy.
Marcy's pulley system consists of both a lat pull down bar and a lower pulley that could be used for rows, bicep curls, or upright rows. The pulley uses weight plates as well, no weight stack included here.
The addition of the pulley does add some nice workout variety. A few users complained about the smoothness of operation even after lubricating.
Folding Bench
Marcy includes a folding bench with this cage system. A nice feature because you will need one if you plan on doing bench presses and seated shoulder presses.
The bench inclines and declines, giving you the ability to do decline/incline bench press and sit ups. For the price of this power rack, this is a surprisingly adaptable bench.
Weight Capacities
It's important to know your weight capacities when you're talking about power racks. The last thing you want is for your rack to fail during use!
This cage has the following weight limitations:
Max user weight (pull ups)- 300 lb
Max weight on each storage post- 100 lb
Max weight on sliding weight post- 300 lb (150 lb each side)
Max weight on bar catches- 300 lb
Max weight on bench- 600 lb (including user weight)
So as long as you aren't benching or squatting more than 300 lb, you should be safe.
If you are a serious powerlifter (or just a really strong person), this cage isn't going to be strong enough to keep up with you. There are a lot of other power racks out there that can hold a lot more weight than this. In order for Marcy to make this rack foldable, they had to give a little in the strength department.
But for the rest of us, 300 lb may be plenty. Users agree the rack feels safe and secure during use and that the construction feels solid.
Speaking of construction, it takes most users 4-5 hours to put this rack together. Most agree the instructions are decent, but you'll have to rely on the illustrations, no written descriptions.
Warranty
Marcy backs this power rack with a 2 year frame warranty. In the realm of warranties this is on the low side. Considering the price, it's not awful, but it would be nice to see a longer warranty here.
Final Thoughts
The Marcy Pro Folding Cage System has a lot going for it. If your space is really limited and every inch counts, the folding feature may save you enough space to fit a power rack in your home gym.
I like the addition of the pull up bar and pulley system. As someone who works out exclusively at home, I like having options. Even if you don't use the pull up bar or pulleys regularly, it'll be nice to know they're there in case the mood strikes.
I also like that Marcy includes the foldable bench. At this price point, they don't have to. And to include a bench that inclines and declines is awesome- more exercise variety.
The biggest downside in my opinion is the warranty. Two years is pretty short, but for a budget friendly system it's not too surprising.
Overall, I think this cage system is a pretty solid product. If you're looking for an all-in-one power rack with a lot of exercise variety, you shouldn't be disappointed. Just keep an eye on those weight limits.