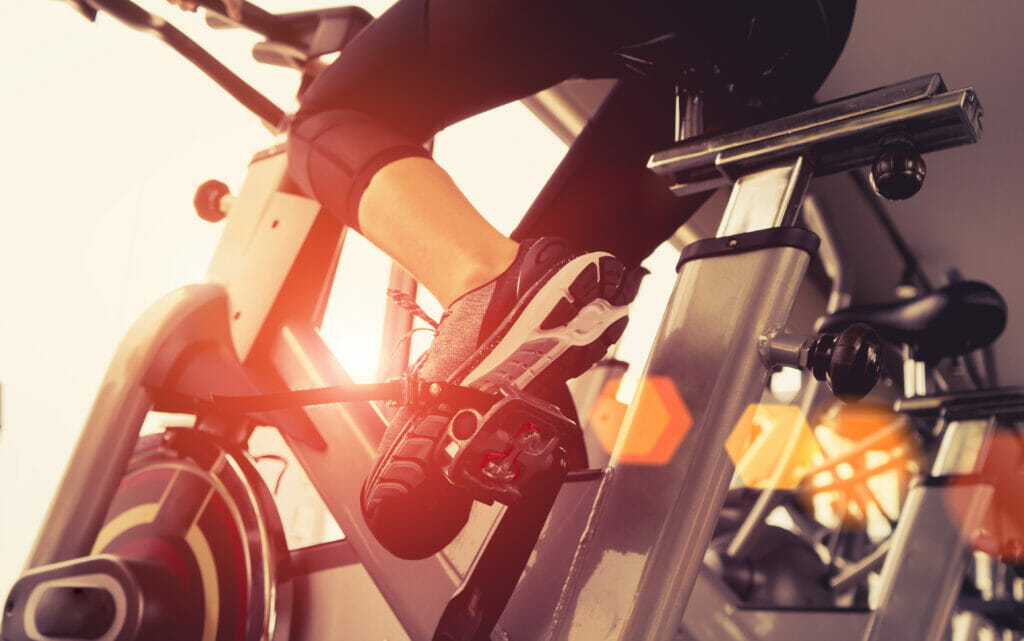 Horizon's GR3 is an affordable indoor cycle boasting some rather impressive performance specs. Topping the list is the 48 lb flywheel, but there's also the fully adjustable seat and the surprisingly sophisticated monitor.
Horizon even backs the GR3 with a solid warranty, given the price.
Speaking of which, with a sales price of roughly $500, the GR3 is probably one of the best budget-friendly spin cycles around- but more on that later.
If you're looking for a solid indoor cycle that's pretty easy on the wallet, Horizon's GR3 is a good choice, but is it the right choice for your home gym?
Well, I'm hoping to help you answer that question with this review.
In this article, I'll go over all the key specs and features this bike has to offer. After reading, you'll know everything you need to in order to decide whether or not this is the right option for you.
The Horizon GR3 Indoor Cycle
Horizon is a pretty well-known home fitness brand. They've become a popular choice for their affordable cardio machines that are of better quality than most in their respective price ranges.
Their lineup isn't as large as some other brands, but they do offer all the basics- exercise bikes, ellipticals, and treadmills.
All of their machines fall in the affordable to moderately-priced range, with their most expensive model to date costing right around $2000.
(This is their most advanced treadmill, the 7.8 AT, which I'm happy to say I own and use regularly).
The GR3 is their most affordable indoor cycle to date. They actually only have 2, with the other being the more advanced IC7.9, which is marketed as an affordable option for workout streaming.
Pros
Heavy, 48 lb flywheel
Fully adjustable seat
Height adjustable handlebars
286 lb weight capacity
Easy assembly
Toe cage pedals
5″ LCD console
Polar chest strap compatible
Great warranty
Cons
Friction brake resistance system
Flywheel
The flywheel is usually considered the most important part of a spin cycle. After all, it's what spins as you pedal, creating the resistance you feel, making it largely responsible for your overall workout experience.
When it comes to spin bikes and flywheels, it's all about momentum. The more momentum they can produce as you pedal, the smoother your ride is going to feel.
Most spin bikes accomplish this by increasing the weight of the flywheel- the heavier the better because it produces more momentum as it spins (although more brands are starting to follow Keiser and go with lighter flywheels).
It's not uncommon to see 30 and 40 lb flywheels these days, even on affordable spin bikes.
The GR3 comes with a 48 lb flywheel, which by all accounts is massive, regardless of price range.
With a flywheel this heavy, the GR3 is going to do a good job of mimicking the feel of riding a road bike. The extra weight will make it more difficult to start, but as you get it spinning the extra weight will help keep the flywheel spinning between pedal strokes.
This is also one of the heaviest flywheels I've seen on a bike this affordable- so if you're looking for a really heavy flywheel, you're going to like this bike.
This heavy flywheel is paired with a friction brake (felt pad) to create the resistance.
Friction brakes are usually found on bikes in this price range, so I don't think it's fair to hold this against the GR3, but magnetic resistance systems are better.
But there are reasons why affordable bikes are affordable in the first place and using a felt pad is an easy way to cut down on cost.
As the term implies, a friction brake uses friction to create resistance. As you turn the resistance knob, a felt pad is brought into more contact(creating more resistance) or less contact (creating less resistance) with the flywheel.
These systems do have benefits, other than being more affordable, like an unlimited number of resistance levels- the more you turn the knob, the more resistance you get.
These micro-adjustable resistance knobs allow you to fine tune your intensity, but they can also make reproducing your intensity levels more difficult.
The biggest downside to these friction brakes is that the pad will breakdown with time and eventually have to be replaced (it's usually an easy fix, but something you don't have to deal with when using magnetic systems).
Overall, the GR3 scores highly with its heavy flywheel. A magnetic resistance system would be preferred, but that's unrealistic in this price range.
Seat
The GR3 comes with a standard road style saddle. This is the same type of seat you'd find on an outdoor road bike and is what any self-respecting indoor cycle should come with.
If you're not accustomed to riding, you might find this type of seat uncomfortable- this is pretty normal.
Your bum will get used to the seat with time, but if it doesn't, you can always pick up an affordable gel bike seat cover that will add a little extra cushion.
What's important though, is that the GR3's seat is fully adjustable.
This means you can adjust the seat vertically as well as horizontally.
Having the ability to adjust the seat in both directions is a good thing because it gives you a much better chance of finding the proper fit.
And having a proper fit is important- the more comfortable you are, the more you're likely to ride (and avoid injury).
Handlebars
The handlebars on this bike are multi-grip, allowing for any position you'd need during your rides. You've got your wide grip for standing and your narrow grips for different sitting positions.
The handlebars aren't fully adjustable (no horizontal options), but you can choose between 3 different height positions.
Technically, I'd say fully adjustable handlebars are preferred, it's always better to have more customizable options, but with the fully adjustable seat, I think most riders will be able to find a comfortable position without any issues.
Overall, the handlebars are pretty standard on this model.
Frame
One of the biggest downsides to going with a spin bike in this price range is the flimsy frame. These bikes are smaller, weigh less, and usually come with lower weight limits.
With that in mind, the GR3 comes with a max weight limit of 286 lb, which is pretty good considering a lot of the comps come with 250 – 275 lb limits.
The bike itself weighs 96 lb fully assembled, which again is pretty good for this price range.
I prefer heavier equipment because they tend to feel more stable during use- you know, less rocking and swaying.
On the GR3, half of that 96 lb machine weight is coming from the heavy flywheel, but just the same- the extra weight is a good thing.
Overall, the GR3 is heavier than a lot of bikes in this price range, allowing it to hold heavier users safely.
Pedals
Spin bikes can come with a few varieties of pedals. They can come with toe cages, which are designed to be used with sneakers, or they can come with pedals designed to be used with cleats.
Some bikes even come with dual-action pedals that can be used with both.
Most bikes in this price range come with toe cages, and the GR3 is no different.
The toe strap on the cage is adjustable, making for a more snug fit. If you don't want to worry about getting cleats to ride in, you'll appreciate the toe cages on this bike.
On the other hand, if you already have riding shoes, you could swap the pedals out pretty easily.
Console
In this price range, getting a console with your bike isn't a given- some come with simple LCD monitors, others don't come with anything.
The GR3 comes with a pretty sophisticated console, all things considered.
It lights up to visually cue you during your workouts and it displays all the crucial data you need- RPM, time, distance, speed, calories, etc.
It even comes with a handful of workout programs, including HIIT and heart rate workouts. And yes, the GR3 is compatible with Polar wireless heart rate monitors (surprising for a bike in this price range).
Overall, the 5″ LCD monitor on this bike is a little nicer than I'd expect for a bike at this price.
Warranty
Horizon offers the following warranty on the GR3:
10 year frame
1 year parts
1 year labor
I think the warranty Horizon offers here is more than fair. 10 years on the frame is really good for a $500 bike, as is a year on the parts and labor.
For the sake of comparison, many similarly priced bikes will offer a year or 2 on the frame and maybe a year on parts. Some only offer 6 months.
Overall, a nice warranty on this bike.
Final Thoughts
That about does it for the Horizon GR3. It's a pretty simple spin cycle, but for the price, I think it's gonna be hard to find a better option.
I like that it comes with such a heavy flywheel- I think this is going to go a long way in providing a smooth workout experience.
I also like the fully adjustable seat and easy to ready console- nice perks for an affordable bike like this.
The GR3 is also backed by a great warranty.
The biggest downside is the friction brake resistance system- I prefer magnetic systems, but in this price range that just isn't a realistic expectation.
Overall, I think the GR3 is a great buy. Easily one of the best spin cycles for under $500.