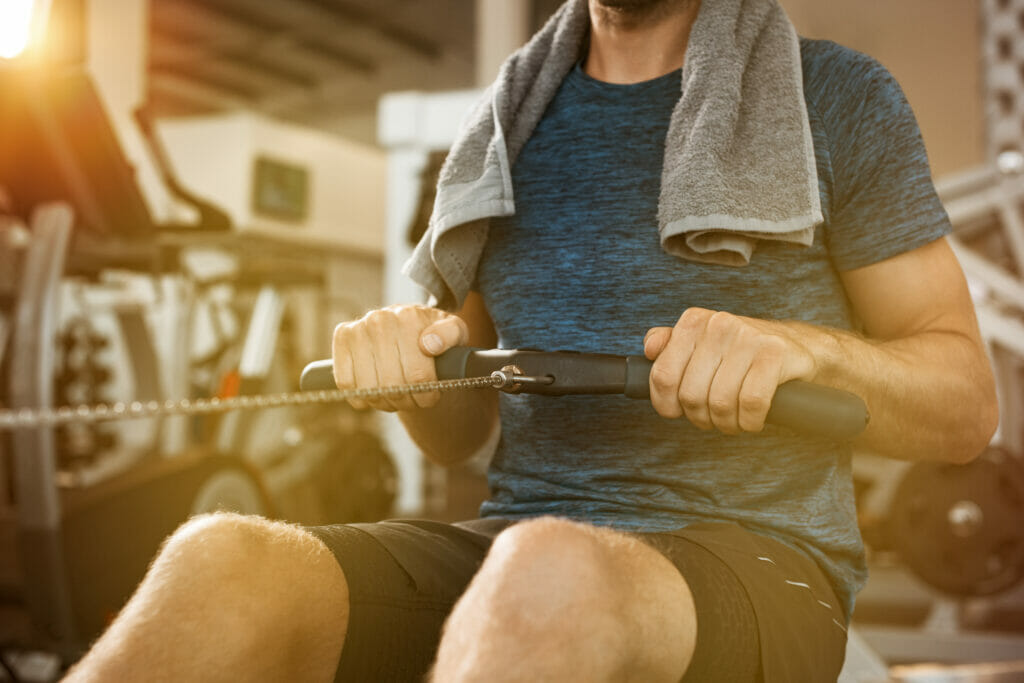 The Ergatta and The Hydrow are 2 of the newest, hottest home rowing machines on the market. Both rowers are high-end, pricey, and offer workout streaming through the use of HD, touchscreen displays.
In other words- both of these rowing machines are awesome.
But these 2 high-end rowers are very different from each other. If you ask me, these differences make it easier to choose which one (if either) is the right fit for your home gym.
But making that decision is a lot easier if you are well-informed about each.
And that's where we come in.
In this article, I'll go over the key differences between the Ergatta and The Hydrow, as well as look at the similarities they share.
After reading, you'll know everything you need to in order to decide whether or not one of these elite rowers is a smart choice for your home.
The Ergatta vs The Hydrow
When looking for your first (or next rowing machine), there are a few key specs I suggest you consider and compare when looking at different models.
If you're looking for a more in-depth description, you can check out my rowing machine guide, where I go into a lot of detail regarding this process.
But for the sake of this article, I'll be brief.
When looking at rowing machines, the key specs you should consider are:
Type of resistance
Weight capacity
Warranty
Monitor
Price
These are the 5 features or specs I'll be using to compare the Ergatta and The Hydrow.
The Ergatta
The Hydrow
Resistance System
Water
Computer-controlled, magnetic
Weight Capacity
500 lb
375 lb
Frame
Cherry wood, dual rail
Steel/aluminum, single rail
Warranty

5 year frame
3 year parts
1 year labor
5 year frame
1 year parts
1 year labor
Monitor
17.3" HD, touchscreen
22" HD, touchscreen
Workouts
Racing, game-based
Traditional, instructor-led on the water
Monthly Subscription Fee
$29/month
$38/month
Price
~$2200
~$2250
Let's start with the Ergatta.
The Ergatta
I don't think Ergatta has done a ton of marketing yet, so you may not have seen them on tv. At the time of writing this, I don't think I've seen any tv commercials for them or anything like that.
My wife actually referred me to them after she saw a social media post about the rower. I checked 'em out and liked what I was seeing.
I have a feeling we're going to be hearing a lot more about Ergatta in the near future though, because I think they've got a real winner here.
The New York City based company designed a gaming-based workout software and then made the brilliant move to outsource the manufacturing of their rowers to a little company you may've heard of before- WaterRower.
In case you haven't heard of them before, WaterRower is one of the premiere manufacturers of water rowing machines in the world.
And yes, they only create water rowers, which means the Ergatta is a water rowing machine.
This means this rower uses water to create the resistance- as you pull the handle, a flywheel with paddles attached to it spins inside a water tank; the paddles cutting through the water creates the resistance for your workouts.
This is great if you're looking to mimic the feel of rowing a boat. Another advantage of a water rower like the Ergatta, is that the harder you pull, the more resistance you feel.
Unlike magnetic rowers, you don't have to set any resistance levels on the Ergatta- simply start rowing and if you want more resistance, row faster; less resistance, do the opposite.
Like most water rowers, you can adjust the water level in the tank to change the overall feel. Adding more water, creates more overall resistance, but the intensity is still dependent on your rowing speed.
Rowers describe adjusting the water level in the tank to adding weight to your "boat". If affects the "feel" of your workout, but not exactly the intensity.
In the case of the Ergatta, you can set your water level between 13-19 as it's marked on the tank. Adding and removing water is done with a siphon.
I mentioned that Ergatta rowers are outsourced by WaterRower. They're known for their gorgeous, solid wood frames, although they do offer a few models with metal frames as well.
The Ergatta is pretty darn close to WaterRower's "Oxbridge" model, which comes with a solid, cherry wood frame.
Cherry wood is a hard wood, making it a great material to use for rowing machines. The frame on this rower is so strong in fact, that it can handle users weighing up to 500 lb.
The wood makes for a great looking rower too, of course.
When it comes to the warranty, Ergatta backs their rower with a pretty generous guarantee: 5 year frame, 3 year parts, 1 year labor.
This is par for the course when it comes to high-end home rowers, but it is a little better than the warranty provided on The Hydrow..
Which brings us to the monitor, a category that really sets Ergatta apart from the rest.
The Ergatta comes with a 17.3″ HD, touchscreen display that's used to select and view your workout programs. Having a large HD screen isn't unique these days, but the type of workouts you do on the Ergatta are.
Unlike every other streaming fitness platform, the Ergatta doesn't use instructor-led workouts. Instead, their workouts are more game-based.
The Ergatta comes with racing workouts and custom HIIT workouts that are based on your performance of the initial 2,000m calibration assessment.
You can also choose goal oriented workouts or just row casually at your own pace.
Ergatta comes with a lot of weekly/monthly group challenges as well, making it a more fun, community centered setting.
As a streaming rower, you really need to pay the monthly fee to take advantage of everything this rower has to offer. The monthly fee is $29/month, which is about $10 cheaper than The Hydrow.
The Ergatta's game-based workouts make exercising more fun than most, especially for folks that tend to get bored easily with their workout routines.
And then there's the price. At the time of writing this, the Ergatta costs roughly $2200. There's no denying that this is expensive in the world of rowers where there are tons of great options in the sub-$1000 category.
But the Ergatta is one hell of a rower.
And comparatively speaking, it's about $50 cheaper than the basic Hydrow package.
Check out my full Ergatta review for more info.
The Hydrow
The Hydrow came out before the Ergatta and there's been a lot more marketing for The Hydrow (I know I've seen it on tv and online a lot more anyway).
The Hydrow was the first rowing machine to adopt the streaming fitness game plan, just like Peloton was the first to do so for spin bikes.
Maybe this is why so many people refer to The Hydrow as the "Peloton of rowers".
But there's a lot more going on with The Hydrow than just a streaming rower. Starting with the one-of-a-kind magnetic resistance system, this rower is very advanced.
As a magnetic rower, this machine uses a magnet driven mechanism to create your resistance.
But unlike traditional magnetic rowers, The Hydrow uses a computer guided system that creates your resistance based on how hard you're rowing.
You don't set a resistance level like you do on most magnetic rowers. Instead, you choose your magnetic drag level (anywhere between 0-300) and start rowing.
And like air and water rowers, the harder you pull, the more resistance you feel.
Yeah, a magnetic rower that acts like a water rower.
But you get all the other benefits of a magnetic rower, like the silent and smooth operation. Plus you don't have to worry about adjusting water levels or keeping the water clean.
The computer guided resistance system is awesome, but I really like the one piece frame too.
If you look at the frame, you'll notice it's made out of a single piece of high-end steel/aluminum. Not only does this look sleek and modern, but it also makes for a very sturdy base.
The Hydrow is tough enough to hold users weighing up to 375 lb, which is amazing when compared to most home rowers (I say "most" because we just saw what the Ergatta can hold).
The single piece rail means The Hydrow can't fold (neither can the Ergatta by the way), but it can be stored vertically.
The warranty on this rower isn't quite as impressive as the one offered on the Ergatta. Hydrow offers a : 5 year frame, 1 year parts, 1 year labor guarantee.
This warranty isn't awful, but honestly, for the price I'd like to see a longer guarantee. Oh well, nothing is perfect.
The monitor on The Hydrow is a little larger than the one on the Ergatta and measures a solid 22″ from corner to corner. Like the Ergatta, it's HD of course as well as a touchscreen.
Users agree it looks and sounds great during use and, speaking of use, the workouts on The Hydrow are also unique in a sense. Unlike any other rowing fitness app I've seen, the Hydrow workouts take place on the water.
These are instructor-led workouts like pretty much every other streaming service, but instead of taking place in a studio, they take place on a boat in real water.
This is pretty awesome because the scenery is beautiful. And when it comes to mimicking the feel of rowing a real boat, seeing and hearing the water as the instructor leads you goes a long way.
With the monthly fee ($38/month), you get access to hundreds of on-demand and live classes to choose from, and the library is growing every week.
You can choose from classes for all skill levels and there are plenty of instructional videos to watch to get beginners started on the right foot.
So, there's really no denying that The Hydrow's resistance system and monitor are about as advanced as it gets, but what about price?
The basic Hydrow package will cost ya about the same as the Ergatta, costing roughly $2250. That cost will go up if you want a heart rate monitor, exercise mat, wireless headphones, etc.
And of course this price doesn't include the monthly streaming fee.
Check out my full Hydrow review for more info.
Final Thoughts
The Ergatta and The Hydrow are both amazing rowing machines. If you're trying to decide between the two, rest assured that there's no wrong answer here- it just depends on what kind of rower you're looking for.
I think the easiest way to choose between the two is to decide whether you want a water rower or a magnetic rower- even though The Hydrow's magnetic system is unlike traditional magnetic rowing machines.
If that's not making the decision any easier for ya, think about what kind of workouts you'd prefer.
Do you like the idea of more traditional, instructor-led workouts or does the idea of racing-style workouts sound more interesting?
People who get bored with traditional workouts should consider the Ergatta and their more game-based programs.
Otherwise, these 2 rowers are very comparable.
If you look at the price, the warranties, and the monthly subscription fees, you'll find a lot of similarities between these 2 elite rowers.
Overall, I think the Ergatta and The Hydrow are the 2 highest-tech, most advanced rowing machines currently on the market.
If I had to choose a winner (and I do because I think it's lame to have a "vs" article and end in a tie), I'm going to go with The Hydrow- mostly because I do well with instructor-led workouts and I like the idea of not having to mess with water.