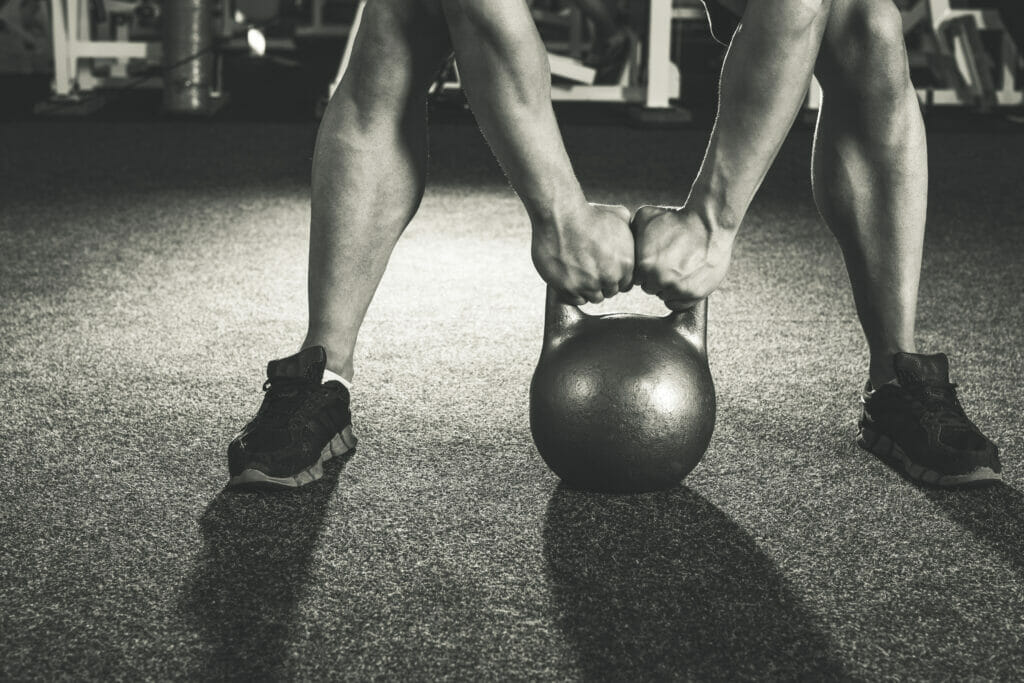 The popularity of kettlebells seem to have exploded over the last few years. I mean seriously, I feel like I see them everywhere now- and people are actually using them too.
I remember back in the day when they used to collect dust at my local Gold's, but those days are over.
And it's easy to see why.
A quality kettlebell is surprisingly versatile, allowing you to perform all kinds of strengthening and cardio moves, and it should last forever.
Plus they don't take up much space, which is always a plus for us home-gymers.
Kettlebells are awesome, but if you've started searching for some lately, you probably noticed there are a ton to choose from, which can make finding the best option a challenging process.
Luckily, I can help.
In this guide, I'll go over the top features you should consider when looking for a quality kettlebell. I'll also provide my 2 cents on which brands are the best for home use.
After reading, you'll know everything you need to in order to find the right kettlebell for your home gym.
Let's start with the good stuff first.
The 5 Best Kettlebell Brands For Home Use
#1 Rogue Fitness
I love Rogue as a brand because their equipment is built incredibly tough. No BS, no thrills, just good ol' fashioned gear that works the way it's supposed to.
Rogue's made a name for themselves for their superior squat racks, rigs, and pretty much everything else weight lifting related.
And their kettlebells stand true to Rogue's mold.
Rogue's bells are crafted from single pieces of cast iron and then powder coated in a black matte finish for a durable, attractive looking product.
Rogue carries kettlebells ranging in weight from 9 lb to 203 lb, which have a color coding as well as the weight stamped in lb and kgs for easy identification.
The handles on these bells are rounded, smooth, and large enough for comfortably performing both double and single hand moves.
My wife actually has 3 of these bad boys in our garage as we speak and she loves them.
If you're looking for a quality kettlebell from one of the best home fitness equipment brands in the business, Rogue is a great choice. They're also priced competitively compared to some of the other top brands.

#2 Kettlebell Kings
Kettlebell Kings claims a spot on this list because these bells have the perfect combination of all the features mentioned in the buyer's guide below- but they also get bonus points for their cool logo too.
These bells are crafted from single pieces of cast iron, making them nearly indestructible.
It also means you won't have to worry about the handle breaking off, as could occur with cheaper options that weld the handles on separately.
Kettlebell Kings offers bells in a wide range of weights to choose from too: 5 lb – 203 lb (and each is stamped with the weight in both lb and kg for easy identification).
Each kettlebell is powder coated in a black finish to help protect the bell from scuffs and scratches, but also to help provide a secure grip on the handle (powder coated handles work well with chalk too, fyi).
They offer both traditional and competition kettlebells to choose from and every one is backed with a lifetime guarantee.
And better yet, they offer free shipping, which is a huge perk for anyone that's ordered weights before.
Overall, if you're looking for one of the best home kettlebells around, Kettlebell Kings is a smart place to start.

#3 Onnit
If you're like me, you've probably never heard of Onnit before. But that's ok, I heard it's important to learn something new everyday, so here ya go.
Onnit is an interesting brand because they offer a pretty limited selection of fitness products to choose from, but they also offer a small sampling of nutritional supplements and clothing as well.
They have a few battle ropes, clubs, and maces (yes, fitness maces is a thing apparently) to choose from, but I get the impression it's their kettlebells that are the real star of the show.
Onnit has the traditional cast iron kettlebells to choose from, which are great and powder coated, and all that jazz, but if I'm being completely honest, it's their more unique options that landed them on this list.
These guys offer kettlebells in several different fun shapes, including several different monkey faces, famous monsters (like a werewolf and a cyclops), and even a Bigfoot!
(I think they used to have Storm Trooper and Darth Vader options too, but I couldn't find them while writing this… I hope they haven't been discontinued!)
Their traditional kettlebells range from 13 lb to 70 lb, but their primal bells go all the way up to 90 lb (Bigfoot).
Gimmicks aside, all of Onnit's kettlebells come with high-end, large handles that will feel comfortable to use with either one hand or 2.
Overall, if you're looking to take your kettlebell workout to the next level and get "primal", you gotta check out Onnit.

#4 Amazon Basics
Yeah, I know, there's nothing cool or sexy about these kettlebells whatsoever, but they're affordable and they'll work just fine for the majority of home users.
True, professional or elite lifters should probably go with a higher-end brand, but most of us don't fall into those categories.
The Amazon Basics brand kettlebells are also made out of solid cast iron and they come with wide handles that can be used for any single or double hand move you can think of.
The bells come in a black finish, nothing too fancy going on either, just the weight in lbs stamped on the side.
Speaking of weight, Amazon only offers these ranging in weight between 10 – 60 lb, so if you're looking for heavier weights, you'll have to go with another brand.
But for those simply looking for a lighter kettlebell that won't break the budget, this is a smart option.
Just keep in mind these are budget kettlebells, so the quality control isn't always the best- some folks have complained about rough handles.
But overall, these affordable kettlebells are highly rated by users.

#5 CAP Barbell
CAP is another no-thrills brand that you'll find through sites like Wal-Mart and Amazon, but their products are quite durable for the price you pay.
They have a fairly limited selection of fitness accessories to choose from, like benches, plates, bars, etc.
I actually have a CAP weight bench in my attic that I've been using for over 5 years now and it works great.
Anyway, their kettlebells are very similar to Amazon's in that there's nothing particularly fun or exciting about them, but they're durable and comfortable to use.
These bells are also made out of solid cast iron, so there aren't any welds or weak areas where the handle could get damaged.
The handles are smooth, rounded, and designed to be wide enough for single or double gripped exercises.
CAP offers a slightly larger weight range to choose from than Amazon. With these, you can get anywhere between 10 – 80 lb, although they only come in 10 lb increments after 50 lb.
The biggest downside is that there really isn't a warranty (30 days maybe?), but that's what you get from a more affordable brand.

Kettlebells 101
If you've found you way to this article, I'm assuming you already know what a kettlebell is, so we can skip that discussion all together.
So, instead of boring you with the definition of a kettlebell, let's skip right to the good stuff- the features you should consider when searching for one.
Shape
Kettlebells come in a variety of shapes. It's true, they all have the same bell-shaped design, but there are a lot of variations within that same design plan.
Some are round, some are square, some are shaped like gorillas, Bigfoot (do you capitalize his name?), or even Storm Troopers.
You can have some fun with the shape of the bell, but it's more important to consider the shape of the handle.
Traditional kettlebells have wider handles to allow for 2 handed exercises, while competition kettlebells have narrower handles designed for single hand moves.
Speaking of competition kettlebells, I also recently learned that these bells are all the same size, regardless of the weight (which makes your movement pattern the same regardless of the weight you're lifting).
This is unlike the traditional kettlebells that keep larger as you go up in weight.
When searching for a kettlebell, you should think about whether or not you want the ability to do both single and double hand exercises.
If you do, you should go with a bell with a wider handle.
Size
By size, I mean weight.
Different kettlebell brands will offer different weight selections to choose from.
This won't be that big of an issue for most of us mere mortals, but for you power lifters out there looking for 100 – 200 lb kettlebells (yes, there are 200 lb kettlebells… I know, crazy), you'll have to find a brand that offers these.
Most brands will offer the common weights, ranging upwards of 70 lb or so, but not all with offer the really heavy ones.
A lot of bells will come with markings indicating the weight in both pounds and kilograms as well.
Material
When most of us picture a kettlebell, I imagine we think of the traditional black, cast iron bell we've all seen, but nowadays you can find kettlebells made out of all kinds of things.
If you ask me, the single piece cast iron kettlebell is still the best because it's all one solid hunk of metal- meaning you don't have to worry about the handle breaking off.
A lot of the trendier kettlebells will come with rubber coatings or vinyl coverings on the handle, but I recommend avoiding these because those vinyl handles can get slippery when your hands get sweaty.
And the last thing anybody wants is a rogue kettlebell flying through a wall.
Speaking of handles, the handle should be smooth and free of any sharp angles or points that could injury your hand with repeated use.
Most nice kettlebell handles will also have a little texture to help you keep a firm grip.
If for some reason you don't want a cast iron kettlebell, you can find ones made out of kevlar, plastic, or soft fabrics if you prefer.
Warranty
You might not think this would be an issue with a kettlebell, but I think it's a good idea to consider the warranty before purchasing too.
It's true, a quality kettlebell should have very little chance of breaking down, but there are a lot of lower quality ones out there.
And looking at the warranty can give ya an idea as to the quality of the product.
Quality kettlebells should come with a lifetime guarantee, although that isn't always the case.
Again, you shouldn't be able to destroy a quality kettlebell even if you tried, so I wouldn't worry too much about this one, but again, something to keep in mind.