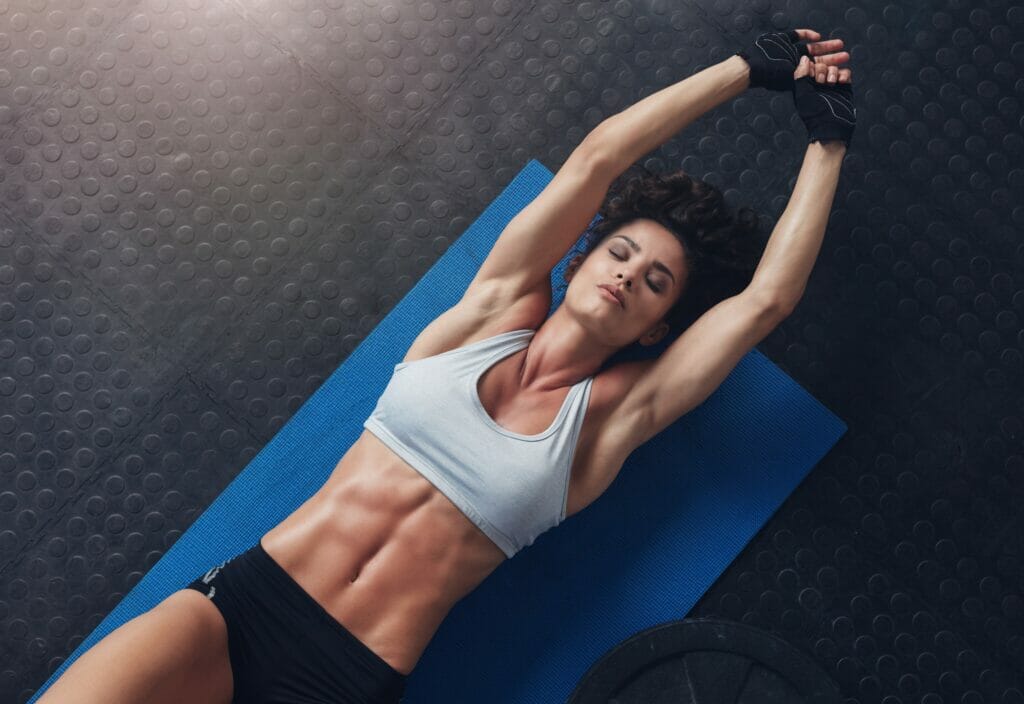 What do you get when you combine a Swiss ball with an aerobic step? A versatile, core crushing piece of fitness equipment known as the Terra-Core.
With an inflatable top surface that can act as a step or a bench and 2 different sets of handles on the underside, there isn't much you can't do with this device.
And with that inflatable surface forcing your core and stabilizing muscles to encage with any move you attempt, the Terra-Core instantly ups the ante on any workout routine.
I was lucky enough to get my hands on one of these bad boys to try out for a review and I have to say I was pleasantly surprised- this thing really works.
But I'm getting ahead of myself.
In this review, I'll go over everything you should know about the Terra-Core from a hands on perspective.
After reading, you'll know whether or not this is the right addition to your home gym.
Disclaimer: the good people at Terra-Core Fitness were kind enough to send me a Terra-Core trainer to try out for this review. I wasn't compensated in any other way and this review is based solely on my personal experience with this device.
The Terra-Core
If I'm being completely honest, I'd never heard of the Terra-Core before their reps reached out to me for a review, although I understand they were on Shark Tank a few years ago (and landed a deal with Lori).
I love that show.
Anyway, I checked it out online and thought it looked interesting, so I agreed to review it and they were awesome enough to send me one to try out.
I got the gist of what the Terra-Core could do from checking it out on their website, but what really surprised me was how heavy-duty this thing is.
At 28 lb, it's heavy enough to act as a stand alone weight, but it also feels stable and secure when stepping/jumping on it.
The inflatable rubber top surface is also thick and comes with a weight capacity of over 1000 lb, which is nuts – I think they have a video of them literally driving a car over it and it not popping.
My point is the Terra-Core isn't a cheap, low-end device that'll likely disappear after a few years like so many fads.
It's a heavy-duty, well-designed fitness tool that I expect to be highly successful, much like the TRX. That said, mine currently has a hole in it…but more on that later.
I want to go over all the features and specs the Terra-Core has to offer first, and then I'll jump back into my experience with it some more toward the end.
At the time of writing this, the Terra-Core costs $199 for the trainer alone, but they also offer packages that include resistance bands for added cost.
Pros
Very versatile
Perform 100's of exercises
Great for working core/stabilizing muscles
Heavy-duty rubber surface
Heavy-duty base
2 sets of handles on base
Access to fitness app
Notches for resistance bands
Air pump included
Exercise chart
No assembly required
Amazing warranty
Cons
Fairly limited workout selection on app
App a bit expensive
Features
Ok, so the star of the show on the Terra-Core is the inflatable top surface. Being inflatable, it isn't nearly as solid as say, a normal bench or step- but that's the point.
The inherent instability of this surface is what makes you work so much harder.
Since the surface doesn't provide the stability, your body will have to.
This means that your core and all the other stabilizing muscles will have to turn on in order for you to successfully complete exercises on the Terra-Core.
For example, if you're doing a step up on the Terra-Core, not only are the muscles around your ankles going to work like crazy to keep your balance, but your quads and hamstrings are going to have to work harder as well.
I mentioned the Swiss ball at the beginning, but what this really reminds me of is a Bosu ball- if you're not familiar with these, it's basically a Swiss ball cut in half, with a base at the bottom.
We use these all the time in therapy for balance training and stabilization exercises.
And the Terra-Core works under the same principles.
Something else that's nice is that you can make the Terra-Core easier or harder to use depending on how much air you put in it.
More air = firmer surface = easier.
Less air = softer surface = harder.
The hand held air pump is included and they also provide a little tape measure so you can gauge how much air you're putting in (they recommend starting off with it inflated to a measurement of 21 – 22″).
The pump works, but it takes a lot of pumping to get the Terra-Core fully inflated for that first use.
The inflatable top surface is great, but I actually think it's the base of the Terra-Core that makes it different than say, a Bosu ball or any other balance trainer.
On the underside there are 2 separate sets of handles- a short pair oriented lengthwise with the Terra-Core that work great for push ups and a longer pair on the outside that work well for narrow-grip push ups.
The inclusion of these handles make it very comfortable to turn the Terra-Core upside down and knock out those push ups, but you can also use them to perform moves like bent over rows and standing shoulder presses.
And yes, at 28 lb, the Terra-Core is heavy enough to give you some resistance with its weight alone.
You might miss the last feature on this device (I know I did), but there are little rungs going along the sides of the bottom of the base.
I thought they were decorative (I'll admit they do add to the coolness factor), but they're actually designed to hold resistance bands.
With these band holds, you can do all kinds of moves without having to worry about your resistance bands sliding off.
You could stand on the Terra-Core and do moves like bicep curls, shoulder flys, shoulder presses, but you could also lie on the Terra-Core (using it as a bench) and do moves like chest press and skull crushers.
The Terra-Core also comes with a workout poster that shows you 50 or so of the exercises you can do with it.
This is helpful, but I would estimate that you could easily do 100's of moves with this device- pretty much any exercise you can think of can be adapted with the Terra-Core.
In terms of features, that's really about it.
This is a simple device, but I found it well-built and comfortable to use.
Again, what surprised me most is how heavy and durable it feels. I haven't had any issues with it sliding on me while exercising or it feeling like it's gonna break apart on me.
I'm 200 lb and I've done jump squats on this bad boy without any issues (except for the soreness in my legs the following day).
Overall though, the Terra-Core scores highly when it comes to the quality of build. The rubber top is thick and the base is heavy-duty. The handles are also comfortable to use.
App
It seems like everything comes with an app these days – I guess that's just the way it is.
Well, the Terra-Core also comes with their own home fitness app, which is optional to sign-up for, but you get a free 14 day trial with purchase.
After that, it costs about $20/month or $150/year.
I went ahead and signed up for it so I could test the app out too and I found it very user friendly.
The app gives you access to instructor-led workouts and the workouts are divided into different categories (HIIT, lower body, endurance, etc), as well as by difficulty level and duration.
I did a couple of the HIIT workouts and found them to be quite challenging (they were considered "intermediate" I believe).
The production value on the workouts is quite good, as are the instructors. After 30 min, I was drenched in sweat and ready for it to be over.
The Terra-Core definitely makes exercises more challenging, but I have to admit it can make them a little more interesting too- there's nothing boring about the Terra-Core.
The only complaint I have about the app is that there aren't that many workouts to choose from yet (compared to iFit and Peloton and all the other top fitness apps).
At the time of writing this, there were probably 70 – 80 workouts available.
I have to assume Terra-Core will continue to add new material, but I think the streaming fee is a little high if that's all we've got to select from at the moment (especially the monthly rate).
But again, it's nice that you get to try the app out for 14 days to see whether it's worth keeping or not.
Overall, I found the Terra-Core app to be well-done and easy to use. And the workouts/instructors are impressive.
Warranty
The Terra-Core comes with the following residential warranty:
Yeah, I know – an unconditional lifetime guarantee, that's impressive.
Terra-Core will repair or replace your trainer if something malfunctions. I think this even includes accidental stuff, like if a pet bites it or scratches it, or something that isn't just a manufacturer defect.
A lifetime guarantee is great for any product, but it's especially generous for a $200 device.
For the sake of comparison, the Bosu ball I've mentioned a few times only comes with a 1 year (limited) warranty (and costs about the same).
Final Thoughts
Ok, that about does it for the Terra-Core trainer itself. Now I want to talk a little more about my experience with it.
I've used Swiss balls and Bosu balls in the past, so I knew what to expect before I got the Terra-Core.
As a balance trainer, it works just as I expected and much like the Bosu- although I have to say, the longer, more rectangular shape of it makes it a lot more comfortable to do squats and standard push ups.
The longer shape also allows it to work well as a bench.
Lying on the Terra-Core makes crunches very comfortable and it adds a nice twist to chest presses.
I like the versatility of exercises it provides and all the step ups and squats are great, but my favorite moves so far have been using it for push ups and varying core exercises.
The Terra-Core makes for a very comfortable way to do planks and side planks, and of course the unstable surface makes them more challenging too.
A brutal move that I love/hate from one of the workouts I did was a mountain climber with the Terra-Core turned upside down (hands on the Terra-Core)- talk about crushing your core.
Oh, I don't think I mentioned it above, but you can turn it upside down and stand on the base for even more challenge, but that's definitely not a beginning move.
Overall, my experience with the Terra-Core has been very positive. The quality of this trainer is high and the exercises/workouts are effective.
But I should probably talk a little more about that hole in mine…
So, after a few uses, I came home to find that there was a puncture mark in the top of the inflatable surface. It was in the garage at this time, because we often use the garage for exercise when it's nice outside.
There was no hole in it after my last workout.
But my kids had been playing in the garage since my last workout and now all of a sudden, there's a hole.
This is also around the same time I started pulling all of our Halloween decorations down (we have A LOT) and I know my kids were playing with this inappropriately sharp foam axe thing.
Now, I can't prove anything, but I wouldn't be surprised if, in a fit of passion, one of my kids decided it would be a good idea to chop my Terra-Core with the deadly Halloween battle axe…
The lab results were inconclusive and there aren't any eye witnesses, so the case is going cold, but I still have my suspicions.
So, there we are.
My Terra-Core malfunctioned after a few uses, but there's a good chance it was assassinated by an axe-wielding juvenile.
Either way, I'm confident Terra-Core would take care of it for me under that unconditional lifetime warranty.