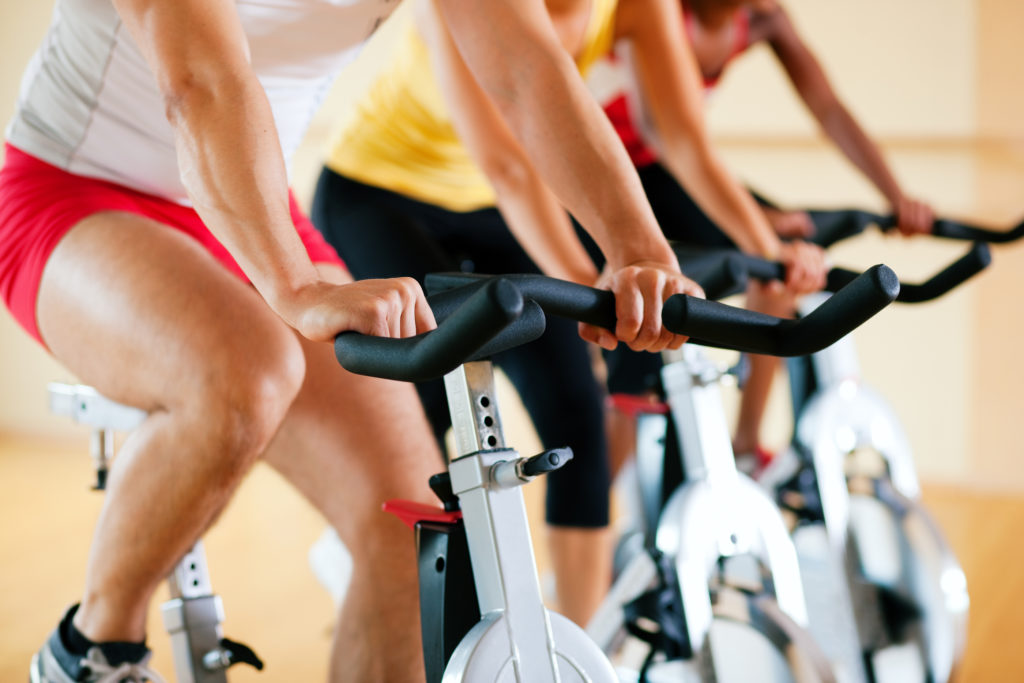 If you're on the hunt for an awesome exercise bike that won't crush your budget, you might want to check out Sunny Health & Fitness's SF-B1805 Indoor Cycle Bike. 
The SF-B1805 operates with magnetic resistance, so you can expect a whisper-quiet performance and maintenance-free benefits (because there are no brake pads to think about or replace).
It also features a massive 44 lb flywheel as well as a full adjustable seat and handlebars. 
Specs-wise, the SF-B1805 has a lot to offer in this price range.
But it's not perfect.
Some users will likely be disappointed at the fact that this bike doesn't come with a console.
Although the SF-B1805 is one of Sunny's more expensive bikes (at roughly $600), it's still very budget friendly when compared to other home spin bikes.
So the real question is whether or not the SF-B1805 is worth buying.
And that's exactly what we aim to answer for you within this article. In this review, we'll go over everything this bike has to offer. After reading, you'll be able to make an educated decision regarding it's worth.
Alrighty, off we go.
The Sunny Health & Fitness SF-B1805 Magnetic Indoor Cycling Bike
The Sunny Health & Fitness (SHF) brand has become very popular, especially amongst the Amazon crowd. When it comes to low-cost fitness equipment, they've become one of the biggest names in the game.
Their machines get overwhelmingly positive reviews from users year after year. They offer the usual fitness machines, like treadmills, bikes, ellipticals, rowers, steppers, and other accessories.
One of the most attractive traits of SHF is of course its low-cost offerings. They're easily tagged as the 'best value' brand in the market, and it shows. 
SHF is a top option for those who are shopping on a budget but don't want to skimp in the quality department- you know, for the people who want to have their cake and eat it to (don't we all?). 
Anyway, SHF has a ton of exercise bikes to choose from and you have to pay close attention to find the differences between them.
It doesn't help that they name all of their products with these numerical codes that tell us little about the products themselves. Their bikes will vary model to model, based mostly on subtle difference within their specs.
That said, I think SHF has some of the best budget exercises bikes on the market.
Let's see if their SF-B1805 lives up to their reputation.
Pros
44 lb flywheel

300 lb max user weight capacity

Belt-drive, magnetic resistance system 

Micro-adjustable resistance

4-way adjustable seat and handlebars

Large, contoured, and cushioned seat

Non-slip handlebars

Tablet holder

Bottle holder

Affordable
Cons
Can't check your resistance level

No console to track your workout metrics

No pulse monitoring
Flywheel
Let's begin with the flywheel department. The flywheel is the big round disc that spins as you pedal, giving you your resistance during your ride.
The SF-B1805 runs on a heavy-duty, 44 lb flywheel. This is very heavy, which is a good thing. Heavier flywheels are more preferred because they create more momentum as they spin (which tends to provide a better, smoother feel).
How heavy is heavy enough?
It's a good practice to aim for at least 20 lb. It's the safest bet to ensure a smooth ride and to make sure the bike can provide enough overall resistance for a challenging workout.
Spinning a 44 lb flywheel is best for high-intensity cardio training. So, if you're planning on torching those extra calories, the SF-B1805 definitely has enough muscle under the hood to get the job done.
The bike is also belt-driven, which allows it to runs silently and consistently. There will still be some noise, which some users describe as a humming sound.
Its magnetic resistance also helps in creating a natural riding experience similar to outdoor bikes. The magnets don't touch the massive flywheel so there's no rubbing noise or wear of the pads.
This keeps maintenance at a minimum, but also helps keep the noise level down during use.
The SF-B1805 has kept its flywheel exposed. You can clearly see the flywheel and magnetic resistance at work. This may appeal to some, but I prefer a covered flywheel personally (so corrosions from sweat drippings won't be an issue).
You need to deliberately check the flywheel and give it a good wipe down after strenuous workouts, but that should be a given for any spin cycle. 
The SF-B1805 does have a micro-adjustable resistance that you can easily modify by turning a knob. This is great because it gives you a lot of range to play with in terms of your workout intensity.
But there's no way to tell what resistance "level" you're on (no console), making it difficult to duplicate resistance settings.
With this machine, you need to have a feel for it to estimate the resistance you're getting. 
Unless you're an experienced cyclist, you may find this to be a bit of a bummer. But it's actually pretty common for budget spin cycles  (although more and more brands are coming out with app-friendly bikes, like Bowflex's C6).
Overall, the SF-B1805 scores highly with a very heavy flywheel. The micro-adjustable magnetic resistance is great, but it would be nice to have way to keep track of what resistance level you're on.
Seat
The seat is often a problem in indoor bikes as they're usually pretty uncomfortable. But Sunny may have come up with a better solution with their SF-B1805.
They haven't completely obliterated the seat discomfort issue, but this bike does have very few complaints from users. There's progress, indeed.
The seat is contoured and padded for extra comfort (with dimensions of 10″L x 8″W x 3″H). However, I'd still like to take this seat review with a grain of salt as the level of comfort can be something personal.
Some may find it comfortable, while others need to get used to the seat. 
Either way, you can easily swap the seat out for an upgraded one if comfort is really that much of an issue. You can always purchase a cheap gel seat cover as well.
Comfort aside, what really counts is that the SF-B1805 comes with a fully-adjustable seat. This means you can adjust the height and the horizontal position (fore/aft) independently of each other.
People with heights ranging from 5'2″ to 6'2″ should be able to use this bike comfortably. But bikes are designed with leg length in mind, so it's wiser to measure your inseam (from the top of your inner thigh to the bottom of your foot). 
SHF recommends their bike for people with an inseam ranging 28″ to 38″. So, even if you're over 6'2″, you can still use the SF-B1805 if your leg length fits within the range. 
Otherwise, you may not get a proper leg extension, causing you to slightly bend (for longer legs) or overstretch (for shorter legs). Either can strain your muscles and give a not-so-effective workout.
Overall, few users have complained about the comfort level of the seat on this bike. The seat is fully-adjustable, which is great because it makes it easier to find the perfect fit.
Handlebars
The handlebars offer a comfortable grip. They're about 2″ thick and a good size for most.
They're sweat-resistant to prevent your hands from slipping when they get sweaty. They give you plenty of options to position your hand and changing your grips.
Like the seat, the handlebars can also be adjusted backwards/forwards and up/down. Finding the right fit can improve the quality and effectiveness of your routine and reduce strain.
Overall, I like the non-slip, adjustable handlebars of the SF-B1805. You can find your most comfortable grip position no matter how serious your workout gets.
Frame
In terms of sturdiness, there's no denying that the SF-B1805 is robust. You can easily tell from its heavy-duty steel frame and stabilizer bars. It has a good solid base for any of your high-intensity workouts.
It can support users of up to 300 lb. It's average at this price point, but higher weight limits would be ideal as the machine would be sturdier and many people can use it.
Nevertheless, users say that the SF-B1805 doesn't wobble. It remains still whether you're transitioning to a higher intensity or moving out of the seat.
This is good because you won't be distracted or feel concerned about the wobbly bike. However, some say that the bike may shake a little when pedaling while standing. 
The SF-B1805 can be used on uneven floorings as its 4 levelers can help balance the bike and prevent it from rocking during use.
Overall, the SF-B1805 seems robust and durable and you'll likely keep your focus pedaling and not on any unnecessary shaking or rocking.
Features
The SF-B1805 is simple with no electronic display or really any other extra features whatsoever. 
It does have a tablet holder to watch fitness workouts online or to enjoy Netflix. It also has a bottle holder to make hydration easier. 
The steel pedals have adjustable straps. You can slip your feet into the cages and adjust the strap to secure your platform during cycling, preventing slipping and moving.
It would've been better if it comes with a console to help track your progress metrics in real-time. A pulse monitoring could be beneficial as well, especially when you're monitoring your cardio health.
Overall, the SF-B1805 is a very simple bike. The extras may be a personal preference, and they often cost more. 
Assembly
The SF-B1805 comes partly assembled, weighing about 140 lb. It's a heavy package and this can be an issue when moving it and getting everything out of the packing.
The assembly is pretty straightforward. You have to install the seat, handlebars, pedals, and stabilizer bars to the pre-assembled drive and frame. The tools and instructions are provided on the package.
The guide isn't the clearest, but the process itself is pretty straightforward. Most folks were able to complete it in an hour. 
SHF recommends 2 people to get this bike assembled. Given the weight of this bike, that's probably a good idea. Adding the stabilizer to the frame could be really challenging when you're all on your own.
Warranty
Sunny Health & Fitness protects their SF-B1805 with 3 years on the frame and 180 days on other parts and components.
I've seen better warranties at this price point. It would be nice to see a lifetime guarantee on the frame and at least a year or 2 on parts.
The warranty department is definitely an area where SHF could be improved.
Final Thoughts
I'm a fan of SHF and I especially like their budget spin bikes- they tend to put heavier-than-usual flywheels on them. And this spin cycle is no exception.
Overall, I think the SF-B1805 has a lot to offer. I like that it comes with a massive flywheel and that it has such a heavy-duty frame- both of which are necessary for intense workouts.
I also like that it comes with a fully adjustable seat and fully adjustable handlebars.
The magnetic resistance system is a plus, but it would be nice if it came with a small console to let you know what resistance level you're on.
The warranty could also be longer, but given the price point, it's not awful.
All things considered, if you're looking for a budget friendly spin cycle that can handle intense workouts, the SF-B1805 is a good choice. Recommended.