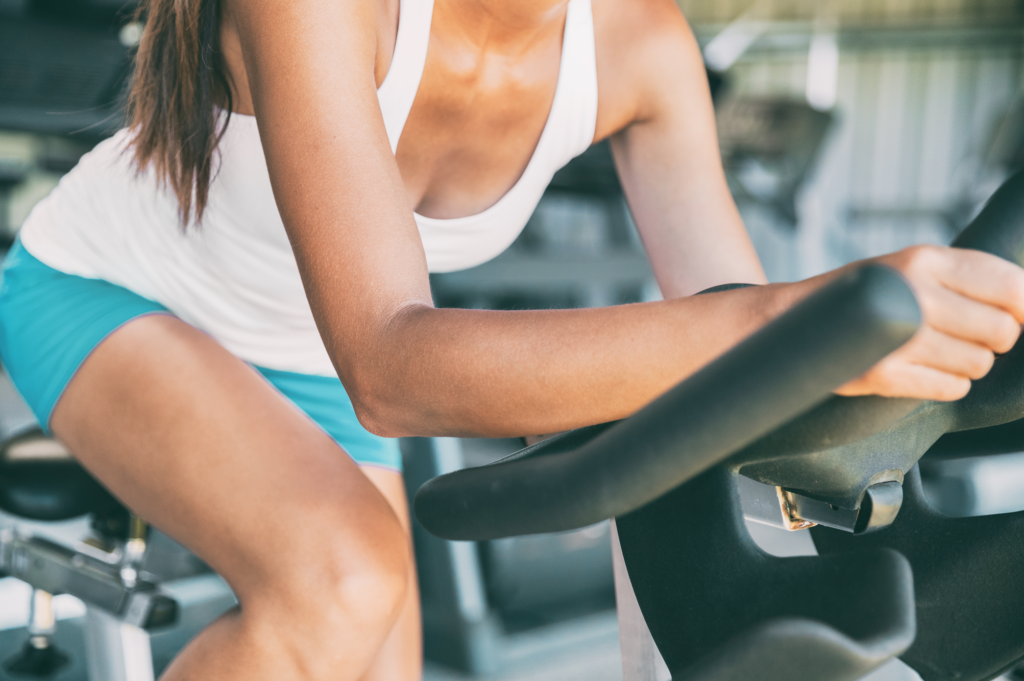 ProForm's 8.0 EX is a traditional upright bike that offers impressive specs at a bargain price. It has enough muscle under the hood to give you as much workout as you can handle and comes with a great selection of workouts to choose from.
Although it's great for beginners, it can also challenge more talented athletes as well.
Highlights of the 8.0 EX include a 16 lb flywheel, 25 resistance levels, a fully adjustable seat, and a tiltable console.
Full retail price on this model will run ya $799, (which isn't awful), but luckily you should be able to find it on sale for roughly half that price. 
But is the 8.0 EX a smart buy?
Long-st0ry-short: yes (at the sale price anyway).
But for all the juicy details, you'll have to keep reading. In this review, I'll go over everything you need to know about this machine. After finishing, you should know whether or not this is the right bike for your home gym.
The ProForm 8.0 EX Upright Bike
ProForm is a popular fitness brand. You might've come across the name during your research if you've been looking for fitness equipment for any length of time.
It's easy to spot a ProForm machine because of its fancy features. Their units are mostly feature-rich, especially if you'll look into their newest models. You get large, touchscreen displays and many other interesting highlights to make every exercise enjoyable.
So if you're into high-tech stuff, ProForm could easily make it into your list.
But ProForm is not just about aesthetics and amenities. Their machines are sturdy and functional too. They also offer one of the best and longest warranties in the market.
All of their units are reasonably priced, and I bet that's what makes them a good choice for your home gym. 
ProForm is probably most well-known for their home treadmills, but their exercise bikes are just as impressive. Now, let's take a closer look at their 8.0 EX, one of ProForm's only upright bike options.
Pros:
Solid, heavy-duty frame

300 lb weight capacity

Ergonomic and adjustable seat

16 lb flywheel

25 resistance levels

30 workout programs

Tiltable console

iFit-compatible

5" backlit display

Quick touch buttons

Pulse grip sensors

Bluetooth chest strap compatible
Cons:
Stationary handlebars

No lifetime warranty on frame
Flywheel
Let's start this review with what I believe should be prioritized when looking at exercise bikes.
Flywheels relate directly to your overall comfort and experience during a workout. By the way, they're the part that spins as you pedal. 
Heavier is better for a couple of reasons. First of all, they offer more overall resistance. Think about it – the heavier the flywheel, the harder it's going to be to get it moving.
Heavier flywheels are a good idea for folks looking for more intense workouts from their bikes.
Also, a heavy flywheel is advantageous because it builds more momentum as it spins. The momentum helps the wheel continuing spinning between your pedal strokes and makes for a smoother feel during use. 
The 8.0 EX comes with a 16 lb inertia-enhanced flywheel, which is pretty respectable for an upright bike in this price category.
For comparison's sake, most home models usually carry a 10 to 20 lb flywheel (with cheaper models falling on the bottoms of that range).
As the 8.0 EX comes with a heavy flywheel, it offers a smooth and substantial workout. 
Combine that with its 25 levels of magnetic resistance to play with and it looks like the 8.0 EX has more than enough muscle to provide a tough routine. 
This gives you a lot of control over the intensity of your workouts. You'll be able to fine-tune how hard you work depending on the type of workout you're performing. 
The magnetic resistance system also makes for a really quiet operation, which is always nice, especially if you find yourself working when family members may be sleeping.
Overall, the 8.0 EX does a good job when it comes to the flywheel department.
Seat
Many exercise bikes have saddles designed to mimic the feel of outdoor riding. In spin bikes, their seats are narrower with less padding (which really mimic road bikes). Upright bikes come with seats that area little larger and more comfortable. 
So between upright and spin bikes, upright bikes score highly for me when it comes to seat comfort.
Additionally, both bikes don't come with a backrest. If you want some lumbar support, you may be better off with a recumbent bike.
When comparing upright bike seats, check if it's fully adjustable. A fully adjustable seat lets you customize and find your right fit and positioning. By "fully adjustable", it means it can be adjusted both vertically and horizontally (fore/aft).
The 8.0 EX comes with a fully adjustable, oversized, and cushioned seat. If you do decide on getting this bike for your home gym, comfort shouldn't be an issue.
Overall, I like that the 8.0 EX has a fully adjustable seat. 
Handlebars
A good handlebar should offer multiple grips. It gives you plenty of options to position your hands as you exercise. You can change your grip for comfort depending on the workout.
For example, if you're working at higher resistance levels, you'll most likely want to grab the handles in the farthest position from you. Multi-grip handlebars are very crucial in spin bikes as they're for high-intensity workouts.
Adjustable handlebars are also a nice perk because you can have more options to fine-tune your fit a little more.
The 8.0 EX has a standard handlebar with EKG pulse grip sensors. It's not adjustable; it's stationary.
Nevertheless, users of the 8.0 EX don't seem to complain when it comes to the handlebars. They're comfortable and padded, which is a plus.
Frame
Frame integrity is important because if a bike's frame is weak and flimsy, you won't feel safe and stable as you exercise. The last thing anyone wants is to experience unwanted shaking or rocking during a workout.
It can be tough to determine how tough a frame is without trying the bike out first. But one of the most objective ways to do this is to look at the weight capacity.
Even if you're on a budget, you need to make sure that the bike can safely accommodate you. It shouldn't wobble or move when riding, especially during higher intensity routines.
The idea is to look for a higher weight limit. Bike's with higher weight capacities, should (theoretically anyway) be tougher and more stable.
Looking at this simple spec can tell you a lot about the quality of the frame and bike itself. 
The 8.0 EX has a maximum user weight capacity of 300 lb. This is a common weight capacity for home fitness equipment (well, quality equipment anyway) and it's high enough to accommodate most users safely. 
When in doubt, always go with the bike with the higher weight capacity. That said, the 8.0 EX has a weight limit high enough to satisfy most folks.
Features
The ProForm 8.0 EX comes with the following features:
Tilting console: You can adjust the console angle to improve the visibility of the screen. It comes with touch keys you can press to change your resistance levels, programs, and other buttons to conveniently operate the machine.
5" backlit display: It's decent and allows you to see all your workout data like mileage, speed, calorie burn, heart rate, and time add up. It has a backlight for easy reading.
30 on-board workouts: Having a library of workout programs is good because it offers a lot of workout variety. You can exercise for a month with the 8.0 EX without repeating the same routine. It's a great alternative in case you don't want to pay for the iFit subscription.
iFit-compatible: You can connect your iFit app with this exercise bike via Bluetooth and start enjoying its unlimited interactive fitness programs. You can sync your progress data and choose from its multitude of training options. By the way, ProForm and iFit are both owned by Icon Health and Fitness. 
Extra-wide pedals: They're extra-wide for a more comfortable and safe riding experience, plus they have straps for some good feet-grip at high speeds.
Dual 2" speakers: You can listen to your smartphone or mp3 player through the console on the built-in speakers. It's also Bluetooth-ready for some wireless music experience.
Coolaire fan: There's a cooling fan to keep you comfortable during your strenuous routines.
Water bottle holder: Always handy to help keep you well-hydrated as you exercise.
Tablet holder: It's located right about the console display. You can watch Netflix or check your social media while working out.
Assembly
The 8.0 EX comes with a pretty straightforward assembly guide. There are written instructions for each step as well as pretty clearly labeled images to help you figure out where everything goes.
That said, there are several steps to get this bike up and running. After you remove everything from the box, you'll have to attach the stabilizers to the frame, as well as add the mast, the console, seat, pedals, and handlebars.
Luckily, the bike is pretty compact and easy to move, so most folks will probably be able to complete this task solo.
I'd expect most people to be able to complete assembly in an hour or so.
Overall, assembly on this one isn't too bad. 
Warranty
ProForm backs their 8.0 EX with the following warranties:
Frame: 10 years

Parts:  1 year

Labor: 1 year
I'd like to see a lifetime warranty for the frame, but overall, it's still a decent warranty offering for this price range (again, I like this bike A LOT better at the sale price).
A year on parts is ok and a year on labor is pretty standard. If we're comparing this to bikes in the $400 range, then this is a pretty great warranty.
If we're comparing it to other bikes in the $800 range, then there are certainly better warranties out there (like Sole's B94 which comes with lifetime on the frame and 3 years on parts).
Overall though, ProForm is known for offering generous warranties, which definitely helps add confidence when purchasing. The guarantee on this bike is pretty solid.
Final Thoughts
When you take a look at all the key factors that make a good upright bike, I think it's pretty clear that the 8.0 EX has a lot to offer.
I'm most impressed by the heavy flywheel, amount of resistance levels, and the library of built-in programs that all come standard on this bike.
It would've earned a perfect mark from me if it came with a longer warranty and adjustable handlebars.
Nevertheless, the 8.0 EX is a solid upright bike that can deliver intense workouts. It can challenge both new and seasoned trainees alike. That said, I like it a lot better at $400 than I do at $800 (obviously).
At the sale price, this bike is hard to beat.
For more ideas, check out our upright exercise bike guide.