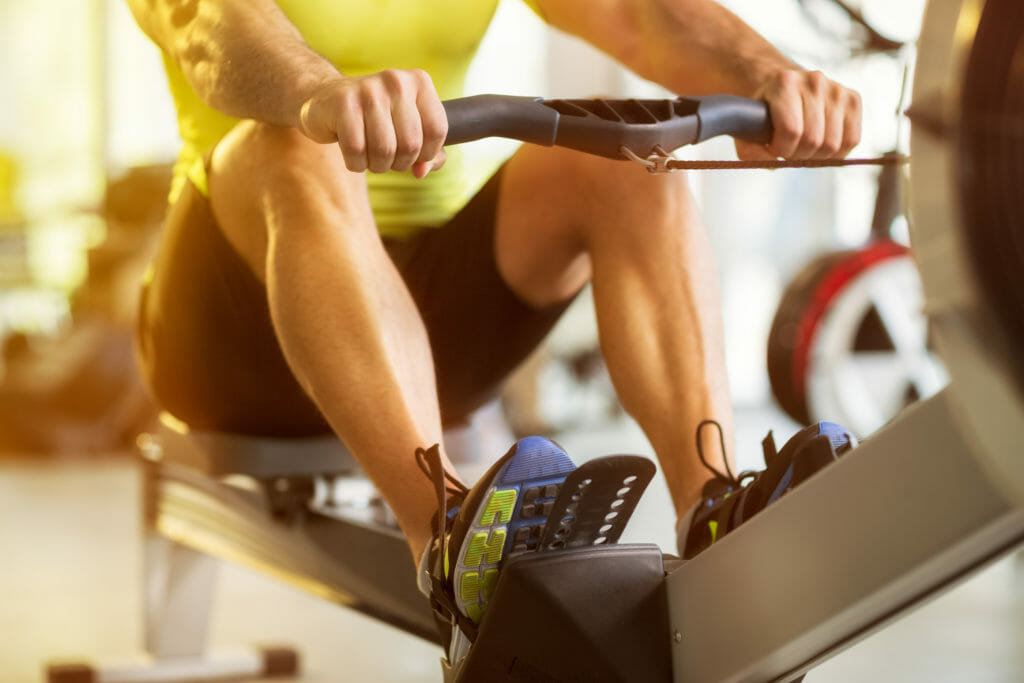 The 550R is one of ProForm's rowing machines. It operates with an air resistance mechanism and some decent specs deemed ideal for beginners and intermediate-level users.
Performance-wise, the 550R is quite smooth and offers a natural rowing experience. It has a sturdy frame, an adjustable handle, an ergonomic seat, with large, pivoting footrests.
It's built for convenience with its foldable technology. 
But should you get ProForm's 550R rower? There are many things you need to consider before making sure that this machine fits your needs.
And that's what we're trying to answer in this review. Keep reading so you'll know everything you need about the 550R.
The ProForm 550R Rower
No fancy introduction needed. ProForm is a brand that many of you probably recognize (if you've been doing research on fitness equipment, you've likely come across their products).
ProForm is one of the top choices for quality and affordable fitness equipment. Their machines offer a mix of both style and performance and are priced reasonably. 
It's something many people have enjoyed in their treadmills and HIIT trainers, two of ProForm's top-selling units. They also have a solid selection of exercise bikes and ellipticals.
They have a few budget rowing machines in their lineup. The recently added Carbon R7 and 750R are part of promotions ProForm is running- going iFit for 3 years and you can get these models for free.
The 440R and 550R can be purchased the ol' fashioned way. The 550R comes with some significant upgrades over the less than impressive 440R.
Let's take a look at what this model has to offer:
Pros
Air resistance system

Folding frame

Large, comfortable pedals with straps

Adjustable and ergonomic seat

Non-slip handles

Large LCD display
Cons
Weight capacity only 250 lb

No heart rate monitoring

Limited warranty
Resistance
If you're new to rowing machines, you may be wondering where you should start when comparing rowers. How can you spot a good quality rower?
Personally, I like to begin with the resistance system as it relates directly to the quality of workout you can expect.
Rowers can be categorized based on the type of resistance they use – magnetic, air, hydraulic piston, and water.
Each type has their own advantages and disadvantages and the type you choose really depends on your goals and what you're looking for in a rower (check out our rowing machine guide for specifics).
The 550R is an air rower, so we'll start there.
Air resistance is great as it stimulates the resistance you'd feel if you were actually rowing on water (second only to water rowers in that department).
The flywheel in these rowers has fan blades attached to it- as it spins, the fan blades pull through the air. The faster you pull, the more resistance you meet.
Basically, rowing harder can give you more resistance. This is great because there really isn't any limit on the amount of resistance you can achieve. If you want more resistance, simply row faster (or harder). Want less? Slow down.
This is how it works when rowing on water. With air rowers, you can get the benefit of water rowers without having to mess around with a tank of water.
The 550R has an adjustable damper mechanism that allows you to adjust how much air reaches the fan. This is kinda like adjusting the resistance level, but a little different.
Technically speaking, adjusting the damper changes the "feel" of your rowing strokes. Rowing professionals describe it like changing the weight of the boat you're rowing in.
Setting the damper to let more air in would be equivalent to adding weight to your boat (which would feel more difficult). Personally, I don't really see the difference.
The damper on this rower comes with 5 air adjustments, giving you some control on the feel of each stroke. That said, some users have complained that the 550R doesn't provide enough resistance.
As air rowers go, this is a smaller, lighter-duty model. It's better suited for people in the beginning to intermediate fitness levels. More advanced rowers will probably need a more powerful rowing machine.
The 550R can also keep you cool as you exercise. The flowing air is directed back at you as you row. So the faster you row, the higher training intensity you can enjoy, and the cooler your exercise should be.
According to user reviews, the 550R has a realistic rowing feel. It's capable of meeting their training demands at home. If you love CrossFit training, you'll love the 550R. It's ideal for HIIT workouts. 
Some users complain about how noisy the 550R can be, especially during high-intensity exercises. It's not as quiet as those rowers offering magnetic resistance.
There's a notable whirring sound coming from the fan that some people may not like (others find it relaxing).
Overall, I like the air resistance offering of the 550R. It's perfect for beginners, but may not be strong enough for more advanced users.
Frame
Good quality rowers should have a sturdy frame. It should be able to support you safely and securely as you exercise. It shouldn't move or wobble, especially during intense training sessions.
It can be difficult to spot a quality frame without sitting on the rower and taking it for a spin. But you can examine the specs to get an idea of what you're getting yourself into.
One good tip to finding a robust frame is to check its user weight capacity. The higher the weight limit, the more durable the machine should be.
The 550R accommodates users up to 250 lb. This falls short when compared to other high-quality rowers that come with 300 lb capacities.
Budget rowers can away with smaller weight capacities because this is part of the reason they are affordable to begin with. But considering the 550R is going to cost you at least $600 (on sale), the frame could be heavier-duty.
The 550R does have a space-saver design which is nice. You can maximize your floor space once you're done exercising. Simply fold it up and you can save a significant chunk of floor space.
Its non-slip handles are great for those with sweaty hands. It's well-padded and offers a comfortable grip for a pleasant workout experience (a much needed upgrade over their 440R rower).
The 550R has an ergonomic seat. It's also padded to make your workouts more comfortable.
It keeps your feet in place with its large, pivoting footrests that can safely hold shoes of all sizes. Having an adjustable foot straps lets you enjoy more stability while rowing.
It helps your feet stay in a comfortable position as you can extend your ankles to find your perfect fit.
Overall, the 550R has a solid and foldable frame. It's carefully crafted for design and convenience with its ergonomic handles, seat, and footrests.
But given the asking price on this model, I'd like to see a higher weight capacity.
Monitor
The 550R has a large LCD display. It's readable and accurately shows your workout metrics like watts, time, strokes per minute, calories, and etc. 
You can put it in scan mode to show the data in cycles. You can also have the priority display to show whatever vitals you want to monitor as you exercise.
Its watts meter seems pretty cool. It tells you the power your strokes create. If you're targeting a specific power level, this metric can be very handy. You can confirm if your stroke power is rising or falling.
The monitor uses 4 AA batteries, but they're not included in the package. The monitor automatically switches on and off to save power.
The ProForm 550R has a decent monitor that calculates common fitness data. It's a standard offering among rowers of its price range.
It still misses the heart rate monitoring feature, which I think is very important for cardio training and overall health assessment. It's the same case with ProForm's 440R. 
There are also no built-in workout programs here. This may not be a deal breaker, but the 550R is in the price range where workout programs could be expected.
Overall, the 550R has a large and readable monitor. You wouldn't have any problem checking your workout data at a glance as they're vividly displayed.
Assembly
The ProForm 550R is simple to put together. It really should only take a few minutes to have it unpacked and running.
ProForm does a good job with their assembly manuals by providing a step-by-step process with written descriptions and images along the way. The package has everything you need, except for the batteries that you need to buy separately.
Moreso, the rower comes preassembled almost 90% of it. You just need to attach the seat and add a few small parts.
This is a great improvement from ProForm's 440R which seems pretty challenging to assemble.
Warranty
ProForm backs their 550R rower with the following warranty:
Frame: 5 years 

Parts: 90 days

Labor: 90 days
5 years on the frame is decent, but the parts and labor guarantees are very short. Other models at this price point have a year-worth of coverage for their parts and labor.
I'd like to see a better warranty on this model. This is the same short warranty they offer on their more affordable 440R.
Final Thoughts
ProForm's 550R Rower is a significant upgrade over the 440R, which is their most affordable rower to date.
I like that they went with an air resistance system on this model. I like the advantage of being able to get more resistance by simply adjusting your rowing speed.
That said, this is a small rower designed with beginners in mind. The low weight capacity is going to make this rower inaccessible for larger folks.
The warranty is really short too, which would make me think twice before purchasing.
Speaking of purchasing, the full retail price of this model is roughly $1000, but you should be able to get it for around $600 on sale through online retailers.
Even at the sale price, I think this rower is overpriced (especially considering that the Concept2 Model D is only a couple hundred bucks more).
Overall, the 550R isn't awful, but I think there are better buys out there.