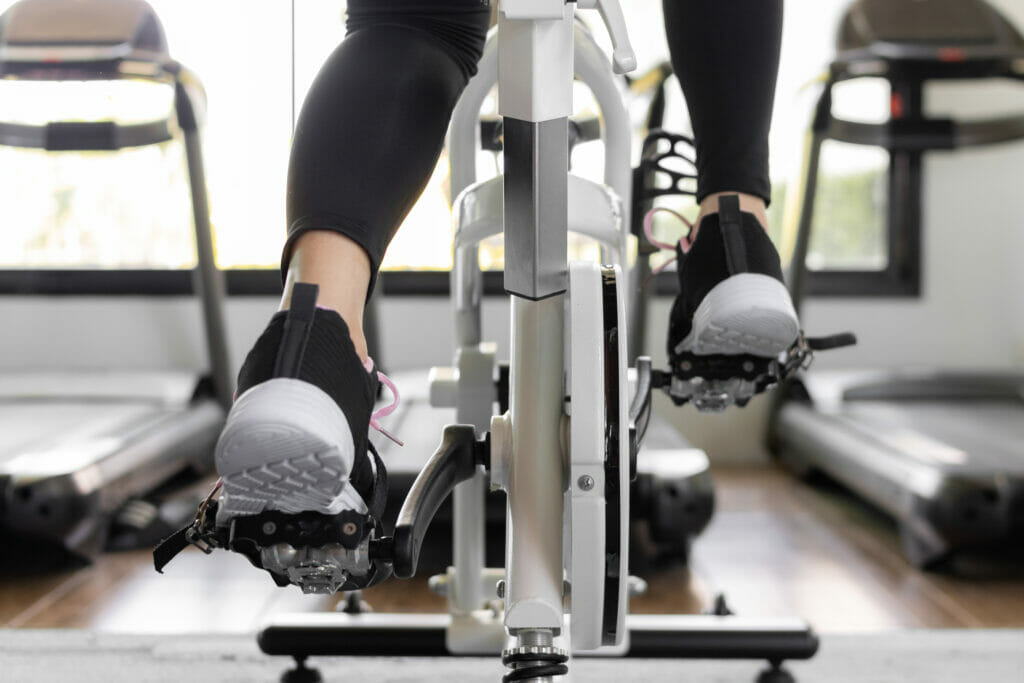 ProForm's Studio Bike Pro offers folks a significantly more affordable way to access the growing phenomenon that is instructor-led streaming workouts and metric tracking.
With a 10″ HD touchscreen display, the Studio Bike Pro makes it easy to select and view workouts while on the bike and through iFit- you can even take advantage of the automatic trainer control feature that sets your resistance to match the terrain of the workout.
Other notable features include 22 levels of magnetic resistance, a fully adjustable seat, a pair of 3 lb dumbbells, and a good warranty.
Overall, I think the Studio Bike Pro is a solid choice for people looking for a more affordable approach to streaming spin classes, but it's got plenty of flaws too.
But, if you've found your way here, you're in luck.
In this review, I'll go over everything this bike has to offer, as well as the areas where there's room for improvement.
After reading, you'll know everything you need to in order to decide for yourself whether or not this is the right bike for your home gym.
The ProForm Studio Bike Pro
I'm not hatin' or anything, but is it me, or does this bike look exactly like the Peloton?
I mean, I get it – the Peloton is still the gold standard when it comes to these streaming bikes and to be fair, the Peloton looks great, but come on ProForm, you gotta differentiate yourself a little don't ya?
The Studi0 Bike Pro even has the same red accent around the drive train…
Moving on, ProForm is a popular home fitness brand known for offering fairly affordable equipment and for their price ranges, they have some of the best machines out there.
ProForm is owned by ICON Fitness, the same parent company that owns NordicTrack- this is why ProForm machines are also compatible with iFit.
When it comes to indoor cycles, ProForm has 3 to choose from- the Studio Bike Pro 22, the Studio Bike Pro, and the Carbon CX.
The Studio Bike Pro we're here to talk about today falls right in the middle in terms of price and features.
Speaking of price, if you purchase through ProForm directly, it's "free" with a 3 year iFit subscription (paid through 36 $39/month payments or a single $1404 payment).
Signing up for 3 years of a streaming service is quite the commitment, but I have to admit, it still sounds like a pretty good deal.
I mean, iFit alone costs $39/month anyway, so as long as you stick with it for 3 years, you are essentially getting a free bike.
If you're not sure about that, you can also purchase through Amazon without the iFit commitment (it's usually priced well under $1k).
Pros
10″ HD touchscreen console
iFit compatible
Access to unlimited, instructor-led workouts (iFit)
Scenic rides (iFit)
Automatic resistance control (iFit)
Fairly heavy flywheel
22 levels of magnetic resistance
Bluetooth compatible
Pair of 3 lb dumbbells included
Fully adjustable seat
Good warranty
Affordable
Cons
Low weight capacity
Handlebars aren't fully adjustable
Pedals aren't dual compatible
Resistance
I realize the star of the show for this bike is the HD console, but it's still a spin bike, so it should be able to perform like one.
And that means being able to provide high resistances that can challenge users of all skill levels.
Like most indoor cycles in this price range, the Studio Bike Pro uses a magnetic resistance system, which is a good thing.
With a magnetic resistance system, resistance is created through the use of magnets being placed around the spinning flywheel (which is metal).
Resistance is increased by bringing those magnets closer to the flywheel and it's decreased by moving them farther away.
The great thing about these systems is that there's no touching of parts involved- this makes for a smoother feel, but it also prolongs the life of everything.
And you don't have to worry about replacing felt pads.
The Studio Bike Pro comes with 22 resistance levels, which is pretty average when compared to other bikes in this price range.
More resistance levels doesn't necessarily mean more resistance, it just means you can make smaller changes to the intensity.
I'm preferential to the 100 level system used by Peloton and more affordable bikes like Bowflex's C6 because you can make very small changes to the resistance.
I always like to consider the flywheel weight too, but unfortunately I haven't been able to find a reliable source for the Studio Bike Pro.
ProForm doesn't disclose how much their flywheel weighs on their website and when I reached out to one of the sales reps they had no idea either.
Other fitness blogs have quoted that the flywheel weighs 25 lb, while others have quoted 32 lb.
Based on the total weight of the bike itself, I would say either value could be accurate, but I don't know for sure.
So, to be as safe as possible, let's say the flywheel probably weighs somewhere between 25 – 32 lb.
Assuming this is accurate, this bike's flywheel isn't massive by any means, but it's still heavy enough to provide a smooth pedal motion.
And most users agree that the bike feels pretty good during workouts.
By the way, you'll notice that all brands market that their bikes come with an "inertia-enhanced" flywheel- yeah, that really means nothing.
All bike flywheels are weighted to some degree, so technically all flywheels are inertia-enhanced.
The heavier a flywheel is, the more "inertia-enhanced" it's gonna be, meaning it'll build more momentum as it spins – which usually means a smoother feel.
Overall, the Studio Bike Pro is pretty average when it comes to the resistance system- not bad, but not particularly noteworthy either.
Frame
Let's examine what kind of frame we're working with here too.
Personally, I like the idea of having a heavy-duty bike that's going to feel stable during my workouts, regardless of whether I'm sitting or standing and pushing against heavier resistance.
In order to objectively gauge a bike's "heavy-dutiness", I like to look at the assembled weight and the weight capacity.
And in both cases, I consider big numbers a good thing.
That's because a heavy bike is going to be less likely to wobble and feel flimsy during workouts.
Heavier is better, yes, but any indoor cycle weighing over 100 lb should feel pretty stable. My Peloton weighs about 135 lb and that thing feels rock solid.
The Studio Bike Pro weighs 140 lb in the box.
This is different than a true assembled weight because it also includes the weight of the box and all the packaging, making it a little harder to figure out how much the bike actually weighs.
Based on that in box weight, I think it's fair to guess that the bike itself probably weighs somewhere between 100 – 115 lb.
Which, if accurate, is very comparable to a lot of the spin bikes in this price range (the C6 weighs 112 lb assembled).
The Studio Bike Pro also comes with a max weight capacity of 250 lb, which is quite low for a bike in this price range.
The average weight capacity for a nice indoor cycle is 300 lb and there are some that go up as high as 350 lb.
Seeing a weight limit this low isn't a great sign and it makes it unaccessible to larger riders.
That said, smaller riders shouldn't have any issues.
Overall, based on the weight and weight limits, it's obvious the Studio Bike Pro is best suited for smaller users. Larger folks should look for a heavier duty bike.
Features
The ProForm Studio Bike Pro comes with the following features:
10″ HD touchscreen console- the touchscreen console is the most notable feature on this bike. Through this screen, you can access all workouts as well as see all metrics. The console can swivel as well, allowing you to see the screen while performing other non-cycling workouts.
iFit compatible- this bike is designed specifically to pair with iFit, ProForm's streaming workout service. Through iFit, you get access to unlimited instructor-led workouts and metric tracking, as well as scenic rides. One of the coolest things about iFit, is that they have workouts that are outside too, not just in a studio. This makes the automatic trainer control feature even cooler, because the bike will automatically adjust your resistance to mimic the feel of going uphill/downhill. If you purchase through Proform, you have to sign up for iFit too ($39/month). If you purchase through Amazon, you don't have to (although I see no reason to buy this bike without iFit).
Bluetooth- the console is bluetooth compatible with headphones and heart rate monitors.
Fully adjustable seat- you can adjust the height and horizontal (fore/aft) position of the seat, making it easy to find a comfortable riding position.
Height adjustable handlebars- the handlebars aren't fully adjustable, but you can adjust the height of them.
Toe cage pedals- the pedals come with toe cages, meaning they're designed for use with sneakers. It would be nice if they were dual compatible, with a clip in side too, but they aren't. You could easily swap 'em out for cleat compatible pedals if you wanted to though.
3 lb dumbbells- ProForm includes a pair of dumbbells with your purchase, a nice touch.
Water bottle holder- there's also a single water bottle holder, giving you a place to, uh, store your water bottle.
Assembly
Like most indoor cycles, assembling the Studio Bike Pro should be a fairly easy task.
The main body of the bike comes pre-assembled, so you won't have to worry about messing with the flywheel or any internal components.
You'll be responsible for attaching the front and rear stabilizers, the seat, the pedals, the dumbbells holders, the handlebars, and the console of course.
The trickiest part will likely be attaching the console, but even that shouldn't be too bad- especially if you have a second person around.
You just have to be careful not to pinch the console wires as you snake them through the console upright- having a second person around to hold the console while you do this makes it a lot easier.
Overall, assembly on this bike should be straightforward. ProForm's instructions are easy to follow and the process is pretty simple to begin with.
Warranty
ProForm backs their Studio Bike Pro with the following residential warranty:
10 year frame
2 year parts
1 year labor
All things considered, I think this is a pretty good warranty for this bike.
10 years isn't a lifetime guarantee, but it's still a lot better than the 5 year warranty offered on some of the more expensive luxury bikes (like Peloton).
2 years on parts is pretty standard for this price range, as is a year on labor.
Overall, a quality warranty.
Just keep in mind, this is an ICON Fitness brand and they have an awful reputation for their customer service (like NordicTrack)- so if you do have to contact them, it could be a tedious experience.
Final Thoughts
Alrighty, that about does it for the Studio Bike Pro.
Honestly, I don't love this bike, but I could see why a lot of people do.
If you 100% know that you want to use iFit as a streaming service (or if you're already an iFit member with another ProForm product), it could make sense to invest in this bike.
Because the outdoor workouts and the automatic resistance control feature are pretty cool and it's gonna be hard to find a 10″ HD screen for a more affordable price.
But if you're not all-in with iFit, I think there are better options out there.
Because in terms of performance, the Studio Bike Pro comes with a pretty average resistance system and a really low weight capacity.
Personally, if you already own a tablet, I think it makes more sense to go with Bowflex's C6 because you get a heavier flywheel, 100 levels of resistance, and the ability to connect with multiple streaming apps.
Of course you'd be giving up the automatic resistance control.
Overall, I think ProForm's Studio Bike Pro could work well for people eager to access iFit (I mean you do get a free bike here), but everyone else should probably look elsewhere.