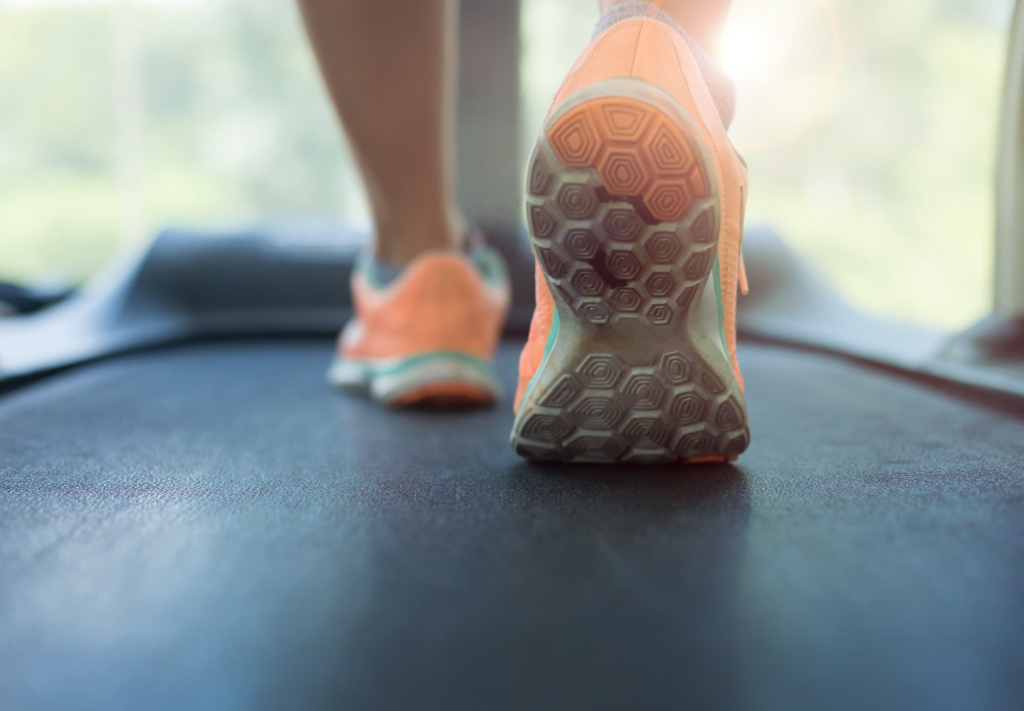 The 505 CST treadmill is one of the more budget-friendly options available from ProForm. It's a compact model that's designed for functionality, durability, and comfort.
It has a running area of 20″ x 55″ that also provides excellent cushioning to protect your joints from impact. Its 2.5 CHP motor offers users an automatic, power-driven incline of up to 10% and speeds ranging from 0 to 10 mph.
The 505 CST has a console that's pretty good at this price point, with a 5″ backlit LCD, 2″ dual speakers, tablet holder, and grip pulse sensors.
You can connect your iFit with the machine to access unlimited training options or simply take advantage of the 18 onboard programs that are fantastic to challenge you in different ways.
Simply put- I like ProForm's 505 CST model, especially if you're looking for a quality treadmill perfect for your light exercises.
But it's important to do your research when looking for a new treadmill (after all, there are a ton of options out there)- and that's where this review comes in.
In this article, I'll take you on an up-close and personal tour of everything this treadmill has to offer.
After reading, you should have a better understanding of the ins and outs of the 505 CST. You should also have a better understanding of whether or not it's the right treadmill for your home gym.
Let's get rolling.
The ProForm 505 CST Treadmill
When it comes to home treadmills, ProForm makes almost everyone's shortlist of the top brands to choose from. They've become one of the most popular fitness brands out there. They're kinda like the Colgate when it comes to toothpaste (you know what I mean).
ProForm has carved their name among the hearts of fitness enthusiasts worldwide. Being in the industry for over 30 years, they've proven themselves as one of the most reliable and high-quality gym equipment manufacturers out there.
They're most well known for their treadmills and HIIT trainers, although they do offer exercise bikes and ellipticals as well.
What I love about ProForm's treadmills is that they're feature-rich. From touchscreen displays to iFit capabilities, they provide many awesome amenities to make each training session more enjoyable. 
Whether you're looking for more causal workouts or intense body conditioning, you get several options from ProForm to choose from.  
Overall, their treadmills work the way they're supposed to.
Now let's get to the specifics of their 505 CST.
Pros
Foldable frame

Compact footprint

Top speed 10 mph

Power incline to 10%

18 built-in workout programs

Grip pulse sensors

iFit Ready

Tablet shelf

5″ backlit LCD

2″ speakers with aux port

325 lb max weight capacity

Good warranty
Cons
Motor not strong enough for serious running 

No telemetry heart monitoring
Running Surface
One of the most important things to consider when looking at new treadmills is the size of their running surfaces. This simple spec affects your comfort level greatly during use- so it's always one of the first things I look at when reviewing these machines.
The running surface is the actual measurement of the belt being used during your workouts. This is measured in inches, with width x length being the most common format.
If your treadmill's running surface is too small, it isn't going to feel right. You'll feel cramped. If it's too narrow, you'll be cautious not to step right off the machine. Either way, it's easy to ruin your concentration as you train.
When using a treadmill with too short a belt length, you may need to adjust your stride length, especially if you're tall. This is a problem when you're sprinting as stride lengths increase with running speed.
Quality home treadmills usually come with a running surface measuring at least 20″ x 60″. It's been shown that at this size, most users can comfortably run or walk without any issues.
It's obvious that the 505 CST treadmill is designed to be more compact, considering it has a running surface of only 20" x 55".
This is probably too short for taller users to run comfortably, especially if you're nearing the 6′ mark. But at 55″ long, walking should be comfortable, as should jogging for most users.
High-quality treadmills always feel better because they're larger and heavier. Heavier is better because it offers better stability during use (less unwanted frame movement).
The 505 CST weighs 203 lb fully assembled. 
You won't have to worry about the 505 CST wobbling or shaking as you exercise. Avid users report it's very sturdy during use and there haven't been many complaints about stability.
ProForm has added their ProShox™ Cushioning for this unit. It's a shock-absorbing system that reduces the stress through your joints. This makes the 505 CST a good choice for those with arthritis or any joint problems. 
Those who have used the 505 CST have enjoyed this awesome cushion feature, as it had been very gentle to their joints. Running on this machine gives a smoother and more comfortable experience than running on pavement.
The 505 CST has a max weight capacity of 325 lb. Most units in this price roster can safely handle users of 300 lb. Knowing that the 505 CST goes beyond the average, it's a plus for me.
Max weight capacity can be a good measure of the treadmill's durability. If the machine can handle more weight, it should be durable. For a budget-friendly option, the 505 CST is well designed.
Even unfolded this machine has a small footprint (61" x 36.5" x 73.5"), but you can also easily fold it vertically when not in use for even more space saving.
It's easy to store the 505 CST. It takes a soft push to collapse the machine and fit it nicely in the corner of your home.
In a nutshell, the 505 CST has a running surface that seems more adequate for walking and jogging, but it might present issues for taller users. It has a durable frame and a simple storage system that users will appreciate.
Motor
The next thing we'll need to look at is the motor.
Motor strength gives you an idea of whether or not the treadmill has enough muscle under the hood to get the job done.
Stronger motors don't have to work as hard during use as weaker motors do to achieve the same output – that's why they tend to result in smoother, quieter, and more lasting operation. The higher the CHP, the better.
Most residential treadmills have motors anywhere in the 2.0 to 4.0 CHP range. If you're a sprinter (or serious runner), you should look for a motor with at least 3.0 CHP to be sure that the machine can match your tough workouts.
That said, the 505 CST comes with a 2.5 CHP motor.
Although it falls within the generic CHP range for home gym treadmills, the 505 CST doesn't have the recommended strength requirements for strenuous running. 
Well, I'm not saying you can't run with the 505 CST. Smaller users and folks running at slower speeds will likely do just fine. But when it comes to frequent, high-speed running workouts, there are better options (check out our running treadmills guide). 
This treadmill has a max speed of 10 mph. While many of us would love to run a 6 minute mile, many home treadmills can reach a top speed of 12 mph. This is just another sign that the 505 CST is better suited for walking and jogging.
It does come with convenient QuickSpeed® buttons that let you adjust your intensity instantly, so you can stay focused through every step of your workout.
Pairing that with its top incline of 10%, the 505 CST offers different ways to get a great workout in. Try taking a brisk walk at a 10% incline and see how long you last.
The 505 CST also uses 1.9" rollers. The rollers are the part that makes contact with the belt and propels it along the track.
Larger rollers are great in improving the grip and reducing noise when using the machine. They also apply less stress on the belt and rollers, thereby prolonging the life of both.
For comparison's sake, most high-end home treadmills use 2.5" rollers. The rollers found on this machine are pretty standard for budget friendly machines.
Overall, the 505 CST has a motor strength that's ideal for light exercise like walking and jogging and might not be enough to handle talented runners. 
Features
ProForm's 505 CST comes with the following features:
18 on-board workouts: For an entry-level treadmill, the 505 CST has a pretty awesome selection of workouts to choose from. It gives you instant access to professional training programs that are fully loaded and ready to go. These should offer something for everyone, no matter their fitness goals. The machine will automatically adjust its speed and incline settings depending on your chosen program.
iFit-enabled: iFit is a paid subscription program, but having the app gives you access to unlimited workout variety. You can enjoy training with some celebrity coaches, have custom-tailored personal training, or use Google Maps workouts that control the machine's incline to mimic terrains from around the world.
5″ backlit display: It's large enough to monitor your training parameters like speed, time, distance, inclination, heart rate, and calories burned. You can vividly watch your virtual coaches or running destinations from Google Maps with the iFit app. Many newer models at this price point offer larger and touchscreen display, but it's still a good entertainment feature.
EKG heart rate monitoring: The 505 CST lets you monitor your cardio health as you exercise. Simply grip its handlebars and you can automatically see your heart rate data at the console.
Although I'm not expecting it to have telemetric capabilities given its cheap price, it would still be nice if it came with a wireless heart rate monitor (they're more convenient and provide more accurate readings).
Audio capabilities: The 505 CST comes with dual 2″ speakers. It also has an audio auxiliary port so you can easily hook your MP3 player or smartphone and listen to your workout playlist, movies, or virtual training classes.
Tablet holder: You can read or watch movies conveniently without blocking the treadmill's console.
Assembly
Most users agree that the 505 CST is easy to assemble. 
It comes with assembly instructions that are straightforward and easy to follow. Aside from the written directions, ProForm also offers images showing you what to do. Awesome!
The most challenging part of assembling any treadmill is getting the unit to its final destination before you start. They're huge and heavy. So unless you have a push trolley at home or pay for white glove delivery, it might be difficult moving the package in your home.
I highly encourage you to have a couple of friends available to help you put up the 505 CST. The legwork should be done in an hour, but if you're skilled, you may be able to finish it earlier.
Warranty
The 505 CST treadmill has the following warranty:
Frame: 10 Years

Parts: 1 Year

Labor: 1 Year
Given the price of this treadmill, this warranty is ok, but not great. ProForm used to offer lifetime warranties on their frames, for some reason they've dropped them all down to 10 years.
I'm not sure what's going on with that, but I like the sound of lifetime a lot better.
Honestly though, I wouldn't be that disappointed if I only got 10 years out of a treadmill that costs under a $1000.
The parts and labor warranties are fairly average for the price range. It would be nice to see a few more years on the parts guarantee, but that's asking a bit much from a treadmill this affordable.
Final Thoughts
Like all ProForm treadmills, the 505 CST has a lot to offer. For a sub-$1000 model, it comes with some pleasantly surprising features like a generous selection of workouts to choose from and quick touch speed and incline buttons.
When it comes to the size of the running surface and the strength of the motor, both dictate that this treadmill would be better suited for walking and jogging (or for smaller users).
But the treadmill is built solid and backed by a decent warranty (maybe even a little better than decent for this price range).
Overall, if you're looking for a compact treadmill, ProForm's 505 CST is a great choice for the price range.
Speaking of price, ProForm lists this model at $999 on their website, but you could likely find it for hundreds less on other retail sites (and I like it a lot better at the cheaper price).
For more affordable treadmill ideas, check out our budget friendly treadmill guide.