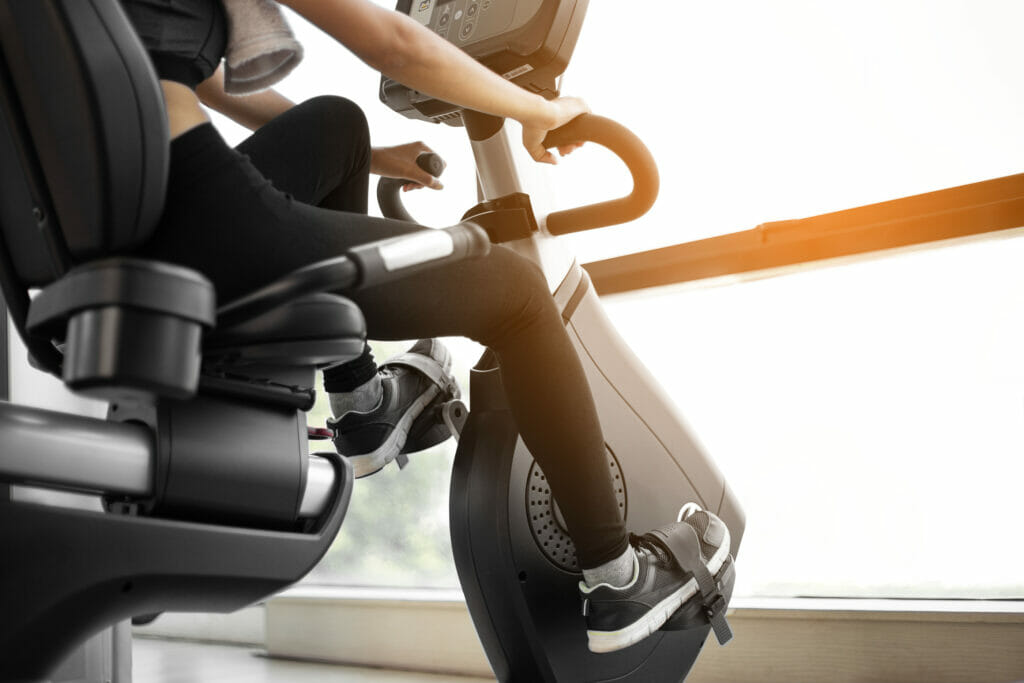 NordicTrack's Commercial VR21 is a budget friendly recumbent bike that's got it going on everywhere it really counts. Meaning this bike not only looks good, but can perform too.
With a 20 lb flywheel, 25 levels of magnetic resistance, and a 350 lb weight capacity, the VR21 has what it takes to provide a great workout, while still taking it easy on your joints.
It's also loaded with 32 workout programs, iFit compatible, and backed by a generous warranty.
In other words, the VR21 is legit.
So, if you're looking for an affordable recumbent bike that is capable of providing a substantial workout, NordicTrack's Commercial VR21 is a great choice.
But before you decide, it's a good idea to read this review in full.
In this article, I'll go over everything the VR21 has to offer- we're talking specs, features, and everything else in between.
After reading, you'll know everything you need to in order to decide whether or not this is the right bike for your home gym.
The NordicTrack Commercial VR21 Recumbent Bike
NordicTrack is a Goliath in the home fitness world. I mean they're easily one of the most recognizable names in home fitness- is there anybody who's never heard of 'em?
I highly doubt it.
Not that popularity and name recognition are synonymous with quality, but in NordicTrack's case, I'd say they're one of the better brands around.
Although I think they push their iFit app too much and some of their equipment is a bit over priced…
But it's pretty easy to see why they're so popular.
Moving on.
You aren't going to find the Commercial VR21 (don't take that name too seriously by the way, there isn't anything "commercial" about this bike, but hey, marketers gotta do their thing) available through NordicTrack's site.
No, the VR21 is an older model, but you can still find it through retail sites like Amazon.
Depending on where you find it, expect to pay around $700 for this recumbent bike. And personally, I think that's a very fair price considering what it has to offer.
Pros
20 lb flywheel
25 levels of magnetic resistance
Heavy-duty frame
350 lb weight capacity
32 workout programs
Large, comfortable seat
iFit compatible
Chest strap compatible (bluetooth)
AutoBreeze cooling fan
Good warranty
Great price
Cons
NordicTrack's customer service has bad reputation
Frame
One thing all recumbent bikes have in common is the horizontal frame design. This is the essence of the recumbent bike and the reason why folks who decide to purchase one purchase one.
This horizontal design reduces stress through your back, hips, and knees when compared to other, more vertical designs found on upright bikes and spin cycles, making them more comfortable to use for folks with achy joints and mobility issues.
With this in mind, all recumbent bikes are not built equal.
Especially when it comes to affordable recumbents, where so many bikes come with lightweight, flimsy frames that don't feel stable during use.
It can be hard to tell whether a recumbent is sturdy or heavy-duty without taking it for a spin, but there are a couple of specs you can check out to get a good idea.
These are the assembled weight and the weight capacity.
Seeing higher numbers in these 2 specs is a good sign that the bike is going to feel sturdy and durable during your workouts.
The VR21 scores highly in both of these specs, with an assembled weight of 127 lb and a max weight capacity of 350 lb.
Both of these numbers are high for a bike in this price range- for the sake of comparison, the similarly priced Nautilus R618, weighs 107 lb and tops out with a 325 lb weight limit.
And I'm not hating on the R618 either, that's also one of the heaviest duty bikes in this price range- I'm just pointing out how much of a beast the VR21 really is.
It's pretty easy to say this recumbent has a heavy duty frame, but what's equally impressive is how heavy its flywheel is.
The words "heavy" and "flywheel" aren't usually used in the same sentence when talking about budget recumbent bikes, but with a 20 lb flywheel under the hood, the VR21 can justify it.
Heavier flywheels are preferred because the extra weight builds more momentum as it spins, which equates to a smoother feel during your workouts.
A lot of the popular recumbents in this price range come with 13 lb flywheels (*cough* Nautilus), which is fine if you're not looking for a more strenuous workout.
But if you do want a bike that can provide a smoother, more substantial workout, going with a heavier flywheel is a good idea.
I also like that NordicTrack pairs this flywheel with 25 levels of magnetic resistance, giving you complete control over the intensity of your workouts.
Overall, the heavy-duty frame and heavy flywheel are what set the VR21 apart from most other recumbents in this price range.
Seat
One of the best things about a recumbent bike is the large seat – recumbents are well known for having the most comfortable seats of all the exercise bikes.
And let's be real- it's not much of a competition.
Upright bikes and spin cycles both have seats that are pretty small, firm, and uncomfortable.
So, if you're going for comfort, it makes sense to opt for a recumbent model.
Not only are the seats on these bikes larger, but they come with a backrest, which is great for folks dealing with achy backs.
Some recumbents even allow you to change the angle of the backrest, however the VR21 does not (I haven't come across any recumbents in this price range that offer this feature).
The VR21 does come with a comfortable seat though, and it's easy to adjust the height position (horizontal position).
The backrest has a little built-in lumbar support too for added comfort. It's also a mesh back, that is supposed to help with air flow- but I don't think that really makes a difference.
The takeaway here though, is that most users find the seat to be quite comfortable on the VR21.
Features
The NordicTrack Commercial VR21 Recumbent Bike comes with the following features:
5″ LCD console- the screen isn't particularly fancy or anything, but it's large enough to see during workouts and its backlit to aid in visibility in low lighting. You can also adjust the console angle for optimal viewing.
32 workout programs- this bike comes with a boatload of built-in workout programs. With 32 options at your disposal, you'll have more than enough exercise variety, whether you sign-up for iFit or not.
iFit compatible- iFit is NordicTrack's optional fitness streaming app. Through the app, you get access to unlimited, instructor-led workouts, as well as tracking of all your workout metrics. NordicTrack includes 1 year with purchase, after that you'd have to pay the monthly fee ($39/month for a family plan, but there are other options too).
Chest strap compatible- the VR21 is compatible with bluetooth chest strap heart rate monitors, but one isn't included with purchase. You can also use the grip heart rate monitors if you don't want to use a chest strap.
Audio jack- you can plug your mp3 player or smart phone up to the console and listen to your workout jams through the built-in speakers.
Cooling fan- there's a built-in AutoBreeze fan that can help keep you cool and comfortable during those more strenuous workouts.
Water bottle holder- yup, there's a water bottle holder (this one's pretty self-explanatory).
Assembly
NordicTrack does a very nice job making their assembly manual easy to follow.
I like that they break the process up into small, manageable steps instead of piling a ton of tasks into a couple of steps (like some other brands do).
The assembly process itself is pretty straightforward too.
The main frame comes preassembled. You'll be responsible for attaching the stabilizers, attaching the console mast, the console, the handles, the seat, and the pedals.
All necessary hardware and tools are included.
I think most folks should be able to get the job done themselves, although it might be helpful to have a second person available to assist.
Especially when it comes to snaking the console wires up through the mast and connecting them to the console (don't pinch those wires!).
Overall though, putting the VR21 together is very doable without professional assistance.
Warranty
NordicTrack backs their Commercial VR21 Recumbent Bike with the following residential warranty:
10 year frame
2 year parts
1 year labor
I think this is a great warranty for a bike in this price range.
It would be nice to see a lifetime frame warranty, but realistically, that's going to be hard to find on a $700 bike.
Two years on parts is also better than the 1 year many similarly priced bikes are offering. A year on labor is pretty standard, but even that isn't a given in this price range.
Overall, kudos to NordicTrack for offering such a generous warranty on the VR21.
But I should mention that NordicTrack's customer service doesn't exactly have a good reputation- they get a lot of complaints.
Final Thoughts
Ok, that about sums things up for the Commercial VR21. I think this bike has a lot to be proud of, especially for a recumbent in this price range.
This bike's performance specs blow most competitors out of the water- there aren't many budget recumbents that can compete with a 20 lb flywheel, 25 levels of resistance, and a 350 lb weight capacity.
Let's be real- there are a lot of bikes that cost a lot more that couldn't stand toe to toe with those specs.
The console is also surprisingly sophisticated. Most budget bikes don't come with 32 workouts, bluetooth capabilities, and AutoBreeze fans.
And that warranty is pretty awesome too.
The biggest downside is probably NordicTrack's lackluster customer service, but hopefully you wouldn't have to use them anyway if you did purchase.
Overall, I think the Commercial VR21 is a great bang for your buck. I'd even go as far as saying I think it's one of the best recumbent bikes under $1000. Recommended.