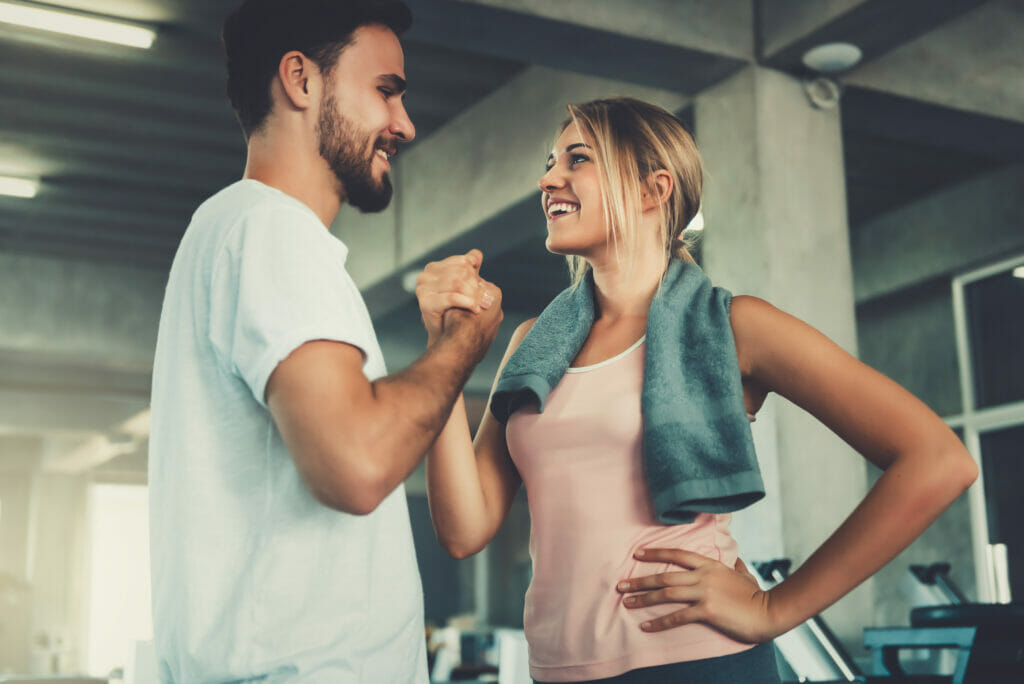 In the most basic sense, the LIT Strength Machine is really just a water rower with anchor points for attaching resistance bands.
The folks behind the LIT Method would argue, however, that that's all you need to get in the best shape of your life.
Well, the machine itself and access to the professional instructors that are going to guide you through each workout via the LIT digital app of course.
Even though the equipment the LIT Method utilizes isn't really that unique, the workout system LIT has derived is- and honestly, I think it's the app and workouts you get access to that are of the most value here.
Overall, if you're looking for a new home workout program that isn't boring, the LIT Strength Machine is certainly worth considering.
But is it the right fitness machine for your home gym?
Well, that's what I'm here to help you decide.
In this review, I'll go over everything the LIT program has to offer. After reading, you'll know everything you need to to decide for yourself whether or not it's worth investing in.
Let's begin.
The LIT Strength Machine
 The LIT Method (and Strength Machine) is the brainchild of trainers Justin and Taylor Norris.
Both had histories with personal injuries and believed in the benefits of resistance bands and other forms of low impact training (LIT, get it?)
The couple started out by using rowing machines and resistance bands to provide safe forms of exercise for folks who might have a hard time using traditional weights.
In 2016, they opened their first exercise studio utilizing their "LIT method" that allowed people to exercise together without using weights or any other high-impact forms of exercise (like running or jumping).
Well, their studio must've been successful, because they were able to get the funding necessary to launch the LIT Strength Machine for home use a few years later (including investments from Jay-Z's venture capital firm).
The idea being they can bring the studio experience to the home user.
Before we move on, I want to just say one quick thing- if you check out their website, you'll notice that they mention a few times that this strength machine can be used for "physical therapy".
As a physical therapist myself, I don't particularly care for this, because under the right guidance, a lot of things can be used for therapy- the key being the guidance your therapist provides.
I don't want people suffering from injury to think that doing these LIT workouts can substitute for physical therapy provided by a licensed therapist because they can't.
Because from what I can tell, none of these instructors are physical therapists.
(Ok, I'm stepping off my soap box now and returning to our discussion).
Moving on- with the LIT Strength Machine, you can purchase in a few different bundles depending on what accessories you want.
The machine alone costs about $1700 and with that, you also get a tablet holder, a set of handles, and pair of 20 lb resistance bands.
Other bundle options include additional bands, attachments, and even an included version of their LIT AXIS System.
Pros
High-end water rower
Anchor points to attach resistance bands
450 lb weight capacity
Stores vertically
Handles, pair of bands, and tablet holder included with purchase
Access to unique workouts through app
On-demand and live workouts
Low impact moves
Full body workouts for users of all fitness levels
Access to several different types of exercises
Scenic routes
Manual mode
Metric tracking
90 day free trial of app
Great warranty
Cons
Rower doesn't come with a console
A little expensive
The Rower
At it's core, the LIT Machine is a water rower- nothing more, nothing less.
That said, as water rowers go, the LIT looks pretty impressive.
Water rowers are awesome to begin with because they provide an experience similar to rowing on real water.
Like real rowing, if you pull harder/faster on a water rower, you feel more resistance; row slower and you get less resistance.
The LIT rower comes with a steel/aluminum frame that's both durable and lightweight (only weighs 70 lbs before you put the water in it).
And even though it's fairly lightweight, it's still hardy enough to hold folks weighing up to 450 lb, which is impressive for any rowing machine..
This being a water rower, the resistance is provided by water- I already said that.
What I didn't mention though, is that you can adjust the feel of your rower by adjusting the water level.
Pretty much all water rowers provide this feature, although with the LIT, you can adjust the water level by turning a dial (instead of having to manually put more water in or siphon it out every time).
Adjusting the tank so you're working against more water increases your resistance, while decreasing the volume of water you're rowing against decreases your resistance.
This certainly isn't the only rower to come with this dial adjustment, but it is a very convenient feature all the same.
This rower uses a belt drive (as opposed to a chain), so you won't have to hear the chain clinking, which is nice, and users seem to agree the rowing action feels great.
The only thing different about this rower from others, is that there are several anchors along the frame where you can attach resistance bands.
You can even attach bands behind the rower, allowing you to row and pull against the bands at the same time for added resistance, which is pretty cool.
Overall, when it comes to the rower itself, the LIT scores highly. It's a well-constructed rower that users agree feels smooth during workouts.
Oh, I didn't mention this yet, but the rower can be stored vertically for storage too.
The Accessories
The rower is nice, but there's gotta be more to this than just a rower- otherwise it wouldn't be much of a "method", it'd just be a rower.
Ha, the other big component of this machine is its ability to connect with resistance bands.
Remember those anchors I just mentioned?
Well, LIT includes a pair of 20 lb bands and a set of handles with any purchase of this machine and by connecting these bands to the anchors on the rower, you can do a whole lot of different exercises.
Honestly, a lot of these exercises you could do with your own bands, assuming you had somewhere to anchor them- but being able to anchor them to the rower is certainly convenient.
You also get a tablet holder that conveniently holds your tablet in front of the rower, giving you a good vantage point to follow along with workouts through LIT's app.
You can also purchase the LIT as part of a few different packages (the Pro and Summer packages at the time of writing this) and these bundles come with extra attachments, bands, and even their new AXIS Series.
The AXIS is a set of resistance band sensors that help you track the weight you're working against, as well as count reps for ya.
The AXIS system costs about $200 by itself, so you'd want to compare prices to see which bundle makes the most sense.
I also want to point out the LIT Bar accessory, which is induced with some bundles but can probably be purchased separately as well.
This is a functional bar that lets you attach one end to a resistance band, giving you the ability to perform rotational and task specific moves (swinging a golf club, baseball bat, rowing with an oar, etc).
It's a versatile tool that can add an extra level of intensity to your workouts.
There are a few other resistance bands and foam rollers you can purchase through LIT if you like, but the bands and the rower are what make up the LIT Strength Machine.
The App
I mentioned in the intro that the LIT machine is just a water rower that's been combined with a set of resistance bands- which is true.
What really sets this program apart from others though is how that rowing machine is being used by the instructors you get access to through the app.
The app is designed like pretty much every other streaming fitness service out there these days.
That is, you pay a monthly subscription fee and you get access to an unlimited amount of workouts.
The workouts with the LIT are instructor-led and they offer both live and on-demand workouts to choose from.
According to LIT, there are already thousands of workouts on-demand, with more being added daily.
What's unique about LIT is that they use the rower for moves you probably didn't know your rower could be used for- for example, it makes a pretty solid Pilates reformer, when used correctly.
The workouts in the LIT app are organized into 10 different categories, which include: rowing, mat strength, rowing X strength, mat barre, Pilates, partner class, cardio, ab lab, recovery, and mindfulness.
Not all workouts require the rowing machine, or really any equipment for that manner, meaning you don't always have to be home to get a workout in.
You get a 90-day free trial of the app when you sign up. After that, it costs $24.99/month.
In terms of cost, this isn't bad considering apps like Peloton and iFit cost almost $40/month (well, Peloton Digital is only $12.99/month, but that's designed to be used without the Peloton products).
With the app, you also get to do stuff like track your progress, join community challenges, and get tailored workout programs based on your goals.
Personally, I think the app is what the LIT Method is all about, so if you don't want to pay a monthly subscription fee, I don't think it makes a lot of sense to invest in this product.
Something else worth noting- this rower doesn't come with a monitor.
This means you can't keep track of metrics like time, distance, or pace.
LIT did this on purpose because they want to change the way you think about exercise, but it also means you're dependent on their workouts for tracking anything.
Not that they track any of that stuff anyway, because these workouts aren't traditional workouts in the first place.
Which brings me to another important point- these aren't traditional rowing workouts, so if that's what you're expecting, you'll be disappointed.
Where was I, I feel like I got a little lost there…
Oh, so basically you have to be ok with joining the app and paying a monthly subscription fee to take advantage of the LIT Strength Machine.
By the way, when it comes to the app, the instructors are good, as is the production value.
But without the app, it's just a rower and a set of bands- both of which you can get for a whole lot cheaper.
Warranty
The LIT Strength Machine comes with the following residential warranty:
Lifetime frame
Lifetime water drum
5 year parts
Overall, this is a pretty great warranty.
A lifetime frame guarantee is amazing, especially considering a lot of other premiere rowers (Ergatta, Hydrow, Concept2) only offer 5 years on their frames.
And 5 years on parts is also really good, considering many max out at 2 years.
All things considered, I think the warranty on the LIT Strength Machine is generous compared to the other comps on the market.
I believe LIT also offers a 30 day money back guarantee in case you're not happy with your purchase.
Final Thoughts
Alrighty, that's about all there is to say about the LIT Strength Machine.
With this system, you basically get a quality water rower that's compatible with resistance bands, which in itself isn't that mind blowing.
But when paired with the creative instructors via the app, you get access to a pretty unique workout experience.
But is the LIT Method worth investing in?
Hmm, I think that depends on a few things…
First and foremost, you have to be ok with signing up and paying for the monthly subscription plan- if not, I don't think it makes sense to purchase this machine because there are too many quality rowers out there that cost less.
Second, you need to be ok with the fact that if you decide to cancel your subscription down the road, that you won't have access to any rowing metrics because there isn't a monitor.
(You can still use the rowing machine without an app subscription, after all, it's just a water rower and doesn't require any electricity to function, you just won't be able to track anything).
In terms of price, it's true the LIT is on the higher end, but it's not that high when compared to other elite water rowers that can easily cost $2k.
Overall, if you're looking for a fresh take on home fitness (especially one that's low impact), I think the LIT Strength Machine is a solid choice.
If you're looking for a more traditional take on rowing, but still offers streaming workouts, you might be better off with a Hydrow or Ergatta.