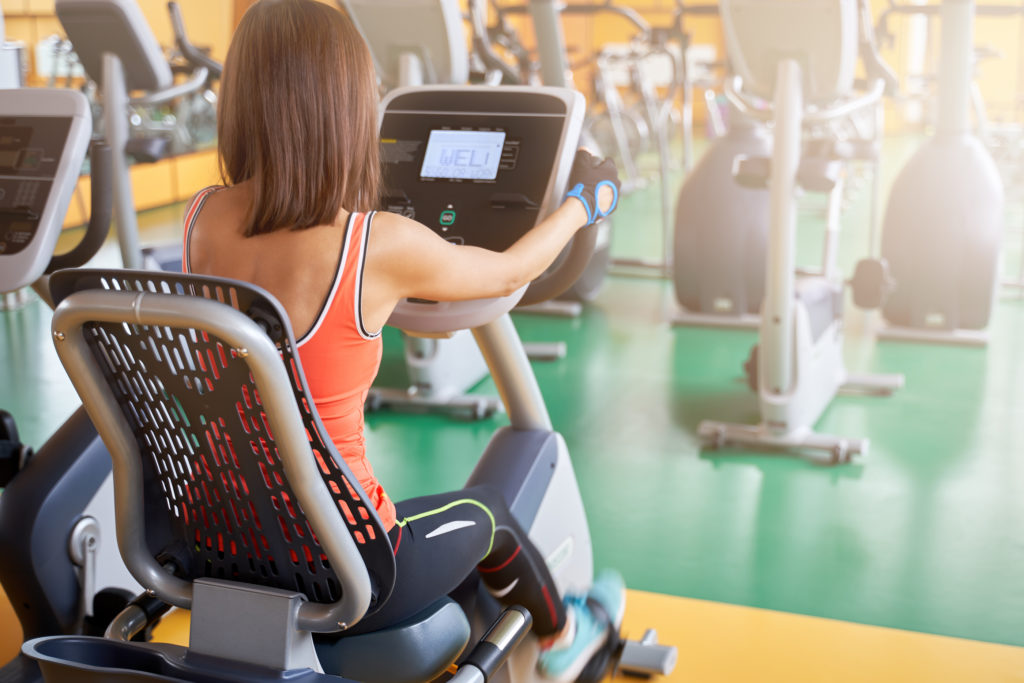 LifeSpan's R7000i is their top-of-the-line recumbent bike to date. It's a low-impact fitness machine made to commercial standards, meaning it should be more than capable of handling any workout you can throw at it.
Highlights of this model include a self-generating power source, a heavy-duty frame, and 19 built-in workouts to choose from.
It's also backed by LifeSpan's legendary warranty which puts many competitors to shame.
But with so many recumbent bikes to choose from, does it make sense to invest in the R7000i?
Well, that's what we're here to help you figure out.
In this review, we'll take a close look at everything this recumbent bike has to offer. After reading, you'll know everything you need to in order to make the right call.
Let's get rolling!
The LifeSpan Fitness R7000i Commercial Recumbent Bike
LifeSpan Fitness is one of the more reliable brands out there. Like most other companies in the industry, they provide almost all exercise machines you can think of ― treadmills, bikes, rowers, and etc.
I guess what sets them apart from the competition is their high-quality standards at affordable rates. There are commercial-grade machines for every budget, making them a nice addition to your home gym.
Moreover, LifeSpan is quite aggressive in creating advanced product solutions for many different lifestyles. They're changing the tides in the world of fitness by introducing newer approaches to exercising in an anytime/anywhere philosophy. 
Take for instance their treadmill desks and desk bikes they've pioneered in offering alternatives to the sedentary workplaces.
They've also got a powerful lineup of best-selling treadmills with their TR12000i getting much recognition for its top-notch performance at a budget friendly price. 
When it comes to recumbent bikes, they currently offer a few to choose from with the R7000i being the most advanced to date. This commercial-grade bike comes with an asking price of roughly $1800. 
Pros
20 lb flywheel

16 resistance levels

Solid, heavy-duty frame

400 lb weight capacity

Easily adjustable seat

19 built-in workout programs

Self-generated power

Contact sensors at its handlebar

Wireless heart rate capacity

Media shelf

Water bottle holder
Cons
No cooling fan

Chest strap not included
Flywheel
The flywheel is an important component to consider in any exercise bike. They're like the heart of the machine as they're responsible for creating the resistance and providing smooth operation during use. 
Sometimes, they're linked to how quiet the machine can be. But there's no clear evidence about that yet. 
If you're new to exercise bikes, flywheels are those big round discs located at the front of the unit. They spin as you pedal, providing the resistance for your workout.
They come in different weights, and the heavier ones are what we should be interested in.
Heavier flywheels are usually considered better for many reasons. But to cut the chase, they often provide a smoother, more fluid feel during use.
Now home recumbent bikes usually have flywheels ranging anywhere from 13 to 20 lb.
For comparison's sake, spin bikes usually have the heaviest flywheels with some going as high as 50 lb or so, making them ideal for higher-intensity training.
With this in mind, the R7000i sports a 20 lb flywheel. It hits the mark and has met our expectations for a massive flywheel for the recumbent bikes category.
Folks who've tried the R7000i say that the unit runs smoothly. It doesn't hiccup or shows any turbulence between strokes. Some even say it has a whisper-quiet operation, so this should give you a pleasant time cycling while enjoying TV if you so choose.
The R7000i comes with 16 resistance levels. With so many resistance levels at your disposal, this bike allows you plenty of options when it comes to the intensity of your workouts.
It also allows plenty of room for you to grow as you get stronger and more fit.
Overall, the R7000i has enough muscle under the hood to provide a smooth, comfortable, and effective workout at home. 
Seat
The seat is important because if it's uncomfortable, your sessions may not last long enough to effectively torch those extra calories or achieve your fitness goals.
Unlike spin bikes and traditional upright bikes, recumbent bike seats tend to be fairly comfortable. They're larger, which puts less stress on your bottom and they come with a backrest, which can relieve tension in your back.
This is why these bikes are used often by people with mobility issues or who are going through rehab- they can offer a more comfortable mode of exercise.
The R7000i fits all those descriptions but with a molded-foam seat bottom with a breathable backrest. The ventilation can help keep you cool as you ride, especially as it doesn't come with a cooling fan.
It can be positioned anywhere within a 14″ range, providing maximum comfort to both short and taller users alike.
The seat position is easily adjusted along the horizontal track. The seat also comes with built-in armrests, which may provide a more comfortable position during your workouts.
LifeSpan offers excellent lumbar support for their R7000i. It lines up your posture so you won't get back pains after cycling. This makes a nice option for older adults or those with back problems. 
Overall, the R7000i does a decent job of providing a comfortable riding position for all users. Its seat is large and easily adjustable and the armrests are a nice touch.
Frame
Frames could make or break the quality of a machine. If it's light and flimsy, you won't feel safe riding it. It will likely wobble especially during those more intense sessions.
Robust units are ideal because they give an overall safe and comfortable feel. Whether it's light routines or hardcore workouts, solid machines can readily support you all throughout.
Now let's see how the R7000i stacks up.
At first glance, the machine looks strong and durable with its steel frame construction. 
But that's the subjective way of sizing up its frame integrity. The more objective way is to see its weight and user weight capacity.
Heavier means more robust, and more robust means it's more stable.
The R7000i weighs about 140 lb fully assembled and has a max user weight limit of 400 lb. This tells us that it's heavy-duty and has a rock-solid finish.
It's also above-average for bikes in this price category. Others go only as far as 300 lb for a user weight capacity, which is more average for home units.
But I always recommend readers that if your weight is nearing the limit, you should look for units with higher capacities instead. They're safer to use and are more likely to offer improved stability.
Overall, the R7000i is a heavy-duty machine and can safely accommodate most users due to its high weight capacity.
Features
Here are the features of the R7000i:
LCD display: It has a decent size that shows all your progress metrics in a colorful, brightly lit display. It's a little dated, like most LifeSpan machines. But it does its job well by being reader-friendly and easy-to-read.
19 programs: There's plenty to choose from. Two are controlled by heart rate, while the remaining 17 preset programs are divided into different fitness agendas (5 for weight loss, 5 for healthy living, and 7 for sports training).
Self-generating power: This machine can help you save on electricity costs. Its console operates using your energy, turning on as you pedal. It also powers your charging devices via the USB port.
USB port: You can hook your devices to the R7000i for charging or transferring your workout data.
Heart rate monitoring: The R7000i operates in two ways for cardio monitoring: 1) contact grips on the handles and 2) a wireless heart rate receiver. The latter is more preferred as it's more accurate and more convenient. However, you still need to purchase the chest strap separately.
Storage and bottle holder: There's a tray behind the seat that can hold your water bottle, keys, or other small items. It's not strategically placed in my opinion, but I guess it's better having it than none at all.
Media holder: There is an integrated shelf to hold your Kindle, iPad, magazines, and etc.
Assembly
The R7000i comes with a manual guide. The directions are clear and straightforward, as LifeSpan provides them with both written and large visual instructions. 
The package also comes with a pre-built body. Roughly 90% of the assembly is done, so all you have to do is to attach the console and its other accessories.
You can probably finish assembling the R7000i in an hour or . However, it's easier to get the job done with two people as the unit is pretty bulky at around 140 lb.
Warranty
The LifeSpan Fitness R7000i Commercial Recumbent Bike has one of the longest residential warranties at this price point:
Lifetime frame
5 year parts
2 year labor
You get 5 years for parts and 2 years for labor, but its frame is backed by an awesome lifetime warranty deal. There's no getting around it- this is a great guarantee for any price range.
LifeSpan also offers a commercial warranty on this mode: 10 year frame, 2 year parts, 1 year labor.
Final Thoughts
I've become a fan of LifeSpan and their no-BS way of doing things. Their motto seems to be concentrate on the important stuff, forget the rest.
And I think their R7000i Commercial Recumbent Bike fits their mold perfectly.
This bike isn't particularly flashy, but it does have a lot going for it. It's constructed with a heavy-duty frame and it comes with a relatively heavy flywheel.
It also offers users plenty of workout programs and resistance levels to work with and there's no complaining when it comes to the warranty department.
I think it's the self generating power source that sets this bike apart though- few other home bikes can offer this, especially at this price range.
Speaking of cost, if this bike didn't have the self generating power source, I might say it was priced a tad high, but I think this feature warrants the current asking price.
Think of the flexibility this gives you- you can put this bike anywhere without having to worry about outlets.
Overall, I like this model. If you're looking for a commercial-grade recumbent bike at a fair price, LifeSpan's R7000i is indeed a smart investment.