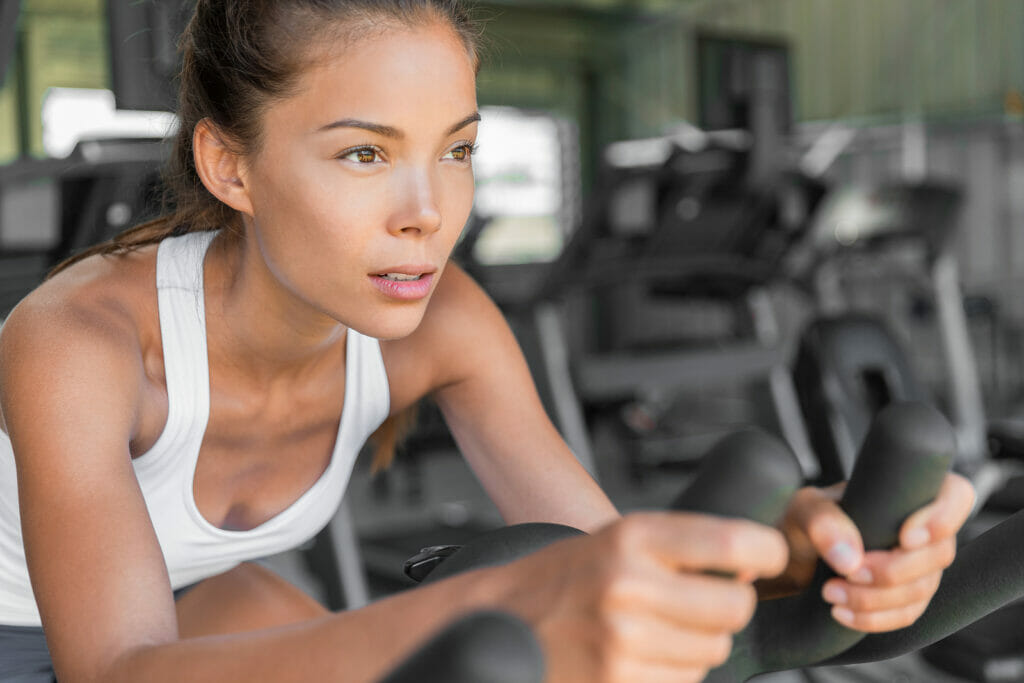 The 7.0 IC Indoor Cycle is one of Horizon's newer exercise bikes and at first glance, it's got a lot to offer for a cycle costing under $1k.
In terms of performance, the 7.0 IC comes with a 28.6 lb flywheel, 100 levels of magnetic resistance, fully adjustable handlebars and seat, and dual-compatible pedals.
And its console is no slouch either.
With a handful of built-in workouts and bluetooth compatibility with popular apps, this bike offers affordable access to streaming workouts as well as good ol' fashioned cycling on your own.
And this is Horizon, so of course they back this cycle with a generous warranty.
All things considered, I think the 7.0 IC likely has what it takes to become one of the top indoor cycles under $1k, but there's still room for improvement in a few areas (the frame could be heavier-duty and it would be nice if dumbbells were included).
In this review, I'll go over everything this cycle has to offer; I'll also try to compare it to some of the other comparable cycles in its price range to see how it stacks up.
After reading, you'll know whether or not the 7.0 IC is the right bike for your home gym.
Off we go.
The Horizon 7.0 IC Indoor Cycle
I like Horizon as a brand, but their exercise bike lineup has been pretty weak for a while now.
They have a great treadmill lineup (I actually own their 7.8 AT and love it), but until recently, they've only really offered 1 recumbent bike and 1 upright bike.
They've offered a few indoor cycles in the past, but it's been some time since they were available.
Well, now it looks like Horizon is trying to get back in the cycling game because they have 2 newer cycles to choose from now- the 7.0 IC and the slightly cheaper 5.0 IC.
I'm not sure what took them so long, but it's nice to see some new equipment from Horizon.
Anyway, at the time of writing this, the 7.0 IC is selling for $799 – I don't know how long that price will last, but I hope they keep it there for awhile because I think that's a very competitive price for this cycle.
But more on that later, let's start with performance specs.
Pros
100 levels of magnetic resistance
28.6 lb flywheel
300 lb weight capacity
Bluetooth compatible with fitness apps
Fully adjustable seat
Fully adjustable handlebars
USB charging
Dual-sided pedals
Tablet rack
Dual water bottle holders
Great warranty
Reasonably priced
Cons
Frame could be heavier
No dumbbells included
Resistance
Home exercise bikes usually rely on weighted flywheels and magnetic resistance systems to create their resistance and the the 7.0 IC is no different.
Some indoor cycles still use friction brake resistance systems, but even a lot of affordable bikes are switching over to magnetic systems now.
Which, personally, I think is a good thing because magnetic systems tend to be smoother and don't require the replacement of that little brake pad.
Anyway, the 7.0 IC is a magnetic bike and it comes with 100 resistance levels.
This is a lot of resistance levels to work with and as a Peloton owner, I think this is a good thing for 2 reasons.
First of all, having more resistance levels allows you to make smaller adjustments to your resistance, fine tuning the intensity throughout your workouts.
And secondly, it makes it easier to follow along with the Peloton Digital App, if you so choose.
Peloton also uses a 100 level scale for their resistance, so if you want to use their streaming app, having 100 levels makes it easy to follow what their instructors are instructing.
Just keep in mind that having more resistance levels doesn't necessarily mean more overall resistance.
With 100 levels, I think the 7.0 IC scores highly, but there's still the flywheel weight to consider.
Having a heavy flywheel is generally considered a good thing these days because most bikes are designed to benefit from the extra momentum that weight builds as it spins.
And more momentum means less lag between pedal strokes, which equals a smoother feel during workouts.
With a 28.6 lb flywheel, the 7.0 IC is packing a little less muscle than the 30 lb+ flywheels we find on most of the top indoor cycles on the market, but it's not embarrassingly light.
ProForm's similarly priced Carbon CX also comes with a 28 lb flywheel, so there is some precedence.
That said, Schwinn's IC3 is packing a 40 lb flywheel (as is Diamondback's 910ic), so it wouldn't be asking too much to see a heavier flywheel on this cycle either.
More advanced riders might prefer a cycle with a little more muscle under the hood, but beginning to more moderate level riders will likely do fine here.
Overall though, I think the 7.0 IC scores pretty well in the resistance department, the flywheel could be heavier, but I love that it comes with 100 magnetic levels.
Frame
Ok, so not bad in the resistance department, but what about the rest of the bike?
A common ailment of budget-friendly cycles is that they tend to be lighter-weight and prone to some wobbling during use (especially while standing).
This isn't necessarily a deal breaker and it makes sense cheaper bikes would be lighter-duty (I mean they're usually cheaper for good reason), but we still want to try and find the most secure bike our budgets will allow.
This can be tough when comparing bikes online, but there's still some stuff we can look at to get an idea of how heavy-duty a bike is before purchasing.
I like to compare assembled weights and weight limits because these numbers can give us an idea as to how robust or heavy-duty a bike is.
And seeing higher numbers in both specs is a good thing.
Heavier bikes are harder to move, meaning they should wiggle around less during workouts.
The 7.0 IC comes with an assembled weight of 87 lb, which is light for an indoor cycle in this price range.
For the sake of comparison, Sole's SB700 weighs a whopping 141 lb, Diamondback's 910ic weighs 135 lb, and Schwinn's IC3 even weighs in at around 100 lb.
Now those bikes all come with flywheels that weigh at least 12 lb more than the 7.0 IC's, but that alone doesn't make up the differences (well, in the IC3's case it does).
So, there are certainly heavier-duty cycles in this price range, but the 7.0 IC still comes with a 300 lb weight limit, which is pretty standard for indoor cycles in all price ranges.
Overall, I'd like to see a little more bulk on this bike, but with a 300 lb weight limit, most users will still be able to ride safely.
Features
The Horizon 7.0 IC Indoor Cycle comes with the following features:
LCD console- the console is brightly-lit and easy to read, so viewing your stats during workouts shouldn't be an issue. You also control the resistance by using up/down arrows on the console, as opposed to turning a dial, which might be helpful for folks who find dials cumbersome.
5 workout programs- the console comes with 5 built-in workout programs, including: calorie, distance, intervals, weight loss, and manual mode. Not a lot to choose from, but the 7.0 IC is designed with streaming apps in mind.
Bluetooth- this bike is bluetooth compatible with fitness apps like Peloton and Zwift, allowing those apps to track your cadence and heart rate. The console on this cycle is also compatible with bluetooth heart rate monitors, fyi.
USB charging- you can charge your phone or tablet up while riding with the handy USB charging port on the console.
Fully adjustable seat- the seat is fully adjustable, meaning you can adjust both the height and fore/aft position, making it easier to find a comfortable riding position.
Fully adjustable handlebars- you can also adjust the height and horizontal position of the handlebars, for an even more customized fit.
Dual-sided pedals- the pedals come with a toe-cage on one side and are SPD compatible on the other, allowing you to wear sneakers or riding cleats during workouts.
Tablet rack- there's a place to put your tablet for easy viewing during rides and it won't even block your view of the console.
Dual water bottle holders- and finally, there's room for 2 water bottles on this bike, so there's no excuses for not staying properly hydrated.
Assembly
The assembly process for most indoor cycles is pretty similar and the 7.0 IC fits the expected mold.
If you decide to purchase this cycle, you'll be responsible for attaching the front/rear stabilizers, attaching the handlebar post, connecting the handlebars, seat, pedals, and console.
You have to snake the console wire up through the handlebar post so it can connect with the console, but this shouldn't be too bad using a lead wire.
All the necessary parts and tools should be included with purchase.
Overall, putting the 7.0 IC together shouldn't be too challenging for folks who are at least a little handy, but you can always get pros to do it for ya if necessary.
Warranty
Horizon backs their 7.0 IC Indoor Cycle with the following home warranty:
Lifetime frame
3 year parts
1 year labor
Right off the bat, I love seeing a lifetime frame warranty – not only is this as long as they come, but there aren't that many brands still offering lifetime guarantees on indoor cycle frames (especially in this price range)
Sole still does, but Schwinn and ProForm stop at 10 years.
Three years on parts is also pretty generous for a cycle in this price range, although Sole and Schwinn also offer 3 year parts guarantees on their SB700 and IC4, respectively.
And a year on labor is pretty standard stuff across the board.
Overall, Horizon offers a great warranty here – it's as long as you're gonna see in this price range.
Final Thoughts
Ok, there ya have it.
Based on all the specs and features we've gone over, I think Horizon has a solid indoor cycle here.
It's not the heaviest-duty indoor cycle in this price range, but it comes with a great combination of specs and features for an $800 bike.
I like the 100 level resistance system and the fact that the console is bluetooth compatible with fitness apps because I think this bike would make the most sense for folks looking to connect with streaming apps like Peloton.
It's also nice that it has fully adjustable everything and dual-sided pedals.
And I have no complaints whatsoever regarding that warranty.
My only complaints would be that it would be nice to see a heavier flywheel and an included dumbbell rack – not huge issues, but the competition in this price range is stiff.
Schwinn's IC4, which to be fair does cost about $200 more, is heavier duty, comes with a 40 lb flywheel, and does include a dumbbell rack with a pair of 3 lb dumbbells.
(P.S.- Bowflex's C6 is identical to Schwinn's IC4, so if you're interested in that cycle, I'd compare prices – there can be significant differences depending on promotions and whatnot).
ProForm's iFit compatible Carbon CX is another top competitor in this price range, but I think the 7.0 IC has it beat with the 100 resistance levels.
And we can't forget about Diamondback's 910ic and Sole's SB700, both of which are much heavier-duty, however neither are really designed for streaming purposes.
So, overall, I think Horizon's 7.0 IC is a good option if you're looking for a budget-friendly streaming compatible cycle; if streaming isn't what you're looking for, there are nicer cycles in this price range.