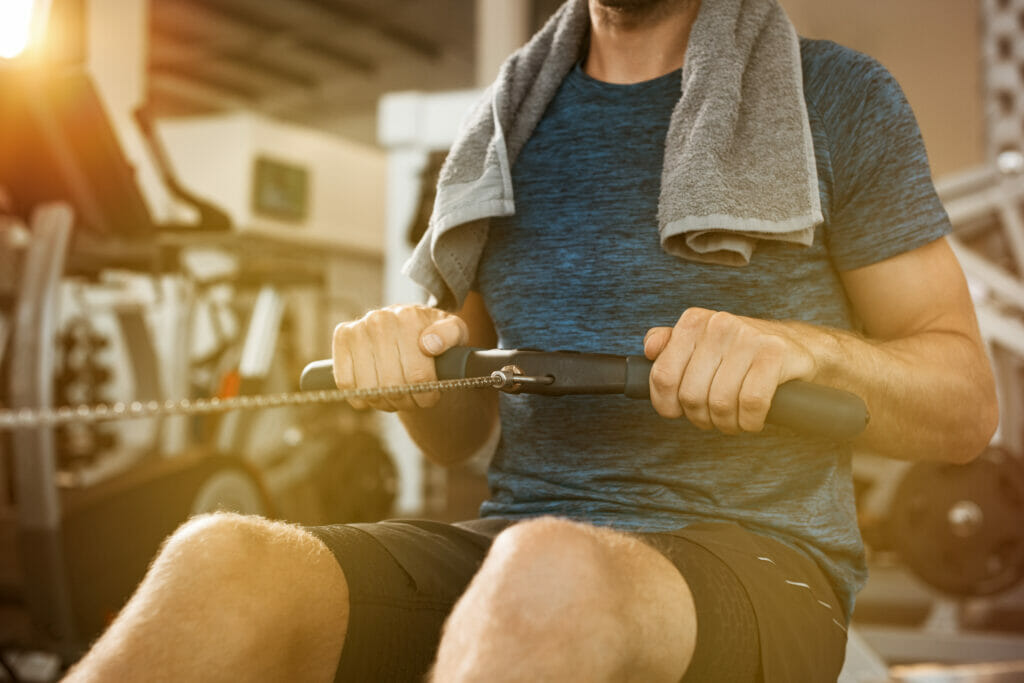 If you're looking to mimic the feel of rowing a real boat with oars, Fitness Reality's 4000MR might be right up your alley.
Unlike most rowing machines, the 4000MR is designed to mimic the feel of pulling 2 oars.
Instead of having a single handle attached with a chain, this rower comes with 2 separate handles that rotate out, producing a circular motion.
This unique rowing action is the biggest benefit I see to choosing this model over any other quality magnetic rowing machine, but if that's what you're looking for, the 4000MR is a solid choice.
Additional highlights include 16 magnetic resistance levels, 15 workout programs, and a surprisingly generous warranty.
Long-story-short, I think the 4000MR is a pretty cool product for the price, but it's far from perfect.
For the longer story, keep reading.
In this review, I'll go over all the in's and out's you should know about this rowing machine before your purchase. After reading, you'll know whether or not this is the right choice for your home gym.
The Fitness Reality 4000MR Magnetic Rowing Machine
Fitness Reality is one of the many brands owned by the larger parent company, Paradigm Health & Wellness. They own another brand you may've heard of too – Exerpeutic.
Fitness Reality, like Exerpeutic, is a very budget-friendly brand.
You'll often find their products on retail sites like Amazon or Wal-Mart, although you can actually buy directly through their website too.
They have a fairly limited selection of cardio machines and strength training gear to choose from and I'm pretty sure everything costs less than $1000.
When it comes to rowers, they've only got 4 to choose from and the 4000MR is the most expensive of the bunch.
At the time of writing this, the 4000MR came with a retail price of about $699 (but prices change, so don't hate me if that isn't still 100% accurate by the time you read this).
Pros
Double oar rowing motion
Compact frame
16 levels of magnetic resistance
300 lb weight capacity
Folds for easy storage
15 workout programs
Straightforward assembly
Impressive warranty
Cons
Not compatible with heart rate monitors
User complaints about the resistance not working
Resistance
As the name kinda implies, the 4000MR is a magnetic rowing machine, meaning it uses a magnetic resistance system.
Rowing machines are usually categorized based on the type of resistance they use, of which there are 4: hydraulic, air, water, and magnetic (many also combine air and magnetic systems).
Each type of resistance has it's benefits and drawbacks, but since the 4000MR is of the magnetic variety, I'll cut to the chase (but if you're interested in learning about the other kinds, check out my full rowing machine guide).
As a magnetic rower, the 4000MR uses a spinning flywheel and magnets to create the resistance you'll work against.
Adjusting the resistance digitally changes the position of the magnets in relation to the spinning flywheel (which is metal): bringing the magnets closer increases resistance, farther away reduces resistance.
This is just how exercise bikes and ellipticals using magnetic resistance work too.
This type of resistance system is great because it's quiet and smooth, but in the case of rowing machines, a lot of people also appreciate that it provides a consistent resistance.
Meaning that you'll feel the same resistance regardless of how fast or hard you row.
The 4000MR comes with 16 resistance levels that are adjusted from the console- this is a fair amount of levels to work with, especially for a budget friendly rower.
But since you have to push the button on the console to adjust levels, you'll have to stop rowing momentarily each time you want to do so.
Not a big deal, but something to be aware of.
In terms of total output, most users agree that the 4000MR is capable of providing an adequate amount of resistance to provide a good workout.
Of course, of the complaints, most of them are regarding the rower not working when they try to change the resistance.
This is a malfunction, and would be covered by the warranty (more on that in a minute).
Overall, as a magnetic rower, the 4000MR is quiet and provides a consistent resistance regardless of your rowing rate. With 16 levels to choose from, it provides plenty of room to grow with you as you get stronger.
Frame
Regardless of which type of cardio machine I'm learning about, I always make sure to check out the frame. More specifically, I'm interested in how heavy-duty I can expect it to feel.
The best way to do this without actually taking it for a test spin (which usually isn't possible) is to look at 2 specs: the weight limit and the assembled weight.
Seeing higher numbers in both of these categories is a good sign and indicative of a more stable feeling machine.
The 4000MR comes with a 300 lb weight capacity, which is respectable for a rower in this price range.
And with an assembled weight of 116 lb, it weighs a lot more than most rowers in this category.
Based on these numbers, you shouldn't have to worry about this rowing machine feeling flimsy or wobbly during your workouts.
And when you look at the assembled dimensions, it's also pretty compact by rowers' standards: 72″ x 25″ x 51.5″ (L x W x H).
And even if floorspace is an issue, this rowing machine can fold in half for storage. The frame folds up vertically, which essentially cuts it's footprint in half, and with built-in transport wheels you can easily roll it to wherever you need to.
Overall, the 4000MR scores highly with a heavy-duty, folding frame. It also isn't as long as many traditional rowing machines to begin with, so if your workout area is space-challenged, this could be a nice perk.
Oh, almost forgot, with these dimensions, Fitness Reality reports folks between 5′ and 6'5″ should be able to use comfortably.
Console
Ok, let's move on and take a look at the console.
The 4000MR comes with a pretty basic, 5″ LCD screen. There's nothing fancy going on here in the least, but at least it's backlit, making it easier to see in most lighting situations.
The console displays all the traditional rowing metrics you'd expect, including distance, time, row count, calories, rate, and watts.
This console also comes loaded with 15 workout programs (10 preset, 5 custom), which is a lot for any rower. These include distance, time, and calorie goal oriented options.
The biggest thing I see missing here is that this console isn't compatible with any heart rate monitors, so you won't be able to track this stat during workouts.
Overall, the console on the 4000MR is simple and easy to use. It comes with a lot of workout options to choose from and it tracks all of the metrics you'd expect, except for heart rate.
Assembly
If you do decide to purchase this rower, you shouldn't worry about the assembly process- it's a pretty straightforward procedure.
There are several steps to go through to get the 4000MR up and running, but Fitness Reality does a pretty good job with their assembly manual, so it shouldn't be too bad.
This rower comes with all the necessary hardware and tools, which is good, but what's even better is that the hardware for each step is organized together.
This is awesome because you know exactly which bolt and nut is to be used for each step along the way- you don't have to worry about accidentally using the wrong bolt, only to learn 5 steps down the process that you have to backtrack…
Not that that's ever happened to me or anything…
Anyway, the main unit of this rower comes mostly pre-assembled. You'll be responsible for attaching stabilizer feet, attaching the console, the arms, and the rail, as well as several covers.
The assembly manual is well organized and it comes with large images, making it easier to see what goes where.
Overall, I think most folks will be ok with self-assembly. I'd expect to spend 60-90 minutes getting the 4000MR unpacked and workable.
Warranty
Fitness Reality backs the 4000MR Magnetic Rower with the following warranty:
5 year frame
3 year parts
2 year electronics
As I mentioned in the intro, this is a better warranty than I'd expect for such an affordable rower.
Five years on the frame is legit, especially considering this is how long a lot of the more expensive models offer (including The Hydrow).
But that 3 year parts warranty is even better, considering most only offer 1-2 years (or much less).
Overall, the generous warranty offered on this rowing machine is one of its most redeeming factors.
That said, if you do have to deal with a part breaking under warranty, Paradigm's customer service has a less than stellar reputation.
I came across several complaints from users about how difficult it was to get in touch with someone that could actually help 'em.
Final Thoughts
Ok, that about does it for the Fitness Reality 4000MR.
All things considered, I think this is a pretty solid rower for this price range.
The key feature is of course the double, oar-like rowing arms that give the feel of rowing a real boat.
Besides this feature, I don't see anything particularly mind-blowing going on with this rowing machine. Although I'll say it again, that warranty is a very pleasant surprise.
The biggest downsides I see are that it isn't heart rate monitor compatible and that there have been several complaints about the resistance system not working upon completion of assembly (or shortly after).
But if you're looking for that oar rowing motion, there aren't that many rowers to choose from.
And the only other ones I can think of off the top of my head are hydraulic.
So, if you're looking for a magnetic version, I would say the 4000MR is certainly worth buying.