I'll be honest, before I started researching for this topic I thought "folding treadmills" where the cheap, motor-less contraptions that people used to have from the '70s or '80s. You know what I'm talking about, you could maybe walk on it with some effort, but there was no way you would try running on this thing. Well, I'm happy to say that the times have changed! Now you can basically get commercial quality treadmills that fold to save space. Hotels use them. Resorts use them. But what is the best folding treadmill for home use? Let's find out.
First Things First, What IS A "Folding" Treadmill?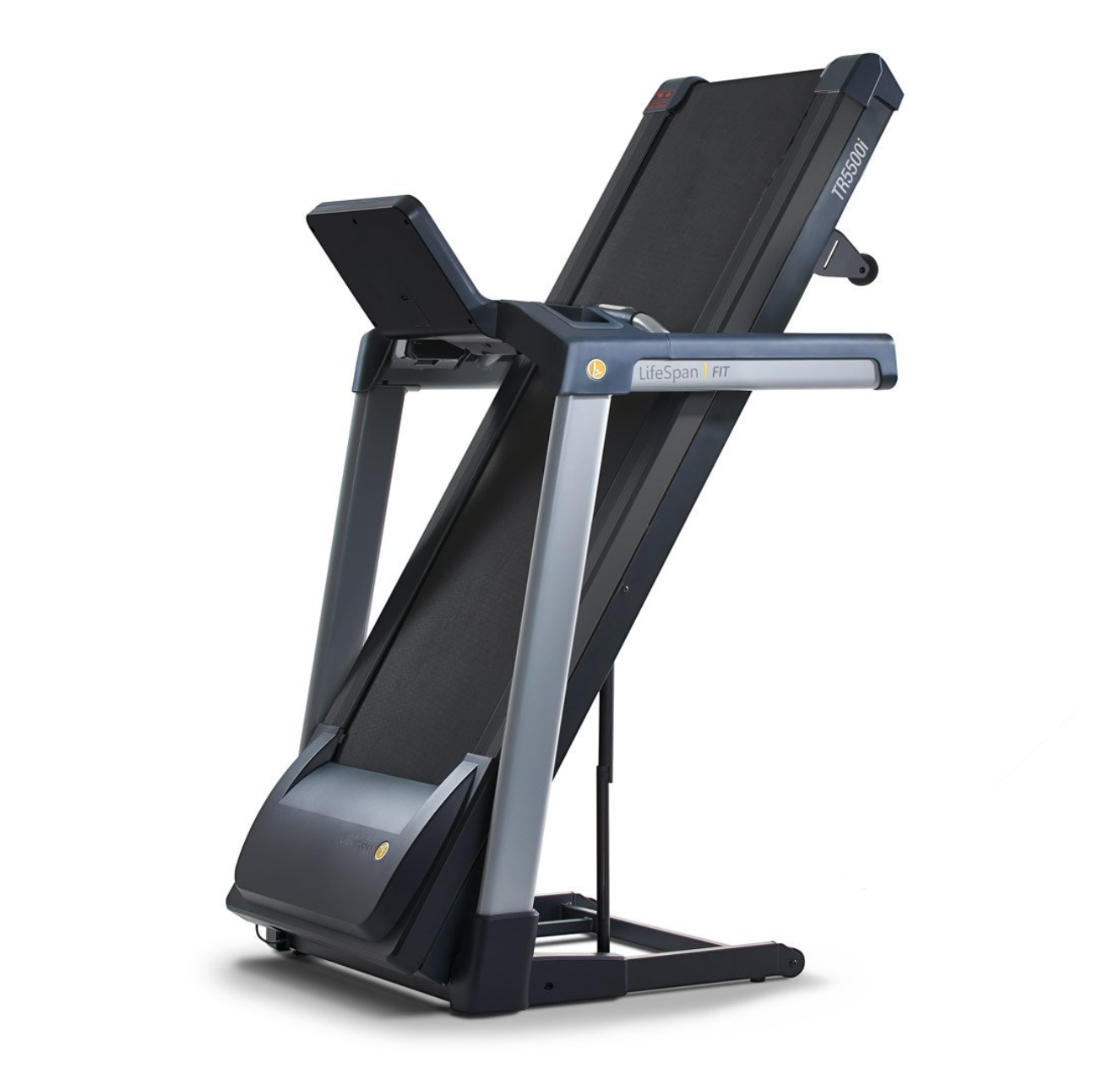 Good question. A folding treadmill is just what it sounds like. The running track can fold up vertically to meet the console when not in use. This can be a huge space saver. Most treadmills take up a foot print of about 3 ft wide and 7 ft long. Folding the track up can more or less cut that foot print in half. Great for home gyms that are limited in floor space. Also nice if you have a home with small children who may try to climb and play on treadmill…or spill milk on treadmill…or jam farm animals in the treadmill's track…
Is A Folding Treadmill Right For Me?
A big question to ask yourself when researching treadmills before purchasing. For most home gyms, the treadmill will be the most expensive purchase. Will probably take up the most real estate as well, unless you are lucky enough to have a serious cable system or Smith machine.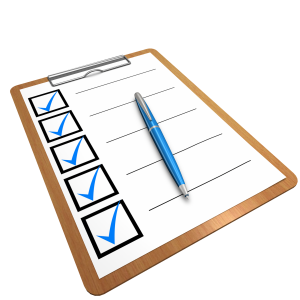 Treadmills can be a great addition to any home gym. For those who love to run it's a no-brainer if the space and budget allow it. Having the freedom to run indoors, not having to worry about the weather outside, being able to watch your favorite movie or tv show while running. Treadmills can be great for the non-runners as well. Walking is a great alternative if pain or preference limits your ability to run, especially with many treadmills offering incline options.
The benefit of a folding treadmill is obviously it's ability to be stored while not in use. However, in order to provide the consumer this benefit, the manufacturer typically has to give up a little in the stability department. When compared to non-folding treadmills, folding treadmills tend to be lighter-weight which can affect overall durability.
It's important to look at the user max weight limit when researching treadmills. Folding treadmills tend to have a smaller weight limit than their non-folding counterparts. Again, anytime you increase mobility (in this case the track's ability to fold up), you have to give up a little stability. Unfortunately, there is no "perfect" treadmill. That said, a nice folding treadmill can handle a user weight in the 300-375 lb range.
Another important thing to think about when looking at treadmills is where you are planning on using/storing them. If you are planning on moving it around within a room or home, make sure your model has wheels (most do) because even though these machines are lighter than the non-folding versions, they are still pretty heavy…200-300lbs.
Price Ranges
Like anything in life, you get what you pay for. Don't be surprised when your $200 treadmill doesn't perform like your favorite treadmill at Gold's. Any treadmill you find for under $500 is generally considered a budget treadmill. These treadmills are easier on the wallet, but you really never know what you're gonna get.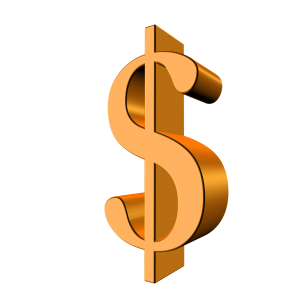 There's a reason a treadmill is so affordable- it doesn't provide you with the stability/durability and options of the more expensive machines.
Cheaper treadmills usually have weaker motors, shorter tracks, and less console features. They may have very limited warranties. These treadmills will almost always be very light weight and may or may not have incline abilities.
But, you may not need the features provided by the more expensive treadmills. If you have a smaller frame and are only planning on walking on the treadmill, a budget machine may work fine for you. Just be careful and be prepared for disappointment.
There are many high quality, folding treadmills in the $700 – $1500 range. I know this is a sizable amount to spend on exercise equipment, but you want to make sure you are getting something that will last. The last thing you want to happen is to buy a $400-$500 treadmill and have to replace it in 3 months.
Consider this, a high end non-folding treadmill can easily cost $6000-$7000! These machines are the commercial grade treadmills the gyms are using.  $1000 for a nice folding treadmill isn't too bad in comparison.
Let's take a look at some very well reviewed options.
The 6 Best Folding Treadmills For Home Use
ProForm Pro 2000 Treadmill 

Best Price: Click Here To Check On Amazon
Motor: 3.5 CHP (continuous horse power)
Deck: 22″ x 60″
Speed: 0-12mph
Incline: 0-15% with 3% decline
Warranty: Lifetime frame and motor; 5-year parts; 2-year labor
Dimensions (L x W x H): 80″ x 39.5″ x 63″
ProForm is a well known home fitness equipment company owned by ICON, a very successful fitness equipment manufacturer. The Pro 2000 is the lowest priced unit in the "Pro" series. The more expensive Pro 5000 and Pro 9000 offer more features including touchscreen, nicer belt, more powerful motor. The Pro 2000 however is well-priced and highly reviewed as one of the best foldable treadmills on the market. ProForm offers the iFit interactive fitness coach app that is paid for separately.
Pros
Quiet belt
Power incline and decline (-3 – 15%)
iPod Compatible
2  3″ speakers with digital volume control
350lb weight capacity
iFit Compatible
32 workout programs
Grip heart rate monitor
Included chest strap wireless heart rate monitor
Fan
Cons
Tablet not included to use iFit, have to use your own or purchase separately
Customer service can be slow
Large footprint
Overall, a great treadmill for the price! Very sturdy frame and belt with plenty of features. Produced by a well known manufacturer.
Horizon Fitness Elite T7 Treadmill
Best Price: Click Here To Check On Amazon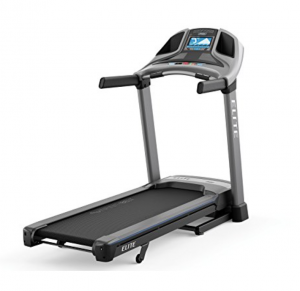 Motor: 2.75 CHP
Deck: 20″ x 60″
Speed: 0.5 – 12 mph
Incline: 0-15%
Warranty: Lifetime frame and motor; 5-year parts; 1-year labor
Dimensions: 77″ x 36″ x 60″
Folded Dimensions: 44″ x 36″ x 60″
Horizon Fitness is part of the company Johnson Health Tech (JHT). JHT has been around for over 30 years, selling products to high-end health clubs and sporting good stores alike. The company is based out of Taiwan and sells commercial grade and home fitness products to over 60 countries worldwide. The T7 is the lowest price treadmill in the "Elite" series, but shares most of the perks of it's big brother the T9. The T9 has an upgraded touch screen and a few Virtual Passport workouts built in (a program that gives you scenery to run to, makes you feel like you are running through a country side or through the Rockies, etc).
Pros
Integrated wax on belt virtually eliminates need to lubricate
Track has variable response cushioning system- 3 different zones designed to reduce strain on joints during use
iPod compatible with speakers
350lb weight capacity
42 workout programs
Passport capable (for the Virtual Active workouts), Passport sold separately
ViaFit compatible
Grip heart rate montior
Included chest strap with wireless heart rate monitor
8.5″ blue LCD display screen
Very quiet
Cons
Not a touch screen display
Large machine when not folded
Small speakers
Overall, it was hard to find cons for this product. For the price, easily one of the best folding treadmills on the market. Average rating of 4.4/5 on Amazon.
LifeSpan TR5500i Treadmill
Best Price: Click Here To Check On Amazon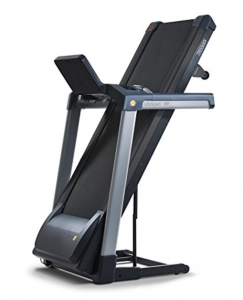 Motor: 4.0 CHP
Deck: 22″ x 60″
Speed: 0.5 – 13.5 mph
Incline: 13 levels incline, 2 levels decline
Warranty: Lifetime frame and motor; 5-year parts; 2-year labor
Dimensions: 73″ x 34.5″ x 55.5″
Folded Dimensions: 40.5″ x 34.5″ x 65.5″
LifeSpan has been creating quality home fitness and commercial grade equipment since 2001. They are also known for their involvement in the active workspace movement, creating treadmill desks and bike desks to keep people active while at work. The TR5500i is really designed with serious runners in mind. It's durability can stand up to an intense workout with high speeds and an extra wide deck for comfort.
Pros
Powerful motor able to keep up with sprinters at 13.5 mph
Extra wide deck (22″, many stop at 20″)
All-steel folding frame
43 workout programs
Built-in USB charges your accessories while you exercise
8 shock absorbers for extra comfort during running
350lb weight capacity
Bluetooth enabled
Built-in pedometer
3-speed fan
Extra thick tread belt (2.8 mm, 3x as thick as many belts)
Cons
6″ LCD display with only 1 color
Heart rate monitor sold separately
A very well received treadmill by the running community, this model was voted "Best New Treadmill for Runners" by Runner's World Magazine  and "Best Buy Under $1500" by Fitness Professor in 2017. Awesome treadmill for a great price!
Life Fitness T3 Treadmill

Best Price: Click Here To Check On Amazon
Motor: 3.0 HP DC motor
Deck: 22″ x 55″
Speed: 0.5 – 10 mph
Incline: 0 – 12%
Warranty: Lifetime frame and deck; 10-year motor; 5-year parts; 1-year labor
Dimensions: 78.5″ x 34.5″ x 58.5″
Life Fitness is a powerhouse in the fitness equipment world. Odds are, if you have ever worked out in a commercial gym, you have worked out on a piece of equipment produced by Life Fitness. They have been in the game for about 45 years now and are well know for producing high-quality commercial grade equipment. The T3 is known for it's durability and reliability. Considered one of the higher quality folding treadmills on the market, it provides many of the advantages of a non-folding treadmill with it's strong motor and superior cushioning system. Currently on sale at Amazon, you can now get an excellent treadmill at a significantly better price.
Pros
Flex Deck Cushioning- reduces impact to joints by as much as 30% as compared to other treadmills
Powerful, smart motor that adjusts power output based on user's weight
Rack for magazines or tablets
350lb weight capacity
Choice of 2 consoles: each has 13 pre-loaded workouts (1 is also iPod and phone/tablet compatible)
Can save quick start preferences for 2 different users
Grip heart rate monitor
Wireless heart rate receiver
Extra large cup holders
Energy saver mode
Cons
Large footprint when in use
Smaller track (only 55″ long) may be difficult to run on for tall folks
Upgraded console will cost extra
Slower top speed, incline only to 12%
Life Fitness is a great brand and the T3 is a powerful, durable machine. If you are looking for something that you can trust to deliver year after year, this is a good bet. Taller runners and sprinters may do better with a different model with a longer track. The durability and quality construction on the T3 are definitely it's highlights.
NordicTrack C990

Best Price: Click Here To Check On Amazon
Motor: 3.0 CHP
Deck: 20″ x 60″
Speed: 0-12 mph
Incline: 0 – 12%
Warranty: Lifetime frame and motor; 3-year parts; 1-year labor
Dimensions: 78.3″ x 35.75″ x 56.4″
You probably remember NordicTrack back in the day with their skiers all over tv. They were popular, and for good reason: they provided a solid full body workout, where kinda fun to use for awhile…kinda goofy looking too though. Well, NordicTrack eventually added treadmills, steppers, and all kinds of other fitness equipment to their repertoire and started selling high-quality fitness equipment around the world. The C990 is considered to be one of the best treadmills on the market for under $1000. Provides many features other similarly priced machines don't. Beware, the NordicTrack customer service has been known to be less than stellar.
Pros
Customizable cushioning system (increase or decrease cushion of track to your preference by turning knob)
7″ full color touch screen on console
iPod compatible
iFit enabled
300lb weight capacity
32 built-in workouts
Convenient accessory tray
Long track (60″)
Quiet, smooth belt
Grip heart rate monitor, compatible with wireless chest strap
Auto breeze fan, adjusts fan to your workout
Cons
Probably best for walking or jogging, might not support heavy running
Slow customer service
Large footprint when in use
Treadmill unusable if computer malfunctions
The NordiTrack C990 is a solid machine at a good price. Produced by a trusted brand in fitness equipment. This would be a good option for people who are looking for a treadmill primarily for walking, or for lighter weight runners. May not hold up in the long run with heavy running use. But, for the price, gonna be hard to find a better option.
Horizon Fitness T101 Treadmill

Best Price: Click Here To Check On Amazon
Motor: 2.25 CHP
Deck: 20″ x 55″
Speed: 0.1 – 10 mph
Incline: 0 – 10%
Warranty: Lifetime frame and motor; 1-year parts and labor
Dimensions: 70.8″ x 33.1″ x 54.6″
Folded Dimensions: 45.5″ x 33.5″ x 61″
I included this last treadmill as an example of a machine that falls more in that "budget" treadmill category. That said, depending on how you are planning on using your treadmill, this model might suite you just fine. This, like many lower priced treadmills, would be better suited for walking, maybe light jogging. Not gonna give you the durability of a more expensive model. The Horizon T101 is considered one of the nicer budget treadmills and was rated by "Treadmill Doctor" as one of the "Best Buys" for the price range.
Pros
Price
Built-in speakers and mp3 compatible
Light-weight
Easy to fold
Smaller foot print
Grip heart rate monitor
30 pre-programmed workouts
Good deck cushioning
Quiet motor
Cons
Complaints of broken parts on delivery
Questionable durability
Warranty doesn't cover deck
Shorter track length (55″)
Overall, a good option for the price. Considered one of the best "budget" treadmills available. As with all treadmills in this price range, don't expect all the bells and whistles the more expensive models offer. I would recommend this machine for walkers.
A Few Last Thoughts…
If you are reading this, odds are you are thinking about purchasing a treadmill for your home. Kudos to you for doing your homework. There are thousands of treadmills on the market and it is important to figure out which one is going to be right for you! Before purchasing, make sure you know the answer to the following questions:
Do I want a folding treadmill or non-folding treadmill?
What is my price range?
Am I going to be primarily walking or running on this treadmill?
Will I be using incline regularly?
Which features will make my workout more enjoyable?
Where am I putting this thing in my home?
Will there be 1 user or several?
Answering the above questions will help guide you toward the correct option for you. Consider your size, personally I like a longer track for comfort (I'm 6'1″). Notice the major differences between the more expensive models and the cheaper models: the more expensive treadmills tend to have: stronger motors, better warranties, more sophisticated console, higher weight capacities, and improved durability.
Will's Pick
Considering the options above, personally I like the ProForm Pro 2000 and the LifeSpan TR5500i… long tracks, strong motors, and higher weight capacities.
I hope this review helped in your search for the perfect folding treadmill for your home!
Hit me up with any questions or comments. If you have a different model that you love or hate it, let me know.