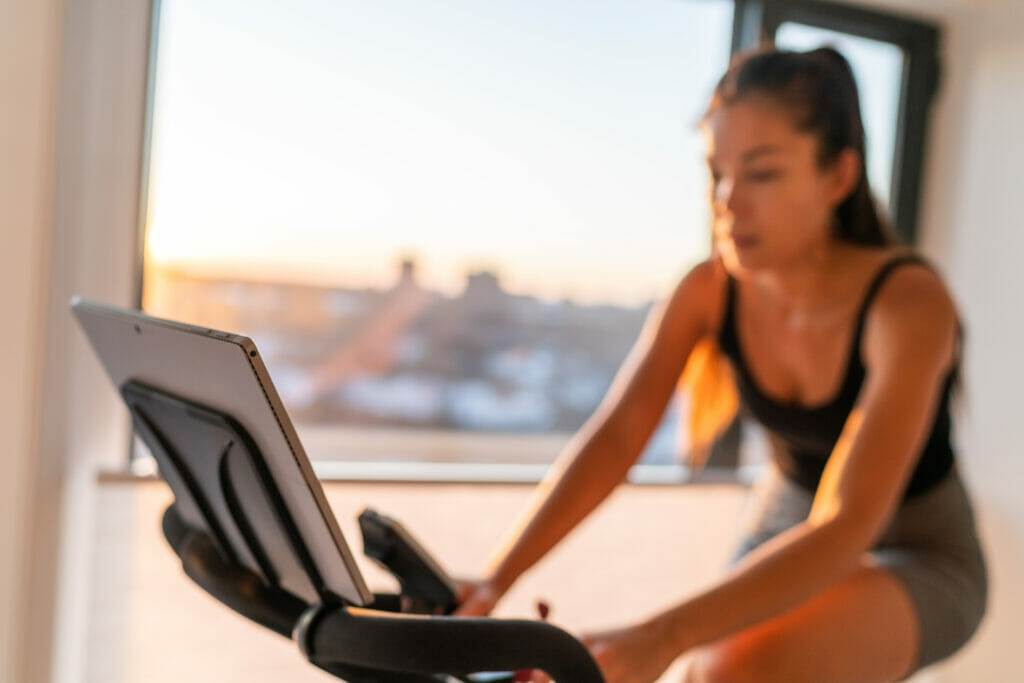 The C7 is one of Bowflex's newer indoor cycles, although one might think this brand wants to keep it a secret, based on the complete lack of marketing and exposure this model has received.
Which is surprising, considering how impressive this bike is.
With the C7, Bowflex basically took their popular C6 cycle and added a 7″ HD touchscreen console, allowing you to access popular entertainment apps directly while working out.
The result is an awesome indoor streaming cycle that costs a whole lot less than the expensive luxury brands.
Overall, if you're looking for a streaming bike that won't completely break the budget, I think the C7 could be a great choice, but that depends on a couple of factors.
In this review, I'll go over all the key specs and features this bike has to offer. I'll also include my 2 cents on who I think would (and wouldn't) benefit from purchasing this bike.
After reading, you'll know everything you need to in order to decide whether or not this is the right bike for your home gym.
The Bowflex C7 Bike
I had never heard of the C7.
I never saw any advertising or marketing for the bike and I never even saw it mentioned on Bowflex's website.
I stumbled across it randomly one day while looking at exercise bikes on Amazon and I thought maybe it was some kind of mistake- maybe Amazon had a typo and it was actually the C6 I was looking at?
But no, once I started checking it out it was obviously a separate model.
I'm still not sure why Bowflex hasn't advertised the C7 any more than it has because it looks like it would be an instant hit to me… but what do I know?
Anyway, you won't find the C7 for sale on Bowflex's website. Instead, it's sold through other retail sites like Amazon, Target, and Dick's.
At the time of writing this, the C7 costs about $1300.
Pros
40 lb flywheel
100 levels of magnetic resistance
330 lb weight capacity
Fully adjustable seat
Fully adjustable handlebars
Dual-compatible pedals (toe cage/SPD)
7″ HD touchscreen display
Access to instructor-led workouts (JRNY membership)
Scenic rides (JRNY membership)
Access to entertainment apps (JRNY membership)
Peloton/Zwift compatible (through phone/tablet)
Bluetooth compatible
Armband heart rate monitor included
Pair of 3 lb dumbbells included
Dual water bottle holders
Media rack
Cons
JRNY membership required to access entertainment apps
Frame warranty could be longer
Resistance
Ok, let's start with the resistance system.
One of the great things about a quality indoor cycle is that they can provide a hell of a cardio workout, while taking up a lot less floorspace than a treadmill or elliptical.
Of course, in order to be able to do that, the bike needs to be able to provide enough resistance to challenge you.
A spin bike's resistance is created through a spinning flywheel and a resistance mechanism (either magnetic or a friction brake).
When it comes to flywheels, heavier is usually better, because the extra weight builds more momentum, which creates a smoother pedal motion.
And magnetic systems are better than friction brakes because they're smoother and don't require as much maintenance.
With all of this background info in mind, the C7 comes with a 40 lb flywheel and a magnetic resistance system with 100 resistance levels to choose from.
First, a 40 lb flywheel is indeed heavy enough to create a smooth pedal motion.
Second, having 100 resistance levels is awesome, especially if you plan on accessing Peloton's digital app for workouts.
Having this many resistance levels is great because it gives you a lot of room to fine tune the intensity of your workouts, but it's also the same scale that Peloton uses for their workouts.
This will make it easy for you to follow along with the Peloton instructors during workouts (if you so choose to do so).
Resistance is adjusted on the C7 by turning a resistance dial, just like it is on the Peloton and many other popular cycles.
Overall, in terms of resistance, the C7 scores highly with such a heavy flywheel and so many resistance levels to choose from, but it's also identical to Bowflex's less expensive C6.
Frame
The resistance system is important for any quality spin bike, but so is the integrity of the frame.
By this, I mean that the bike should feel stable and secure during workouts- the last thing anyone wants is a bike that feels flimsy and shaky during use (especially if you plan on standing at times).
I like to look at a bike's assembled weight and weight capacity to get an idea as to how "heavy-duty" it is.
And seeing higher numbers in both specs is a good sign that the bike is literally heavy-duty.
The C7 comes with an assembled weight of 111 lb and a max weight limit of 330 lb, both of which are pretty good for an indoor cycle.
At 111 lb, the C7 is a bit lighter than the Peloton (135 lb), but also quite a bit heavier than a lot of the more affordable bikes that weigh less than 100 lb.
But with a weight limit of 330 lb, it's able to safely accommodate most riders.
The C7 also only takes up a floor space of around 4′ x 2′, so even smaller homes should be able to find a spot to place it.
Overall, the C7 isn't the heaviest-duty bike on the market by a long shot, but it's heavy enough to provide a stable base. Users seem to agree as well that the C7 is well constructed and feels secure during use.
Seat
The C7 is a spin bike, which means it's designed to mimic the feel of riding a road bike.
And anyone who's ever spent much time on a road bike knows that the seat can be a bit uncomfortable to say the least.
That's because standard bike seats are pretty small and firm.
Well, the C7 uses a standard seat, so folks who aren't accustomed to riding might find it a bit uncomfortable at first, but luckily your bum will adjust after a few rides.
(And even if it doesn't, you can always add a gel overlay for added comfort).
The important thing though, is that the seat on the C7 is fully adjustable, meaning you can adjust both the height and horizontal (fore/aft) position easily.
Handlebars
Honestly, there aren't that many things to look for when examining the handlebars. I mean after all, most of these things are pretty standard, but there are a few things worth mentioning.
First, the C7 comes with multi-grip handles that allow you to comfortably choose your grip during workouts.
You can opt for narrow, standard and wide grips depending on your riding position.
Second, it's worth mentioning that the handlebars are also fully adjustable, meaning you can adjust their vertical and horizontal position as well.
I don't think having fully adjustable handlebars are as important as having a fully adjustable seat, but having an extra layer of customizability (is that a word?) is never a bad thing.
Pedals
Most indoor cycles come with pedals that are compatible with sneakers (toe cages) or with cleats.
Each style has its benefits: with toe cages, you can simply hop on and ride without having to worry about changing shoes; with cleats, you can clip in and enjoy more efficient pedaling.
The C7 actually comes with dual-compatible pedals, allowing you to enjoy the benefits of both.
There's a toe cage on one side and SPD compatible clips on the other, allowing you to choose which type of footwear you use during your workouts.
This is also great for homes with multiple users where 1 person might prefer cleats and the other doesn't.
Console
Ok, that about does it for the performance side of things.
In terms of performance, the C7 is identical to the C6, but the C7 does have something the C6 doesn't – an HD touchscreen console.
The console on the C7 is 7″ measured diagonally, so it's not very big compared to the 16″ and 22″ consoles found on other models, but again, the C7 doesn't cost $2k either.
Through the console, you can access instructor-led workouts, scenic rides, virtual coaching, metric tracking, and custom workouts through the paid JRNY membership ($19/month).
Joining the JRNY app is optional and you can still use the C7 in manual mode without it, but honestly, I don't really see the point in doing that.
After all, it's the console that differentiates the C7 from the less expensive C6 to begin with, but more on that in a bit.
One of the cooler features, in my humble opinion, is the ability to access entertainment apps through the console.
You can watch Netflix, Hulu, Amazon Prime, and Disney+ directly on the 7″ console while still working out- the kicker, of course, is that to access these apps you need a JRNY membership.
The C7 is bluetooth and wi-fi compatible with heart rate monitors and other smart devices.
Bowflex even includes an armband heart rate monitor (as well a pair of 3 lb dumbbells) with purchase.
You can connect the C7 with Peloton's app through your smart phone or tablet, but you can't download Peloton's app directly to the tablet yet (although you techy folks might be able to find a work around this).
With the C7's bluetooth capabilities, you should be able to see your cadence through Peloton's app, but worse case you'll be able to track it through the C7's console.
Overall, it kinda sucks you have to pay the JRNY membership to access the entertainment apps, but the inclusion of a 7″ HD touchscreen display is nice for this price range, especially if you're interested in the other features JRNY has to offer.
Warranty
Bowflex offers the following residential warranty on the C7:
3 year frame
3 year parts
1 year electrical
1 year labor
I'm a little surprised by this warranty.
I say this, because Bowflex offers a 10 year warranty on the C6 and as far as I can tell, there really aren't any differences between the C6's frame and this one.
Three years is a short frame warranty, but 3 years on parts is pretty good.
A year on electrical is a bit short, but a year on labor is standard.
Overall, this warranty isn't awful, but I think the frame warranty is too short based on the coverage the C6 gets.
Final Thoughts
Well, there ya have it- the C7 in a nutshell.
With the C7, Bowflex basically just took the C6 and added a small HD console.
And since the C6 is awesome as is, I think the C7 is pretty awesome too.
But I don't think it's the right option for everyone.
I think the C7 is a good buy if:
You don't currently own a tablet
You're interested in accessing JRNY's workouts/scenic rides
If you do already have a tablet and you don't care about JRNY's workouts, I think it makes more sense to go with Bowflex's C6.
The C6 is $300 cheaper and is identical when it comes to performance (which is impressive for both bikes by the way).
And if you already have a tablet, you can place your tablet on the media holder to act as the console, through which you can watch your entertainment apps and access Peloton's app without having to pay the JRNY membership.
Overall though, I think the C7 is a great Peloton alternative for the folks interested in joining JRNY – I still don't understand why this bike hasn't gotten more publicity…