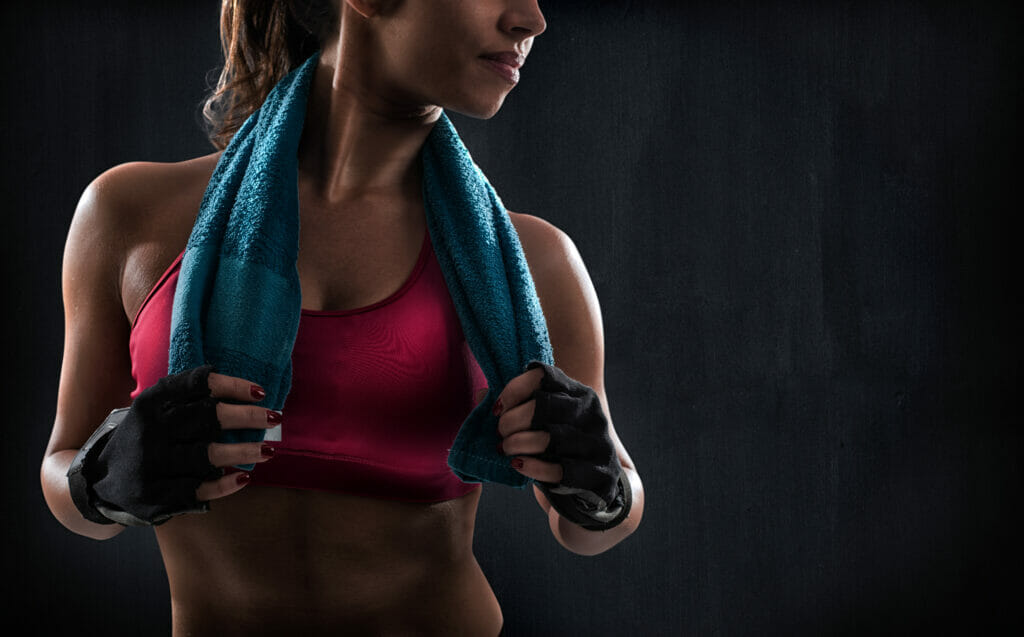 AtivaFit's Adjustable Dumbbell Set essentially provides seven pairs of dumbbells in a single, compact design that allows you to swap between weights easily as you progress from one exercise to the next.
Not only does this offer significant cash saving value (a single pair of 40 lb dumbbells can easily cost ya $100), but it also offers a convenient solution for home gymers with limited floor space.
Well, I was able to get my hands on a pair of these AtivaFit dumbbells and I have to admit, I was surprised at how well they actually work.
The quick-adjusting slide pins make it easy to choose your weights and the textured rubber handles keeps things comfy on your hands.
The bases are also surprisingly heavy-duty for such an affordable pair of adjustable dumbbells and with a 2 year warranty, they're covered as long as any of the more expensive brands.
The only downside I've come across thus far is that the weights are measured in kilograms – and you know how us Americans are with the metric system.
But the included conversion chart makes it easy enough to figure out how many pounds you're lifting.
Long-story-short, I think AtivaFit's adjustable dumbbells are pretty awesome and I could see them being a smart investment for folks looking for a complete dumbbell set that won't take up much space.
If you're interested in the longer story, keep reading.
In this review, I'll go over everything these dumbbells have to offer, as well as compare 'em to some of the other top names in the game.
After reading, you'll know whether or not these are a good fit for your home gym.
Disclaimer: the good folks at AtivaFit were kind enough to send me a pair of adjustable dumbbells to try out for this review. This review is based solely on my experience with them and I haven't been compensated in any other way. As an affiliate, I do earn a commission for any sales made through any links on this post, however that doesn't effect your price.
The AtivaFit Adjustable 44 lb Dumbbell Set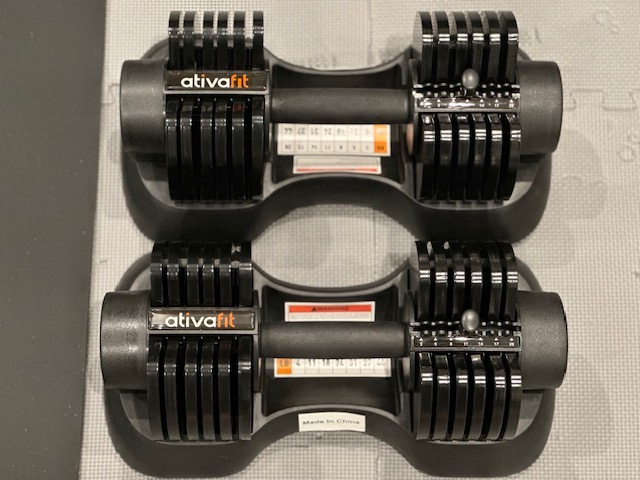 AtivaFit is a fitness brand that's been around since the 1990's.
They offer a few different budget-friendly exercise bikes and fitness accessories, but it looks like adjustable dumbbells are their real speciality.
As I'm writing this, AtivaFit offers their dumbbells in 3 different sizes: 27.5 lb, 44 lb, and 66 lb.
The 27.5 lb set and the 44 lb set I'm here to talk about now each use a slide adjustment, while the larger 66 lb set uses a quick-dial adjustment.
And prices can change of course, but at the time of writing this review, AtivaFit is selling their 44 lb set for around $270, making it quite a bit more affordable than Bowflex's SelectTech 552 set.
Anyway, let's start things off with a rundown on the weights themselves.
Pros
Takes place of 7 pairs of dumbbells
Compact
Comfortable to use
Sleek design
Easy to make weight adjustments
Heavy-duty bases
2 year warranty
Free shipping
Great price
Cons
Weights labeled in kilograms
Weights
As the name probably indicates, this dumbbell set includes 2 dumbbells that each offer a max resistance of 44 lb, or 20 kg.
Each dumbbell comes with 12 metal weight plates (6 on each side) that are used to adjust the dumbbell's weight.
On the lightest-setting, which is only the handle itself, each dumbbells weighs in at 2 kg, or 4.4 lb.
Each dumbbell comes with 7 weight selections, allowing you to choose between the following weights:
2 kg (~4.4 lb)
5 kg (~11 lb)
8 kg (~17.6 lb)
11 kg (~24.25 lb)
14 kg (~31 lb)
17 kg (~37.5 lb)
20 kg (~44 lb)
The slider on the dumbbell is listed in kilograms, but each dumbbell base has a sticker with the conversion to pounds front and center, making it easy for us Americans to know how much weight we're lifting.
This was kind of AtivaFit and I appreciate them making things easy on us, but as you'll notice, these dumbbell sizes are just a little different from what most of us in this country are probably used to.
Personally, it doesn't make any difference to me because I choose my weights based on how they feel, but sticklers who want to use the same weights they're used to might have issues with this.
More importantly though, the slider system AtivaFit developed works great.
The weight for each dumbbell is selected by sliding over a little pin from one marked weight to the next.
Not only does this make it easy to swap between weights, but with only one slider per dumbbell, you don't have to waste the time choosing the same weight for each side of the dumbbell (I'm talking to you Bowflex).
To me, this is what really sets AtivaFit apart from other adjustable dumbbells I've used in the past.
Their quick-adjusting, Glide Tech pin system is all about convenience and I've found it to work flawlessly so far.
The plates themselves are steel, so you won't have to worry about them cracking or breaking, and the handle is covered with a textured rubber grip that's comfortable to hold.
I've noticed where some users have mentioned a little bit of wiggle with the plates that are attached to the handle and I've noticed a little myself.
But this is normal due to the design of these dumbbells and doesn't negatively affect my ability to use them.
The weights are pretty darn tight against the handle, so I don't feel like the weights are going to slide off or anything like that.
Overall, I'm really impressed with how easy it is to make weight adjustments and I find the handle to be surprisingly comfortable.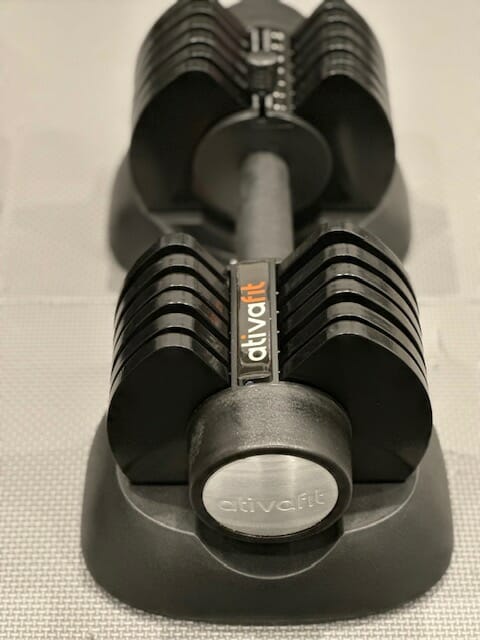 Base
Each dumbbell comes with its own reinforced plastic base which houses it when it's not being used.
These bases feel quite durable to me and I haven't had any issues with them bending or warping with use and I find them to do a good job of keeping the unused plates in place as I remove the dumbbell.
The bases offer a clean, organized appearance, but their primary duty is to keep the plates in line as you remove and replace the dumbbell handle.
Without a base, you'd have to find a way to stack up the weights every time you needed to change resistances and it would drive you crazy.
Luckily, these bases work well.
Some adjustable dumbbell sets I've used in the past have been a little tricky to rehouse, what with having to line the bar up just right to get it to fit back in with the plates.
But these AtivaFit handles fit back in pretty easily, mostly because there's a little extra wiggle room in between each plate (which is why there's a little plate wiggle as you move the dumbbell).
This gives you a little extra wiggle room when having to line the handle back up to put it back in the base.
Overall, the bases work great – they're heavy-duty and they make it easy to replace the dumbbells between exercises.
Warranty
AtivaFit covers their 44 lb Adjustable Dumbbell Set with the following home warranty:
This is a great warranty for an affordable set of dumbbells and it matches what Bowflex offers on their SelectTech 552 Dumbbells.
If you read the fine print though, you'll notice that AtivaFit only offers this extended warranty if you purchase directly through their website.
Otherwise, you only get a one year warranty.
So, this alone is probably enough reason to purchase directly through AtivaFit, but you can also save 10% on their site by using the code "TheHomeGym"…
AtivaFit vs Bowflex
Ok, that pretty much does it for the dumbbells themselves – I know, pretty short, but these are pretty simple devices, so there's just not that many specs and features to go over.
But before I wrap this review up, I do wanna offer a quick comparison to Bowflex's SelectTech 552 Dumbbells.
I'm not trying to dis Bowflex or anything like that because I think their adjustable dumbbells are pretty decent too, but they're the OGs and kinda the gold standard when it comes to these things, so I figure it makes sense to include a comparison.
Here's a quick rundown on the stats:
| | AtivaFit GT544 | Bowflex SelectTech 552 |
| --- | --- | --- |
| Weights | 4.4lb, 11lb, 17.6lb, 24.25lb, 31lb, 37.5lb, 44lb | 5lb, 7.5lb, 10lb, 12.5lb, 15lb, 17.5lb, 20lb, 22.5lb, 25lb, 30lb, 35lb, 40lb, 45, 50lb, 52.5lb |
| Adjustment Mechanism | Glide Tech pin system | Dual Turn Dial |
| Warranty | 2 year | 2 year |
| Sold as Pair? | Yes | Yes |
| Free Shipping? | Yes | Yes |
| Cost | ~$270 | ~$379 |
Basically, the 552's cost a bit more, but offer weights all the way up to 52.5 lb per side.
The 552's also offer smaller incremental increases (2.5 lb) up to 25 lb, then increases to 5 lb increments for the remainder of the range.
The other big difference is that Bowflex uses a turn dial adjustment that needs to be selected on both ends of the dumbbell, meaning you need to make sure they match up to ensure you get the right weight.
It's been awhile since I've used Bowflex's 552's, but I remember this being kinda tedious having to match up the same adjustment for each end of each dumbbell.
I also remember the 552's being a little more challenging to line up and re-dock into the bases and I always thought they were a bit cumbersome for some exercises due to their size.
But to be fair, that's an issue with pretty much all adjustable dumbbells.
And in terms of price, at the time of writing this, the 552's cost about $100 more than the AtivaFit's.
PS – AtivaFit also offers an adjustable set that goes from 11 lb – 66 lb if you need more resistance (it costs around $329, still making it around $50 cheaper than Bowflex).
Final Thoughts
All things considered, I think AtivaFit has a great product here – it's no wonder they've sold millions of these things.
I like how easy these dumbbells are to adjust and the sturdy bases should be tough enough to last for the long haul (as long as you don't start dropping weights in 'em).
And as someone who's prone to achy hands, I also appreciate how comfortable the rubber handles are to use.
I don't have much to complain about here, but as I mentioned earlier, the metric system might throw some folks off a little (even though the conversion chart makes it easy to see what the weights are in lbs).
Overall, I could see this adjustable dumbbell set making a lot of sense for a home-gymer looking for a space-saving option that won't break the bank.
Oh, and I'd like to thank AtivaFit again for sending me a pair of these dumbbells to try out for this review – very cool of ya.
FYI, you can save 10% when purchasing through Amazon with this coupon code.