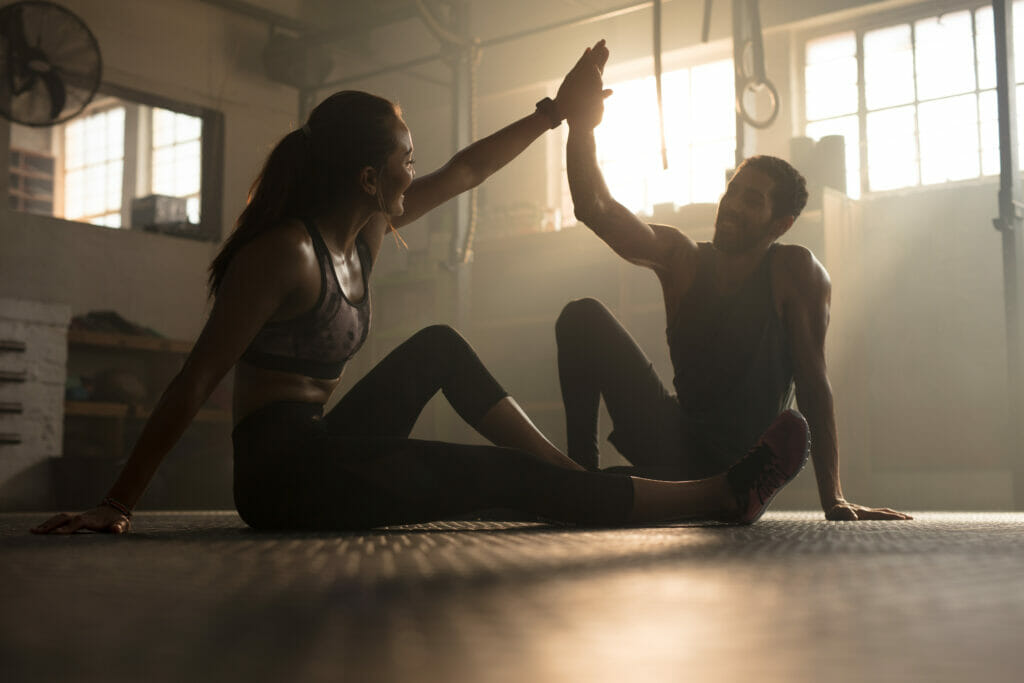 Hey, I get it- exercising, especially in your home gym, can get really boring. Doing the same cardio or lifting routine day in and day out can get old, stale, and a bit tedious.
Treadmills, bikes, and ellipticals work great, but I'm not sure how many folks out there would really consider any of those machines"fun" to use – I know I certainly wouldn't.
But being the well behaved home gymers I know you all are, I bet you're all still putting your big boy and big girl pants on, climbing onto that boring fitness equipment, and doing what you have to do.
If only there was a more fun way to get a great workout in from the comfort of your home…
Oh wait, there is.
5 of them actually.
In this enjoyment inspired guide, I'll present 5 fun alternatives to the standard home fitness equipment we all know and love (/hate).
So if you're finding it hard to grin and bear stepping onto that treadmill, hang in there- I promise there are other ways to get your workout on.
5 Fun Ways To Exercise From Home
#1 FightCamp
FightCamp is the farthest thing from trolling along on a treadmill or bike that you can get. So if you're bored and looking to really let out some steam, this interactive home boxing system is worth checking out.
FightCamp basically takes the streaming workout craze that's become so popular with cardio machines and applies it to boxing and kickboxing.
There are a few different packages to choose from, depending on whether you need gloves and accessories for one person or a family (or if you already have your own gear).
The standard package includes their heavy bag, a mat, a pair of high-end boxing gloves, a pair of quick wraps, and 2 punch trackers.
All of the gear is high-quality, but it's the included punch trackers that take this home boxing system to the next level.
These trackers fit into the wraps under your gloves and they count each time you throw a punch. These trackers relay this info to the app on your smart device.
Oh, did I mention that there's an app you use to access of your workout metrics and instructor-led workouts?
Sorry if I forgot.
Anyway, something that's important to keep in mind is that the app is only compatible with iOS devices (at the time of writing this anyway), so if you're using Android, it isn't compatible.
The app is pretty cool. There are different pathways to go on depending on your skill level and there are new workouts added each week.
The workouts are a good combination of strength training via bodyweight moves and cardio- not to mention the self-defense skills you'll build.
The FightCamp heavy bag is pretty sleek looking with its white, minimalist style, but it also only takes up 2'x2′ of floor space, making it a nice option for smaller homes too.
To access the metric tracking and workouts on the app, you'll have to pay the $39/month subscription fee, but if you ever decide to stop your subscription, you'll still own all the gear.
Overall, if you're looking for a fun and exciting new workout program, FightCamp is a great choice.

#2 The Hydrow
The Hydrow is a state-of-the-art rowing machine designed to give folks the closest experience to being on the water without actually stepping in a boat.
It's easy to think of this machine as the "Peloton of rowers", with its large HD touchscreen display and for the fact that you can follow along with instructor leg workouts.
And that's in no way an insult, after all Peloton is awesome.
But when you look a little closer, you see that Hydrow has actually done something here that Peloton hasn't- they've created an entirely new form of resistance for their rower.
The Hydrow is a magnetic rowing machine, but unlike other magnetic rowers, the Hydrow has a patented, computer-controlled drag system that mimics the feel of rowing a real boat.
Unlike most magnetic rowers, that provide a consistent resistance regardless of how hard you row, the resistance you feel on this machine varies based on how fast you pull.
It basically combines the advantages of a water rower and a magnetic rower, giving you the best of both worlds- variable resistance without the added noise or maintenance.
The sleek exterior and advanced resistance system are reasons enough to choose this sophisticated rower, but Hydrow takes up another notch with their workouts.
All of their instructor-led rowing workouts are filmed on the water.
This means that you get to see and hear real water (on a gorgeous 22″ HD display) as you row, giving the sensation of really being out there on the water yourself.
For $38/month, you get access to live and on-demand rowing workouts, as well yoga, pilates, and strength training options.
Overall, if you're looking for an escape from the mundane, adding one of these hi-tech rowers to your home is a great start. See full review.

#3 Bowflex Velocore Bike
If you're looking for a stationary bike that's a little less stationary, Bowflex's Velocore Bike might be just be what the doctor ordered.
Bowflex is a brand who's always thinking outside of the box and is known for creating some of the most innovative home fitness equipment around.
The Velocore is no exception.
With this bike, Bowflex basically took an elite spin cycle and added the option to let riders lean during workouts.
Remember those motorcycle arcade games where you had to lean the bike from side to side to control your driver? Well, it's kinda like that.
Of course doing this while pedaling is a lot more challenging than the old arcades.
Adding lateral movement to the bike forces your core to kick in a lot more than it would on a stationary cycle, hence the name.
But besides the leaning frame, the Velocore has plenty else to be proud of.
This bike also comes with a micro adjustable magnetic resistance system with 100 levels, dual link pedals, and a 325 lb weight limit.
Oh yeah, there's also the huge, HD touchscreen display mounted in front (choice of 16″ or 22″).
With that large console, you can access all of the metrics and workouts provided through Bowflex's JRNY app ($19.99/month).
What's also great though, is that you can access entertainment apps, like Netflix and Disney+, through the same HD console (JRNY membership necessary for this feature).
If you like the idea of getting a spin bike that can offer a lot more in terms of workout variety and entertainment options, Bowflex's Velocore is a great option. See full review.

#4 Hyfit Gear 1
The first 3 ideas are all more cardio based (although FightCamp kinda falls into its own category I guess), but if you're looking for a straight-up strength training system, Hyfit's Gear 1 Home Gym is worth considering.
Hyfit is a basically a set of smart resistance bands that you sync with an app for metric tracking.
Yeah, you heard me correctly- smart resistance bands.
The Gear 1 is the first set of bluetooth enabled resistance bands that I've ever come across, and I have to say, they work pretty darn well.
It doesn't hurt that each band itself is of very high quality, as are all the handles and accessories (I was lucky enough to get my hands on a pair for a review and they're still being used regularly in my home gym).
Speaking of which, with the Gear 1 you get 2 resistance bands, 2 handles, a door anchor, a portable strap anchor, 2 wrist cuffs, 2 ankle cuffs, and a charger.
Each band has a built-in sensor that communicates with Hyfit's app via bluetooth.
Through the app, you can track several different workout metrics, including reps, time, rest time, sets, etc. But what's really cool is that the sensor can track how much force you're putting through each band.
This gives you a read out of the amount of resistance each band is providing for each exercise.
The built-in sensors are pretty awesome, but you can also adjust the length of each band, essentially adjusting the resistance (without having to alter your distance from the anchor).
Each band can provide between 5 – 28 lb of force, depending on how far they're stretched.
Something else I was pleasantly surprised about was how effective the wrist and ankle cuffs can be.
With these cuffs, you can anchor the bands to your body, allowing you to add resistance to pretty much any upper or lower body move you can think of.
You can perform all kinds of core moves with Hyfit, not to mention classic strength training and cardio moves as well.
The app comes with plenty of workouts to choose from, conveniently organized by body part or program. And with a sales price of only $199, Hyfit is one of the most affordable home gym systems out there.
So, if you're looking to take your resistance band game to the next level, Hyfit's Gear 1 should be on your short list. See full review.

#5 NordicTrack Fusion CST
If you're looking for an interactive, full body strength training device, NordicTrack has got ya covered with their Fusion CST.
The CST basically takes a functional trainer, one of the most versatile gym machines around, and connects it with NordicTrack's streaming app, iFit.
The result is an interactive home gym that gives you tons of workout variety, regardless of what your fitness level may be.
The standard CST (there's also a Pro model that comes with an integrated pull up bar) comes with 6 independent pulleys, 20 levels of magnetic resistance, and a heavy-duty frame.
It also comes with an included 10″ tablet and tablet standing, allowing you to get started immediately after assembling.
The CST is designed to pair with iFit, which gives you access to all of the instructor led workouts.
This is the same iFit NordicTracks uses for all of their products, so there are a ton of workouts on there that aren't related to the CST.
As an iFit member ($15/month), you get access to all workouts. NordicTrack includes a free year with purchase, allowing you to try it to see what how you like it.
With the CST, the instructors can even automatically adjust your resistance based on your settings to ensure you're working hard enough to reach your goals.
With this system, you also get 6 standard handles and a pair of ankle straps included with purchase. NordicTrack also throws in a bluetooth chest strap so you can monitor your heart rate during workouts.
Overall, if you're looking for a home gym that won't put you to sleep every time you use it, the CST Fusion could be a good choice. It's easily one of the most interactive gym systems around. See full review.

Final Thoughts
Well, there ya go.
See, I told you exercising from home doesn't have to be boring. If nothing else, I hope the 5 examples listed above show that there are a lot of different ways to get fit from home.
Traditional exercise bikes and treadmills still work great, but there's nothing wrong with switching things up a little.
From home boxing workouts to smart resistance bands, there's something for everyone out there- there really is no need to be miserable with your workout routine.
Finding a fun way to exercise is all about thinking about what you're interested in or what you'd like to learn and finding a way to incorporate that into your routine.
Whether you opt for one of the devices listed here or not, I hope this article leaves you inspired to find a more enjoyable way to exercise.
Because after all, life is too short not to have fun.