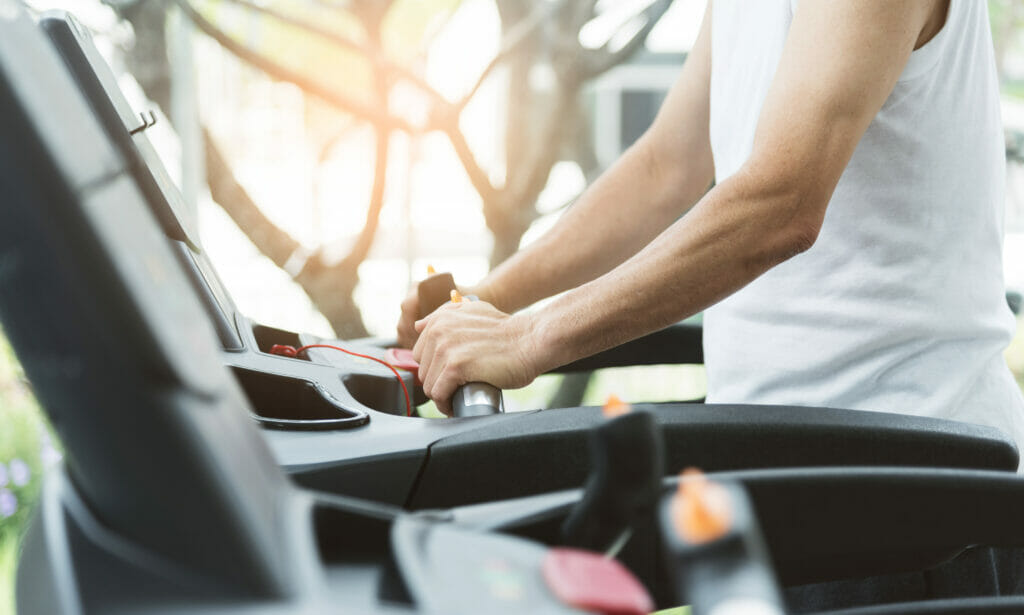 The TRX4500 is one of the highest-end treadmills currently being offered by XTERRA Fitness, a brand that's made a name for themselves by providing high quality, affordable home equipment.
Highlights of the TRX4500 include a 20″ x 60″ running surface, a 3.25 HP motor, and a bluetooth friendly console packed with 30 different workout programs.
And with a sales price of only $1200, the TRX4500 takes it pretty easy on your wallet too.
If you're looking for an affordable treadmill that's built to perform, XTERRA's TRX4500 is one of the best options out there- but there are a lot of options to choose from.
Is this the best option for your home gym?
Well, that's what I'm hoping this review helps you figure out.
In this article, I'll go over everything the TRX4500 has to offer. After reading, you should know everything you need to in order to determine whether or not this is the right treadmill to meet your needs.
Off we go.
The XTERRA TRX4500 Treadmill
If you're not familiar with XTERRA as a brand, you're not alone. I don't get the impression that XTERRA gets the notoriety that they deserve.
I've never seen any commercials or really marketing of any kind for that matter for the brand and they certainly don't have the type of name recognition as say a NordicTrack or a ProForm.
Which is a shame because I'd probably go with an XTERRA over either one of the aforementioned brands.
Even though they aren't as well known, when you stop and look at the numbers, XTERRA beats out most competitors when it comes to performance specs.
And their warranties are much better than pretty much everyone in their price range.
Speaking of which, XTERRA specializes in budget fitness equipment- most of their products are under $1000 and I'm pretty sure all of their products are under $2000.
With a sales price of about $1200, the TRX4500 is one of their most expensive treadmills (only the TRX5500 costs more and comes with an interactive touchscreen display).
Pros
20″ x 60″ running surface
3.25 HP motor
350 lb weight capacity
30 workout programs
Top speed of 12 mph
Top incline of 15%
Folding frame
Bluetooth compatible
Chest strap heart rate monitor included
Quick touch speed/incline buttons
Handle bar speed/incline controls
Easy assembly
Great warranty
Cons
Console a bit dated looking
Running Surface
I like to start my treadmill reviews by examining the running surface. Personally, I consider this to be the most important spec for any treadmill.
And that's because it immediately gives you an idea as to how comfortable you're gonna feel using it.
If a treadmill comes with a really small running surface, you're likely going to feel it- especially if you're on the taller side, in which case you could literally run out of room.
Walkers don't have to worry quite as much, because our stride is usually a little shorter when moving at slower speeds, but runners (especially taller runners) will want to pay close attention to this spec.
Most quality home treadmills these days come with at least a 20″ x 60″ running surface (width x length).
I say "at least" because many are offering 22″ wide belts and a few are offering belts longer than 60″ (but not in this price range).
With this in mind, the TRX4500 comes with a running surface that measures 20″ x 60″.
This is great, because this means this treadmill will be large enough to comfortably fit pretty much all folks, regardless of how fast they're running.
I should probably back up a little and go back to what I said earlier about "most quality treadmills" coming with a running surface this size…
That doesn't mean it should be taken for granted- there are still a ton of treadmills that come with smaller running surfaces.
Regardless, the TRX4500 checks this box nicely.
This treadmill scores highly when you look at the weight capacity too (which I like to do as an indicator of overall "heavy-dutiness").
With a weight limit of 350 lb, this treadmill one-ups the 300 lb capacity seen on many machines in this price range.
This means it's capable of holding larger users than most, indicating superior frame integrity.
Overall, the TRX4500 scores highly with a large running surface and a higher-than-normal weight capacity.
Motor
After looking at the running surface, it's a good idea to consider the motor under the hood. More specifically, how many horses that motor is packing.
When it comes to treadmills, I'm generally of the opinion that stronger is better.
A stronger motor will be able to reach and maintain higher speeds more efficiently than a weaker motor, making for a quieter, smoother workout experience.
And since stronger motors don't have to work as hard (because they're stronger), they should last longer too.
The TRX4500 comes with a 3.25 HP motor that can reach a top speed of 12 mph and a top incline of 15%.
With a motor over 3 HP, this treadmill has enough muscle under the hood to support regular running without having to strain too much.
It's also nice to see that XTERRA uses a 2-ply belt on this model, which is going to be a little thicker than single ply belts found on a lot of affordable machines.
The thicker belt is going to last longer, but it's also going to feel a little more comfortable to run on.
Overall, at 3.25 HP, the motor on this treadmill is about as strong as you're going to find in this price range, making the TRX4500 a good option for walkers and runners alike.
Features
The XTERRA TRX4500 comes with the following features:
7.5″ LCD console- the screen on this console isn't huge or fancy, but it's brightly lit and easy to read during workouts. It's also really easy to use, which is nice for folks looking for a simple treadmill.
30+ workout programs- the console is simple, but this treadmill is loaded with workout programs. You get access to 30 workout profiles, plus 2 custom workouts and a heart rate controlled workout without having to pay and monthly subscription fees.
Bluetooth compatible- the console on this machine is bluetooth friendly, allowing you to connect it to most popular fitness tracking apps (check out website for full list of apps).
Quick touch speed/incline buttons- these buttons allow you to instantly set your speed and/or incline without having to manually scroll up and down. A very convenient feature, especially for interval training.
Handle bar controls- you can also control the speed and incline manually from the conveniently located handle bar buttons.
Audio jack- this treadmill comes with built-in speakers and there's an audio jack you can use to connect your phone or tablet up to them.
Cooling fan- the built-in fan can help keep ya comfortable during your more strenuous workouts.
Heart rate chest strap- not only is the console equipped for telemetry heart rate monitoring, but XTERRA does ya one better and includes a chest strap with purchase.
Water bottle holder- this handy device allows you to hold your beverage of choice within reach during workouts.
Assembly
I think most people will find the assembly process for the TRX4500 to be a pretty straightforward one. XTERRA's manual is pretty good and the process should be pretty easy to follow.
The deck comes preassembled, so you'll only be responsible for basically bolting the uprights to the deck and then attaching the console to the uprights.
This is pretty easy, but it's a lot easier if you have a second person around to hold the console while you make cable connections.
Speaking of which, take care not to pinch any wires when doing this- the last thing you want to do is sever a wire and find your treadmill doesn't work.
Overall though, getting this treadmill up and running should be a pretty easy gig.
Warranty
XTERRA offers the following warranty on their TRX4500:
Lifetime frame
Lifetime motor
5 year deck
2 year parts
1 year labor
I think this is a really generous warranty for this treadmill.
You can't beat a lifetime guarantee on the frame and motor- that's as good as it gets.
And it's even better considering the price range we're talking here (for comparison, NordicTrack only offers 10 years on the frame of their EXP 7i).
Two years on parts is pretty par for the course in this price range, as is a year on labor.
Overall, XTERRA offers better warranties than most and their guarantee on the TRX4500 doesn't disappoint.
Final Thoughts
That about does it for the TRX4500. After looking at all the specs, I think this treadmill has a lot to offer in both performance and console features.
It's great to see a 20″ x 60″ running surface and a 3.25 HP motor in this price range. This combo makes for a spacious, powerful treadmill that should be comfortable to walk or run on.
And for the folks who tend to get bored easily, I think having 30 built-in workouts to choose from is going to be a real blessing.
It's also awesome that XTERRA includes a chest strap heart rate monitor.
And you can't beat that warranty.
Honestly, I don't have much to complain about here. The biggest downside is probably the dated appearance of the console, but that's far from being a deal breaker in my book.
Overall, if you're looking for an affordable treadmill that can perform, I think XTERRA's TRX4500 is easily one of the best options around in its price range. Highly recommended.