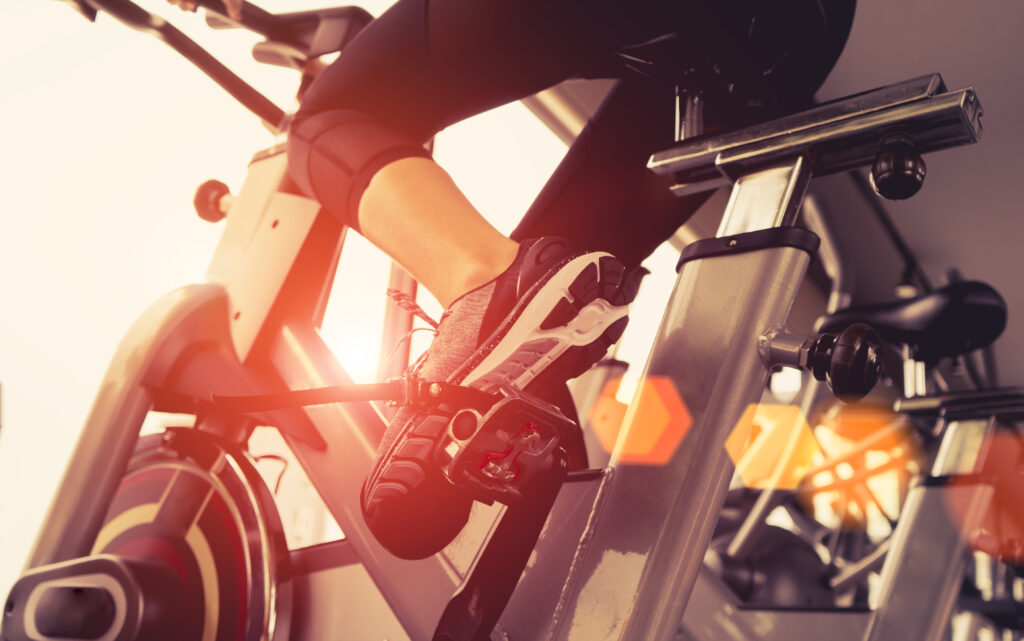 Sunny Health & Fitness has a lot of exercise bikes to choose from and honestly, it's hard to tell a lot of them apart.
They all seem to come with really long, generic names that tend to all blend together after looking at a few of 'em.
That said, their Synergy Pro Magnetic Indoor Cycling Bike (SF-B1851) is one that's worth taking a second look at.
Not only is this one of Sunny's most highly rated cycles, but it's also sensibly priced right in that moderate range where you can feel fairly confident that you aren't getting ripped off, but you aren't having to take out a second mortgage to afford it either.
Highlights of the Synergy Pro include a 40 lb flywheel, a micro-adjustable magnetic resistance system, and dual-compatible pedals.
It also comes with dumbbell holders, a fully adjustable seat, and a pretty heavy-duty frame.
All things considered, if you're looking for a moderately priced spin bike, the Synergy Pro has a lot to offer, but it's far from perfect.
Before you decide, it's a good idea to get all your facts straight- and that just happens to be something I can help with.
In this review, I'll go over everything you can expect from this indoor cycle.
After reading, you'll know if this is the right exercise bike for your home gym.
The Sunny Health & Fitness Synergy Pro Magnetic Indoor Cycling Bike (SF-B1851)
I know I complain about this every time I review a Sunny product, but why do their model names have to be so freakin' long?
I realize this has nothing to do with the bike itself, but come on- it's a bit ridiculous.
Stupid model names aside, Sunny Health & Fitness (SHF) is generally a well-reviewed brand.
They have a huge lineup of home fitness equipment to choose from and offer pretty much any cardio machine you can think of, as well as several racks, benches, and free weight systems.
Now SHF is a budget brand through and through, meaning they specialize in cheaper equipment.
Which isn't a bad thing, as long as you keep in mind there are reasons cheaper brands are cheaper in the first place (having realistic expectations is a great way to avoid disappointment).
I actually consider SHF to be one of the best budget brands around, especially when it comes to affordable spin bikes.
Anyway, the Synergy Pro is one of Sunny's mid-range bikes.
With an asking price of around $600, it's a bit more than all of their really affordable cycles, but it's still well under 4-figures.
Pros
40 lb flywheel
Micro-adjustable magnetic resistance system
Belt drive
Heavy-duty frame
300 lb weight limit
Fully adjustable seat
Fully adjustable handlebars
Dual-compatible pedals
LCD monitor
Dumbbell holders
Easy assembly
Affordable
Cons
Warranty could be longer
Can't see what resistance setting you're on
Might not fit shorter users
Resistance
The Synergy Pro is indeed an indoor cycle, so it's designed to mimic the feel of riding a road bike. And the biggest way it does this is through the use of a heavy-flywheel.
Most home spin bikes are designed so that having a heavy flywheel is beneficial.
This is because the extra weight helps it build more momentum as it spins, which in turn helps keep the flywheel spinning throughout the entire pedal stroke.
The result is a smoother feel.
Flywheels seem to be getting heavier all the time and these days, it's not uncommon to see massive flywheels on affordable cycles.
Case in point- the Synergy Pro is packing a 40 lb flywheel.
This is heavy by anyone's standards and it's certainly enough muscle to ensure an even, smooth pedaling motion during workouts.
Users seem to agree, based on their ratings of this bike's performance.
A heavy flywheel is also good because it tends to help the bike provide more overall resistance, something folks looking for an intense workout will appreciate.
The Synergy Pro utilizes a magnetic resistance system, which is preferred to the friction brake system found on most affordably cycles (no maintenance).
The resistance system on this bike is micro-adjustable, meaning you can make really small changes to it.
This is nice in the sense that you have full control over the intensity of your workouts, but on the other hand there aren't any pre-set resistance levels, meaning there's no indication of what "level" you're on.
This makes it a little harder to replicate workout settings (especially for novice riders) because you have to rely solely on the feel of it.
This is more of an issue if you were using a streaming app like Peloton or something like that and less of an issue when simply doing your own workouts.
Overall though, the Synergy Pro scores highly with a heavy flywheel and smooth acting magnetic resistance system (as long as you're cool with not having preset resistance settings to choose from).
Frame
It's important for a spin bike to have a competent resistance system, but it's also important for it to have a solid foundation for you to work on.
One of the biggest drawbacks of a really affordable spin bike is the lightweight, flimsy frame it comes with.
A lot of these bikes look and feel small and they tend to move around or wobble more during workouts.
It can be hard to get an idea as to how "heavy-duty" a bike will feel without trying it out first, but there are a few things you can look at to give ya an idea.
I like to look at the assembled weight and weight capacity – with higher numbers in both specs being indicative of a more stable bike.
The Synergy Pro comes with an assembled weight of 111 lb, which is impressive for a cycle in this price range (for the sake of comparison, the highly popular Schwinn IC3 weighs in about 100 lb).
But I think anything over 100 lb should feel pretty solid, especially considering this bike doesn't have the added weight of a huge console.
The Synergy Pro also comes with a weight limit of 300 lb, which is pretty average for high-end cycles, but not a given for more affordable bikes.
Seeing the combination of a fairly high assembled weight and good weight limit shows that this bike should feel stable during workouts.
Oh, and according to Sunny, this bike should be able to fit folks with an inseam between 29″ and 39″, meaning more petite folks (under 5′ 5″ or so) might have a harder time finding a comfortable position.
Seat & Handlebars
The Synergy Pro comes with a fully adjustable seat, meaning you can adjust both the height and horizontal (fore/aft) position by using the turn knobs.
Pretty much all respectable spin bikes are coming with fully adjustable seats these days, even the really affordable ones, but it's still an important feature to check for.
Having a fully adjustable seat makes it a lot easier to find a comfortable riding position and ensure injury doesn't occur.
The  multi-grip handlebars on this cycle are also fully adjustable, meaning you can adjust the height and fore/aft of them too.
I don't think having fully adjustable handlebars are quite as important as having the fully adjustable seat, but it's still nice to have that extra layer of customization in case you need it.
When it comes to the seat itself, it's small and pretty firm.
In other words, not particularly comfortable.
But it's a standard cycle saddle and that's how they roll.
If you're new to cycling, it might take a few rides to get used to it. You could always purchase a gel seat overlay or swap it out for a more cushiony saddle if you wanted to as well.
Pedals
Spin bikes can come with pedals that are designed for use with sneakers (toe cages) or cleats and each has its benefits.
Some bikes, like the Synergy Pro, come with dual-compatible pedals that can be used with both.
This is great because it means you can pretty much wear any kind of shoe you want to during workouts.
This cycle has a toe cage on one side and an SPD compatible option on the other, so folks who do want to clip in and enjoy the benefits of cleats can do so.
If you've never used riding cleats, I do highly recommend 'em – they do make your effort more efficient, making it a little easier to reach those faster cadences.
Features
The Synergy Pro Magnetic Indoor Cycling Bike comes with these additional features as well:
LCD monitor- the console on this bike is far from hi-tech, but the simple interface can display all the basic workout stats you'd expect, like speed, cadence, distance, time, and calories. It doesn't calculate power output, but it will show you a few extra stats like average cadence and max cadence.
Pulse sensors- unlike most indoor cycles, this one does come with built-in hand grip heart rate monitors that can give you an estimate of your heart rate during workouts. Your pulse will show up on the monitor mentioned above. This bike isn't compatible with chest straps, so this is all you've got in terms of heart rate monitoring.
Dumbbell holders- there's a pair of small dumbbell holders attached to the side of the frame, allowing you to perform a little upper body strengthening on your rides. The holders are stacked on one side, so they aren't quite as conveniently located as on some other bikes, but still a nice touch that Sunny included them.
Water bottle holder- this gives you a place to hold your beverage of choice.
Device holder- this gives you a place to put your tablet or phone in case you want to follow a streaming workout or watch Netflix during workouts.
Assembly
Putting this bike together should be a very straightforward procedure.
Spin bikes in general are pretty simple to assemble and Sunny does a pretty nice job making their user's manual easy to follow.
The main unit of the bike comes preassembled, so you won't have to worry about messing with the flywheel or any of that stuff.
If you do purchase, you'll be responsible for attaching the front/rear stabilizers, connecting the handlebars and console, and then attaching the holders and pedals.
The seat even comes pre-attached.
Overall, most folks shouldn't have any issues getting this bike unpacked and assembled.
I'd expect most people can probably have this cycle up and running within 45 minutes.
P.S. – the monitor is battery powered, so you don't have to worry about putting your cycle near an outlet.
Warranty
SHF backs their Synergy Pro Magnetic Indoor Cycling Bike with the following residential warranty:
3 year frame
180 day parts
Ok, so the warranty department is Sunny's Achilles' heel.
This bike comes with a lot of nice features, but its warranty is a tad on the short side.
3 years on the frame isn't awful for a bike in this price range, but 6 months on parts is pretty short (even for a $600 bike).
The IC3 I mentioned above costs about the same and comes with a 5 year frame and 2 year parts warranty…
But to be fair, Schwinn offers some of the best warranties for their price ranges.
Overall, Sunny has some room for improvement when it comes to their warranties (I'd like to see a year on the parts warranty here).
Final Thoughts
Well, that's about all I have to offer regarding the Synergy Pro.
I like SHF as a brand and overall I think this cycle has a lot to offer.
In terms of performance, it scores highly. I like that it comes with such a heavy flywheel and a magnetic resistance system. I also like how heavy-duty the bike is in general.
The dual-compatible pedals are a nice touch as well.
The biggest downside I see is probably that short warranty, but I also like being able to see which resistance level I'm on (what can I say, my Peloton has spoiled me).
But having a 0-100 resistance range for a bike in this price range is unrealistic.
Overall, I think the Synergy Pro is a smart buy for this price range. Folks looking for a substantial, heavy-duty bike that can provide legit workouts will be pleased.