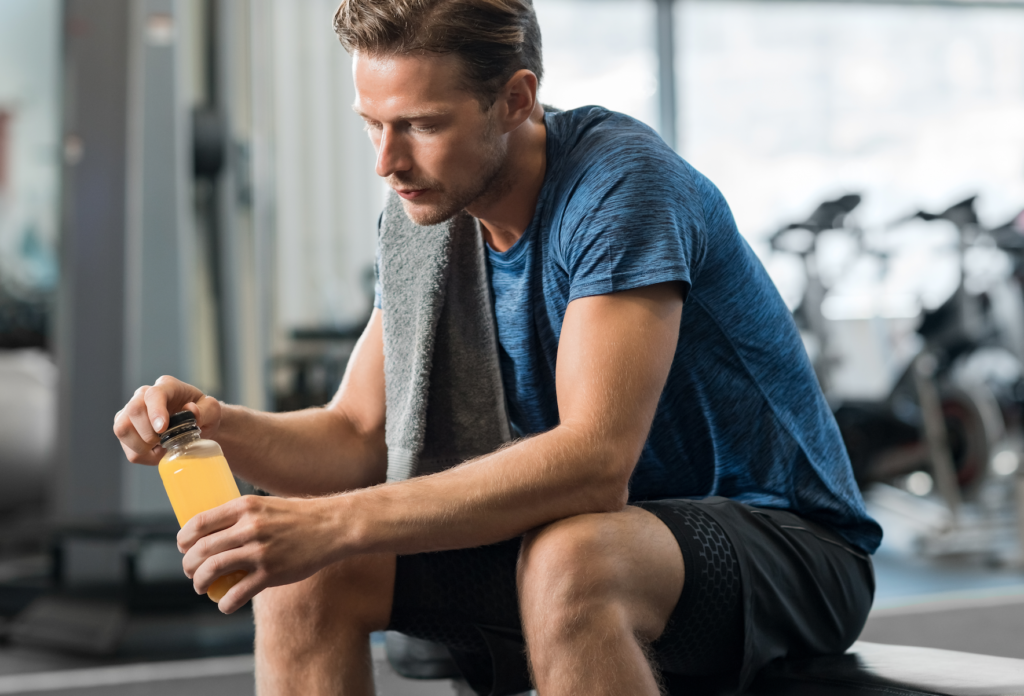 Two workout machines in one?
You betcha.
If you can't seem to choose between getting an indoor bike or a rower, ProForm's Dual Trainer Bike/Rower is the solution to your dilemma. This machine can be used for biking and rowing, meeting your full-body workout needs.
With its 20 resistance levels and 24 onboard workouts, this Dual Trainer Bike/Rower can offer tons of workout variety to challenge users.
Although it features two different machines in one, it's surprisingly compact with a space-saving design for easy storage. 
I like the duality of this particular unit from ProForm. You buy 2 machines for 1 price. But just because it's cool having a hybrid doesn't always mean it's worth buying.
Sometimes, you need to assess the pros and cons and see if it complements your fitness needs.
So, keep reading because that's exactly what I'm going to tackle in this review. This post will help you decide if this Dual Trainer Bike/Rower is worth taking home.
The ProForm Dual Trainer Bike/Rower
Before getting to the meat of this review, I think it's a good idea to get to know ProForm a little.
ProForm is a popular fitness brand that's known for their treadmills and HIIT trainers. They usually make every shopper's shortlist of top brands because of the quality and affordability of their machines. 
ProForm is often pitted against NordicTrack, another well-known name in the fitness industry. Both are comparable to each other in terms of quality, performance, and price. 
But interestingly, ProForm and NordicTrack are owned by the same company, ICON Health & Fitness. 
ICON is the world's largest equipment manufacturer. They also own other famous fitness brands like HealthRider, FreeMotion, and the iFit app. In case you've noticed, almost all machines owned by ICON are iFit-compatible.
Unfortunately, ProForm's Dual Trainer Bike/Rower has a pretty basic console that doesn't support iFit. But we'll talk more about this in the next few sections.
Here's what you can expect from the Dual Trainer Bike/Rower from ProForm:
Pros
2-in-1 machine: A recumbent bike and a rower

Silent Magnetic Resistance System

20 resistance levels

24 onboard workout programs

Adjustable seat, handle, and footrests

350 lb max user weight capacity

Foldable frame

Lifetime warranty on the frame
Cons
No heart rate monitoring

Simple monitor
Short parts warranty
Resistance
Resistance is an important factor when looking into exercise machines. They're responsible for the quality of performance and operation.
Rowers are classified into several resistance types: magnetic, air, water, and hydraulic piston. Each type has their own pros and cons and which type is right for you depends a lot on what you're looking for (check out our rower guide for more info).
The Dual Trainer Bike/Rower uses an SMR™ Silent Magnetic Resistance. It's friction-free and runs smoothly and quietly in either bike or rower mode. 
With this qualification, the Dual Trainer Bike/Rower makes an ideal choice for those living in small apartments or in homes where quiet action is a must.
Some users mentioned that there's a slight sound when the rower handlebar is pulled back. However, it's not that significant as a person can still watch TV at the usual volume.
The Dual Trainer Bike/Rower comes with 20 resistance levels. Having a wide range of resistance lets you enjoy light exercises first and fine-tune your training with more advanced levels. 
You feel the burn at higher intensity exercises. Depending on your fitness goals, you can build overall body strength and endurance with having this many resistance possibilities.
The Dual Trainer Bike/Rower also comes with 24 workout programs. 12 programs are directed for performance while the remaining half is for burning calories (12 total bike workouts and 12 rowing workouts).
These are designed by professional trainers, so you can guarantee that they're effective.
These built-in workout programs are great, especially if you like the idea of having a lot of options to choose from.
Overall, the Dual Trainer Bike/Rower scores well in the resistance department. It's smooth, quiet, and has tons of training capabilities to challenge users. That said, the resistance provided by this machine is going to be better suited for beginners. 
Frame
A robust frame is very important when looking into a machine, especially if it's hybrid like the Dual Trainer Bike/Rower. After all, these machines aren't known for their rock-solid frames..
Many affordable units on the market have wimpy frames. Cheaper units with lightweight frames can make you feel uneasy when exercising as they tend to wobble during use.
A good way to get an idea of how well made the machine is, is by looking at the max user weight capacity.
Heavier is better because it indicates a tougher, more durable machine.
The Dual Trainer Bike/Rower has a 350 lb user weight capacity. At first glance, it also looks like a real piece of fitness equipment.
The standard weight limit for machines in this price range is 300 lb. The fact that the Dual Trainer Bike/Rower offers more than the usual, it scores highly for me.
This hybrid machine also comes with a folding frame. It comes with ProForm's SpaceSaver® Design that lets you fold it up and walk away in one easy step.
This makes the Dual Trainer Bike/Rower a very convenient option for those with limited spaces at home. Not only is it foldable, but it's also compact. It has a dimension of 79.2″L x 20.50″W x 38.3″H. 
Its versatile design allows the Dual Trainer Bike/Rower to be used as a recumbent bike and a rower. You get a full-body workout for a single machine.
Its handle is non-slip and offers a good grip. It's ergonomic so you can reduce hand fatigue and help you exercise longer.
The seat is comfortable too. It's well-padded and adjustable. I guess that's how it should be considering that recumbent bikes are known for having very comfortable seats. 
The large and adjustable footrests accommodate shoes of all sizes, giving more stability as you work out. You can extend your ankles to keep them in comfortable positions.
Overall, the Dual Trainer Bike/Rower has a durable and foldable frame. It can accommodate users safely and save you space at home. Its ergonomic handle, seat, and footrests are fantastic for a much comfortable workout.
Monitor
Most budget-friendly home bikes or rowers have tiny LCD screens for a monitor. They're pretty basic and display just what you need like the time, distance, and strokes.
It's not really a bad thing, as there are reasons why budget machines cost less.
Having said that, the monitor on this Dual Trainer Bike/Rower is is pretty basic. It's large enough to read easily, but it's lacking any higher-tech features like touchscreens or iFit compatibility. 
You can easily track all the standard data you'd like. This includes calories, watts, speed, rpm/target. You can easily change your resistance level or workout program by simply pressing a button.
It doesn't display your strokes, which seems an important feature in rowing machines.
Anyway, you wouldn't have any problem reading the outputs during your workouts. There's no scrolling necessary too. You can see all of the workout metrics at the same time on the same screen.
Overall, the Dual Trainer Bike/Rower has a decent monitor display. It's not as sophisticated as other higher-end models, but it does its job like displaying all important metrics clearly.
Assembly
Because this hybrid comes with a dual feature, it takes a bit of time to put it all together. Luckily, it's very straightforward.
Expect the package to include the illustrated manual, tools, and accessories needed to assemble the Dual Trainer Bike/Rower.
The frame comes partially assembled, so you just have to join some small parts and accessories onto the frame. It's impressive how ProForm organized all parts and the screws and bolts were labeled accordingly.
Many users claimed that they only spent an hour or so setting the ProForm Dual Trainer Bike/Rower.
Warranty
ProForm protects their Dual Trainer Bike/Rower with the following warranty:
Frame: Lifetime

Parts: 1 year

Labor: 1 year
The lifetime warranty on the frame is very fantastic, especially at this price point. I would even go as far to say that the lifetime guarantee is surprising, considering ProForm has stopped putting lifetime guarantees on pretty much everything else they offer.
1 year on parts is a bit short, especially if you go by the full retail price of this machine ($1299). But since ProForm has discontinued this model, you'd likely be purchasing the Dual Trainer on an online retail site for a much lower price.
A year on labor is pretty standard, no complaints there.
Final Thoughts
ProForm has a very interesting product here. I mean seriously, have you ever come across another recumbent bike/rowing machine combo unit before? Kinda bizarre.
That said, this Dual Trainer does have plenty to be proud of.
This fitness gadget comes with a lot of workout options to choose from (for the both the recumbent bike and the rower) and I like that it comes with 20 resistance levels too.
The frame is surprisingly solid as well, with its 350 lb weight capacity.
The warranty is ok. It's kinda hard to go by the comps since there aren't many machines to compare this to. If you compare it to other $1200 machines, then a year on parts is way short.
But let's be real, nobody is going to pay that much for this machine. If you can find this product online, you'll probably end up spending $700 or so- and for that price, a year on parts is still a bit short, but not quite as bad.
Long-story-short: if you're looking for the ability to workout on 2 machines at once, ProForm's Dual Trainer could make sense.
Personally, I think it makes more sense to spend that money on getting either a nicer recumbent bike or a nicer rowing machine.
Because in reality, as neat as the Dual Trainer is, it's not a particularly good at being either.