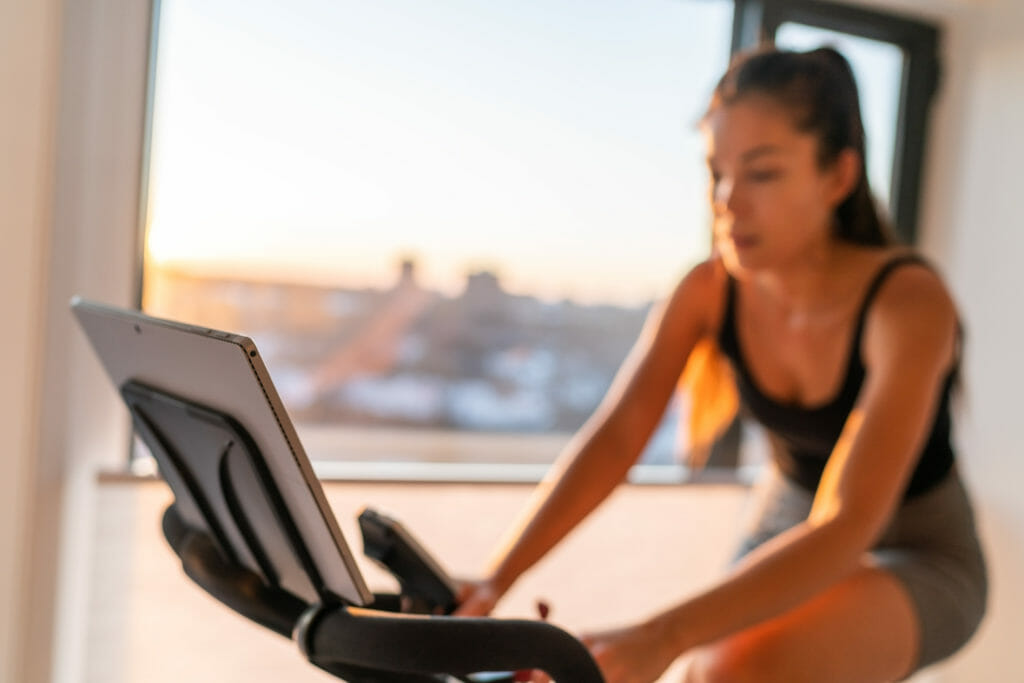 ProForm's X-Bike Duo is a clever take on the traditional light weight, foldable home exercise bike. The "Duo" part of its name refers to the fact that this bike can function as both an upright and a recumbent bike by simply adjusting the seat position.
This might sound pretty good, especially for the folks out there that aren't really sure which type of bike would suit them best.
Highlights of this exercise bike include 14 workout programs, a fold away frame, and a respectable warranty.
Overall, the X-Bike Duo is a simple machine with solid features considering the price range (which is well under $300 by the way).
Although its lightweight frame and small flywheel aren't really appropriate for intense workouts, the adjustable seat position will likely come in handy for people who are simply looking for a comfortable mode of exercise that won't break the bank.  
But is this the right bike for your home gym?
Well, that's what we'll try to discover in this review. In the article, I'll talk about all the ins and outs this bike has to offer. After reading, you should have a good idea as to whether or not this is the right model for you.
Let's get rolling!
The ProForm X-Bike Duo 
ProForm is a very well-known fitness company. It's been around in the industry for over 30 years, and they've made a name with their high-performing machines that are available for every budget.
But did you know that ProForm is owned by ICON Health & Fitness, Inc.?
Yes, you've read it right — indeed, the fruit does not fall far from the tree.
ICON Health & Fitness, Inc. is a large exercise equipment manufacturer, developer, and marketer based in Utah. They own many fitness brands that I'm pretty sure you've heard of, like NordicTrack, which is considered to be ProForm's biggest rival.
ICON also owns the iFit app. Hence, all machines produced by the same company is iFit-compatible.
ProForm offers a variety of training equipment. They're popular for their treadmills and HIIT trainers, but they also have plenty of other solid machines for cardio, like their bikes and ellipticals. 
The X-Bike Duo may be the most budget friendly option in ProForm's lineup. And this being ProForm, you'd be right if you expect this bike to be a little more impressive than most of the competition.
In a nutshell, the X-Bike Duo comes with the following traits:
Pros
2-in-1 exercise bike

14 preprogrammed workouts

14 resistance levels

Large LCD display

Vertically adjustable seat

Foldable frame

Transport wheels 

Good warranty 

Great price
Cons
Small flywheel

No bottle holder

Light weight frame
Flywheel
The flywheel is important because it relates directly to the quality of performance when using an exercise bike. Heavier is better because it usually creates a smoother pedaling motion as well as provide more overall resistance for you to work against.
Upright and recumbent bikes both utilize weight flywheels and the weights vary greatly depending on the make and model (and price).
More expensive bikes usually come with heavier flywheels, and vice-versa.
ProForm states that they use an "inertia-enhanced flywheel" on the X-Bike, but let's be real- all exercise bikes use "inertia-enhanced flywheels"…it just means that it's weighted.
Speaking of weight, when it comes to upright or recumbent bikes, I think it's fair to say that anything over 20 lb is pretty heavy. These are the bikes that will provide smooth acting, substantial workouts.
That said, the weight of the X-Bike Duo flywheel is not specified- which pretty much tells you all you need to know.
When a bike has a flywheel that isn't worth bragging about, they don't advertise how light it actually is. So, we don't have the exact flywheel weight for this model, but I would guess that it's less than 10 lb.
The X-Bike Duo comes with 14 magnetic resistance levels, which is pretty impressive for a bike in this price range. The resistance levels are digitally controlled from the console- something else that isn't a given in this price range (where many use a manual resistance knob).
Overall, the ProForm X-Bike Duo has a very light flywheel that isn't up to the task of providing intense workouts, but it does come with plenty of resistance levels to work with. This bike would be more appropriate for beginners looking for light training. 
Seat
The X-Bike Duo features an oversized, cushioned seat with vertical adjustment. It's also fairly large. You can adjust it to your desired height and comfort.
However, it can't be adjusted horizontally. This becomes a problem for users with too short or too long legs. 
The X-Bike Duo has a main post that offers 9 adjustment positions. Thus, it should accommodate users between 5'0″ and 6'3″.
Exercise bikes are crafted with leg length in mind. So depending on how long your legs are, you may get a different experience from other users within your height range. For instance, there are users whose heights are within the 5'0″ to 6'3″ range, but still couldn't comfortably peddle with the X-Bike Duo.
The seat does not recline, but it has an extra pin at the rear which allows you to adjust its angle depending on the position you want to use the bike, whether as recumbent or upright. Also, the backrest is non-adjustable.
The X-Bike Duo also comes with oversized pedals with straps, designed to keep your feet secure. No matter how hard you cycle, your feet will stay safely in place. It won't slip nor cause you accidents.
Overall, the seat on this bike is adequate, but it's nice being able to choose between the upright and recumbent positions. That said, some users still have a hard time finding a comfortable position to cycle.
Handlebars
The X-Bike Duo has two sets of handlebars: one is located on the console while the other is attached to the seat post.
If you'll use it as an upright bike, you can use the console handlebars. If you'll convert it into a recumbent bike, you can comfortably use its handlebars on the seat assembly.
Both handlebars have rubberized grips, and they're both non-adjustable. 
Also, none of them has pulse sensors, but the console does have a Bluetooth pulse reading function.
A telemetry feature is a rare find among cheap machines. What's generic are pulse grip sensors (which are surprisingly absent here).
Since the X-Bike Duo is telemetric, you won't have a problem getting accurate pulse readings without putting you to an awkward position while cycling (like in the case of grip pulse sensors).
The muscle tension released as you grip on the handlebars can affect the pulse reading. Unlike in wireless receivers, it's wearable and monitors your heart with fewer distractions.
Overall, the X-Bike Duo is telemetric with 2 different handlebar locations to accommodate its convertibility. 
Frame
Even with its cheap price tag, you can still expect a durable frame from the X-Bike Duo.
At a glance, it has an unmissable X-type frame. It's made of steel tubing. It's a bit heavier than other exercise bikes of this type. It weighs approximately 60 lb with the frame fully set up, a weight that adds extra stability. 
It's also durable enough to support users up to 250 lb. Most home gym bikes have higher capacities. A person weighing 200 lb or more should choose a more robust machine for better exercise stability.
The X-Bike Duo frame offers 3 main positions: recumbent, upright, and folded. If the frame is set to the recumbent position, the bike has a dimension of 48″ x 20.25″ (L x W), while for the upright position, the bike's length is only 40.25″. 
The levers are sturdy. It can support you well when biking on plain surfaces.
Storing the X-Bike Duo won't be difficult. Even if it already comes with a small footprint, you can save more space as it's foldable. After using the machine, you can fold it up and out of the way. It has transport wheels for easy relocation. 
Features
The ProForm X-Bike Duo comes the following features:
LCD display: It's large enough to monitor your training parameters conveniently, but it's not backlit. You can watch your mileage, speed, calorie burn, heart rate, and time add up. 
Adjustable console angle: The X-Bike Duo's console is adjustable so you can rotate to the position you need.
14 workout programs: That's already a bit generous for a cheap model since other bikes in this price category have no programming at all. They're great for both recumbent and upright bike training and are also designed by professional trainers.
iFit compatibility: iFit is a fitness app that gives you unlimited access to exercises led by virtual coaches. This lets you track all your workout data, access scenic trails, and more. 
Wireless heart rate monitoring: You can easily track your cardio rhythm as you workout, using the machine's wireless heart monitoring. However, the Bluetooth chest strap is sold separately.
Tablet holder: It has a media tray to hold your smartphone or tablet without blocking the console. 
Assembly
The X-Bike Duo is pretty easy to assemble. The package comes with all the machine's parts, a manual, and a basic tool kit.
That said, I'm not sure I would consider this bike to be "out of box easy assembled". There are still several steps that need to be completed to get this bike up and running.
You'll be responsible for attaching the stabilizers, the seat, the console, and the pedals. Luckily, the instruction manual is easy enough to follow.
Overall, the assembly process should be pretty straightforward, but I expect most users will still spend 30-45 min getting the X-Bike ready to roll.
Warranty
The ProForm X-Bike Duo comes with the following warranty:
Frame: 5 years

Parts: 90 days

Labor: 90 days
Exercise machines under the $250 category may or may not offer a warranty. And if they do, they usually come with a limited 90-day or 1-year warranty.
With its 5-year guarantee period on its frame, the X-Bike Duo is a step above its price-point competitors. It's nice to know the company has made extra considerations for the warranty on this model, given its cheap price tag.
Final Thoughts
The ProForm X-Bike Duo is a great value 2-in-1 exercise bike. It can be used as a recumbent bike or as an upright bike. 
It packs plenty of features for a compact machine. It's equipped with a digital magnetic resistance system with 14 levels, and a Bluetooth and iFit-ready console with 14 workout programs to choose from.
Its pedaling isn't as smooth and noiseless as what a pricier bike could provide, and the bike probably won't last for intense and hardcore training, but given the price, it has a lot to offer.