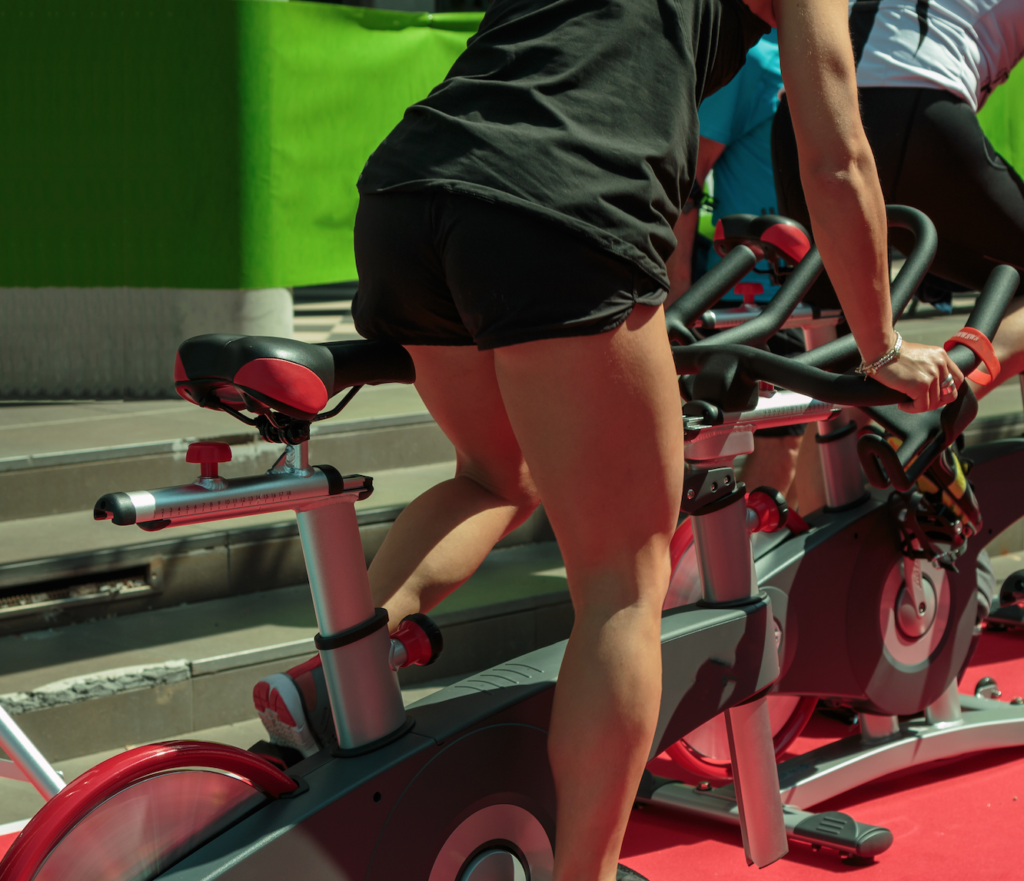 The 315 IC is a popular and economically priced indoor cycle from ProForm. It has the features you can expect from any quality at-home exercise bike, including a heavy flywheel, fully adjustable seat and handlebars, and quick stop braking system.
The most impressive feature of the 315 IC is its 44 lb flywheel. With a flywheel this heavy, this bike is equipped to provide a smooth feel as well as provide plenty of resistance to work against.
It also comes with 2 bonus workout dvds.
Overall, if you're looking for a budget friendly spin cycle to add to your home gym, ProForm's 315 IC is a solid choice. The chest strap compatible console is a nice feature that is rarely seen in this price.
But this exercise bike is far from perfect. Read on to learn more and determine whether or not the 315 IC is worth investing in.
The ProForm 315 IC Exercise Bike
ProForm is one of the most popular names in the industry, precisely because of their reputation for providing high-quality and affordable fitness equipment.
If you're shopping on a tight budget, ProForm is a good option to consider. They offer well-made machines at reasonable prices, ranging from $300 to $2000 or so. 
ProForm is also famous for having an arsenal of feature-rich machines. If you fancy super cool tech and amenities, you'll likely get hooked with ProForm's catalog.
From large, touchscreen displays to iFit-compatibility, their machines can keep you entertained with every ride.
They're mostly known for their treadmills and HIIT trainers, but they also have a solid selection for bikes and ellipticals.
When it comes to their indoor cycle trainers, ProForm seems to have a knack for using similar designs and then adding fancy perks and other better quality components to their newer and more expensive models.
Like in the case of their 315 IC that offers extra features and is priced a bit higher from its predecessor, the 290 SPX.
This is the ProForm 315 IC Exercise Bike in a nutshell:
Pros
Solid steel frame

44 lb flywheel

Fully adjustable seat

Non-slip adjustable handlebars

Chest heart rate monitoring

2 instructional workout DVDs

LCD window display

Water bottle holder

Compact design

Transport wheels

Easy assembly
Cons
Felt pad resistance system

Weight capacity only 275 lb
Flywheel
If you're new to home fitness, one of the first things to look at in an indoor bike is the flywheel.
Flywheels are responsible for giving you a comfortable feel while you exercise. This is the part that spins as you pedal. Heavier is better because it creates more momentum. This leads to a better and smoother riding motion.
But how heavy is good enough?
For spin bikes, it's good practice to aim for a flywheel that weighs at least 30 lb. At this weight, the bike is more likely to provide smooth pedaling action.
Spin bikes are designed for highly intense workout routines, more so than traditional upright and recumbent bikes are. That's why heavy flywheels are often seen in spin bikes more so than other bike varieties.
Speaking of flywheels, the 315 IC comes with one that weighs 44 lb, which is robust and fantastic in this price range. Having this much resistance is also beneficial for a challenging and more effective ride. 
The flywheel on this bike is large and impressive, but it does use a felt resistance system. This means there is direct contact between the flywheel and a piece of felt. 
The closer the felt is to the flywheel, the more resistance you get (and vice versa).
This is common on budget cycles, but I have to admit I'm not a huge fan. These bikes don't tend to be as smooth and quiet as the more expensive magnetic resistance systems, that eliminate direct contact through the use of magnets.
With felt resistance, the felt will eventually break down and have to be replaced (although this is easily done). The one good thing about felt systems (other then the smaller price tag) is that they offer "unlimited" resistance levels.
The more you tighten the knob, the more resistance you get- no set number of resistance levels to use here.
Overall, the 315 IC scores highly for me in the flywheel department. It has enough muscles under the hood to meet your calorie-burning or cardio training goals. I'm not a fan of the felt system, but to be fair, pretty much all models in this price range have em.
Seat
The 315 IC has a fully adjustable seat. You can adjust your saddle vertically and horizontally.
It's a nice perk because you can customize your seat so you can exercise in your most comfortable position. It's also great in optimizing your training sessions.
With its fore/aft adjustment, the 315 IC can readily accommodate both short and tall users. They can find their most natural stride without compromising their safety and comfort.
According to user accounts, folks as short as 4'10" and as tall as 6'5" don't have any problem working out with the 315 IC.
Most affordable spin bikes only offer vertical seat adjustment, and the 315 IC goes beyond the norms by offering more ways to customize their saddles.
As expected, the seat itself isn't particularly comfortable- it's small and firm. But that's the case with pretty much all spin bike seats. 
With time, you'll get used to it. And if not, you can easily throw on a gel seat cover for added comfort (if you're worried about comfort during use, you may want to consider recumbent bikes with their larger, more comfortable seats. 
Overall, the 315 IC does nicely when it comes to seat convenience. With its fore/aft seat adjustment, both short and tall users can enjoy a comfortable ride.
Handlebars
The 315 IC has non-slip and height adjustable handlebars. Again, this is a great feature as you can customize your comfort level on every ride. 
The handles are also nicely padded with rubber foam. You'll likely get a good, comfortable grip on any of your routines, even if your hands become sweaty.
Some spin bikes come with horizontally adjustable handlebars as well. These are nice, giving you a little more room to customize, although I don't find them quite as important as horizontal seat adjustments.
Overall, the handlebars here are pretty standard. They offer a few grip options and should allow for a comfortable grip during your rides.
Frame
The 315 IC has a fairly sturdy frame considering how budget friendly it is. It's made of steel, coated with anti-corrosive paint. 
Its maximum user weight capacity is 275 lb. It's decent enough at this price point, although there are many budget-friendly alternatives these days that offer a bit more (300 lb is industry standard for high quality bikes).
The 315 IC comes with a small footprint of 48.60 x 19.90 x 46.50 inches, making it a perfect fit for space-crunched areas. It's easy to store and relocate too. It has transport wheels so you can simply move it around with just a push.
Generally, users feel safe with the build of this machine. It seems to be rock solid and it doesn't shake or wobble during high-intensity routines. 
The machine's stability could be due to the well-mounted and adjustable levers found at the base of the frame. You can exercise with the 315 IC on uneven floorings.
Overall, I'd like to see at least a 300 lb weight limit on this bike, but if you fall below the stated 275 lb limit, you should feel secure enough during your workouts.
Features
The ProForm 315 IC Exercise Bike comes with the following features:
LCD window display: It shows all the important information you need to know as you exercise, such as RPM, speed, time, distance, calories burned, and many more.
Pedal straps: It keeps your feet secure and in the right position during riding without slipping off.
2 instructional workout DVDs: It's awesome for starters, especially when you're still testing the waters of home fitness. These DVDs can guide you and show you different effective routines you can try. It can also motivate you to exercise. It's worth mentioning that ProForm's newer models are all iFit-compatible. iFit is a fitness app that's filled with an unlimited selection of interactive workouts and more. 
Wireless chest heart rate: This feature is less likely seen in cheap machines, so it's good to know that the 315 IC is telemetric. Wireless heart monitoring is great because it's more convenient and accurate than the generic pulse rate sensors. However, the chest strap is optional and you have to buy it separately.
Water bottle holder: It makes hydration accessible to users.
Assembly
Putting the 315 IC together is a fairly straightforward ordeal. Most of it consists of attaching the stabilizers, the pedals, the seat, and the console- all pretty simple stuff.
Something worth mentioning is that the console is battery operated and that there are no wire connections to it.
How does the info regarding your rpm's get there you may ask? Well, there is a little sensor at the bottom of the frame that sends the information to the console.
This sounds kinda cool, but you also have to put batteries in the sensor. You also have to make sure the magnet on the flywheel is within a certain distance of the sensor. If the 2 are too far apart, your data will be incorrect.
Something to keep in mind if you start using your bike and you're getting weird numbers on your console.
Otherwise, I think most people will be just fine with assembling this bike themselves. It is pretty heavy (over 100 lb), so also keep this in mind when it comes to assembly.
I'd guess most people can have this bike up and running within an hour.
Warranty
ProForm backs their 315 IC with the following warranty:
Frame: 5 years

Electronics: 1 year

Labor: 1 year
For this price range, I actually think this guarantee is pretty good. Higher-end, more expensive bikes will often come with lifetime frame warranties (although Peloton doesn't), but 5 years for a $400 bike isn't bad.
A year on electronics and labor is pretty standard (or maybe even a little better than standard for this price range).
Final Thoughts
ProForm does an amazing job with their cheap selections. I find their units superior to other brands at the lower price range category, and their 315 IC makes no exception.
The most impressive features to me are the heavy flywheel and the chest strap heart rate monitor compatible console.
The felt resistance system isn't my favorite, but given the low cost, this is expected.
I do like that this bike is backed by a pretty generous warranty. Given the price, I wouldn't have been surprised to have seen much shorter.
Overall, the 315 IC isn't a steal, but it does have a lot going for it (especially that warranty). This bike may be hard to find- if you like this but can't get your hands on one, I'd recommend checking out Sunny Health & Fitness's Pro Indoor Cycle.