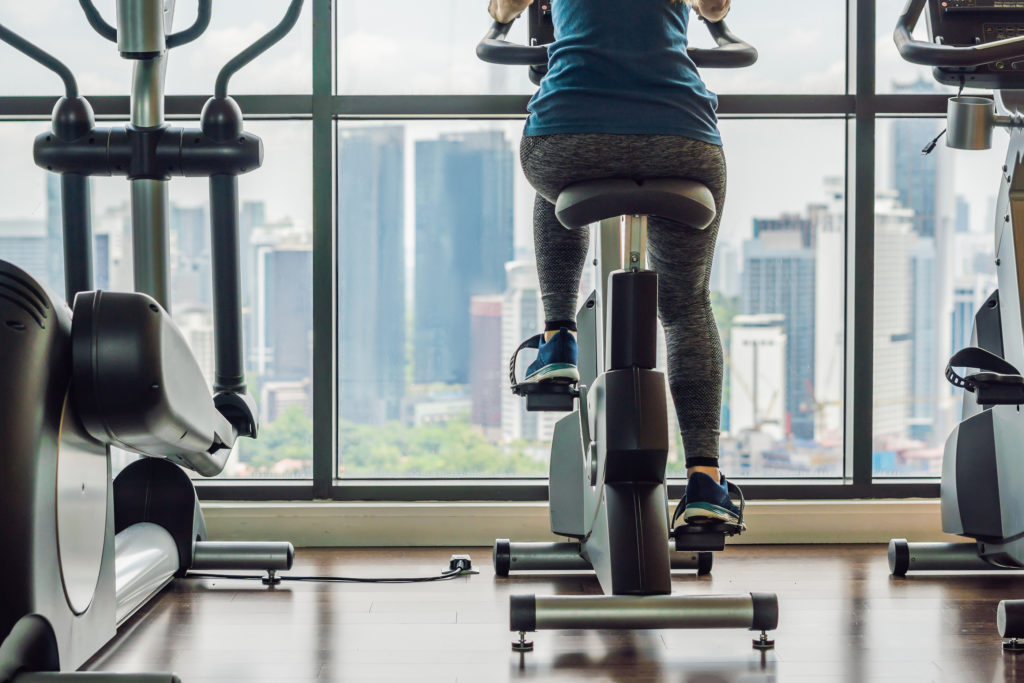 The C7000i is a top-of-the-line commercial exercise bike from LifeSpan. Impressive features include a 3 phase generator resistance system, oversized self-balancing pedals, and of course, LifeSpan's famously generous warranties.
This bike also comes with with a heavy-duty frame strong enough to hold users weighing up to 400 lb as well as plenty of exercise programs to choose from.
If you're searching for a commercial grade upright bike that won't destroy your budget, LifeSpan's C7000i is definitely worth considering.
But is this the right bike for your home gym? That's the real question.
Well, that's what we're going to help you find out. In this review, we'll examine everything this model has to offer. After reading, you'll know everything you need to in order to make the right decision.
The LifeSpan Fitness C7000i Commercial Upright Bike
LifeSpan Fitness is a solid contender when it comes to fitness machines that are of high-quality but also budget-friendly. I've reviewed a lot of their products recently and the more I research their products, the more I like them.
For starters, they put function over everything. 
Don't let appearances fool ya- I know I don't consider their machines to be all that aesthetically pleasing, but you know what they say about judging books by their covers…
Looks aside, LifeSpan designs and builds their products for peak performance. Which I think is more important anyway.
LifeSpan has been in the business since the early 2000s, yet they're quite a tough competitor even for those older brands in the industry. They just know how to make quality machines. It's in their blood.
Their reputation has been well-earned over the years, especially after introducing a roster of tough-to-beat treadmills in its league. Their exercise bikes are no different.
The C7000i is made to meet commercial gym standards. It's meant to torch calories and give you as an intense a workout as you want.
It's packed with all the good stuff you need for a quality workout session. Here are some selling points:
Pros
20 lb flywheel

16 resistance levels

Quiet, durable magnetic resistance system

Well-padded seat

19 seat height adjustment settings

17 built-in programs

Multi-color LCD

Self-generating power

Multi-grip handles

2 USB ports

Media shelf

Contact pulse sensors

400 lb max user weight capacity

Great warranties
Cons
No horizontal seat adjustment

No chest strap inclusion
Flywheel
I like putting flywheels at the top of my exercise bike reviews because they're arguably the most important spec to consider. 
Flywheels, or the big round discs located at the front of the exercise bikes that propels as you pedal, give the bike its 'feel'. It's where the whole resistance system originates. 
It's also responsible for making sure you're getting a smooth and effective workout. Some would even say that the flywheel weight relates directly to the quietness of the machine, but that's not always the case.
When it comes to flywheels, weight matters. The general school of thought is that the heavier, the better. 
Heavy flywheels are more preferred because the extra weight creates more momentum as it spins. More momentum leads to a smoother ride. Catch my drift?
For upright bikes, flywheels of at least 20 lb is heavy enough to provide a smooth, fluid ride.
The C7000i hits the mark with its 20 lb flywheel. This massive flywheel operates with a whisper-quiet magnetic resistance system. 
Quiet machines are good, especially for home gym use. If you're living at an apartment, this bike lets you exercise any time without disturbing your family or neighbors, or so what most users have said.
The C7000i lets you explore your fitness capabilities with its 16 resistance levels. Adjusting is easy by pressing a button. You can check your resistance that's digitally displayed on the console and fine-tune your intensity.
Overall, the C7000i scores highly with its fairly heavy flywheel and smooth magnetic resistance system. I like its 16 intensity training options to challenge users of different experience levels.
Seat
The C7000i sports a comfortable seat that's large and well-padded. 
The truth is, the seat is a common and controversial issue on most exercise bikes. They tend to be uncomfortable as most are mimicking the feel of riding outdoor bikes (which are small and hard).
Most exercise bikes (especially spin bikes) are like this. After a few rides, your butt will likely adapt and get used to it. If not, you can get an affordable gel seat cushion (which you can buy at almost any bike store) and that should help a lot.
Recumbent bikes, on the other hand, generally have comfortable seats. They're often used in therapy and have amazing lumbar support and ergonomics.
When checking exercise bike seats, what's important to consider is its adjustability. 
The C7000i has 19 height adjustment settings ranging from 29″ to 40″ high which should support users from 5'0″ to 6'8″ tall.
The only thing missing here is the ability to adjust the horizontal position of the seat (fore/aft). Fully adjustable seats are better as they can help you find the most comfortable riding position, but I don't necessarily count this as a dealbreaker.
Most individuals will likely still be able to find a comfortable position on the C7000i even without the fore/aft adjustments because you'll notice the seat post is at a slight angle, meaning you're adjusting the fore/aft a little as well when you adjust the height.
Overall, the C7000i has a pretty good seat. It would be nice if was fully adjustable to suit a wider variety of positions, but I think most people will fit just fine.
Handlebars
As to handlebars, what we should look for is if they're multi-grip.
The C7000i checks this box with its multi-position handles. Although fully adjustable handlebars aren't as important as they are for seats, they're great features to have.
They're another nice way to customize your fit, which is never a bad thing.
I've got nothing else to say here, other than they're comfortable, multi-grip handles with contact pulse sensors for easy heart rate monitoring.
Frame
A good upright bike should be solid and sturdy to make sure you won't get any unwanted wobbling during your workout.
I know it's difficult to measure up the frame quality without trying the bike, but there are no-brainer ways to get an idea of how robust it is- look at the machine weight and weight capacity.
Heavier bikes are good because they should be more stable during use. These machines will stay still no matter how hard you pedal.
Lighter machines tend to move more during use, especially for heavier riders.
Flywheels occupy a good portion of the bike's total weight, so those with heavier flywheels should also weigh more.
The C7000i is substantial at almost 120 lb. Machines weighing over 100 lb are ideal and should be heavy enough to give you a strong and solid base to cycle on.
It also has an impressive max weight capacity of 400 lb. Some bikes come with a 300 lb weight limit, which is generic and average for home bikes.
But unless your budget dictates it, always go for bikes with as high a user weight capacity as you can find.
The C7000i is small and compact at 40″ L x 28″ W x 58″ H, making an excellent choice for any household.
It's easy to store and move around with its rear transport wheels (and since this bike generates its own power, you don't have to worry about locating it near a plug!)
Overall, the C7000i is heavy-duty and meets my standards for frame integrity.
Features
Again, LifeSpan isn't known for being feature-rich, but they've got the basic features covered to keep you engaged and entertained at every ride:
Multi-color LCD: It's a nice bright screen with an overall clean look. There are easy access buttons to change your resistance levels and program. You get the same console readouts like program name, date and time, workout time, calories, RPM, distance, heart rate, speed, and resistance level.
For commercial bikes under the $2000 category, the C7000i is a bit behind its competition when it comes to tech displays. Other brands have incorporated touchscreen displays, which are obviously a huge hit nowadays.
17 workout programs: They're grouped into different categories depending on your fitness goals: weight loss, healthy living, and sports training. It also comes with 2 heart rate control programs and 2 user-designed routines.
Self-generating power: You power the console whenever you pedal- no plug or batteries required. It operates using your energy, thereby saving a lot on your monthly bills. Your pedal power also makes it possible to charge devices connected to the C7000i's USB port. 
Self-balancing pedals: These give additional safety measures for riders of the C7000i and can accept just about any shoe size. 
USB ports: There are 2 USB ports to automatically save your fitness data or charge your devices simultaneously.
Heart rate monitoring: You have 2 options to track your heart rate with the C7000i: 1) contact grips located on its handlebars and 2) wireless heart rate receiver. The chest strap is necessary to enjoy the wireless convenience (which is more accurate), but it's sold separately.
Media holder: It fits books, magazines, and tablets for a more entertaining or multi-tasking workout session.
Assembly
When you purchase the C7000i, you can expect to receive a hefty package of about 140 lb carrying all the essentials: the parts, manual, and basic tools.
It comes with a pre-assembled body, so all that's left to do is attaching the accessories, putting the console, and so on. The assembly guide can make the process simpler for you as it comes in both written and visual instructions.
Users seem to agree that the assembly process is a rather straightforward task.
I strongly recommend having an assistant when putting together the C7000i. It's a heavy machine and you may have a rough time carrying all the load and doing all the process by yourself. 
Most people should be able to get this job done within an hour, but that depends on your skill level too, of course.
Warranty
The LifeSpan Fitness C7000i Commercial Upright Bike comes with the following warranty:
Frame: Lifetime

Parts: 5 Years

Labor: 2 Years
There's no doubt about it – LifeSpan offers some of the best warranties in the market. Lifetime on the frame is great and should be expected from a bike in this price range (although you'd be surprised).
Five years on parts is also great and about as good as you'll see anywhere. Two years on labor is better than the industry standard of 1 year.
Overall, a very generous warranty.
Final Thoughts
The C7000i is made with a heavy-duty frame, heavy flywheel, adjustable seat and handlebars, and comes with a nice variety of training intensities to work with.
It's also backed by one of the best warranties on the market, which can provide some peace of mind if you decide to purchase one for yourself.
Personally, I think the self generating power source is the coolest feature here- you can put this bike anywhere you want without having to worry about an outlet.
With an asking price of around $1700, this bike is fairly expensive compared to other home models. But when you compare it to other commercial bikes (with some costing $3-$5k), it's a steal.
Overall, I think LifeSpan's C7000i has a lot to offer. If you're looking into getting a commercial-grade bike for your home gym, the C7000i is a good option.