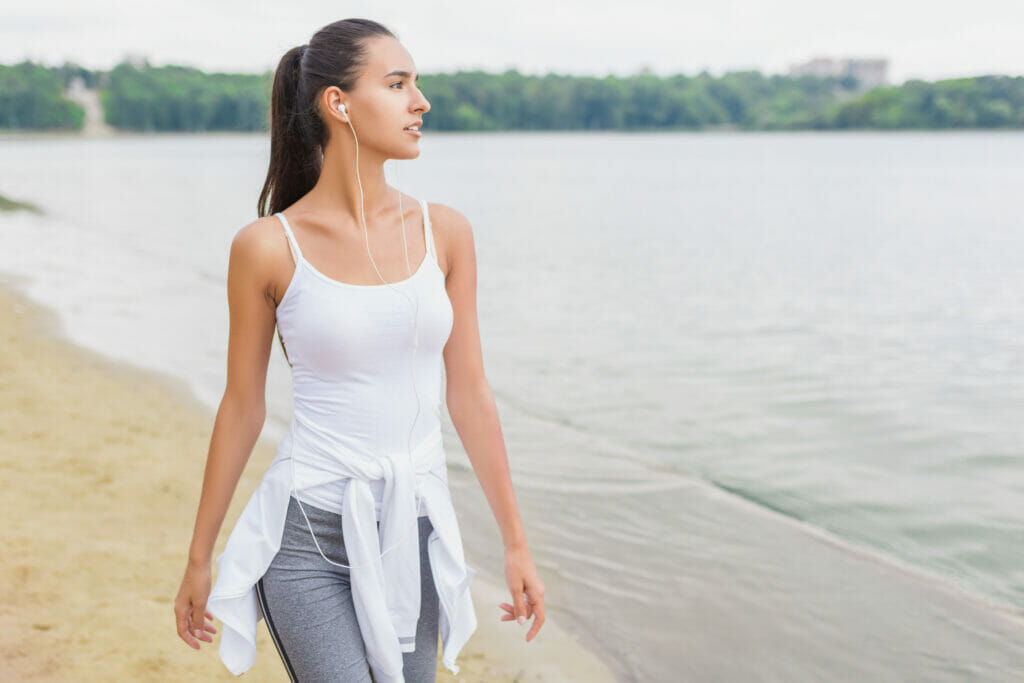 Are you one of those people who likes to get your 10,000 steps in a day?
Why do you want to get 10,000 steps a day? Are you motivated by general fitness or weight loss?
How can getting your 10,000 steps a day be fun?
Regardless of your motive, getting your daily steps in will benefit your health in the long run.
Daily Recommended Steps
How many steps do you really need in a day? Is age a factor that needs to be taken into consideration?
According to the Mayo Clinic, the average American walks 3,000 to 4,000 steps a day, or roughly 1.5 to 2 miles.
It's a good idea to find out how many steps a day you walk now, as your own baseline. Then you can work up toward the goal of 10,000 steps by aiming to add 1,000 extra steps a day every two weeks.
Benefits of Walking
Some activity is better than no activity. Setting a daily step goal is one way to motivate you to get moving. Walking can reduce common health problems such as:
Heart disease
Obesity
Diabetes
High blood pressure
Depression
Walking in Your Daily Life
Walk your dog
Incorporate music in your walk
Include your family
Walk while you wait
Schedule workday walks
Take a walk in the park
Take the stairs instead of an elevator
Walk Your Dog
Dogs can bring a lot of joy and energy to our lives.
Everyone knows that a dog needs to be walked everyday. Because of this, it will motivate you to get moving as well.
If you don't have a dog, volunteer at a shelter, walk a friend's dog, or better yet walk with your friend and their dog.
Try Listening
Music can also be a motivator.
Create a playlist of your favorite songs or find your favorite station on Pandora or Spotify. Maybe music isn't your thing so find the next best Audible book or podcast and get moving.
Include Your Family
Walking with others has its benefits.
It can be a great social activity, an opportunity for good quality time, and fun.
Walk While You Wait
Maybe you're waiting for your next flight or for a sporting event to start. Instead of just sitting in the terminal or in your seat, walk the airport or take a few laps around the stadium. 
Schedule Workday Walks
Just because you have a desk job doesn't mean you can't make walking a part of your work day.
If you live within walking or biking distance, walk or bike to work.
Take a quick walk on your lunch break or with a coworker.
Park further away from your building and enjoy the short brisk walk there.
Take A Walk In The Park
Parks are a great place to people-watch while getting some exercise.
There are all sorts of paths and places to explore.
Take The Stairs
Stairs are a way to literally get your daily steps in.
Going up and down stairs adds to your step count and burns calories.
Get The Support Of A Personal Trainer
Personal trainers can be very helpful.
Whether you're just starting out or already serious about exercising, personal trainers can offer their support and expertise to help you get the most out of working out.
Minimum Steps Per Day
Maybe you're new to tracking your steps or you consider yourself athletically challenged.
Jumping in from minimal exercise to 10,000 steps a day might be overwhelming. Aiming for 5,000 steps a day is a good place to start.
Does Age Matter?
Here are some of the recommended steps by age.
Under 18: Once kids get a handle on walking, it's recommended kids under 18 should get a minimum of 6,000 steps a day. If your kids are more active and play sports, this number should be closer to double.
Adults: As adults your step count will lower when you become a student or enter the workforce. You should aim for 10,000 steps a day.
However, your step count may be more like 7,000 a day. If you're a fitness buff or trying to lose weight, your step count should be more like 12,000+ steps a day.
Adults over 65: As you get older, your bones become more fragile and your fitness tends to decline. This doesn't let you off the hook. You should aim between 3,000 and 10,000 steps depending on your activity levels and general health.
Best Fitness Trackers
There are many trackers and tools to help you count your steps. Here are some of the top fitness trackers in 2022:
Fitbit Charge 5: Best overall tracker
Pros
+Bright, always-on display
+Fast connecting GPS
+Addition of an ECG monitor
Cons
-Lack of buttons on the Fitbit makes usability frustrating
-No Spotify compatibility
Fitbit Sense: Best fitness tracking smartwatch
Pros
+Attractive
+Long battery life
+Comprehensive fitness/health features
Cons
-No Spotify storage
Garmin Forerunner 245: Best fitness tracker for runners
Pros
+Accurate GPS and heart-rate monitor
+Easy to read in sunlight
+Customizable interface
+Onboard music storage
Cons
-App could be better organized
Samsung Galaxy Watch 4: Best fitness tracker with body composition analysis:

 
Pros
+First major smartwatch with body composition analysis 
+Slim design 
+Bright watch face 
Cons
-Concerns with BIA sensor 
-Battery life can be inconsistent
Whoop 4.0: Best fitness tracker subscription
Pros
+Sleep tracking is better than most other trackers on the market 
+Heart rate, skin temperature, SpO2 sensors
+Smaller than the Whoop 3.0
+Interchangeable bands
+Compatible with Whoop Body
Cons
-It does require a monthly subscription 
-No screen
-No GPS
Fitbit Inspire 2: Great fitness tracker for beginners
Pros 
+Slim, lightweight design
+Accurate sleep-tracking
+Affordable
Cons
-Small display
Garmin Vivomove: One of the best fitness trackers under $200
Pros
+Stylish, lightweight design 
+Female health tracking 
+Breathwork activities for stress relief 
+Can be used as a watch, no phone required
Cons
-No in-built GPS 
-Can be fiddly to use
Apple Watch Series 7: Best fitness-tracking smartwatch for iPhone users
Pros
+Larger display
+Brighter always-on mode
+QWERTY keyboard
+Comes with USB-C magnetic charger
Cons
-No added health features
-Still 18-hour battery life
Getting your 10,000 steps is a great way to improve or maintain good health and it doesn't have to be difficult or a chore.
Just start walking, check out some of these tools that can help you, and figure out the best ways for you to get in your daily steps!
Katie Meyers is an SEO Specialist at SEO Design Chicago. Before joining the SEO Design Chicago team, she interned for them, as well as interned as a Content Writer at HZD Creates. Katie is from Washington State and has an AA and a Social Media Marketing Certificate. She enjoys Gonzaga men's and women's basketball, and spending time with her dog, family, and friends. Katie likes reading and taking a variety of classes. Her favorite places to visit include the Oregon coast and a local lake cabin.