Focus T25 
Best Price: $59.85  
Best Place to Buy: Beachbody.com
Average User Rating: 4.6/5
60-day Money Back Guarantee
If you haven't seen any of the infomercials on tv, then you probably don't watch enough tv. But, if you are researching T25, you must have heard of it from somewhere. What is the T25 workout? Well, the T25 workout, or more formally the Focus T25 workout, is another fitness gem offered by the acclaimed Beachbody company. The gimmick in this case, is the small amount of time these workouts take…25 min! Get it now, "T-25". Beachbody is a clever bunch. If you are interested in purchasing an intense at-home workout series, you may be in the right place. Let's take a look at this workout and find out if it is the key to reaching all your fitness goals and more!
What Is The T25 Workout Anyway?
I mentioned above that the workout gets it's name from the fact that each workout only takes 25 minutes. That's a big part of it, short workouts. The idea is, that no one can use the old "I don't have time to exercise" excuse because literally anyone can find 25 min in a day to perform one of these routines.
The goal of the routines is to give you an hour's worth of exercise in those 25 min. This might sound a little scary and it should. For those familiar with any of the other Beachbody workouts, this is no surprise. Beachbody's mission statement is to get people in the best shape of their lives. Unfortunately, in order to get in the best shape you've ever been in, you have to work harder than you ever have before.
I get it. You're busy. I'm busy. Everybody is busy. Kids, work, tv, sleep. An hour to exercise every day isn't realistic for all of us. But come on, who doesn't have 25 min?!? And I'm not saying T25 works for everyone just because it's shorter. I'm just saying this program takes the time restraint out of the equation.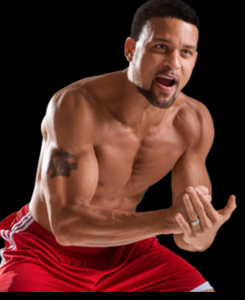 Focus T25 comes from the fitness mind of Shaun T, the same trainer who brought us INSANITY. INSANITY is another workout series from Beachbody. Like most workout DVDs, INSANITY routines are anywhere from 45 – 60 min. That's why the T25 series was created. The goal was to provide a serious workout that could be completed in a much shorter time.
You may have seen Shaun T. on the cover of Men's Health a couple years ago. Or Muscle & Performance. The guy is in serious shape. He also developed the Hip Hop Abs and Cize workouts. He stays busy between his work with Beachbody, his occasional appearance in musicals and movies, and working on a book that is supposed to come out later this year. He's been in the fitness world for a long time and he is definitely one of the the pillars of the Beachbody brand.
So back to the Focus T25 system. In order to burn as many calories as possible in 25 minutes, T25 consists of total body workouts. I've discussed the benefit of total body workouts in the past, I'm a big fan. If calorie burning is your goal, it's definitely the way to go. Working every body part in one workout is going to keep that heart rate up, burn more calories, and in turn burn more fat! T25 also incorporates high intensity interval training techniques (HIIT), or what they refer to as focus interval training (FIT)…again, these Beachbody folks are always thinking.
Basically it's fancy talk for working really hard over short bouts of time, and then repeating. Instead of exercising at a moderate pace for longer periods, perhaps like jogging on a treadmill for 45 min, you do 4-5 min bouts of intense circuits with some rest between. The theory is that elevating your heart rate near it's max, and then letting it drop, and then repeating increases metabolism which will continue to burn more calories after your exercise is complete. It's a good strategy and a lot of folks in the fitness world agree it can be a very effective method to improve fitness.
The Workouts
Here is a summary of how Focus T25 works:
10-week program, divided into 5-week programs: Alpha and Beta
Each program consists of 5 workouts, each 25 min long (so your are exercising 5 days/wk)

Alpha (1st 5-wks): 

Cardio – speaks for itself
Lower Focus- legs
Total Body Circuit- strengthening workout, weight free
Stretch- flexibility
Speed 1.0 – fast-paced, agility style movements

Beta (2nd 5-wks)

Core Cardio- cardio workout with concentration on core movements
RIP't Circuit- combo of cardio, upper body, legs, and core moves
Dynamic Core- lot of moving, emphasis on core muscles
Upper Focus- arms
Speed 2.0- more speed/agility drills

You need resistance band or dumbbells to complete the workouts (a resistance band is included with purchase)
Pros
10 different workouts + 1 additional ab workout = 11 different workouts
Full body workout from comfort of home
Only 25 min per workout!
Exercise 5 days/wk (instead of 6 or 7)
Modified versions of exercises = options for all fitness levels
Price- only $59.85 for the entire program
Workout calendar included
Easy nutrition plan included- 5 ingredient recipes, only 5 min of prep
Pro-grade resistant band included
24/7 online support
60-day money back guarantee
Average customer rating of 4.4/5 on Amazon
Cons
Can be tough on joints (jumping, squatting, etc)
Can be loud if you are trying to workout when family is sleeping (again, jumping type movements)
Like any other DVD workout, workouts can get boring after a few wks
Final Thoughts
11 workouts, a nutrition plan, a resistance band AND A 60-day money back guarantee for $60?… yeah, it's pretty much a no brainer, I'm in. The price is too good to deny. Even if the workouts where mediocre, honestly, for that price I would have to say give it a try. But luckily, the workouts are legit.
I really like the idea of creating a program solely designed around getting people in great shape in less than half an hour a day. Like we discussed at the beginning of the review, the number one excuse we all have for not working out is time. We don't have the time to go to the gym and exercise for an hour. As a family man, trust me, I agree. It's been a long time since I did have the time to workout for an hour at the gym. That's actually why I started exercising at home and what led me to start this wonderful blog you are enjoying right now!
I like the idea of having workouts on DVD. It's good to have options. I know I've probably mentioned it before, but I get bored doing the same old exercises all the time. I like variety. I like to switch things up. I think it's really good for our bodies as well. I'm a believer that our bodies are very good at adapting to the stress we are putting it under. In exercise terms, our bodies are smart, and will adapt to the exercises we are doing fast. When are body gets used to something, it will become more efficient at it and burn less calories. In order to keep my body guessing, and to continue seeing the benefits of the work I'm putting in, I like to switch up my routine regularly.
That's a nice quality of this workout. You do your routine for 5 weeks, and then you get to start a completely new routine for 5 more weeks. 10 weeks total. It's a nice, compact package. I'm a big fan of another Beachbody program, P90X. My biggest complaints, though, with P90x, were that it kept the same leg and back workout (and yoga) for each phase (it got SO boring) and it takes 90 days…thats a pretty serious commitment. Especially when you are doing the healthy diet too. Gets great results, but again, its a long program and I tend to get bored.
10 wks though, is significantly shorter and the two programs are completely different from each other. Even on the days you don't feel like working out  (and trust me, there will be plenty) knowing you only have to commit to 25 min makes it a lot easier. It really helps keep the motivation high. It's an intense 25 min, but in order to get fit, the workout has to be.
Always keep in mind, that the results you get with this or any other workout really depends on the effort YOU put in. Any routine can become more or less intense by the effort the user puts in to it. Choosing correct weights, pushing hard enough in your intervals to get the heart rate up high enough is what it is all about.
In conclusion, I think what the Focus T25 workout really is, is a complete guide to helping anyone get in better shape. It gives you all the tools necessary to lose weight, get stronger, feel better, become more fit. No excuses. You do have 25 min a day, we all do! If you are looking for a great total body workout from the comfort of your home, look no further!

P.S. If you have already completed P90x or any of the INSANITY workouts, this may not be the one for you. It's considered by most to be a little easier than the others. Shorter workouts, little less intense. If you are starting off, it's a great place to start.
I'd love to hear comments from folks who have tried the T25 program. What kind of results did you see? As always all questions and comments are encouraged, I'll get back to you soon.