Home exercise bikes tend to fall into 3 main categories: recumbent bikes, stationary (upright) bikes, and spin bikes (or indoor cycles or cycle trainers). I wanted to start with a review of recumbent style bikes first because they are very user friendly. Anyone, regardless of age or fitness level, can usually train with a recumbent bike. They offer a comfortable, low stress workout that can easily be adjusted to the needs of the user. Like any other fitness product, there are 1000's of options on the market. If you are interested in buying a recumbent bike and are doing some research, you have come to the right place! What is the best recumbent exercise bike of for home use? Let's find out!
3 Different Types of Home Exercise Bike
Like I mentioned earlier, home exercise bikes can be split into 3 categories. Let's take a quick look at each one to make sure you are actually interested in the right style of bike for your needs.
Recumbent bike- come with a tall back for extra spinal support, pedals are stretched out in front of the machine so that the rider is positioned more horizontally than a typical street bike. This position decreases stress on the joints of the legs, i.e. the hips, knees, and ankles. These are good for folks with back pain as well due to the increased support provided by the tall seat. These are popular in physical therapy clinics and rehab settings because they can provide the strengthening and cardiovascular benefits of other machines in a more comfortable manner. Again, these machines are more gentle than the other 2 categories. That said, you can still get a quality workout with a recumbent bike. A quality recumbent bike will offer plenty of resistance and workout programs to keep you working.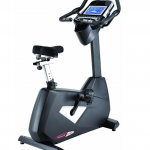 Upright (stationary) bike- these bikes more closely match a typical bike you would ride outside. You are positioned on these machines the way you would sit on a typical bicycle- pedals below the seat, so you are positioned more vertically than a recumbent bike. Like a typical bike, an upright or stationary bike puts a little more pressure on your low back and hips/knees than a recumbent will. This is fine if you are healthy and do not have any joint problems. Upright bikes can provide a great cardio workout and take up very little floor space in your home gym.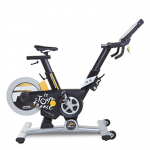 Spin Bikes (cycle trainers)- these machines are designed to most closely resemble street bikes. The resistance provided is more realistic. The way the flywheel spins provides a resistance that mimics riding on a road. These bikes also tend to have more adjustable handlebars and seat positions. Sometimes the pedals and seats are actually interchangeable with your street bike. These have become very popular with serious cyclists and "cycle gyms" are popping up everywhere. There are some really nice models available for the home gym, but we will review these separately in another post very soon.
What To Look For In A Recumbent Bike
Here is a list of suggestions to consider when looking at recumbent bikes to purchase:
Resistance levels/adjustments- a quality bike should offer a wide range of resistance levels to accommodate more therapeutic uses to higher intensity cardio workouts
Speakers and Fans- many high quality bikes offer speakers for listening to your favorite music and fans to keep you cool during your workout
Flywheel weight- the flywheel is what provides the resistance in most bikes, a heavier flywheel will provide more resistance and typically provides a more realistic feel to the ride
Smart Features- iPod compatibility, data tracking, smart apps, etc are all features that are provided on high-quality models. It's important to know which options are important to you and which are not worth paying more for
Warranty- always an indicator of a fine product, nicer machines tend to come with better warranties because the manufacturers trust their product
Price Range
Recumbent bikes can be purchased anywhere from less than $200 to over $2000 dollars. Most of the highest-rated recumbent bikes I found tend to fall in the $1000-$1500 range.
That said, I wanted to include a review that offered quality options for all price ranges, so I split the review into 3 price ranges and chose 2 bikes for each category.
Hopefully, this will help you find the best option regardless of your price range. Obviously, the more you spend, the more bells and whistles you tend to get. Those bells and whistles don't always equate to a better machine though. Durability and function are very important to me when purchasing any exercise equipment, so I lean toward machines that rate high in those categories. I'm less interested in the smart features.
My 3 prize ranges for this review are: < $500, $500 – $1000, and > $1000.
---
2 Quality Bikes for Under $500
Schwinn 270 Recumbent Bike 
Best Price: $399.99 (originally $499.99!)
Dimensions: 64″ x 27.7″ x 49.9″
Warranty: 10-year frame; 2-year mechanical; 1-year electrical; 90-day labor
Max Weight Capacity: 300 lb
Pros
25 levels of resistance with high inertia perimeter weighted flywheel = smooth workouts capable of high resistance
29 programmed workouts
2 LCD display windows
Bluetooth compatible
3-speed fan and speakers
USB connectivity
Hand grip heart rate monitor, chest strap wireless monitor compatible (not included)
Cons
Chest strap heart rate monitor not included
May not be comfortable for people taller than 6'1″
Bottom line, this is a fine bike produced by a very trusted name in fitness equipment. It's a very highly rated bike, and for the price range, going to be very hard to beat.
Nautilus R614 Recumbent Bike
Best Price: $325.24 (originally $699.99!)
Dimensions: 67.8″ x 28″ x 12.5″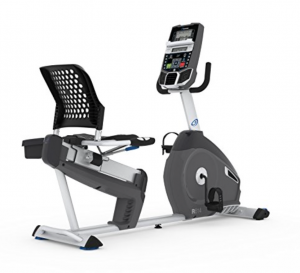 Warranty: 10-year frame; 2-year mechanical; 1-year electrical; 90-days labor
Max Weight Capacity: 300 lb
Pros
20 levels of resistance
22 workout programs
2 LCD display windows
USB charging and data transfer with NautilusConnect or myfitnesspal.com
High inertia perimeter weighted flywheel
3-speed fan, speakers
Vented seat back to help keep you cool while riding
Hand grip heart rate monitor
Cons
Not bluetooth compatible
Not compatible with telemetry heart rate monitor
Some complaints about the quality of the seat
May be uncomfortable for taller riders (taller than 6'2″)
Another well acclaimed bike from another very highly trusted manufacturer of fitness equipment. Known for being a very stable and durable machine. This bike should be fine for majority of riders, be careful if you are tall, there have been some complaints with these bikes fitting taller folks.
---
2 High Quality Bikes $500 – $1000
Lifecore 860 RB
Best Price: $989.00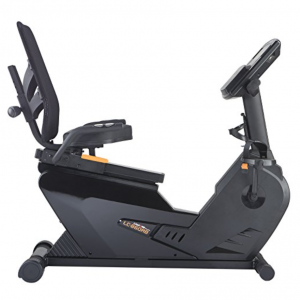 Dimensions: 51.8″ x 27″ x 48.1″
Warranty: Limited- lifetime frame; 3-year parts; 1-year labor
Max Weight Capacity: 300 lb
Pros
Amber backlit LCD display screen
16 levels of magnetic resistance
22 programmed workouts
Mesh seat back with 6 levels of height adjustment
Front and rear frame stabilizers to provide increased stability during use
3-speed workout fan
Hand grip heart rate monitor
USB charger
iPod compatible
Cons
No telemetry heart rate monitor
This is a sleek recumbent bike perfect for home use. The magnetic resistance is almost silent as you pedal. Extra attention placed in the comfort of the seat as well, with extra seat adjustments, ergonomic design, and mesh backing. Great option for the price range!
Nordic Track Commercial VR21
Dimensions: 59″ x 22.5″ x 52″
Warranty: Lifetime-frame; 2-year parts; 1-year labor
Max Weight Capacity: 350 lb
Pros
High-backed mesh seat
25 digital resistance levels
Step-thru design frame (easy to get on and off)
23 lb flywheel
Extra-wide ergonomic foot pedals
5″ backlit display screen
Grip heart rate monitor, telemetry chest strap compatible
iPod compatible
32 programmed workouts
iFit Coach ready (app)
Integrated tablet holder
Cons
Doesn't include chest strap heart rate monitor
Most appropriate for light to moderate training (might not hold up to more intense use)
Customer service is so-so
Overall, the Nordic Track Commercial VR 21 is a very comfortable ride. It provides plenty of options to keep the user comfortable and engaged during the workout. Nordic Track is a trusted brand in the fitness world and this bike is a good addition to any home gym at this price.
---
2 Very High Quality Bikes Over $1000
Sole LCR Exercise Bike
Best Price: $1499.99 (originally $1999.99!)
Dimensions: 57″ x 30″ x 50″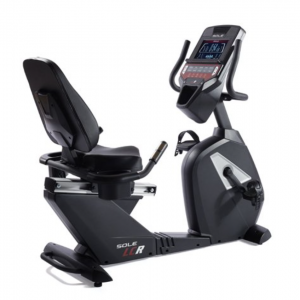 Warranty: Lifetime-frame; 5-year parts; 5-year electronics; 2-year labor
Max Weight Capacity: 350 lb
Pros
Heavy-duty 30 lb flywheel
40 levels or resistance
12-position adjustable seat
10 programmed workouts
Commercial grade steel frame
Step-thru design frame
iPod compatible
Compact, easy to set up
9″ LCD display screen
Bluetooth compatible
Hand grip heart rate monitor and included chest strap monitor
Cons
Only 10 programmed workouts
Takes a while to assemble
Sole is always on the top of reviewer's lists for fitness equipment. Sole is a huge name in fitness, know for producing high-quality, durable machines. This model has been awarded with a "Best Buy" in it's price range and is also found in apartment gyms and physical therapy clinics. Durable is this bike's middle name! It has been designed to withstand heavy use from multiple users. Now on sale, a great buy!
Lifecore 1060RB
Best Price: $1499.00 (originally $1899.00!)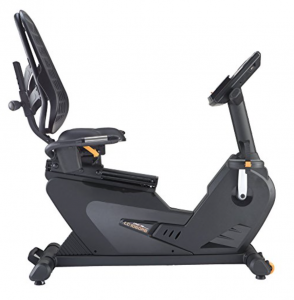 Dimensions: 63″ x 27.9″ x 49.1″
Warranty: Limited-lifetime frame; 5-year parts; 1-year labor
Max Weight Capacity: unknown
Pros
Commercial grade mesh seat
6 position height adjustment
3 position seat tilt
32 levels or magnetic resistance
47 programmed workouts
Extra-wide pedals with quick release strap
Wireless heart rate monitor compatible
iPod compatible
Front and rear frame stabilizers to improve stability during use
6 stride-length options
3-speed workout fan
High-quality customer service
Cons
Chest strap heart rate monitor not included
Some complaints about assembly
This is the big brother to the Lifecore 860 mentioned above. This bad boy comes loaded with workout programs and resistance levels, guaranteed to provide a serious workout regardless of your fitness level. Built for comfort and durability, this is a great find for this price range. On sale now!
---
Will's Pick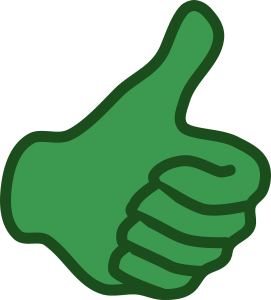 The more expensive models are obviously nicer. The biggest differences tend to be the quality of the warranty, the pre-programmed workouts, and the durability. The more expensive models offer more durability and more adjustable everything.
That said, I like the Lifecore 860RB. For the price, I think it offers a good combination of durability and features. Lifecore has a great line of recumbent bikes and you can't go wrong with any of their products.
I hope this review was helpful. I hope it helped guide you toward the right recumbent bike for you. If you ask me, these are definitely the best recumbent bikes for home use in their respective prize ranges.
If you have any questions don't hesitate to leave a comment, I'll get back to you soon.