When designing your home gym, it's important to prioritize what equipment you need to make you gym functional for you. This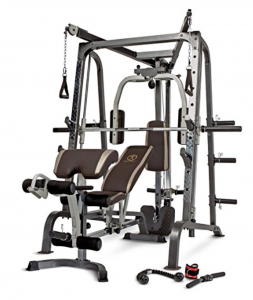 will be different for all of us and will depend on your fitness level, your goals, space, and of course budget.
Investing in a home gym machine can be a smart purchase, but like any other product, not all are created equal. What is the best home gym machine for me? Good question, let's explore a little and find out.
Do I Need A Home Gym Machine?
First things first, let's make sure you are in the right place to begin with. If you are reading this, you are probably doing some research because you are interested in getting a home gym for your home (gym).
If not, than thanks for visiting, and kindly move on. I'm kidding, even if you don't know what a home gym is, you can continue reading for the sheer joy and pleasure of reading such a wonderfully written blog…
Ok, back to business. In all seriousness, you need to ask yourself whether you really need this piece of equipment before you commit to purchasing one. If you don't like lifting weights or resistance training, I don't suggest you spend your money on a home gym. Home gym machines are designed for resistance training. They are good at this. They are not very good at providing cardio workouts.
It's always a shame to see a nice piece of equipment sitting in someone's attic collecting dust. We all have the best of intentions when we purchase them. Maybe it's right after the holidays and it's time to get in shape again. Maybe you just saw a motivating infomercial on tv.
Or, maybe you just watched Rocky IV again and watching Rocky train in Russia has motivated you to hit the weights. Regardless, before you buy a home gym, or any other workout equipment for that matter, make sure you are going to use it! Don't waste the money or the floor space by not using your new equipment.
But, if you enjoy lifting weights and you don't want to worry about finding room to stack free weights or dumbbells, a home gym machine might just be perfect for ya. When you add up the cost of having to accumulate all the different weights or machines, a home gym can actually be a pretty affordable option. Especially if buying one allows you to completely cancel your commercial gym membership.
Different Kinds Of Home Gyms
Home gyms very based on what type of resistance they use, as well as the different exercises they allow you to perform. The biggest qualifier though, is the resistance type. Let's take a quick look and the different types of resistance you can get in your home gym:
Weight stack: these are the type of machine you see in commercial gyms. The resistance is provided by a stack of weights and usually a pin system where you can increase or decrease weight by selecting the number of weights in your stack. Weights usually in 5 or 10lb increments. These machines vary in price, but price usually depends on the amount of resistance, the number of exercises available, and the durability of the machine. You can spend $400 – $4000 depending on what your needs are. Most machines offer bench press, lat pull down, maybe leg extensions or hamstring curls. Click here to see the best weight stack home gym systems.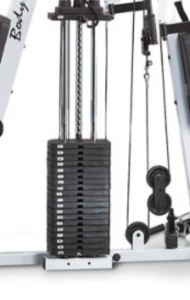 Resistance band/rod: no weight stacks here, instead they use bands or rods. Think Bowflex. You increase or decrease resistance by adding more or less rods. This resistance feels a little different than lifting traditional weights, little more fluid. In Bowflex's case, they suggest this resistance style puts less pressure on the joints. I'm not sure if that is true or not, but the feel of a resistance rod is definitely different. Price also varies in this category, depending again on resistance and number of accessories. Price can easily vary from $500 – $3000. Bowflex is the big name brand in this category.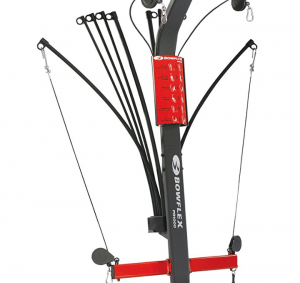 Free weights: think plates for these home gyms. Barbells, Smith machines, cages. The resistance is added by adding plates to the bar. This is your old school way of lifting. You find these in commercial gyms everywhere. Great for doing bench presses, squats, pull ups. You see some combination machines that have a Smith machine and cage as well as a weight stack and cable system. Prices can range from $500 – $5000 depending on quality, resistance, and accessories.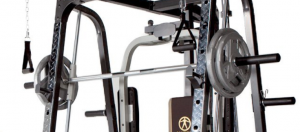 Body weight: in these systems, your body weight provides all of the resistance. Remember the Total Gym? These machines can be great because they don't take up much space, there's no need for weight stacks or plates, and you can get a full body workout by switching between moves rapidly. We use to have a Total Gym in the therapy clinic I worked at, I'm a fan but will discuss these separately in a different post.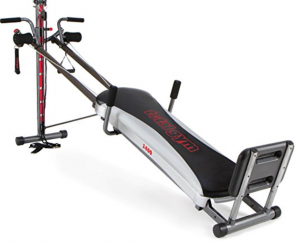 3 Price Ranges
When looking at all the different styles and prices of home gym, it's difficult to compare them fairly. Comparing a $4000 commercial grade system to a $400 home system is kinda silly. Obviously, the more expensive models are nicer and they cost more for good reason. In an attempt to compare apples to apples and oranges to oranges, I've broken up the machines into 3 categories:
Under $500
$500 – $1000
Over $1000
I'm also not going to include the commercial equipment because, after all, this is a website dedicated to exercising in your "home gym". Most home gyms don't have the room for the larger, multi-stack machines you see in commercial gyms. If you do have that kind of room and are looking for some recommendations on commercial grade equipment, hit me up with a comment and I will help as much as I can.
Best Home Gym For Under $500
Bowflex PR1000 Home Gym
Best Price: Click here to check on Amazon!
Type of Resistance: Power Rod
Max Resistance: 210 lb
Warranty: Frame 1-year, parts 60-days, power rods 5-years
Average User Rating: 4.5/5
Footprint: 84″ x 38″ x 82″
Pros
Price!
300 lb max user weight
5-210 lb of resistance
Provides total body strengthening workout
Able to perform 30 different strengthening exercises
Includes cardio rowing
Durable, high quality construction
Solid warranty on power rods
Bench folds to save space
Cons
Max resistance of 210 lb
Some complaints that it doesn't fit well for tall folks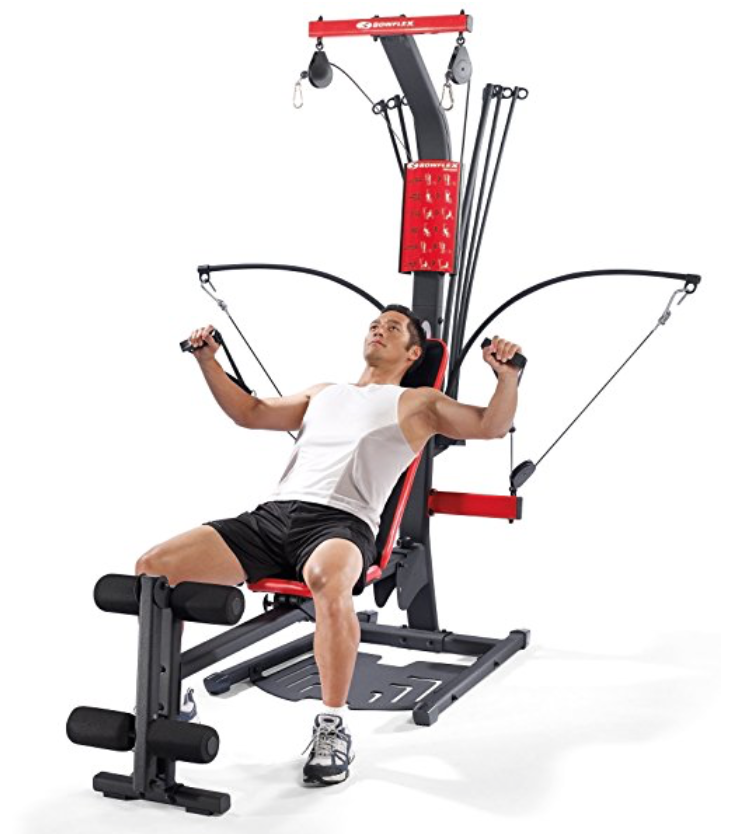 Bowflex has been a trusted brand for 30 years and these machines are the cornerstone of their business. The PR1000 is the most affordable home gym model they offer. This home gym machine is perfect for the beginner and intermediate weight lifters. More elite strength trainers will probably max out the resistance in this machine pretty fast. Keep in mind though, that although it only provides 210 lb of max resistance, the power rods have a slightly different feel than free weights and are going to challenge you a little differently.
Especially if your are lifting with slow, controlled movements, which is recommended. That said, for most of us, 210 lb is plenty. This gym allows you to hit all the major muscle groups with plenty of exercise variability. At this price range, the Bowflex PR1000 can't be beat!
Best Home Gym $500 – $1000
Marcy Diamond Elite Smith System 
Best Price: Click here to check on Amazon!
Type of Resistance: Free weight
Max Resistance: 600 lb
Warranty: 2-year limited on parts
Average User Rating: 3.9/5
Footprint: 95″ x 79″ x 86″
Pros
Commercial grade construction
Very stable cage for safety during Smith machine exercises
Includes Smith machine!
Versatility to perform over 100 exercises
Includes high cables for cable cross-overs, tricep press-downs, etc.
Attachments included: lat bar, triceps rope, shiver bar, ankle strap, Chrome row handle, 2 single handles
6 Olympic plate storage pegs
Easy bench adjustments
Cons
Weight plates not included
Large footprint
No pull up bar
Some complaints on assembly instructions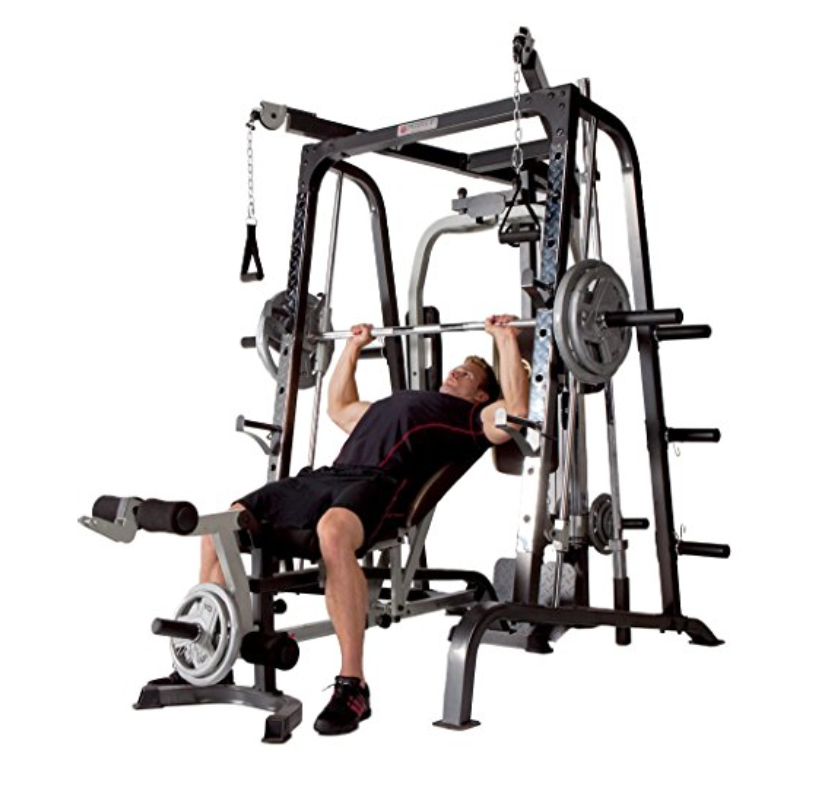 The Marcy Diamond Elite Smith System is the real deal. This is what I picture when I think of a home gym machine. I mean look at this thing. You should be able to complete any strength training exercise you can think of on this piece of equipment. The incorporation of the high cables adds a lot of variety for the lifter. A Smith machine is on my personal wish list, and the Marcy Diamond Elite Smith System offers one plus much more. I would have loved to have seen a pull up bar somewhere on this system, but that's no biggie. This machine will give you a total body strengthening workout without limitation.
It just squeaked in the price range. If you add the cost of having to purchase the weights I guess it would fall outside of the $1000 ceiling, however this is such a good buy I think its worth it. If you are currently going to the gym to lift weights, you could easily cancel your membership with the purchase of this system. Just an awesome home gym.
Best Home Gym Over $1000
BodyCraft Xpress Pro Home Gym 
Best Price: Click here to check on Amazon!
Type of Resistance: Weight stack
Max Resistance: 200 lb (up to 400 lb on leg and bench press)
Warranty: Lifetime warranty
Average User Rating: 4.8/5
Footprint: 56.5″ x 83″ x 82.9″
Pros 
Pulleys/cables provide fluid, unrestricted movement during exercise
Large variety of exercise with adjustable cables- over 100!
Offers full body range of strengthening exercises
Gym quality weight stack/cable system
Durable, high-quality construction of frame and parts
Attachments included: lat bar, curl bar, ankle strap, 2 single handles
Plenty of resistance with 1:2 cable ratio on bench press (200 lb turns into 400 lb resistance)
Lifetime warranty!
Cons
Price
Leg press attachment sold separately
Difficult assembly
The BodyCraft Xpress Pro Home Gym is a beautiful, commercial grade machine. Home gyms that incorporate weight stacks and cable systems tend to be more expensive, and there is no exception to the rule here. With a lifetime warranty though, BodyCraft is definitely backing up their product. This home gym will literally last forever. With the variety of exercises available, there is no getting bored or out growing this product.
This home gym machine will offer you a commercial gym quality workout if the comfort of your home. Just be warned, the biggest complaint I could find was regarding the assembly. Sounds like it takes a long time to put together. Looking at the picture above, I'm not surprised. There are a lot of cables and pulleys…
Will's Pick
All 3 of the home gyms mentioned in this post won my respect, each in their own price range. As mentioned at the beginning of the post, it can be really hard to compare products between price ranges. That said, my personal favorite of the 3 I mentioned would be the Marcy Diamond Elite Smith System.
I'll be honest, I want a Smith machine! I love that you can do squats, bench press, deadlift, shoulder press all with the same piece of equipment. If space isn't a factor, I prefer free weights to cables or rods. A thousand bucks for all that the Marcy Diamond Elite offers is a great buy if you ask me.
But when looking at these 3 models, or any other home gyms, consider what your goals are and what type of exercise you want to be doing. These 3 home gyms each have a different form of resistance: power rod, free weights, and weight stack. Weight stacks and power rods tend to be a little more gentle on the joints than free weights. But as you see, the weight stacks tend to be a little more expensive (but there are much more affordable weight stack machines out there, I just think the BodyCraft Xpress Pro is a really nice system).
If you didn't find the right home gym machine for you here, check out my comprehensive buyer's guide to find the perfect option for your home.
If you have any questions about these models or any other home gym machines, leave a comment and as always, I'll get back to you soon.