With the year rapidly coming to an end, I wanted to compile a list of the best treadmills on the market. My list for the best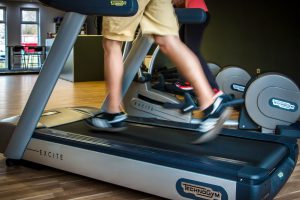 treadmills for home use in 2017 includes both folding and non-folding treadmills. I did this on purpose because there is a big difference between the two and it's important to know which will work best for your needs.
Before I start reviewing my picks, I want to go over the big differences between folding and non-folding treadmills. I chose to form a list combining the two groups, but one could easily come up with lists for the best folding and best non-folding machines… maybe I'll do that next year?
What's The Difference Between Folding and Non-folding Treadmills?
The answer may seem simple: one folds, the other doesn't. Done. Move on Will. While this is true, there are some other significant differences I want you to be aware of. For example, what about price? Durability? Stability? Comfort?? Portability?? See, told ya there was more to it…
If you know you are looking for a folding treadmill, click here to see a nice review of only folding models.
Price
Folding treadmills tend to be cheaper than non-folding treadmills. I know, sounds kind of counter-intuitive. The ability to fold is an awesome feature because it saves you space. Seems like companies would charge us more for this convenience, right?
Nope. In order for these machines to be "foldable", they have to give up something. What they tend to give up is in the durability and stability departments. In order for the track to be foldable, it has to be lighter and less structurally sound.
This means lighter frames that are less resistant to wear and tear. Doesn't mean folding treadmills can't be awesome, like I said, I included some in this list. But companies know they have to drop the price on these machines because they are less durable. As soon as the folding technology was available, all companies started making their cheaper models folding, because it is a nice marketing pitch.
So, folding treadmills are cheaper than non-folding treadmills.
Durability
When I talk about durability, I'm talking about the machine's ability to take a beating. The ability to hold up under fast running workouts with multiple users. Higher max user weight limits. By the way, I always look at the max user weight for a piece of home gym equipment because it gives me a good idea of how durable the machine is. How "strong" the machine is if you will.
Like I just mentioned, folding treadmills have to give up some durability to allow the machine to fold. Just the way it is. Not all folding treadmills are built equal and some folding treadmills can be quite durable. But as a rule, non-folding treadmills are more durable the folding treadmills.
They are better at handling multiple users, fast high-impact workouts (running at higher speeds), high inclines.
Stability
Stability and durability go hand in hand. When I think of stability, in terms of treadmills or any other piece of workout equipment, I think of how much the machine is moving while I'm on it. How secure do I feel on this machine?
If I am on a flimsy stationary bike, I am going to feel the bike itself wobbling or moving as I pedal along. Same thing with treadmills. A less stable treadmill is going to move or wobble to some degree as I run. This is going to make my experience less comfortable.
Non-folding treadmills are more stable than folding treadmills. Again, I know I'm speaking in generalities here and I know there are always exceptions to the rule. But in this case, this is the rule.
Comfort
I think comfort in running or walking on a treadmill is directly related to the stability we just discussed. If I am feeling the machine wobble all over the place while I run, I'm going to feel less comfortable.
Comfort can also depend on the cushion of the track. Some treadmills provide more cushion than others and this typically increases comfort for the user.
But, since non-folding treadmills are more stable than folding treadmills, they are also more comfortable. Think about the commercial grade treadmills at the local gym. They are non-folding guys.
Portability
Last, but not least, comes portability. The ability to move your treadmill from room to room in your home. Folding treadmills are significantly lighter than their non-folding counter-parts and this makes them much easier to move.
Most of them also come with transport wheels. Oh, and guess what, that whole folding aspect comes in real handy when trying to move them! Nice thing with the folding models is that they take up so much less space that you may never have to move it anyway.
I urge you to consider the above qualities when deciding on a treadmill for your home. Figure out what is most important for you and it will help you compare different treadmills while shopping.
Ok, on to the list! These are my 5 favorite treadmills for the year. I'm going to start with my #1 pick and work my way down to #5 (I'm sure the large numbers beside each name was a dead giveaway).
5 Best Treadmills of 2017
#1 3G Cardio Elite Runner Treadmill
This non-folding treadmill is a commercial grade piece of equipment designed for the home. This is the type of treadmill you are using if you ever go to an apartment complex club gym. The Cardio Elite was designed with running in mind, so if you planning on doing some serious running, this treadmill is perfect for you!
Run in comfort with the over-sized running track and Ortho Flex Shock suspension system designed to reduce stress through joints.
The controls of this treadmill are easy to use. One touch options allow you to easily change speed and incline with the touch of a button. It comes with 8 built-in workouts as well as 2 custom ones.
Did I mention that this treadmill has a 4.0 hp motor (with a lifetime warranty!) and a 400 lb max user weight capacity? Oh yea, it's a serious machine that will let you get the best workout of your life.
Pros
Powerful, 4.0 hp motor
Spacious running surface (22″ x 62″)
One-touch speed and incline settings
Speed acceleration boost for interval training
0.5 – 12 mph
Incline from 0% – 15%
Warranty: Lifetime motor, lifetime frame, 10-year parts, 2-year in home labor
Soft, orthopedic belt for increased cushion
Max user weight of 400lb
Speakers, fan
Contact and wireless heart rate monitors
Awesome customer service
Cons
Difficult to move (heavy)
Difficult to assemble
A great treadmill if you have the room for it. Just make sure you know where you want it the first time because it is hard to move! Because it so freakin' durable!
Click here to learn more about the 3G Cardio Elite Runner Treadmill!
---
#2 True Performance PS300 Treadmill
The True Performance PS300 is another gym quality machine. This treadmill is as durable as they come, designed to take a pounding from multiple users without skipping a beat.
This model also has an orthopedic belt and large running surface (21″x60″) making it more comfortable to use than most home gym treadmills. Easily choose from 9 pre-programmed workouts or make your own.
Pros
Large track
Powerful, 3.0 hp motor
0.5 – 12 mph
Inclines 0%- 15%
Contact HR as well as wireless compatible
Safety clip to reduce chances of injury
Backlit console
350lb max user weight capacity
Nice warranty: Lifetime frame, 30-year motor, 5-year parts and electronics, 1-year labor
Extra soft track to reduce stress through joints
Cons
A solid, no thrills, work horse of a treadmill. A solid choice, but for the price I see no reason to choose this one over the 3G Cardio Elite…
Click here to learn more about the True Performance PS300 Treadmill!
---
#3 ProForm Pro 2000 Treadmill
This is a folding treadmill that gives the non-folding machines a run for their money! The Pro 2000 combines the power of a non-folding treadmill with the convenience and price of a folding treadmill…a pretty potent combination.
The Pro 2000 has a powerful 3.5 hp motor as well as a over-sized 22″ x 60″ running track…did I mention this is a folding treadmill…sorry, I sometimes forget when writing these amazing stats.
With a 15% power incline, as well as -3% decline, and a 12 mph max speed, this treadmill can compete with any other product on the market. In it's price range, it's unbeatable.
Pros
3.5 hp motor
Large running track (22″x 60″)
7″ backlit LCD display screen
0-12 mph
-3 – 15% incline
Very quiet machine
32 workouts!
Contact HR monitor, chest strap compatible
350lb max user weight capacity
Great warranty: Lifetime frame and motor, 5-year parts, 2-year labor
Price!!
Cons
Customer service can be less than helpful
Difficult to assemble
As I write this review, I've almost changed my mind. I kind of want to put the Pro 2000 in the #2 spot. But, I just barely kept it at #3 because I prefer the feel of a non-folding treadmill. That said, this is an awesome treadmill and you really can't beat the quality of this machine in this price range. THIS PRICE IS AMAZING!
Click here to learn more about the Proform Pro 2000 Treadmill!
---
#4 Bowflex BXT216 Treadmill
I like most Bowflex products, it's a great company with a great reputation for putting out quality machines.  The BXT216 is no exception. It's a gorgeous folding treadmill, but don't let the good looks fool ya, it can work you as hard as any treadmill on the market with it's 4.0 hp motor.
With a 400 lb max user weight capacity, this treadmill was designed to last. That's actually pretty impressive for a folding treadmill, even better than some of the non-folding competitors.
With inclines up to 15% and running speeds up to 12 mph, this treadmill is designed to provide users as intense a workout as they can handle.
Pros
Impressive 4.0 hp motor
Max speed of 12 mph
Inclines up to 15% grade
9″ color LCD display screen
11 pre-programmed workouts
Bluetooth compatible
SoftDrop mechanism makes folding a breeze
Max user weight of 400 lb
Durable, cushioned belt
Speakers and fan
Warranty: 15-year frame/motor, 5-year mechanical/parts, 2-year labor
Cons
Difficult to move
Fan not very effective
Can't play music via bluetooth
With the BXT216, Bowflex is offering a very powerful treadmill in the folding category. This treadmill made my top 5 primarily because of the 4.0 hp motor and the 400 lb weight limit, both very impressive for a folding treadmill. All of the cons are in the features department. When it comes to good ol' fashioned running, the BXT216 should make you happy.
Click here to learn more about the Bowflex BXT216 Treadmill!
---
#5 Sole Fitness F80 Treadmill
Sole, like Bowflex, is known for producing quality machines. It's no surprise that the F80 has been one of the most popular folding treadmills on the market for awhile. With a 3.5 hp motor and a cushion flex deck, the F80 is a favorite among runners. It also boasts a spacious 22″ x60″ running track for extra comfort during runs.
Easy assist folding saves space when not in use, a lovely feature. A 9″ LCD display screen makes keeping track of all your stats easy on the eyes.
The F80 also has an impressive 375lb max user weight capacity and includes both contact and wireless chest strap heart rate monitoring. Warranty? But of course! After all, it is a Sole. With lifetime frame, motor, and deck warranties you can put your mind at ease, Sole has got ya covered.
Pros
Powerful 3.5hp motor
0.5 – 12 mph
Inclines up to 15%
Warranty: Lifetime frame/motor/deck, 5-year electronics/parts, 2-year labor
375 lb max user weight capacity
Extra spacious 22″ x 60″ running surface
9″ LCD display screen
Grip and wireless chest strap heart rate monitoring included
Fan and speakers
10 pre-programmed workouts
Easy assist folding
Bluetooth compatible
Cons
Side rails are a little short
Fan isn't very effective
A quality treadmill for the price range. The F80 is lacking on some of the bells and whistles other more expensive treadmills provide, but it has more than enough power to provide a great workout. The Sole F80 made my top 5 due to Sole's reputation, it's large running track, warranty, and price.
Click here to learn more about the Sole Fitness F80 Treadmill!
---
Perfect Time To Start Exercising!
That about does it folks. You just learned about the 5 best treadmills for home use in 2017! If you ask me (and I assume you are since you are reading this), you can't go wrong with any of the 5 treadmills mentioned above. They all have their strengths and weaknesses.
One of the biggest questions you have to ask yourself when deciding on the above machines is this: "Do I want a folding or non-folding treadmill?".
If you can answer that one, it will help guide you greatly. I included both types of treadmill in my list on purpose because I wanted to represent both categories. I actually had 2 non-folding and 3 folding.
For most recreational runners, a folding treadmill should be fine for the home. But if you have multiple family members that will be running, or if you are putting in some serious miles, you should consider a non-folding treadmill. You will appreciate the extra durability and feel and you will be certain it will be able to withstand all the punishment you can throw at it.
Now that 2017 is coming to an end, it's the perfect time to get a jump start on those New Year's resolutions!
Make this the year you get in the best shape of your life!
Lose that extra weight you have been struggling with!
Increase your energy and feel better! Improve strength and endurance!
You can do it, I know you can. Remember, I'm here to help and motivate along the way. I encourage you to hit me up anytime you have a question or need a little motivation.
So now that you have been educated, choose the treadmill that is right for you and get busy! No more excuses, no more hesitation… the time is now!