I always kinda assumed that rowing machines would be really expensive. Too expensive to realistically include in your typical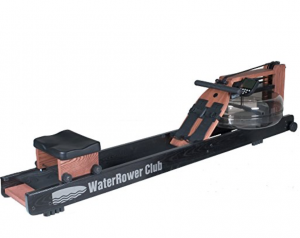 home gym.
Turns out I was wrong! Rowers, much like all cardio equipment, come in different price ranges based on what you are looking forward.
Some of the best rowing machines for home use can be purchased for under $1000!
Rowing machines, or rowers, provide a great cardiovascular workout. Sometimes it's nice to get a cardio workout without having to plug along on a treadmill or bike. A rowing machine offers a great alternative.
I've used the rowing machines at public gyms before intermittently. I was never a big rower or anything, I mostly used them when I was bored with the usual treadmill or elliptical workout. It's a fun alternative to the other cardio machines available.
I did the research to bring you some high-quality rowing machines in 3 different price ranges. The 3 machines listed below each have something to offer rowers regardless of skill or fitness level. Before we start comparing the different options, I want to start with a quick discussion on the benefits of rowing and the different types of rowing machines available to the consumer.
Why Row?
Have you ever rowed before? If you are reading a review on rowing machines, then hopefully the answer is 'yes'. So you know that rowing is a great cardiovascular workout.
You know how difficult rowing can be. I like rowing because you can really adjust the intensity of your workout by how hard you are pulling. The harder you pull, the more resistance you get (usually) and the more difficult the workout becomes.
Another great thing about rowing, is that it includes your arms! A lot of cardio equipment relies solely or mostly on your legs. Treadmills, ellipticals, bikes…all legs. There's good reason for this, the muscles in our legs are much bigger than the muscles in our arms so they burn more calories when they work. That said, it's fun to switch it up and get our arms involved sometimes too.
Rowing is a great cardiovascular exercise, gets the heart rate up, gets us burning calories. But it's also a great strengthening exercise for our backs and arms. Lats, rhomboids, spinal extensors, biceps…all working when you row.
Last, but definitely not least, rowing is a pretty low impact form of exercise. Not a lot of impact going on in your joints when you row, especially if you are rowing with proper technique.
The smooth glide of the seat eliminates the impact on your hips and knees. You have to be careful with your low back if you are prone to back injury, but rowing is a comfortable alternative for folks who have difficulty performing other cardio exercises due to hip or knee problems.
Different Types of Rowing Machine
There are 4 different types of styles of rowing machine on the market these days. They are: hydraulic, flywheel, magnetic, and water. The biggest difference between these different designs are the mechanism for which they provide the resistance. Here's a quick breakdown of the differences between them, for a more in-depth look, checkout this site: www.afpafitness.com
Hydraulic Rower- resistance provided by air or fluid that is being compressed in a cylinder; cheaper rowing machines typically fall in this category; sometimes difficult to get a smooth rowing motion
Flywheel Rower- resistance is provided when a wheel with fans spins against air; the harder you pull, the more resistance you feel (much like rowing in real water); these machines offer a more realistic feel
Magnetic Rower- resistance is provided by magnetic braking; the flywheel spins, but instead of having fans (like the above flywheel option) it has magnets that provides the resistance; these rowing machines are very quiet
Water Rower- resistance is provided when a flywheel spins in a tank of water; is meant to mimic the feel of rowing outside in the water; also fairly quiet, except for the soothing sound of the swishing water; these machines tend to be in the most expensive price range
3 Different Price Ranges
Ok, enough is enough. You know what a rower is and why it is good for ya. Time to get to the review. When comparing pieces of exercise equipment, I like to present quality machines in different price ranges.
There is no "one price ranges fits all". If you are on a limited budget, there is no reason you can't still get a nice piece of equipment that will meet your needs. If you have a larger budget, it's important to know what paying more gets you. Just because something is more expensive, doesn't necessarily mean it's a nicer machine.
For this review, I chose these 3 price ranges: "under $300", "$400 – $1000", and "over $1000″.
Let's get to it with the first category.
---
Best Rowing Machine Under $300
Sunny Health & Fitness SF-RW5515 Magnetic Rowing Machine
Best Price: Click Here To See Best Price On Amazon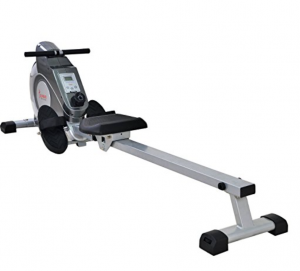 Dimensions: 82″ x 19″ x 23″
Warranty: 90-day manufacturer's 
Max Weight Capacity: 250 lb
Pros
Price!
Very quiet
8 levels of adjustable resistance
Large LCD console displays time, count, calories, total count
Large foot pedals
Non-slip handlebars
Comfortable seat
Built-in transport wheels
Easy assembly
Cons
Some complaints with regards to durability
Magnetic resistance is quiet, but will not mimic feel of rowing on water
Have to adjust resistance with knob
I first learned about this manufacturer when I was researching spin bikes. I was really impressed with one of their bikes and I'm really impressed with this rower. You just can't beat their prices. Sunny Health and Fitness is making a name for themselves by offering solid products at rock-bottom prices. The SF-RW5515 is a very highly-rated machine on Amazon, with average rating of 4.3/5 with over 500 reviews. This rower is perfect for novice rowers or people who are only rowing a few times a week. This rowing machine is probably not going to hold up to a strong rower or for multiple users over a long time. But for $200, you can't go wrong with this product.
---
Best Rowing Machine $400 – $1000
Concept2 Model D Indoor Rowing Machine
Best Price:Click Here To See Best Price On Amazon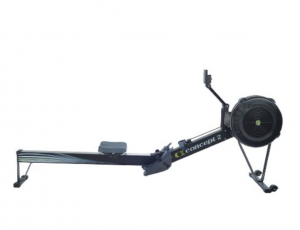 Dimensions: 96″ x 24 x 44.5″
Warranty: 5-year frame; 2-year on PM and parts
Max Weight Capacity: 500 lb
Pros
Best selling rower in the world
Incredibly durable
Resistance provided by flywheel with damper to adjust feel of row
Performance Monitor (PM): displays distance, speed, pace, calories, watts
Compatible with wireless heart rate monitors
Bluetooth compatible to track workout data
USB drive for storing workout data
Easy assembly
Easy storage, machine easily separated into two parts for storage
Transport wheels
Great warranty
Cons
Yea, sorry about the "cons" section, I really couldn't find any negative reviews on this product! I think it's the most highly-rated product I've ever seen on Amazon…4.9/5 with over 1,400 reviews! Enough said. Everybody loves this rower. It's considered the gold standard for rowing machines and you can put one in your home for less than a $1000. I mean seriously, Olympic athletes train on these things. These rowers are built to last through intense workouts, as you can tell by the 500lb weight capacity. Also includes an impressive warranty. The wind resistance provided by the flywheel will give you a more natural feel while rowing, close to the feel of pulling through water. The only reason I could see not buying this rower would be if the cost is just way out of your price range.
---
Best Rowing Machine Over $1000
WaterRower Club Rowing Machine with S4 Monitor
Best Price: Click Here To See Best Price On Amazon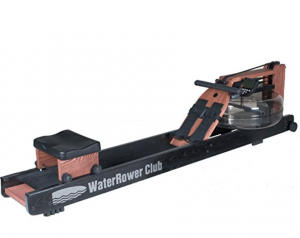 Dimensions: 84″ x 21″ x 22″
Warranty: 1-year on frame and components (upgraded to 5-year frame and 3-year components with completion of registration form)
Max Weight Capacity: 1000 lb
Pros
Water flywheel resistance- mimics the feel and sound of rowing in water
Incredibly smooth
Quiet
Durable
Gorgeous piece of equipment
Sophisticated monitor displays workout intensity, stroke rate, heart rate, zone bar, time, distance
Compatible with wireless heart rate monitor (not included)
Wood frame absorbs sound
Designed for commercial use
Can be stored upright
Cons
Difficult to fill/empty water tank
Price
I think the wood frame looks great. But remember, you can't judge a book by its cover…but in this case everything else is awesome too. This rowing machine was obviously designed with commercial use in mind. It's as durable as they come, I mean it seriously has a 1000 lb max weight limit. I've used a water rower at the gym before (different model) and I have to say it's really cool to hear the water splashing as you row. It definitely gives you the sensation of rowing a boat. This is another very highly-rated product on Amazon, average rating of 4.7/5. This is a top of the line rowing machine if your budget allows it. If I had this rower, I would put it in my living room…somewhere everyone could see it…gorgeous!
The model I reviewed above is in the "ash" finish. You can pay a little more for different finishes:
Click here to check it out in "black walnut"…stunning!
Click here to see it in "natural" finish
Click here to see the limited edition "Gronk M1" finish
---
Will's Pick
I've done the research to bring you 3 of the best rowing machines available for home use. If you're like me, before you buy anything online, you do a couple hours worth of research comparing models, comparing prices, and then comparing again. Well, that's what I just did for ya…you're welcome.
I came up with what I considered to be the best buy for each of the above price ranges. It's usually not fair to compare a $300 machine to a $1000 machine. The fact is, the more expensive models are usually more expensive for a reason: higher quality. This in no way means you have to buy a more expensive model to find something that will work great for you. Depending on your fitness level and exercise needs, you may do fine with a cheaper product.
Especially in this case. The SF-RW5515 is a GREAT buy at $200. Before I discovered the Sunny Health and Fitness brand, I would never have considered a piece of exercise equipment in that price range. Seriously. If you bought something that cheap you could be guaranteed that it would be flimsy and last about 2 weeks before you were replacing it. Luckily, now we have products from Sunny Health and Fitness that are providing great products at great prices.
I'm kinda in love with the beautiful WaterRower Club Rowing Machine in black walnut, but of the 3 rowers discussed above, I would pick the Concept2 Model D Indoor Rowing Machine. It's considered to be the perfect rower. It's built to last, it provides smooth air-resistance with it's flywheel design, and its under $1000. Like I mentioned above, it's used by Olympic athletes, so you know it holds up to a beating. I also like that it got a 4.9/5 on Amazon (I seriously couldn't find any problems with this rower).
Besides, knowing my kids, they would probably find a way to break the water tank in the WaterRower…
If you are interested in a more comprehensive look at the best rowing machines on the market, you should check out my rowing machine buyer's guide.
I hope this review was helpful. If you have any further questions about these or any other rowing machines, hit me up with a comment and I'll get back to you soon. If anybody already owns any of these rowing machines, I want to hear from you as well.