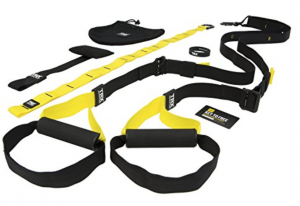 Product: TRX Suspension Trainer Basic Kit
Price: $149.95
Best Place to Buy: trxtraining.com
Average Review Online: 4.7/5
1 Year Warranty
Many of you are probably familiar with the TRX suspension system. They seem to be popping up everywhere. Any gym you walk into these days will most likely have at least one set up somewhere for patrons to use, many gyms are now offering entire exercise classes devoted to this unique piece of equipment.  I wanted to do a TRX training kit review to see what people actually think of this device and see if it is worthy of the hype. But, first things first, for those of you not familiar with TRX, let's discuss what this thing is and what it can do…
What is TRX?
TRX is short for Total body Resistance eXercise (pretty catchy right, sounds kinda awesome already). It was designed by Randy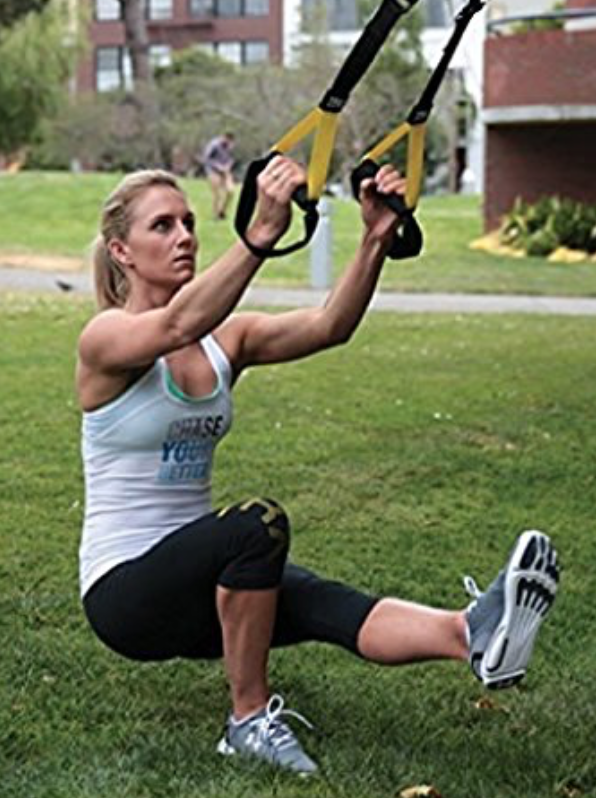 Hetrick in the late '90s/'00s. This guy is no joke, a former Navy Seal commando with an MBA from Stanford. The story goes that he came up with the idea for this suspension system while in the field, looking for something that is lightweight and portable that he could use to maintain peak physical performance.
After a few design changes, we have what we know as TRX today. Basically just a long strap with handles that is mounted. Thats it. The equipment itself could not be any simpler.
However, what you can do with this strap can be as simple or complex as your fitness level allows. The TRX system is designed to turn your bodyweight into the resistance you are working against. With the strap anchored, you are "suspending" different parts of your body depending on what exercise you are performing (this type of exercise is also referred to suspension training).
Suspension = stabilization! From a physical therapist's point of view, this type of exercise is going to lead to what we refer to as stabilization. All of the little muscles around a joint working together at the same time…it's a good thing! Think core stabilization, your back and abdominal muscles contracting together to make your core strong and powerful… reduces chances of back pain and injury, etc.  With the TRX mode of exercise, doing push-ups or pull-ups or whatever exercise is going to get all of these smaller stabilizer muscles around your shoulders to contract as well. This will lead to increased strength and increased durability during sport or work.
Models
TRX Home Gym (Basic Kit)— comes with suspension strap, foam handles, door mount, carry bag, workout book
TRX Pro–same as basic kit, upgrades handles to rubber, more online and printable workouts, increased anchoring options, appropriate for professional gym use
TRX Tactical— same as Pro, but better quality rubber handles, includes workout app
So, now we now what TRX is… but does it work??
Pros
The online reviews of this product are very positive. Average rating of 4.7/5 at Amazon says it all, people enjoy using TRX and are happy with the results. I personally do not own this equipment (yet), but have tried it at the gym before… it's legit.
Simple design– no complicated system to put together. Simply use door anchor or permanent anchor to attach strap. Uses your body weight, no need for weights.
Portable– designed to go with you where ever you go, can be set up in seconds in any hotel room or office
Variety of Options– single piece of equipment can be used to build strength, burn fat, improve endurance, increase flexibility.
Space– TRX as a very small footprint, most exercises can be performed with 6-8 ft of floor space
Adaptable– the TRX exercises can be adapted to any fitness level from beginner to elite. This system can be used for upper body, lower body, and core exercises.
Workouts Included!- A 35-page TRX workout book, as well as 6 online workouts, included with purchase
Cons
While researching reviews of this product, I have to admit the negatives where a little hard to come by (which says something right?!), but there are a few possible negative points I'd like to point out.
Cost– the lowest cost of the basic kit is $149.95 online. However this does include the TRX strap, door anchor, suspension strap, 35-page TRX workout book, 2 bonus workouts.
Handles- some folks on Amazon have complained about the foam handles that are included in the TRX basic kit. Say it doesn't feel as professional or durable as the sets in gyms. The TRX Pro and TRX Tactical versions have upgraded rubber handles.
Anchor- this kit does not include the ceiling mount, that is sold separately
Final Thoughts
Considering the ease at which the TRX training kit can be implemented, it's versatility, and the quality of exercises that can be performed… I would highly recommend the TRX training kit!
I mean come on, it was designed by a Navy seal…it's used by pro athletes…it's portable… it can be added to any home gym… unlimited exercises…save the cost of having to go to the gym for TRX classes and turn your home into your personal TRX class!
One could easily argue that the TRX IS the only piece of equipment your home gym needs! Personally, I still like to include good ol' fashioned weight lifting from time to time, but the TRX system can be used to work any body part while improving strength, flexibility, and endurance. Pick one up and try it for yourself!
I'd love to hear from those who already own this equipment with their own reviews.